Whenever you are hunting for laptops online, more than half of the laptops you come across will usually be a gaming laptop.
But what if you are not into gaming? What if you do not want to spend on hefty graphics units? If so, you have reached the right place.
There are a lot of reasons why people do not want to get a gaming laptop. They are heavier, have high-end specifications which give them sky-high costs, and have low battery lives.
Of course, they have benefits too, but unless you require an insane amount of power, it does prove to be a disadvantageous choice for the regular joe.
When it comes to buying the best laptops for non gamers, you need to focus on key specifications that make a laptop worth its price. Look for a decent processor, good storage space, and memory, even better if they can be upgraded, and of course a good battery life too.
Editors' Picks for Top Laptops for Non Gamers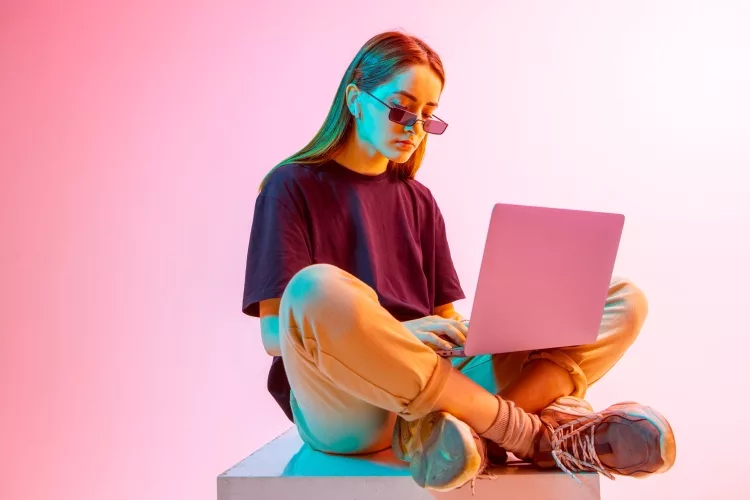 List Of Top Laptops For Non Gamers
Comparison Chart For Top 6 Laptops For Non Gamers
| PRODUCT | DISPLAY | PROCESSOR | STORAGE SPACE | PRICE |
| --- | --- | --- | --- | --- |
| Acer Swift 3 | 14-inchFull HD | AMD Ryzen7 4700U | 512GBNVMe SSD | |
| Asus ZenBookPro Duo UX581 | 15.6-inch4K UHD | Intel Corei7-9750H | 1TBPCIe SSD | |
| Lenovo ChromebookDuet | 10.1-inchWUXGA | MediaTekHelio P60T | 64GBeMCP SSD | |
| ASUS ChromebookFlip C434 | 14-inchFull HD | Intel CoreM3-8100Y | 64GBeMMC | |
| Samsung GalaxyBook Flex | 13.3-inchFull HD | Intel Corei7-1065G7 | 512GBSSD | |
| Microsoft SurfaceLaptop 3 | 15-inch2496 x 1664 | AMD Ryzen 5 | 256GBSSD | |
Best Laptops For Non Gamers Reviews
1. Acer Swift 3 | Best Non Gaming Laptop For Gaming
The Acer Swift 3 is one of the lightest and most portable laptops out there. It has been designed with versatility in mind so users can carry it to work every day without being weighed down by a heavy laptop.
With an aluminum and magnesium-aluminum chassis, the laptop also sports a strong body besides being lightweight, ensuring you of its safety during travel.
The display is a Full HD 14-inch screen where you will notice bezels as narrow as 0.21 inches. This creates a wide and beautiful 82.73% screen-to-body ratio on the IPS display.
The Swift 3 is not a gaming laptop by title, but it sure does carry a processor powerful enough to play some.
You do not have to engage in games if you do not wish to, but do make good use of the AMD Ryzen 7 4700U, since the 4000 series from AMD happens to be one of the most advanced processors in the market today.
This makes any device suitable for content creation, design, work, entertainment, and everything else you plan to do on the laptop.
Even though the processor is advanced, it is not the kind to push out power excessively, which is where the difference between this and a gaming laptop lies. Thanks to this you get a long 11 hours and 30 minutes of usage. This quite easily covers an entire day's worth of classes or work, without needing charging breaks in between.
For clear communication, Swift 3 packs two microphones with Acer Purified Voice technology which makes sure only your voice passes through to the other side, and none of the background noise with it.
The HD webcam also has Super High Dynamic Range for crystal clear visuals, making virtual meetings and classes easier to do.

Highlighted Features
AMD Ryzen 7 4700U
512GB NVMe SSD storage space
Battery life is 11.5 hours
Includes fingerprint reader and backlit keyboard
2. Asus ZenBook Pro Duo UX581 - Best Non Gaming Laptop
The ZenBook Pro Duo has almost every feature a good gaming laptop requires but packs it all in a slimmer and more attractive chassis.
And let us not forget the ScreenPad Plus, a one-of-a-kind feature that makes the laptop worth every cent.
The actual display is 15.6 inches and has a 4K resolution on a glossy narrow edge display. Coming down, the ScreenPad Plus contains the same resolution, but on a matte display instead which makes the screen easier to use with one's finger.
The ScreenPad plus is mainly used as an App switcher, where you can keep extra applications on it, and use them as you go without having to switch back and forth multiple times.
You can also pull the main display onto the bottom one for an enlarged view of your work when required, or use it as a navigator, a task manager, or organizer. You have the liberty to customize as you like.
With the Intel Core i7-9750H processor, expect high performance and increased processing powers. Moreover, with the GeForce RTX 2060 graphics, you get a laptop strong enough to handle even the most power-consuming games.
You might or might not choose to play them, but it is no doubt having a graphics unit as such is helpful.
If you have a lot of keyboard work, you will enjoy the Ergo Lift feature too, which tilts the keyboard for a more comfortable typing experience.
To match up with the rest of the features, it comes with a 1TB PCIe SSD and 16GB RAM, so it can perform equally well in terms of storage.

Highlighted Features
9th Generation Intel Core i7-9750H
1TB PCIe SSD storage space
Nvidia GeForce RTX 2060 graphics
Includes a unique ScreenPad Plus
Comes with a 4K touchscreen display
3. Lenovo Chromebook Duet | Best Laptop For Home Use No Gaming
The Lenovo Chromebook Duet is a fine choice for userswho are looking for something small and portable, mostly for work on the commute or for use in class and meetings. At 10 inches, this is a petite device comfortable for use in such cases.
At the same time, you can remove the keyboard and use it as a tablet, since this is a 2-in-1 laptop.
Even though it is sized at 10-inches, it still has attractive features like the full HD touch display which is perfect for taking notes in class or in meetings, where pen and paper have become pretty much redundant today. Not to mention the 10 hours of battery life that lets this run for a complete workday.
With the MediaTek Helio P60T processor, the Chromebook boots in only 10 seconds as it continues to run updates automatically, so you do not have to see to them. And this also helps to keep the device virus-free without using any extra virus protection.

Highlighted Features
MediaTek Helio P60T
64GB eMCP SSD storage space
The keyboard can be detached
The battery provides up to 10 hours of usage
Touch display has 400 nits brightness
4. ASUS Chromebook Flip C434 | Best Computer For Non Gamers
The Chromebook Flip C434 by ASUS is a brilliant choice for anyone looking for a good Chromebook for their daily usage. It has a 14-inch FHD touch display with narrow bezels on all four sides to create a wide and enjoyable display.
Termed as a "near-borderless experience" this provides a 178-degree view. Plus, the 100% sRGB color gamut helps to bring out colors and hues for a vibrant display at all times.
It also comes with a 360-degree hinge that lets you fold it halfway or completely, depending on how you wish to use it. And thanks to the strong hinges, you can have it up at any angle, and the display will hold.
The 360 Ergolift hinge also helps to create an improved typing position as it tilts the keyboard to an angle that is more comfortable on the hands. If you need to type a lot, this is something you should look into.
Not to mention, this extra space beneath the keyboard also allows the sound to come out more clearly and you get higher volumes.
For the processor, you have the 8th generation Core M3-8100Y that gives you a great deal of performance when you look at it in terms of a Chromebook. Plus the 64GB eMMC and 4GB RAM also make this a speedy device for daily usage.

Highlighted Features
8th Generation Intel Core M3-8100Y
64GB eMMC storage space
360-degree hinge allows for use in various modes
The battery lasts up to 10 hours
5. Samsung Galaxy Book Flex | Best Non Gaming Laptops For Gaming
The Samsung Galaxy Book Flex is one of the most attractive laptops out there from the inside out.
It has a stark blue exterior that catches the eye first, but soon you see the QLED touch display which happens to be even better. It employs the Quantum Dot Technology that creates a brilliant vibrant display, even under direct sunlight.
Not to mention you get to enjoy a 100% color volume for the most striking colors on the FHD screen.
The 360-design lets you rotate the screen to use it in studio mode when in class, or in tablet mode when completely folded when using while on road. Plus, the S-Pen makes the navigation and use much easier than using a fingertip.
When using in laptop mode, you will find that the keyboard is backlit, which helps to make typing easier in general, but even better in low light conditions.
For the processor, you have the 10th generation Core i7-1065G7 that provides high productivity, an almost instant startup, and near to zero lagging.
Plus, the 512GB SSD and 8GB RAM are also here to provide good storage space and fast data processing.
Battery life is definitely one of the highlights of this Galaxy Book. You get a whopping 20 hours, which is hard to utilize even if you are at it all day. But one way you could use it up is by charging your phone wirelessly using the trackpad.

Highlighted Features
10th generation Intel Core i7-1065G7
512GB SSD storage space
360-degree design for more versatility
The battery provides up to 20 hours of usage
Bluetooth pen included for better navigation
Laptops For Non Gamers Buying Guide
Processor (CPU)
Gamer or not, a good processor is a necessity in every laptop for its performance. Whether you are a student or a worker, you will need a decent processor to keep the laptop running properly and without facing any loading issues.
The Core i5 from Intel is one of the most used processors out there thanks to its combination of good performance and average prices. Some users prefer the Core i7, which has significantly higher processing power but come at a higher price as well.
No matter which processor you end up buying eventually, we suggest you get one from the 8th generation, or any after that. The newer the generation of the processor, the better it can perform in the long run.
Users who want Chromebooks, or a laptop for day to day work, nothing that requires too much speed or power, MediaTek processors are a good option for them. These are also a lot cheaper than the prior two processors mentioned.
Graphics Unit (GPU)
Just because you want the best non gamers laptop, does not mean you have to sacrifice the dedicated graphics unit. Of course, you do not need to go with one if your work does not require it.
But if you work with 3D modeling, in design, architecture or animations, or any similar field of work, then you have to get a dedicated GPU.
We prefer ones from NVIDIA. Just like processors, there is a difference in models here too. On the lower end, you have the MX line like the MX 250. Then you have the GTX line, such as the GTX 1650 which is more powerful. On the higher end, there is the RTX line, such as the RTX 2050 or 2060.
Which you choose eventually depends on how graphics-intensive your work is.
Memory (RAM)
The ideal memory for the average user is 8GB. If you work with a lot of software and have to see through multiple applications on a daily basis, then go for the 16GB.
We do not recommend the 32GB unless you have a crazy workload, since the performance difference between the 16GB and the 32GB is not astronomical, but the price difference can be in certain cases.
Storage
When you check the storage, there are two things to take notice of. The type of storage, and the amount of space. We prefer the solid-state drive (SSD) over the hard disk drive (HDD), and so do most users today who require a speedy laptop.
But in case you cannot go for the SSD because you are on a budget and require a ton of storage space, go for the HDD which is cheaper.
You also have hybrids, where you get both the SSD and HDD for faster boots and spacious storages.
If you have to settle with only an SSD however, then go for the 512GB SSD at the minimum. This way you do not have to look for an external storage device any time soon.
Conclusion
A lot of times buyers get overwhelmed by the high-end specifications in a gaming laptop and end up spending thousands on a model they do not even need. No matter how good the features are, if you do not need them, it is never an investment, only a loss.
The models listed here are some of the best laptops for Non gamers. These are common choices for students, office workers, and anyone who just wants a good overall laptop for their daily work.
They might not be able to handle the latest games but can surely serve as an entertainment