If you are someone who is not really a movie-goer but wishes to turn the whole living room into a movie theater for a great cinematic experience, then you have come to the right place!
While that wafer-thin flatscreen tv on the wall adds beauty to the room, it lacks one crucial aspect- the audio quality. And that's when a soundbar comes to the rescue.
Soundbars are a must-have for modern television, because they faithfully produce sound, unlike the tiny built-in tv speakers. You won't even need to set up an expensive home theater system, whose tangled wires will be your biggest foe.
Now, you must be asking yourself, "How am I going to find the ideal soundbar as there are numerous options in the market?". In this article, we'll help you select the best soundbar for movies .
Top Soundbar for Movies 2022 by Editors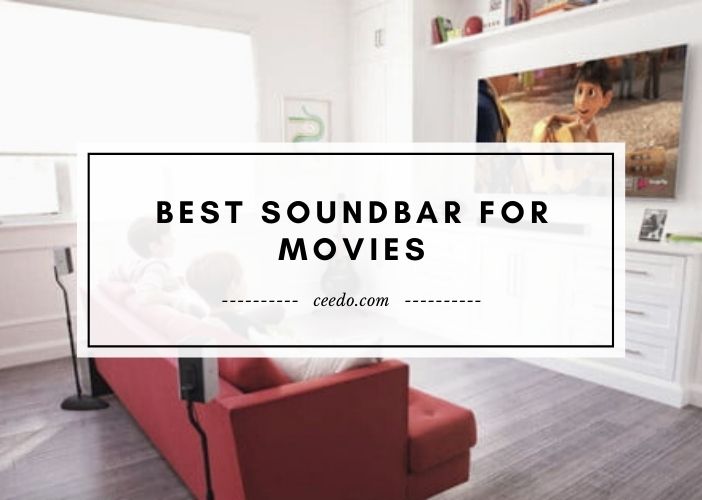 List Of Top Soundbar For Movies
1. Samsung Harman Kardon HW-Q90R
Comparison Chart for Top 9 Soundbars For Movies
IMAGE
Name
Size
Channels
Specialty Feature
price

Samsung Harman Kardon HW-Q90R
48.26 inches
7.1.4
17 built-in speakers
4K HDR pass-through

Sonos Beam
25.6 inches
3.0
Voice control

Q Acoustics M4
39.37 inches
2.1
Built-in subwoofer

Vizio SB3821-C6
38 inches
2.1
Built-in Bluetooth

Vizio SB362An-F6B
36 inches
2.1
Two built-in subwoofers

Yamaha YAS-207BL
36.7 inches
2.1
DTS Virtual:X surround
4K HDR pass-through

Sony HTX8500
35 inches
2.1
Two built-in subwoofers
4K HDR pass-through

Sony ST5000
46.5 inches
7.1.2
4K HDR pass-through
Built-in Chromecast

Dali Katch One
33.86 inches
2.0
10 built-in drivers
Top 5 Best Soundbar For Movies Reviews
1. Samsung Harman Kardon HW-Q90R | Best Soundbar For Home Cinema
If you are looking for the ultimate theater experience with your friends and family, then the Samsung Harman Kardon HW-Q90R is a perfect choice. This particular collaboration of the tech giant and its subsidiary has garnered several movie lovers' attention worldwide.
Measuring 48.26 inches in width, this soundbar will perfectly pair up with a 65-inch flatscreen tv or even larger ones. You can either place the soundbar on the table or mount it on the wall using the included mounting kit.
With the 17 built-in speakers that fire sound in every direction, you will feel as if you are really inside a movie scene. What's more interesting about this product is that it automatically enhances voices on low volumes so that you can clearly hear dialogues.
If you are an avid gamer and own a gaming console, then you are probably going to ditch headphones. That's because when you connect your console to the soundbar, it will route the video to the tv using its 4K pass-through feature. As a result, you will be getting the audio quality that matches the video, creating a fantastic gaming experience.
Last but not least, you do have the option of connecting Bluetooth devices, like your phone, laptop, or Alexa, for the sake of convenience.
Highlighted Features
Comes with Dolby Atmos and DTS:X technologies
Has 17 built-in speakers
Features adaptive sound technology
Can be used with all Bluetooth-enabled devices
Has built-in 4K pass-through feature
2. Sonos Beam | best cinematic soundbar
If there is less space in your room and you want to go for a simple soundbar without a subwoofer and wireless speakers, then the Sonos Beam is a great option. Being significantly smaller and lighter, this soundbar can easily fit in the shelf, cabinet, or other pieces of furniture.
This compact soundbar delivers detailed and well-balanced sound when it comes to sound quality, making it suitable for movies, tv shows, and games. If you are having a party, and want to add a subwoofer and rear speakers, then you can easily pair them with the soundbar for a great experience.
Another big advantage of using this soundbar is its ability to enhance sound. The room correction, dialogue enhancement, night mode, and bass and treble adjustment features are all you need to make your movie night a pleasant one.
This soundbar gives you a variety of options when it comes to controlling the equipment. You can control the beam with a remote, the Sonos app, or even your voice! With Alexa installed right inside the bar, you can give commands like playing your favourite audios, setting the alarm, and much more.
Highlighted Features
Comes with Dolby Digital and Stereo PCM technologies
Compatible with HDMI ARC and optical port-supported tvs
Has sound enhancement features
Comes with a Sonos app for ease of use
Features built-in Amazon Alexa
3. Q Acoustics M4 | best soundbar for movies and gaming
The M4 model by Q Acoustics is another soundbar you would want to pair up with your tv if simplicity is your preference. Being 1m wide, this multi-award-winning soundbar can comfortably sit on the wall or in front of your tv without stretching beyond the tv edges.
Although having a simple design, the soundbar gives you what you need, especially if you are going to use it for listening audios. Packed with a built-in subwoofer, this guy alone can deliver the perfect amount of bass when you are jamming to your favourite song. It can also provide the same quality in larger rooms.
Not only that, but you can also use it to watch movies and play games. The BMR speaker drive units offer wide sound dispersion so that everyone in the room can enjoy a cinematic experience.
When it comes to connectivity, the soundbar is limited to optical and analog inputs. So, even if you don't own an HDMI tv, you will be able to connect it to your existing tv's optical or analog port. Plus, just like most soundbars, it supports Bluetooth devices, so you can easily have access to audio streaming services from any device.
Highlighted Features
Has a built-in subwoofer
Compatible with optical and analog-supported tvs
Works with Bluetooth-enabled devices
Features BMR drive units for sonic performance
Has a separate subwoofer output
4. VIZIO SB3821-C6 | best soundbar for blu ray
For those who want to grab a low-budget soundbar that delivers the same home theater effects as high-end ones, then this is it. The Vizio SB3821-C6 soundbar fills your room with rich, surround sound that everyone inside will love the immersive experience.
It does come with a wireless subwoofer, and what's interesting about this thing is that the driver is located below the box for a downward-firing effect. So, when you hear thumps and explosions, you will feel the floor shaking. What's more, the subwoofer's size is smaller than most subwoofers in the market, so you won't face trouble setting it up in a small space.
Of course, you wouldn't want to miss out on the ease of accessing audio clips and audiobooks. The soundbar comes with built-in Bluetooth that lets you wirelessly stream audio from any supported device with just a single tap.
Lastly, there is the compact remote you can take advantage of when you need to adjust the volume or bass. Instead of numbers, you will see little dots on the side of the soundbar that goes up and down as you increase and decrease the volume. Pretty interesting, isn't it?
Highlighted Features
Comes with a downward-firing subwoofer
Features Dolby Digital, DTS TruSurround, and DTS TruVolume technology
Compatible with Bluetooth-enabled devices
Comes with a wireless remote
Supports optical and analog-enabled tv
5. VIZIO SB362An-F6B | best budget soundbar for movies
Another amazing product from Vizio, the SB362An-F6B model, is perfect for your 40-inch tv or even larger ones. Just like the previous soundbar, this one is also affordable while maintaining its immersive sound effects.
With a built-in dual subwoofer integrated, the soundbar delivers impressive, room-shaking bass, which works great when playing audios or watching a video. This is something you will definitely want at a party or a movie night with friends. Not only that, but the sound enhancement feature lets you hear dialogues clearly.
When you take a look at the bottom of the soundbar, you will see optical and analog inputs along with a USB port. While you can connect your tv to those inputs, you can also play audio files from your memory stick or hard drive.
However, if you feel lazy enough to get up and plug the memory stick into the USB port, then forget about it as there is the Bluetooth feature. You can wirelessly connect different devices, such as a phone, tablet, or laptop, to access audio streaming sites.
With the included remote control, you are free to adjust the volume, treble, and bass until you are satisfied with the output.
Highlighted Features
Comes with built-in dual subwoofers
Features Dolby Audio and DTS Virtual:X technology
Supports optical and analog-enabled tv
Has a USB port
Can be used with Bluetooth-enabled devices
How To Choose The Right Soundbar For Movies
Size
The first and foremost thing you should do while shopping for a soundbar is to take its size into account. Soundbars come in different sizes, and you need to choose the one that matches the width of your tv- if not exactly, then almost! It enhances the aesthetics of your entertainment space.
Other than that, size also plays a crucial role in the performance of a soundbar. Larger soundbars feature larger speakers, which means they are capable of providing full-range frequencies, and hence better audio quality. On the other hand, smaller soundbars have a limited frequency range, which is evident when it tries to convey a low-frequency sound. You will hear a lot of distortions!
Another thing worth noting is the height of your soundbar. If your tv is sitting alone on the table, then a soundbar can be its friend when you place it in the front. But you have to make sure the soundbar's height doesn't interfere with your tv's infrared receiver. To eliminate this issue, most soundbars come with an IR repeater which passes infrared signals back to the tv.
Choice
When you shop around for the best movies soundbar , you will see that it is being sold either alone or with a box-like thingy known as a subwoofer. So, if you are wondering what the function of a subwoofer is, then let us give you a general idea.
Subwoofers are loudspeakers that reproduce low-frequency audio. This comes in handy when you watch an action movie that involves a lot of punching and bombing. When paired with a soundbar, it simply creates fuller sound throughout the room, making movies enjoyable.
You can also go for a soundbar with a subwoofer if you plan on setting up your home theater in a larger room.
While a soundbar alone can create loud and clear sound, a subwoofer just adds the extra bass.
Channels
If you see numbers like "2.0" or "5.1", then don't get confused! The first number lets you know how many channels a soundbar has, while the second tells you whether there is a subwoofer. If you encounter a third number, then that means the soundbar includes Dolby Atmos upward-firing speakers.
The presence of Dolby Atmos technology makes you feel as if you are really inside a movie theater, where sound bounces off the ceiling of your room.
So, if you want to achieve the ultimate surround effect, why not consider going for higher numbers?
Connectivity
There is one exciting news- soundbars aren't just built for tvs! Most soundbars come with multiple HDMI ports that allow you to connect devices, like Blu-ray players, cable boxes, and gaming consoles, while your tv is still turned on.
If you are listening to audio, then simply connect your phone, tablet, or laptop to the soundbar via Bluetooth, and you are good to go.
Some models also come with built-in WiFi, which gives you the advantage of accessing online services like Pandora and Spotify.
Final Verdict for Movie Soundbar Buyers
Being movie enthusiasts, we have listed the best soundbars for movies based on our experience with them. We wanted to share our opinion so that you too, can have a pleasant experience.
These soundbars are an excellent solution to your tv's subpar audio quality. Plus, the integration of useful features, like WiFi, Bluetooth and multiple HDMI ports are what makes them stand out.
So, when you are deciding on buying one, be sure to check its features and whether it suits your preferences. You obviously wouldn't want to buy something that will make you regret later on. And another friendly reminder-don't forget to buy popcorn!
Buy on Walmart
Wohome Soundbar S9920, TV Sound Bar with Bluetooth and 3D Surround Sound(38-Inch, 105dB, - Walmart Link
Wohome TV Soundbar with Built-in Subwoofers 38-Inch 120W Support HDMI-ARC, Bluetooth 5.0, - Walmart Link
JBL Bar 9.1 - Channel Soundbar System with Surround Speakers and Dolby Atmos - Walmart Link
BESTISAN 80 Watt Soundbar, Sound Bars for TV of Home Theater System (Bluetooth 5.0, 34 - Walmart Link
Sonos Playbar - The Mountable Sound Bar for TV, Movies, Music, and More - Black - Walmart Link
Nakamichi Shockwafe Elite 7.2.4 Channel 800W Dolby Atmos Soundbar with Dual 8" Subwoofers - Walmart Link
Denon DHT-S216 Home Theater Soundbar | Virtual Surround Sound | HDMI ARC | HD, 4K & - Walmart Link
1. Samsung Harman Kardon HW-Q90R - Walmart Link
3. Q Acoustics M4 - Walmart Link
9. Dali Katch One - Walmart Link
Buy on eBay
Wohome Soundbar S9920, TV Sound Bar with Bluetooth and 3D Surround Sound(38-Inch, 105dB, - eBay Link
Wohome TV Soundbar with Built-in Subwoofers 38-Inch 120W Support HDMI-ARC, Bluetooth 5.0, - eBay Link
JBL Bar 9.1 - Channel Soundbar System with Surround Speakers and Dolby Atmos - eBay Link
BESTISAN 80 Watt Soundbar, Sound Bars for TV of Home Theater System (Bluetooth 5.0, 34 - eBay Link
Sonos Playbar - The Mountable Sound Bar for TV, Movies, Music, and More - Black - eBay Link
Nakamichi Shockwafe Elite 7.2.4 Channel 800W Dolby Atmos Soundbar with Dual 8" Subwoofers - eBay Link
Denon DHT-S216 Home Theater Soundbar | Virtual Surround Sound | HDMI ARC | HD, 4K & - eBay Link
1. Samsung Harman Kardon HW-Q90R - eBay Link
3. Q Acoustics M4 - eBay Link
9. Dali Katch One - eBay Link