While some parents still debate on whether to get their teens electronic devices or not, the pandemic has made it clear that having a laptop is as essential as books when it comes to teens or students.
Laptops serve as a medium of education, entertainment, communication and so much more, making it a necessity.
But when you want to buy the best laptops for high school students, you do not have to spend an arm and a leg. These come at super reasonable prices, making them accessible for all.
All you have to see is that the laptops have decent battery lives that can survive a series of online classes, have a decent webcam and microphone for better communication and video chats, and just sufficient storage space for their need.
You can have more or fewer requirements, and for that, you should take a look down below where clear details about all the factors are provided.
Top Laptops for High School Students by Editors
List Of Top Best Laptops For High School Students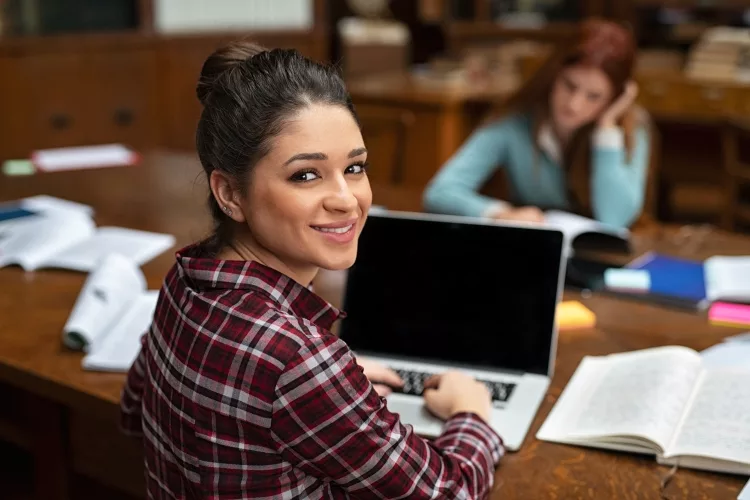 9.Samsung Electronics XE500C13 Chromebook
Comparison Chart For Top 10 Laptops For Teenagers
| PRODUCT | SCREEN SIZE | CPU | RAM ANDSTORAGE | PRICE |
| --- | --- | --- | --- | --- |
| MicrosoftSurface Go | 10-inch | Intel PentiumGold | 8GB, 128GB | |
| Lenovo Flex 14 | 11.6-inch | MediaTekMT8173C | 4GB, 64 GBeMMC | |
| LenovoChromebook C330 | 11.6-inch | MediaTekMT8173C | 4GB, 64 GBeMMC | |
| HP Chromebook | 14-inch | Intel CeleronN3350 | 4GB, 32 GBeMMC | |
| ASUS VivoBookS15 S533 | 15.6-inch | Intel Corei5-10210U | 8GB, 512GBPCIe SSD | |
| LenovoChromebook | 11.6-inch | MediaTekMT8173C | 4GB, 32GBeMMC | |
| ASUSChromebook C202 | 11.6-inch | Intel CeleronN3060 | 4GB, 16GBeMMC | |
| HP Chromebook | 14-inch | AMD Dual-CoreA4-9120 | 4GB, 32 GBeMMC | |
| SamsungElectronicsXE500C13Chromebook | 11.6-inch | Intel CeleronN3060 | 32GB, 16GBSSD | |
| 2019 HP X360 | 15.6-inch | Intel Quad-Corei5-8250U | 8GB, 128GBSSD | |
Best Laptops For High School Students Reviews
1.Microsoft Surface Go - Best Device For High School Students
When you are looking to buy the first laptop for a teen you should look to laptop models that are sturdy, flexible, have a good battery life, and one the user will be happy to have for a couple of years.
The Microsoft Surface Go ticks all these boxes making it a fine choice for a first laptop. It has a 10-inch PixelSense display which can be detached from the keyboard to be used as a tablet only. You can also use a stylus on this touchscreen device, which makes taking notes or doodling a lot easier.
Battery life is one that lasts an entire day. With 9 hours, the laptop can be used through back to back online classes, or used for back to back shows when the user feels like bingeing.
The processor is the Intel Pentium Gold. This is more than sufficient for a teen's usage. It allows for smooth online browsing, doing classes, or even completing homework on the laptop.
Moreover, the 8 GB memory and the 128 GB SSD provide plenty of speed as well as storage space for all sorts of activities. Unless you plan on storing a ton of large files, this will be sufficient. And in case you do need more space, you can transfer data using the multi-taskingUSB C port provided.
Highlighted Features
Intel Pentium Gold CPU
8GB memory and 128GB SSD
9 hours of battery life
2-in-1 convertible laptop
2.Lenovo Flex 14 | Best Laptop For Teenager
The Lenovo Flex 14 is a very flexible laptopand optimal for teens who are looking for a device to let their creativity flow. It supports a 14-inch full HD touchscreen display.
When required and the display can be folded where are you can use the laptop in a tent mode. This is where you have maximum control over how you draw or sketch on the display using a stylus pen.
For the processor, you have the MediaTek MT8173C that lets you work, draw, do classes, or play games for hours. Moreover, the Radeon Vega 8 graphics let you work on high-resolution photos and videos as well.
Coming to the storage space, you have 256 GB SSD. Not only does this provide a good enough storage space, but it also helps to load applications more quickly.
And the 8 GB memory process information fast, so the user can continue working on more than one task without ever feeling like they are slowing down.
We also love that it has ongoing protection with Windows 10. Not every teenager is accustomed to virus protection, still having it automatically work and protect the laptop and its data from malware is a great plus point to have.
Another privacy feature is the true block privacy shutter which physically closes the Webcam so you do not have to tape it close.
It also sports a splendid battery that runs up to 10 hours from mixed usage. And if you run low on power simply connect it for one hour to get up to 80% of battery for further usage.

Highlighted Features
MediaTek MT8173C CPU
4GB RAM and 64 GB eMMC storage
AMD Radeon Vega 8 graphics
10 hours of battery life
Comes with true block privacy shutter
3.Lenovo Chromebook C330 | Best Laptop For High School Kids
This Lenovo Chromebook C330 has been designed for those who do. In other words, it makes a fine choice for active users who will be using the laptop all day.
It comes with a 360° hinge. Using it you can rotate the display and use it in a tent, tablet, or even stand mode besides the conventional laptop mode.
Plus having a 10-point multitouch screen gives the user more control if they are into sketches or digital art.
The display itself is 11.6 inches and has an HD resolution.
The Chromebook also comes with virus protection built-in. This is a great feature, especially for those teenagers who are unaware of how malware attacks work online.
The MediaTek MT8173C processor makes sure you have a good amount of speed to get you through your daily tasks. From creating PowerPoints to engaging in video conferences, or even bingeing on your favorite shows, you will not feel any lag whatsoever.
With the 4GB memory and the 64 GB eMMC storage, you can engage in effortless multitasking.
While this will not be enough for you to play games while downloading applications, such features are not always required for teenagers which is why this will suffice. Not to mention it also makes the laptop a lot more affordable.

Highlighted Features
MediaTek MT8173C CPU
4GB memory and 64 GB eMMC storage
10 hours of battery life
360-degree hinge for convertibility
4.HP Chromebook | Best Laptop For Teenager For School
The HP Chromebook happens to be a good choice of a laptop for students who are just entering their teen years. It comes with a 180° axis that lets you push back the screen until the entire device is flat.
Now, there isn't much use of this feature when it comes to productivity, but it is a good preventative measure for when younger users accidentally push the screen back too much. Not having this could result in the screen breaking or trouble in the hinges.
The processor is the Intel Celeron N3350. This is dual-core and has a clock speed up to 2.4 GHz. As a Chromebook for teenagers, this is a pretty impressive speed that can allow for lots of work and entertainment.
And having the 4GB memory plus 32GB eMMC completes the Chromebook to create an efficient and fast device for teenagers. And since this is a Chromebook, the user also gets 100GB of free space for two years.
We love the battery life this laptop provides. 10 hours and 30 minutes is a great amount of time that can last back-to-back classes and videos, so you do not have to constantly connect this to a charger.

Highlighted Features
Intel Celeron N3350 CPU
4GB RAM and 32 GB eMMC storage
10 hours 30 minutes of battery life
180-degree axis allows for halfway screen rotation
5.ASUS VivoBook S15 S533 | Best Laptop For High School Homework
The ASUS VivoBook S15 is the kind of laptop you should be getting for older teenagers since it comes with features that are suitable for busy users.
It has a 15.6 inch Full HD display. The bezels are narrow to create an 86% screen to body ratio for maximum viewing space.
With the 10th generation Core i5-10210U processor and huge storage capacity of 512GB PCIe SSD, you can access pretty much every kind of application in a quick manner thanks to the fast processing and loading speeds.
This is a prime reason why we say this is suitable for older teens since they can get more usage out of this from school or even part-time gigs.
The sound system on this laptop is especially commendable with the Harman Kardon sound system. It delivers high quality and detailed volumes which takes entertainment to a whole new level. You will not want to use earphones after this.
With the backlit keyboard, typing becomes a lot easier, even if you do not have the right lighting conditions. Late night projects will not be an issue anymore.
And you will also find a fingerprint sensor for heightened security. This especially important if you use the outside of your home

Highlighted Features
Intel Core i5-10210U CPU
8GB RAM and 512GB PCIe SSD storage
86% screen-to-body ratio
15 hours 45 minutes of battery life
Harman Kardon-certified sound system
Laptops For Teenagers Buying Guide
Memory/RAM
When it comes to teens, the expectations of a laptop can be highly diverse. Some love to game, others spend hours upon hours on social media or browsing the internet, and of course, we cannot forget online classes.
Tackling so many activities requires a decent memory that can process all this information and provide you with results in the quickest manner.
4GB RAM is sufficient in most cases, but if you think that your teen is extra active than opt for an 8GB RAM to be on the safe side.
Processor
Buying the best laptops for high school students means having a good enough processor to be able to deal with a teen's everchanging requirements.
But since their study and entertainment is nothing too complicated, and leisure equals online browsing, social media, or something along the lines of these, you can in fact settle with a mid-level processor here.
The Intel Pentium, Intel Celeron, or even MediaTek, are all suitable here. The plus point is that these processors are also pretty cheap, so you do not have to spend a lot.
We suggest against going with higher-end processors because these teens will have to change their laptops either way once they enter college when they can have a more customized laptop according to their needs. So splurging right now would not be the ideal move.
Display
When it comes to display size, different teens have different preferences. But most will want something flexible and lightweight, so it can be moved around easily.
For this reason, the maximum screen size you should look for is a 15.6-inch. Any bigger and the laptop loses its flexibility. You can go with smaller sizes too, such as 13-inch screens, which is one of the most common and preferred sizes amongst this age group.
Next comes the resolution of the display. Anything between a 720p HD and 1080P Full HD is suitable for this case. Since there is no specific job at hand, the difference between the two will not be super significant either.
Storage Space
When you are looking at the storage, you might be tempted to get an SSD, since this is the finest form of storage.
But SSDs can be expensive, and are not entirely necessary for teens, since they do not have power-consuming work at hand. If you must, go for a 128GB SSD.
Other choices are the HDD for teens who are into downloading a ton of videos, programs, or games. And if downloads are not an issue, then eMMC storages will suffice in this case.
Audiovisual
While you look at the technical aspects, a teenager will want to know how well they can use the device for video chats and communication. So do look into webcams and integrated microphones that make this easier.
Not to mention if they were to use this for school, Audiovisuals are a requirement since they have been integrated into the education system today.
Conclusion
The best laptops for high school students should not be ones that make it easy for the user to do virtual classes, at the same time accommodates social media and applications easily, and is overall simple to handle.
You do not need anything too complicated or fancy, and the models we have discussed are just that. Easy to use, handy, lightweight, and most importantly, affordable.
If you have been struggling to buy a laptop for your teen, we hope the struggle ends here.