As soon as COVID-19 hit countries schooling has shifted online and it might just be continued this way for a good while in the future.
This has gotten a lot of people looking for laptops because instead of physical books and copies this is what students are relying on right now for their classes and education.
The best laptop for online schooling is not the hardest to buy. These will resemble the average laptop, contain specifications that you would want to use even besides school, but you have to make sure that it contains the key specifications which is crucial when doing classes online.
These include features like a good display, Webcam, microphone, and storage space to store all the notes and files, and many more.
To know more about what and how the specifications contribute to schooling and the laptops that fit these criteria, keep on reading.
Top Laptop for Online Schooling by Editors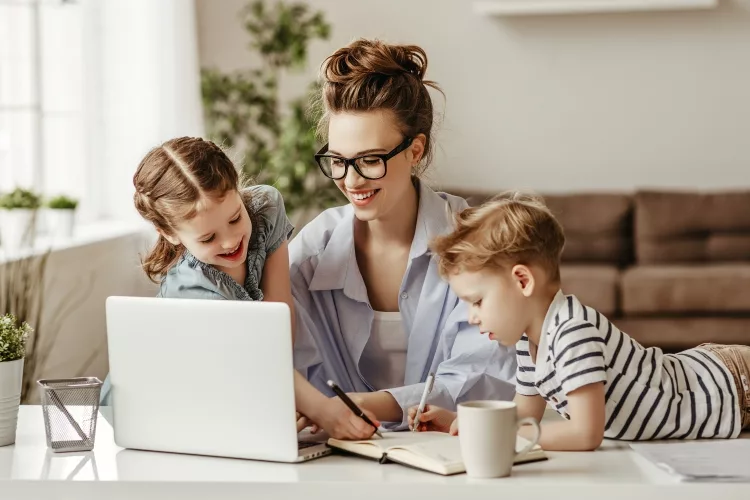 List Of Top Laptop For Online Schooling
3.Dell i5378-3031GRY-PUS Inspiron
Comparison Chart For Top 10 Laptops For Online Schooling
| PRODUCT | DISPLAY | CPU | RAM | PRICE |
| --- | --- | --- | --- | --- |
| Acer ChromebookR 13 | 13.3-inchFull HD Touch | MediaTekMT8173C | 4GB | |
| ASUS ZenBook 13 | 13.3-inchFull HD | 8th GenerationIntel Core I5-8265U | 8GB | |
| Dell i5378-3031GRY-PUSInspiron | 13.3-inchFull HD IPS | 7th GenerationIntel Core i37100U | 4GB | |
| Acer Chromebook14 | 14-inchFull HD | Intel CeleronN3160 | 4GB | |
| Acer Spin 7 | 14-inchFull HD | 7th GenerationIntel Core i7 -7Y75 | 8GB | |
| MicrosoftSurface Pro 6 | 12.3-inch(2736×1824) | 8th GenerationIntel Core i7 | 16GB | |
| Acer Aspire 5Slim Laptop | 15.6-inchFHD IPS | AMD Ryzen 33200U | 4GB | |
| HP Chromebook | 14.0-inchHD SVA | Intel CeleronN2840 | 4GB | |
| ASUS VivoBook S | 15.6-inchFHD | 7th GenerationIntel Core i7-7500U | 8GB | |
| ASUS ZenBookUX303UA | 13.3-inch FHDTouchscreen | 6th GenerationIntel Core i5-6200U | 8GB | |
Best Laptops For Online Schooling Reviews
1.Acer Chromebook R 13 | Best Laptop For Online Students
If you are on the hunt for a good laptop for the quickly shifting online classes than the Acer Chromebook R 13 is a good option to check out.
It has a 13.3-inch screen with a Full HD touch. The size is just big enough that makes it comfortable to move around with, but at the same time provides a good screen space for you to do classes online and work on your homework later on.
Using the 360-degree hinge you can rotate this completely to turn it into a tablet, rotate it halfway to use it in studio mode, or in a tent mode when there is a shortage of space.
The Chromebook comes with its own virus protection built-in which protects it from malware. This makes it a smart device for kids going to school who are less aware of how virus attacks work.
For the Webcam, you have an HD Webcam that comes with a high dynamic range. Even though built-in Webcams are not the greatest, this one does a pretty decent job where you can attend online classes without seeing a blur everywhere.
Which the MediaTek MT8173C processor, 4GB of memory, and 32GB of storage, this proves to be a good and handy device overall for attending classes online.

Highlighted Features
Includes the MediaTek MT8173C processor
Integrated Imagination PowerVR GX6250 Graphics
Comes with built-in virus protection
Two built-in stereo speakers are included
HD webcam with high dynamic range (HDR)
2.ASUS Zenbook 13 | Best Laptops For Online College
Doing college online is a whole new experience and something most people are facing now. However, with a good laptop, you can not only attend the classes, but work on your project and use it for other forms of entertainment as well.
This ASUS Zenbook 13 comes with the 8th Generation Intel Core I5-8265U processor which provides good speed, but at the same time saves battery life by consuming less power.
You also get 8GB of memory and 512GB SSD storage. This gives enough speed where you can do classes online while you download videos or movies in the background for later.
The storage is pretty generous given that this is a solid-state drive, and of course, it helps to speed up the booting times as well.
For the audio, you have the Harman Kardon-Certified Audio. It comes with a low distortion smart amplifier technology. This sounds are louder by 3.5 times and has better clarity so you do not always have to use earphones when doing classes online.

Highlighted Features
Includes the 8th Generation Intel Core I5-8265U processor
Integrated Intel HD Graphics 620
Comes with Harman Kardon-Certified Audio
One-touch access with fingerprint sensor
ASUS Eye care technology is good for long time viewing
3.Dell I5378-3031GRY-PUS Inspiron | Best Rated Laptops For College
This Dell Inspiron is one of the finest laptops for college students because it comes with features that align with how they work.
It boasts a high storage space with 1TB HDD. This provides a ton of space which is much required when you are in college.
From the numerous online class recordings to all the projects and PowerPoint, to store your selection of movies and music for entertainment, this storage space will be able to hold it all.
The processor is a very good one. Even though it is a core i3, it comes from the 7th generation making it useful and efficient when it comes to education and light entertainment.
The laptop has a 360-degree hinge which allows you to flip it and turn it to use it in various modes according to your comfort.
For the Webcam, you get a wide viewing angle HD camera. With this, you can do classes on Zoom without having the camera zoomed in your face. It provides a wide view of a proper teacher-student interaction.
The laptop also distinguishes itself from others in that it carries a lot of ports and slots to give you a better connectivity system despite the compact size.

Highlighted Features
Includes the 7th Generation Intel Core i3 7100U processor
Integrated Intel HD Graphics 620
Comes with Wide Viewing Angles HD Camera
360-degree hinge enables usage in 4 different modes
Stereo speakers plus MaxxAudio provide enhanced audio
4.Acer Chromebook 14 | Best Inexpensive Laptops For College Students
One of the primary concerns students have with new devices is the budget. As a student high-end laptops are usually out of question, which is why you should check out this Acer Chromebook 14 that comes at a cheap price and carries decent features and specifications which can help you get through all your online classes.
With the Celeron N3160 processor, 4GB memory, and the 32GB storage, the Chromebook provides a handful of impressive features that any student would love.
With these, you can expect to store a good number of online lectures, work on multiple tabs on Google Chrome without having to experience freezing screens, and of course, go through your classes without any disturbance on behalf of the laptop.
The HD Webcam comes with an 88-degree wide-angle lens. It helps to give a widescreen view of you when you are on zoom classes or one-on-one consultations with your professors.
Thanks to the high dynamic range imaging, photos, and videos through the Webcam are much clearer with little to no blurring. Plus, with two speakers being built-in, you can enjoy classes as if you were there physically present thanks to the loud and clear sounds.

Highlighted Features
Includes the Intel Celeron N3160 processor
Integrated Intel HD Graphics
Comes with 88-degree wide angle HD webcam
Battery runs up to 12 hours of usage
Two built-in speakers provide louder sounds
5.Acer Spin 7 | Best Laptop Brands For College
If you haven't noticed by now, we have got a pretty good lineup of Acer laptops which make them one of the finest brands for college students. They have reasonable prices and give you lots of good features useful for doing classes online as well as other duties you might have.
With the Acer Spin 7, you get a 14-inch full HD touchscreen which can rotate all the way to give you a tablet as well. It has got incredibly thin bezels on the sides so that you get a wider and more interactive screen experience.
For the Webcam, you get an HD camera with a high dynamic range. This makes sure that when you are doing classes online you can be seen clearly with colors bright and vibrant, unlike what most other built-in Webcams provide.
With the Dolby Audio Premium with its enhanced Acer TrueHarmony, sounds come out naturally so you do not have to wear earphones through the long hours of classes.
Besides how you are seen, you also need to worry about what you see. Thanks to the Acer Colour Intelligence, the gamma and saturation are adjusted to make sure colors on screen match reality as closely as possible.

Highlighted Features
Includes the 7th Generation Intel Core i7 -7Y75 processor
Integrated Intel HD Graphics 610
Dolby Audio Premium with Acer TrueHarmony provide enhanced audio
10-point multi touch screen allows for better interaction
Comes with a built-In HD Webcam with High Dynamic Range
Online Schooling Laptop Buying Guide
Operating System
The first thing to do is to choose a platform of choice. You have the Windows OS, the Chrome OS, and Mac. For online schooling, we are going to rule out the MacBook since it is not the most feasible choice for students.
Windows 10 happens to be one of the most flexible operating systems out there and has laptops that range from supercheap to super expensive depending on the array of features that you get.
If you want a good laptop overall that is useful for not just schooling, but other purposes as well then you should look for a Windows 10 operating system.
If you're on a very tight budget and you want a laptop for this purpose only, in that case, look at the Chrome OS, or Chromebooks. These are a lot cheaper and they allow you to do classes just as easily. The only concern is that a lot of the web applications don't work as well when you are off-line.
Processor
The processor you pick depends on the kind of school you go to. If you're in middle school or high school, the Intel Core i3 is a good processor to start with. It has a decent speed that allows you to do classes smoothly as well as provide a decent speed for other work like homework or assignments
For younger students, the Intel Pentium or the Intel Celeron processor is better suited. These are cheaper as well and even though they don't have the finest performance, it is more than enough than what kids require.
If you're going back to college, opt for the Intel Core i5 or i7 processor. These have better speeds and allow you to work on more applications at once.
The quality of the Webcam and microphone might not change a lot but you will need the extra speed for other kinds of projects that you will be assigned.
Memory
For attending classes online without disturbance or slow down a minimum memory of 4GB is enough. It allows you to attend classes while taking notes or even working in Microsoft office applications simultaneously.
However, if you think you need better speed for other kinds of work or projects, then it is better to go with the 8GB RAM instead. It is a surefire way of knowing that you will have a good speed no matter what you decide to work on.
Storage
The best online schooling laptop should have a decent storage space that can hold on to the ton of video lectures you get. Most students like to download or screen record these to go over them afterward and this can end up requiring a lot of storage space.
High schoolers and college students should opt for high storage spaces such as the 512GB SSD or 1TB HDD. These have enough space to store all the lectures, numerous projects, reports, and presentation files that you have.
Students who are younger than this don't have as many files and can settle for lower storage spaces such as at the 32GB or the 56GB SSD.
Conclusion
The best laptop for online schooling has to contain features that help to make using it easier for kids. They should be focused on communication and interaction primarily.
At the same time, they should also contain other features that can be used for entertainment purposes after class to help the kids catch up with this new method of education.
If the kids are too young you should also look into laptops that have good gaming features, and if they want to have virtual backgrounds you should look to newer models because the older ones wouldn't support it.
Similarly, match the requirements to the specifications provided, and you can find one in no time.