Acquiring the best tablet for kitchen is an incredible way to bring the fascinating digital world into your cooking area. But don't get this twisted. In as much as we all desire to enjoy a digital kitchen, we can't go further than permissible.
Modern kitchens now have smart fridges, smart ovens, and smart toasters. However, heat, or fire, continue to be around. With fire having been around for millenniums, that's pretty analog if you dare ask. And, there's still going to be steel blades and wooden chopping boards.
But that shouldn't stop you from embracing the digital world that keeps encroaching on cooking areas. The online space has a versatile range of online recipes and videos of unique cooking techniques. Moreover, you will probably need to share your cooking results on social media for friends to see.
A kitchen tablet is the most obvious tool to achieve these popular developments. The moderately large screen and portability allow you to interact will the digital world as you perform your culinary tasks.
Editors' Picks: Top Tablet for Kitchen Use 2022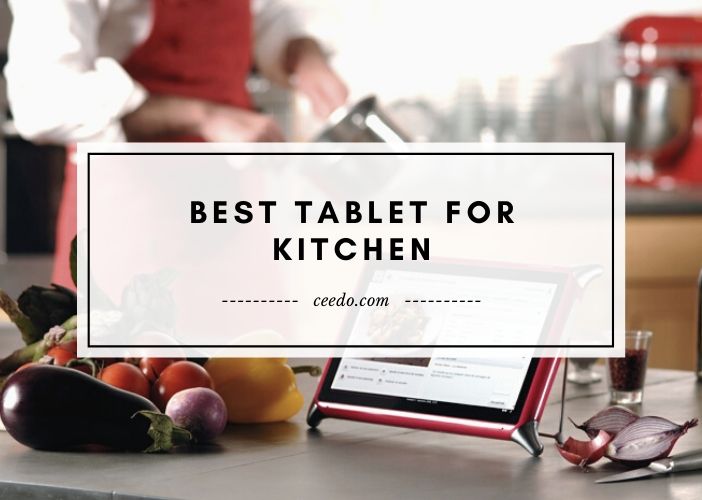 List Of Top Tablet For Kitchen
Comparison Chart For Top 10 Tablets For Kitchen
IMAGE
Product
Display size
(Inches)
Resolution
Processor
price

Apple iPad Air
4/64 GB (4th gen)
10.9
2360×1640
A14 Bionic chip

VANKYO MatrixPad S30
3/32 GB (2019)
10.1
1920 x 1200
SC9863A Octa-core 1.6GHz

Lenovo Yoga Smart Tab
4/64 GB (2020)
10.1
1920×1200
Qualcomm Snapdragon 439

Microsoft Surface Go 2
4/64 GB (2020)
10.5
1920 x 1280
Intel Pentium Gold Processor 4425Y 8th gen

VANKYO MatrixPad S21
2/32 GB (2020)
10.1
1280 x 800
SC9863A Octa-core 1.6GHz

Amazon Fire HD 8
2/64 GB (2020)
8
1280 x 800
MediaTek MT8168

Samsung Galaxy S6 Lite
4/128 GB (2020)
10.4
2000 x 1200
Exynos 9611

Samsung Galaxy A7
3/64 GB (2020)
10.4
2000 x 1200
Qualcomm SM6115

Lenovo Tab M10 FHD Plus Gen 2
4/64 GB (2020)
10.3
1920 x 1200
Mediatek MT6762 Helio P22T

Amazon Fire HD 10 Tablet
2/64 GB (2019)
10.1
1920×1200
Mediatek MT8183
Top 5 Best Tablets For Kitchens Reviews
1.Apple iPad Mini | best tablet for cooking
A kitchen tablet doesn't have to be complicated. All you need is a device with excellent readability, kitchen-handy features, sufficient storage, and above-average performance. That, and many more, are what the Apple iPad Mini promises to offer its users, and it does precisely that.
With the release year of 2019, the iPad Mini is the latest iPad from Apple. It is pretty simple and arguably forms a skeleton version of a full-featured iPad. But it is perfectly ideal for all kitchen tasks that a tab should perform. Besides, it features an exciting range of improvements, despite retailing at a moderate price tag.
The company blends price, function, style, and reliability incomparably. It's incredibly stylish and will blend well with the rest of your kitchen equipment. The tab also draws its credibility from the inclusion of the robust A10 processor popular in the previous models.
The screen is relatively large and enables comfortable reading from a distance. You can even achieve better reading by using iBooks or Safari apps to crank up the font sizes. These popular apps not only enhance font size but also color and clarity for a better reading experience.
Highlighted Features
The device features a thin and lightweight model.
It comes with a battery that can last for up to 10 hours.
A powerful processor enables stability and fast performance.
The device is compatible with a Stylus for note-taking and drawing.
The retina display delivers intense colors and visibility.
2.Amazon Fire HD 8 Tablet | best touch screen for kitchen
Amazon hasn't been in the tablet manufacturing industry for a very long time. However, the Fire tablet series from the now reputable company continues to take the market by storm.
That's partly because of moderate pricing. But the primary reason for the popularity of this line of tablets lies in their versatility and reliable performance. The Amazon Fire HD 8 Tablet is a prime example of a large display, affordability, impressive performance, and versatility.
Amazon rolled out a range of plausible upgrades on their late releases. And part of the improvement included bringing in the Alexa software into their tablets. The Fire HD 8 is no exception.
The Show Mode turns this tablet into an equivalent of any Alexa device. You can conveniently set timers, ask for recipes, and search videos without laying a finger on the tablet. This comes in handy when you need to use your tab while your hands are either messy or engaged on a task.
While the battery life is often a big concern for most tablet users, you can rest assured that the Fire HD 8 has a battery that won't disappoint. The battery lasts for up to 10 hours on a single charge. That's sufficient to take you through the most prolonged cooking processes. You can as well use it confidently away from home.
Highlighted Features
Keep the device away from the kitchen mess by engaging the Alexa feature.
It can hold up against accidental falls and spills.
A high resolution produces clear, bright, and vivid images.
10-hour battery life will serve you for an entire day.
The dual-band Wi-Fi enables reliable connection.
3.Amazon Fire HD 10 Tablet | Best Tablet For Recipes
The Amazon Fire HD 10 is nearly similar in design to the Fire HD 8 that we reviewed above. Besides, they both have the Alexa function. But the Fire HD 10 features a large display area of up to 10.1 inches. Now, is that the only difference that the 10-inch tab brings to the table?
The answer is a resounding no. Firstly, this gadget features a bigger internal storage capacity. You can opt for the 32GB model or the 64GB model. This ensures that you have enough space to store cookbooks, recipes, audiobooks, images, and cooking videos. Besides, you can expand the storage to 512 GB using a micro SD card.
The device is also pretty fast, more reliable, and stable, thanks to the improved octa-core processor and a 2GB RAM. The 2.0 GHz processor speed makes the device faster than its competitors by up to 30%.
You can conveniently use the device as a kitchen tool for opening digital copies of your cookbooks, watch cooking lessons on YouTube, and read through your favorite recipes. The camera features also enable you to record pictures or take photos of your cooking techniques and final results.
Highlighted Features
The Alexa feature enables a reliable hands-free experience.
It performs beyond a typical kitchen tablet to handle ordinary tasks.
You can expand the storage capacity to a massive 512GB.
The device is fast, stable, and reliable.
The battery can last for up to 12 hours on a full charge.
4.New Apple iPad Pro | Best Tablet For Kitchen Recipes
If you are an Apple enthusiast who wants to experience the finest of features from an iPad, you will find the New Apple iPad Pro a viable option. But that's if you can afford it. It is a full-features iOS device that prides itself on unbeatable performance and snappy applications.
The Pro operates on the much sought after iOS 12 and features an incredibly powerful processor. The combination gives the device a performance that most phones can only dream of. In fact, it is faster than most tablets on the market today.
The tablet is not only reliable, fast, and a top performer but also features unmatched versatility. It is a device that the entire family will find useful. You can use it to play games, listen to music, browse the net, draw unique designs, or attach the responsive keyboard and get office work done.
Besides, you'll also find it ideal for a range of kitchen applications. For example, this device features the most advanced display screen to enable you to read your recipes or watch your cooking videos from afar. On the other hand, it comes with four speakers for a home theater-like audio experience.
Finally, the iPad Pro allows capturing of high-quality videos and breathtaking photos, thanks to the 10 MP ultra-wide and the 12MP wide cameras. This combination makes food photography more natural and inviting.
Highlighted Features
An advanced screen enables easy watching and reading.
The terrific audio system guarantees a superb listening experience.
Impressive camera capabilities enable fantastic food photography.
The device is ideal for several tasks.
It's more powerful than most phones and tablets.
5.Samsung Galaxy Tab S4 | best smart device for recipes
Samsung is arguably the most popular smartphone and tablet brand with devices that run on the Android platform. The company takes pride in several decades of market presence and an incredible range of products to its name.
The Samsung Galaxy Tab S4 is one of the high-end models that aim to revolutionize the tablet industry. And it doesn't fall short on that. It is the kind of tab that any avid Android user will find tempting.
It is a versatile device that comes in handy for various home, office, and kitchen applications. You can quickly transform it into a PC using the included DeX and type your office work. Even more, the Galaxy Tab S4 is an incredible entertainment tool with the capability to play games, watch videos, stream movies, and play music.
While it performs the tasks mentioned above effortlessly, you will equally find it ideal for every culinary application that you'd demand from a kitchen tab. The 10.5-inch display screen and the Dolby Atmos speakers combine to provide incredible watching, reading recipes and cookbooks, and listening to audiobooks.
Finally, the device also comes with an S Pen, which gives you a chance to showcase your creativity. You can use the stylus to draw, sketch, or scribble notes. The passive pen works without batteries or the need to recharge, and you can conveniently use it without unlocking the tab.
Highlighted Features
It features a superior Dolby Atmos sound system.
You can conveniently transform the device from a tab to a PC.
The package includes an S pen.
A sizeable 10.5-inch screen provides an impressive viewing experience.
The battery can last for up to 16 hours.
6. Kitchen Tablet Mount Stand iKross 2-in-1 Kitchen Wall/CounterTop Desktop Mount Recipe Holder Stand- Best Kitchen Tablet Stand And Mount
Designed to hold most tablets and e-readers securely in the kitchen, this two-in-one Kitchen Wall/CounterTop Desktop Mount is adjustable to fit your gadget of choice.
This iKross tablet mount for kitchen can be mounted using a strong 3M adhesive tape for safe and reliable adhesion to smooth surface of walls or furniture and removable with no sticky residue when you change the device.
Made from ABS engineering plastic, this kitchen tablet holder is lightweight and portable. It has a built-in shelf to store some larger tablets like Samsung Galaxy Tab P1000, Tab S2, and the iPad Air.
Featuring a unique slot design for multiple tablets, you can rotate and flexi-skew the tablet to use it as a kitchen-friendly stand. It has a 360-degree rotation feature so the screen rotates to face you, and swivels and tilts it is designed for easy viewing of food preparation or recipes while working.
It comes with a double-hook mount that allows use of both hands to open your device - and another hook on the back side that lets you easily hang it up in just about any place and angle.
Thanks to the adjustable universal clamp, it will hold most gadgets securely and safely in place. The iKross kitchen tablet mount comes with a microfiber cleaning cloth to keep it shiny.
Highlighted Features
360-degree rotation and swivel feature
Designed for easy viewing of food preparation or recipes
Built-in shelf to store larger tablets
Unique slot design for multiple tablets with 360-degree rotation feature
Double hook mount allows use of both hands to open your device
Buying Guide For Tablets For Kitchen
Once you settle on buying a Kitchen Recipe Tablet, it is essential to note that not any tab will do the work. Thus, you will need to delve deeper and find out what makes a perfect kitchen tablet. We help you through that with this detailed buyer's guide.
Screen Size
First, the size! The primary reason why enthusiastic chefs prefer tabs over phones is that they provide larger screens for more captivating viewing. They are also easier to position using stands. At the same time, they are thinner, more lightweight, and more comfortable to move from one corner of the kitchen to another.
And since you will most certainly position a tab on a shelf or a countertop, you need to make up your mind on how big you are likely to go. Maximize the display size by opting for models with minimal bezels. The decision is always dependent on two parameters.
Firstly, the overall size of your kitchen is a significant consideration. If you'll need to read recipes or watch cooking techniques from the farthest corner of a big kitchen, consider tablets with huge screens. Secondly, with the tablet stand in mind, determine the space available for positioning the entire setup.
Operating System
After considering the screen size, the operating system is the next factor that you will have to consider. And when it comes to this, you are likely to go iOS or Android. This decision will depend on your personal preference as well as the applications that you'd want to access.
So, if you are a big fan of Apple, you may consider an iOS model. But if you are enthusiastic about Android, or just find devices with Android platform easy to use, there are a versatile range of models to choose from.
When it comes to the choice of apps, these operating systems share the most popular apps. However, you will need to look out for the compatibility of certain apps with the tablet that you intend to purchase.
Camera Capability
If you'd like to show your friends or the rest of the world your cooking processes and results, consider models with powerful cameras. You may as well need to record or capture what you do for personal reference. A powerful camera is the only means through which you can get high-quality videos and pictures.
The availability of front and rear cameras isn't enough. That's now quite universal in all modern tablets. You need to look at the specifications of the cameras, as that's what determines the quality of your images.
Interestingly, rear cameras have more robust capabilities than front cameras. Therefore, you will need to consider models with back camera capabilities of 5MP and above as these guarantee more detailed video recordings and photos.
Internal Storage
What are the main functions of the best tablets for kitchen use? Of course, you'll need them to watch new cooking techniques, listen to cooking audios, read digital recipe books, download cooking lessons, as well as record or capture your cooking experiences.
You need space to store all these media content, and that's why internal storage capacity becomes a special consideration. You need sufficient storage to have all your content in one place.
Low volume users will find 8 GB memory good enough most cooking tasks. However, if you are a high-volume user, consider devices with a minimum of 16 GB storage. You may also need options room for expandability to cushion you from an unexpected need for more space.
Durability
A kitchen tablet won't undergo the same treatment as your gaming treatment. There is a lot of abuse that goes on in the kitchen, from messy spillages to flurry activities that could send the device stumbling down. There could also be objects that may bump on to your tablet.
Even without considering the high-end rugged options, you need to look out for models that can handle the beating. Consider options with protective casings. The design, too, should have a stable chassis.
Tablets Vs Smart Speakers
The age of hand-held technology is upon us. Need to get a recipe? Pin up some pictures for a project? Keep on top of your email while you're working in the kitchen? No worries, digital cookbook tablet is here to solve your problem.
They are more than just simple phones that let you watch video; they can be as useful as laptops and save you tons of space on your desk.
On the other hand, smart speakers aren't as functional as tablets. You can't download apps to them, and you can't really watch a video on them (but you can listen to audio). It you want visual aid on a recipe along with the verbal instruction, then a kitchen tablet will facilitate you both.
Final Words for Kitchen Tablet Buyers

You can watch cooking videos from a phone or a tablet. On the same breath, both tablets and tablets have incredible connectivity options to share videos with friends. But how convenient is that?
Notably, both of them come with a few challenges. Phones are too small and will require you to hold them throughout. That's inconvenient if you'll need to watch as you roll out cookies or knead dough. They could drop, too. On the other hand, tablets are enormous and challenging to place conveniently in your kitchen.
Thus, while tablets aren't for everyone, the Best Kitchen Tablet is undoubtedly the most suited gadget for kitchens. Tablets strike an incredible balance between overall size and screen size. You can use a stand to position them appropriately in your kitchen as you move around preparing meals.
Buy on Walmart
CTA Digital: 2-in-1 Kitchen Tablet Stand Wall/Desktop Mount W/Stylus for 7-13" - Walmart Link
Moutik Tablet Stand Wall Mount:Moutik Holder Kitchen Tablet Using Reading on Office - Walmart Link
Echo Show 8 (1st Gen, 2019 release) -- HD smart display with Alexa - Unlimited Cloud - Walmart Link
Tablet Kitchen Stand Holder, Jubor Kitchen Phone Stand Universal 2-in-1 Kitchen Wall - Walmart Link
Fire 7 tablet, 7" display, 16 GB, latest model (2019 release), Black - Walmart Link
WSVVMQY Wireless Stereo Speakers, Portable Bluetooth Vintage Speakers with Powerful - Walmart Link
Kitchen Tablet Mount Stand, JUBOR Wall Mount / Under Cabinet CounterTop Desktop Recipe - Walmart Link
Apple iPad Air 4/64 GB (4th gen) - Walmart Link
VANKYO MatrixPad S30 3/32 GB (2019) - Walmart Link
Lenovo Yoga Smart Tab 4/64 GB (2020) - Walmart Link
Microsoft Surface Go 2 4/64 GB (2020) - Walmart Link
VANKYO MatrixPad S21 2/32 GB (2020) - Walmart Link
Amazon Fire HD 8 2/64 GB (2020) - Walmart Link
Samsung Galaxy S6 Lite 4/128 GB (2020) - Walmart Link
Samsung Galaxy A7 3/64 GB (2020) - Walmart Link
Lenovo Tab M10 FHD Plus Gen 2 4/64 GB (2020) - Walmart Link
Amazon Fire HD 10 Tablet 2/64 GB (2019) - Walmart Link
Buy on eBay
CTA Digital: 2-in-1 Kitchen Tablet Stand Wall/Desktop Mount W/Stylus for 7-13" - eBay Link
Moutik Tablet Stand Wall Mount:Moutik Holder Kitchen Tablet Using Reading on Office - eBay Link
Echo Show 8 (1st Gen, 2019 release) -- HD smart display with Alexa - Unlimited Cloud - eBay Link
Tablet Kitchen Stand Holder, Jubor Kitchen Phone Stand Universal 2-in-1 Kitchen Wall - eBay Link
Fire 7 tablet, 7" display, 16 GB, latest model (2019 release), Black - eBay Link
WSVVMQY Wireless Stereo Speakers, Portable Bluetooth Vintage Speakers with Powerful - eBay Link
Kitchen Tablet Mount Stand, JUBOR Wall Mount / Under Cabinet CounterTop Desktop Recipe - eBay Link
Apple iPad Air 4/64 GB (4th gen) - eBay Link
VANKYO MatrixPad S30 3/32 GB (2019) - eBay Link
Lenovo Yoga Smart Tab 4/64 GB (2020) - eBay Link
Microsoft Surface Go 2 4/64 GB (2020) - eBay Link
VANKYO MatrixPad S21 2/32 GB (2020) - eBay Link
Amazon Fire HD 8 2/64 GB (2020) - eBay Link
Samsung Galaxy S6 Lite 4/128 GB (2020) - eBay Link
Samsung Galaxy A7 3/64 GB (2020) - eBay Link
Lenovo Tab M10 FHD Plus Gen 2 4/64 GB (2020) - eBay Link
Amazon Fire HD 10 Tablet 2/64 GB (2019) - eBay Link