Drawing tablets, better known as an artist's closest friend, are a must-have tool for anyone who needs to work with 3D modeling. It is one of the easiest ways to bring life to your work, and the entire set-up gives you leverage over your pen to create the perfect models.
For architects to engineers to illustrators, this is a commonly used tool every day. Which means buying the right one is crucial to their work. You want one you can use for long times to come, one that would not lag, is easy to use, durable, and comes with a lot of features.
Finding one that meets all your requirements can be time-consuming. Which is why we have listed down some of the top models here today. To find the best tablet for 3D modeling, you do not have to look much further. Simply keep on reading.
Editors' Picks: Top Tablet for 3D Modeling 2021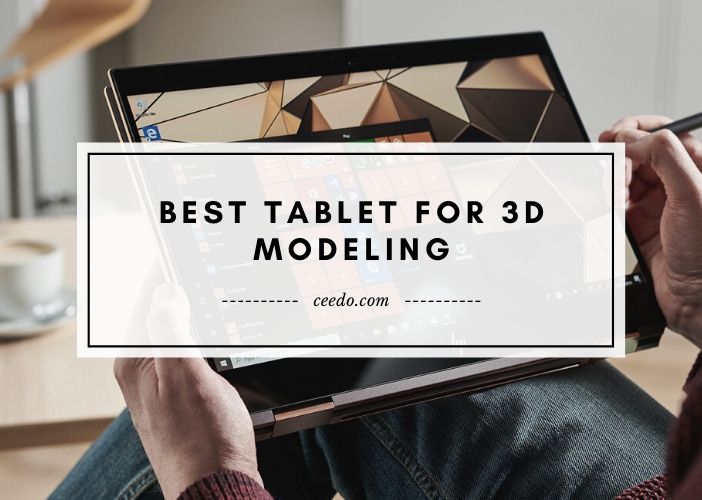 List Of Top Tablet For 3D Modeling
Comparison Chart for 3D Modeling Tables
IMAGE
Name
Display size
Pressure sensitivity
Pen technology
price

XP-Pen StarG640

6×4 Inch

8192 Levels

Battery-free PN01

Huion Inspiroy H950P

8.7 x 5.4 Inch

8192 Levels

Battery-Free PW100

Wacom CTL4100 Intuos

6 x 3.7 Inch

4096 Levels

N/A

Huion H420 USB

4×2.23 Inch

2048 Levels

N/A

XP-Pen Star06
Wireless

10×6.25 Inch

8192 Levels

Battery-free
PN03

Huion Inspiroy
H640P

6.3 x 3.9 Inch

8192 Levels

Battery-Free
PW100

XP-PEN Artist12

11.6 Inch

8192 Levels

Battery-Free P06

Huion KAMVAS Pro 13

19.3 inch

8192 Levels

Battery-Free
PW507

Huion KAMVAS Pro 16

19.3 inch

8192 Levels

Battery-Free
PW507

Wacom Cintiq 16

15.6-inch

8192 levels

Wacom Pro
Pen 2
Best Tablet For 3D Modeling Reviews
1.XP-Pen Star06 Wireless | Best Tablet For 3d Sculpting
The XP-Pen Star06 Wireless is number one on our list, and one of the reasons is that this packs a bunch of features suitable for professional use, but at a very affordable price range. So for those fresh out of college, or still a student, this is a good option to check out.
This tablet can be used both with or without wires, depending on your preference and ease of use. All you have to do is connect the USB to a computer for wired use, or plug the ISM 2.4G USB receiver into a PC for wireless.
The battery is fast charging. This is important because tablets tend to get a lot of usage, which means you will need to change this a lot. The faster you can do it, the better. A 2-hour charge will give you a full 16 hours of work time.
6 Shortcut keys are included because they make your work easier. The device knows what strokes you like to use and helps you get them fast.
The stylus is battery-free, meaning you do not have to charge it. It can keep performing as it is, without needing any maintenance.
Highlighted Features
Includes both wired and wireless capability
Automatic line correction creates natural and smooth lines
Stylus includes a built-in tool for quick nib changes
Shortcut keys included for fast and efficient work
Built-in battery gives up to 16 hours of use
2.Huion Inspiroy H640P | Best Drawing Tablet For 3d Modeling
The Huion Inspiroy H640P is an all-rounded professional tablet that lets you do more. Even though this can be used for 3D modeling, with so many features and being so easy to use, they are often used for other work too.
You get a battery-free stylus that is lightweight and easy to use and maneuver. No charging is required, and you can keep using it as it is. With a high-pressure sensitivity, drawings, or models you create come out life-like and strokes feel natural.
Well suited for animations, this is a slim and compact tablet, loved by students. Now you can carry it to class, use it to join online meetings, and do so much more all from one device.
You also get a total of 6 customizable keys. As an artist, no matter which field you belong to, you will be repeating strokes and similar techniques while working.
You can now create shortcuts for these, have the device memorize these techniques, and simply apply them when needed without having to do it again.
Highlighted Features
Can be used for other work such as online conferences
High-speed trajectory sensing technology allows for quick responses
±0.3mm accuracy gives precise details on screen
Customizable Express Keys make creating shortcuts easy
The battery-free stylus is lightweight, easy to use
One of the finest choices when it comes to 3D modeling tablets, this one is the Wacom DTHW1320H. Only when you use this will you understand how natural and smooth it is to work on this. All thanks to the pen accuracy, which is 4 times higher than what you get on most similar devices.
This alongside the pressure sensitivity and lag-free tracking makes this a dream to work with. Highly recommended for professionals who have to work with 3D modeling all day, this will give you the efficiency and precision in one.
It also includes graphics options and computing power that can run even the high demanding 2D and 3D card applications. Furthermore, this tablet comes with an Intel real Sense Camera built-in, using which you can capture 3D scans too.
All of these techniques will be seen on screen, which features a resolution of 2560 x 1440 alongside superior color quality. The final result is a brilliant screen that is both detailed and vibrant, which makes work fast and enjoyable.
Highlighted Features
Pen accuracy is 4 times higher than others
Improved software allows for lag-free tracking during use
Includes an Intel Real Sense camera plus scanning software built-in
Multi-touch surface makes work fast and efficient
Etched glass surface creates a pen on paper feel
4.Huion KAMVAS | Best Graphics Tablet For 3d Modeling
This one from Huion KAMVAS is for those who want a big screen to work on. With a 19.5-inch screen, you get a lot of space to let your creative juices flow. The larger the work area, the more control you have over your final outcome.
For further stability and control over your work, you get a tilt function and battery-free stylus. It is easy to maneuver, and you can change the angle at which you work.
This helps to give it a real pen on paper feel, which always works to bring out the most natural finishes. The pen is also battery-free, so that is one more thing that adds to your increase in control.
The color gamut is also incredibly high with 120% sRGB. Showing you 16.7 million colors on the screen, this is loved by professionals who work in animation and have to deal with multiple colors and shades.
You can do all of this, and still not feel any eye strain thanks to the anti-glare glass that it features. Eye damage is reduced, even after long hours of work. And you get to work longer too!
Highlighted Features
Can show 16.7 million colors on screen
Includes anti-glare technology that reduces eye strain
Battery-free pen gives natural finish on screen
±60 Levels of tilt recognition makes drawing more interactive
Ergonomic design makes this easy to use on the go
The last one on our list is also from Wacom. Featuring the Pro Pen 2 technology, this is highly used by professional illustrators. With high-pressure sensitivity and tilt response, using this pen to create precise outcomes is super easy.
Making 3D models is not the easiest thing to do, but given the right tools, they can be. And this one without a doubt is a tool you do not want to miss. There is minimal lag while working, but it is not even noticeable, which boosts your work efficiency.
Other features that make this tablet worthwhile include the multi-touch function that makes work smoother, the express keys to lessen work hours, and even Bluetooth!
Besides these features, this tablet also comes with a premium look on the outside. Made of fiberglass composite resin and black anodized aluminum, it has got a unique finish that makes it stand out from the rest.
Highlighted Features
Includes multi-touch for a better user experience
Pen has lag-free tracking for optimum performance
Touch ring and express keys included for shortcuts
Features Bluetooth for wireless working
Includes spare nibs and a built-in tool for replacement
Tablet For 3D Modeling Buying Guide
Resolution
Most recent tablets come with high resolutions, which are suitable for 3D modeling. For tablets, resolution is measured as Lines per Inch (LPI). The higher the LPI value, the better your resolution will be.
As you increase your resolution, it will become more costly. But since this is for work purposes, we recommend you go for the highest resolution your budget can support.
Consider it an investment of sorts. For 3D modeling specifically, you should opt for a minimum of 2540 LPI.
Tilt Support
One of the main reasons for choosing a tablet over your computer screen is so that you have more control over your hand movements.
This makes the tilt support a crucial point to check. The best 3D modeling tablet will have a great tilt support to work with. You want the right angle so you can mimic natural brush strokes.
There is no software to replace this factor, which means it is imperative that you check for this.
Quality
How the device is built is also worth checking out. Since you will be using this for long times to come, it should be a solid device.
One that does not break easily and is heavy-duty. It should also include accessories like nibs, optional pens, and surface sheets, all to make your work easier.
Screen Size
The smaller your screen size, the less space you have for your hand movements. For intricate details, this is not recommended. If you cannot move your arms freely, you will not get the right outcome, your movements will feel restricted, resulting in blunt lines.
If you are an illustrator who has to draw long lines, you will need a bigger screen. These are also suitable for those who will work with just the tablet, since the size makes it hard to work with other devices simultaneously.
But one that is too big can make your arms move too much, resulting in arm pain instead. These also take more time to work with, given the bigger space to cover
See what size you are comfortable with at first, then check the screen size to match that. This will differ for people. If you have big hands, a big screen might seem regular to you. So match these factors and you can find the right fit.
Stylus
Styluses are important because it is this accessory that lets you draw. Hence it should be one that gives you maximum comfort and control with your work. You have a few options when it comes to styluses.
There is the wired version, but it is not used as much because it restricts your movements. There are ones that run on batteries. These are easy to work with, but the battery makes them a little heavy.
And there are battery-free EMR pens. They are lighter to handle, since they are not being weighed down by heavy batteries, but that is all.
If you can find one that includes extra nibs, all the better. Because over time and frequent use the nibs will start to wear down. You can get them changed when needed.
Best 3D Modeling App For Android Tablet
1. Thingiverse
Take 3D CAD models and bring them to life with free digital models
2. Qubism
With the help of this app, you can design and 3D print your concepts in real-time.
3. Luna Display
With this app, you can design and 3D print your concepts while watching TV.
Best 3D Modeling App For iPad And iPhone
1. Putty3D
It has a lot of free models and it works on the iPad.
2. Umake
This app has more than 200,000 free 3D models and over 10million views.
3. Morphi
This app is similar to coolors, but it has over 1.3million models and 2 million downloads.
4. Qlone
This app was designed for 3D printing with the iPad.
5. Sculptura
This app has more than 3 million views and it can be used on the iPhone.
6. Shapr3D
This one is like TinkerCAD, but it is optimized for iPhone.
Best 3D Modeling App For iOS And Android Both
1. Sketchup Viewer For Mobile
This app is very user-friendly and it has a lot of functions.
2. 3DC
This app helps you to design from any angle and you can share and download models.
3. AutoCAD
This is the official app from AutoCAD. It is free, but it needs a subscription to work fully.
5. eDrawings
This is a 3D modeling software for Android and iOS.
Frequently Asked Questions
Do You Need A Tablet For 3D Modeling?
Whether or not a tablet is required for 3D modeling depends on the level of detail one wants in their work. For low-resolution work, a laptop or computer can be used with a mouse.
However, for fine detail and high-resolution work, a tablet is a must-have. A tablet allows the user to have more control over their movements thanks to the styluses that are used on them.
Can You 3D Print From An iPad?
Using the right apps, it is possible to 3D print from an iPad. Thanks to the pressure sensitivity of the iPad and the Apple pencil, it is possible to create high-definition models and then have them 3D printed.
Some of the apps that can be used include Putty 3D, Shapr3D, and Forger 3D.
Which Stylus Is Best For Me?
Answer: If you want to get into more precise work, try the Wacom stylus. It has a "pressure sensitivity" feature which allows for better control and is much easier to use than a regular pen or pencil.
It's designed for any type of drawing or painting, so it will be suitable for anyone who wants to start on their computer rather than with paper and paints.
How To Know If A Tablet Is Good For 3D Modeling?
Answer: There are several things you should look at in a tablet before you decide to buy one.
– It must have a pressure-sensitive screen if you want to do fine work with it, like drawing or painting.
– A good Tablet has a screen resolution of at least 1024 x 768 or more, so that the colors are sharp and crisp. This is especially important if you want to use an Adobe Creative Suite program like Photoshop or Illustrator.
– If you want to use the tablet for 3d modeling, it should be big enough to fit your entire drawing area on it.
– The pen or stylus you'll be using with your tablet should have a good feel and be comfortable to hold for long periods of time. Pay attention to the buttons on the pen or stylus. Some have more than one button, which makes it easier (and faster) to navigate programs like Photoshop or Illustrator.
– The tablet should come with a pen holder or stand, so that it's always ready for your use.
– Make sure it has a good warranty, just in case something goes wrong with the tablet.
Which Is The Most Suitable Size In A Tablet For 3D Modeling?
Answer: The 8.5″x 11″ sized models make the best tablets for 3D modeling. They are large enough to fit a whole drawing area on them, but small enough that you'll be able to comfortably use your tablet for hours at a time.
The larger tablets may be better suited for those who want to always have one in their hands, but these smaller ones are still large enough to comfortably fit an entire drawing area on them. They're much more convenient to carry around as well, because they're lighter than a regular laptop.
Conclusion
When it comes to buying devices like tablets, it can be very overwhelming with so many options to choose from. Especially if your work depends on it. In cases like that, it becomes even harder, because you keep searching for the perfect device.
It takes a while, but a little research goes a long way, and can help you get your hands on the best tablet for 3D modeling.
We have tried to include every factor you need to know before buying your device, so you can be satisfied with your purchase, knowing it is the finest for you.