One of the main reasons we like using tablets is because they provide a versatility that no other device can. We can watch movies, play games, or get our work done on the move. But if the battery dies while we are working on important projects, the losses will end up outweighing the benefits.
This is why battery life plays such an important role in choosing a tablet. We obviously want tablets with best battery life, but this scale differs for people of different professions and for different uses.
How long a battery lasts also depends on the kind of use. Just like out working on Microsoft word will not take up a lot of battery, streaming videos would do so much quicker.
This is why before you can buy a tablet, you need to decide on why you need it in the first place, before checking the battery capacity.
Editors' Picks: Tablets With Best Battery Life 2022
Comparison Chart For Top 10 Tablets With Good Battery Life
IMAGE
PRODUCT
Display size
(Inches)
Resolution
Battery Life
(hours)
Price

Apple iPad Air
4/64 GB (4th gen)
10.9
2360×1640
10

VANKYO MatrixPad S30
3/32 GB (2019)
10.1
1920 x 1200
12

Lenovo Yoga Smart Tab
4/64 GB (2020)
10.1
1920×1200
14

Microsoft Surface Go 2
4/64 GB (2020)
10.5
1920 x 1280
8

VANKYO MatrixPad S21
2/32 GB (2020)
10.1
1280 x 800
10

Amazon Fire HD 8
2/64 GB (2020)
8
1280 x 800
8

Samsung Galaxy S6 Lite
4/128 GB (2020)
10.4
2000 x 1200
8

Samsung Galaxy A7
3/64 GB (2020)
10.4
2000 x 1200
13

Lenovo Tab M10 FHD Plus Gen 2
4/64 GB (2020)
10.3
1920 x 1200
12

Amazon Fire HD 10 Tablet
2/64 GB (2019)
10.1
1920×1200
10
Top 5 Tablets With Best Battery Life Reviews in 2022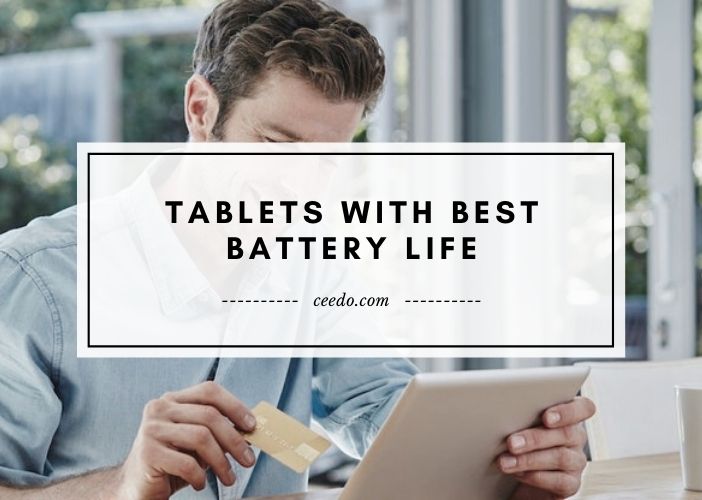 1.Samsung Galaxy Tab A | Android Tablet with Best Battery Life
If you are looking for an android tablet that comes with a great battery life, then look no further than the Samsung Galaxy Tab A. It comes during an 8-inch screen which is just big enough for entertainment, like streaming videos on YouTube, or catching up on your favorite book in PDF format.
The device comes with a 5100-mAh battery which is great for the light-hand work this is made for and can last you a whole 14 hours.
With the 2GBRAM you know this will be fast enough for all your browsing, and it will also be fast enough to work on multiple tabs at the same time without feeling any lag or slowdown.
If you want to take pictures using this you can definitely do so. As we are all aware Samsung has a great camera in all their devices, and this one is no exception.
The rear camera comes with 8 megapixels and the front camera comes with 2 megapixels. Both of these can be used to take lifelike photos and videos to be used elsewhere and serves as a great alternative to your phone's camera when needed.
If you find yourself in an area without Wi-Fi you can use cellular data to use the Internet since this phone is compatible with the GSM network.
Highlighted Features
The 8-inch screen makes this suitable for reading and entertainment
Comes with a powerful 5100 mAh battery
2GB RAM allows this to perform fast enough for mediocre work
Includes an 8MP rear camera and a2MP Front Camera
Can be used as a phone with GSM network compatibility
2.Fire HD 10 | Longest Lasting Battery Tablet
The Fire HD 10 tablet is a good option to go for if you are looking for a decent tablet that comes with a very high battery life.
It takes only four hours to charge completely, but then runs for an entire 12 hours. The battery capacity is also very strong at 6300 mAh, which tells you right off the bat that it comes with a strong battery that lasts.
The internal storage on this tablet can be chosen from either 32GB or 64GB. And this can be expanded up to 512 GB using a micro SD card if required.
With the 2GBRAM, this device works relatively fast for everyday work such as working on Microsoft Word or streaming videos online.
Even though this is an affordable buy, it comes with Dolby Atmos dual speakers that provide crystal clear audios for the times you do not want to use earphones. You can enable hands-free use on this as well if you want, and use Alexa instead.
Highlighted Features
1-inch screen is perfect for streaming videos and movies
1080P display provides clear details on screen
Storage is expandable up to 512 GB using a microSD
Can be used in hands-free mode thanks to Alexa
Dolby Atmos speakers provide clear audio sounds
3.Apple iPad 10.2 Inch | Best Tablet With Long Battery Life
This one is the Apple iPad with a 10.2-inch screen. The size makes it just right for medium to light entertainment that includes watching movies streaming videos and also allows you to get some work done on Excel or MS Word.
It comes with the retina display as most Apple devices do, so we know that the screen will be crystal clear and details can be seen at their finest. This further makes it the perfect tablet for catching up on your favorite shows, or working on digital art projects.
For a heightened sense of security, this device comes with the Touch ID Fingerprint Sensor. This helps to prevent theft since unlocking is not easy.
Even though this is not the biggest tablet out there, it actually comes with a large battery capacity of 8827 mAh. This number alone tells us that the battery is very powerful and it will let you watch movies for hours without having to take charging breaks in between.
Highlighted Features
Includes a 10.2-inch Retina Display for the clearest view
Comes with an 8MP rear camera and a 1.2MP front camera
Stereo speakers are included for a clear audio experience
Battery life extends up to 10 hours of use
Touch ID increases the device's security
4.Fire HD 8 | Cheap Tablets With Long Battery Life
Another fine choice from Fire HD, this is the 8-inch tablet that comes with an HD display to provide you with a crystal-clear vision for all your work.
Being one of the more affordable tablets out there this is often chosen by kids or students for their schoolwork and some light entertainment afterward.
The 16 GB storage provides plenty of space to keep files from school as well as music and movies. If you feel that the storage is not enough you can always increase it using a microSD card.
This device also promotes hands-free use thanks to Alexa. Now you do not always have to be with the device in order to use it and can just use voice command instead.
It comes with a front camera and a rear camera, both of which are 2MP. This might not be the finest camera out there, but it gets the work done when you want to take pictures of your notes from school or your homework.
All this comes with a 10-hour battery life thanks to the 4750 mAh battery capacity. You will find that this is lower than the other ones comparatively, but don't let that discourage you. For school work and minimal entertainment, this battery will serve you really well.
Highlighted Features
8-inch display makes this ideal for reading and light work
The battery lasts for 10 hours of work
Includes hands-free mode using Alexa
2MP rear and front camera are included
Storage can be expanded up to 400GB using a microSD
5.Apple iPad Pro | Tablet With Good Battery Life
If you're looking for a good tablet that is suitable for professional work and yet boasts a heavy battery life, this is the one to go for. It comes with a 12.9-inch screen, which is a decent size that is not too big and heavy, but not too small that makes work hard either.
This makes it suitable for graphic artists or architects who need a decent amount of screen space for their creative work.
It also has one of the most powerful batteries out there with the 9720 mAh battery capacity, which lets you use the tablet for 10 hours straight.
We know tablets are not always used for taking photos or recording videos, but this one promotes 4K video recording which can compete with the professional video recordings any day.
Highlighted Features
9-inch screen make this perfect for office or school work
Face ID is included for heightened security
Includes four-speaker audios plus five studio-quality microphones
4K video recording enables recording videos at their finest
12MP camera takes photos with the most life-like colors
Buying Guide for the Best Tablet With Best Battery Life
Screen Size
Tablets come in various sizes owing to different needs, which is why this is one of the first things we notice when buying one. It can basically be categorized into three types.
We have the small tablets, which range between 7 and 9 inches. Then we have the medium-sized ones that go up to 11 inches. After that are the large ones which exceed 12 inches.
Speaking in general, if the screen size increases, the tablets tend to get more expensive and heavier too. But the purchase decision should be influenced by the kind of work you plan on doing using the tablet.
If your main tasks revolve around checking your email, watching videos, or simply browsing online, you can opt for a small to medium-sized tablet.
But if your work is professional and requires more screen space, we suggest you go for the larger screens, even if it becomes a bit costlier. This is for those who plan on replacing their laptop with a good tablet. For artists and editors especially a larger screen space is crucial to the kind of work they do.
Battery Capacity
Usually, the battery capacity is measured in Ampere hours, but in the case of tablets, you will find that they are put down as milliampere-hour or mAh.
This tells you about the amount of charge stored per unit. Hence the higher the mAh count, the longer the battery would last.
Another thing you need to look out for is battery consumption details specific to each model. This includes audio playback time, video playback, and standby time. Some manufacturers provide this information, so keep a lookout for them.
App Usage
When looking for the best battery life tablet, don't forget to check out the app usage. For optimal app usage, we suggest you go for an operating system which is the same as your smartphone.
This will help you get familiar with the tablet and the way it works much faster. It also means you can use the apps that you have already paid for using your smartphone on your tablet without having to pay again.
Storage and Expandability
These two things are crucial to check out for anyone who wants to do more than just video streaming on their tablets.
Expandability is important to check because in case the tablets you are buying does not have expandable storage you need to make sure the tablet has enough storage on its own. This especially goes for Apple iPads that do not come with expandable storage.
For browsing the Internet or streaming videos online you can opt for a 16 GB storage. But of course, check for expandability with a microSD card in case you need more storage in the future.
To be able to store a handful of apps, photos, and movies, the minimum to settle for is 32 GB. And if you like to hoard these apps and files, then upgrade to a 64GB storage.
The finest tablets will come with high storage of 512GB to 1TB. These are aimed towards professionals who need premium tablets to be able to use high-end specifications and heavy apps. Hence, not everybody needs these models, since they also tend to be more expensive.
Types of Tablets With Best Battery Life
Battery life is an important consideration when purchasing a tablet. Some tablets have better battery life than others. If you want a tablet that will last all day without needing to be recharged, there are a few things you should consider.
One factor that affects battery life is the type of processor used in the tablet. Tablets with quad-core processors tend to have better battery life than those with dual-core processors. Another important factor is the size of the battery. Tablets with larger batteries typically have longer battery life than those with smaller batteries.

Another thing to consider when looking for a tablet with good battery life is the type of operating system it uses. Android tablets typically have longer battery life than iPads, which tend to have shorter battery life.

Finally, consider the features of the tablet. Tablets with features like a high-resolution display or a backlit keyboard tend to have shorter battery life than those without these features.

FAQs about Tablets With Best Battery Life
1. Which Tablet Has The Best Battery Life?
Any tablet with a day-long battery capacity can be your top-tier choice. You'll find models that start with around 8-10 hours of longevity to up to a superb 12-14 hours or more!
But if you thought that's the maximum cap, then think again. This is because, tablets such as the Lenovo Tab 4, come with a jaw-dropping capacity of up to 20 hours!
2. What Is The Average Battery Life Of A Tablet?
It depends on the capacity of the device's tablet in mAh and other factors. Higher capacities have a higher average longevity and vice versa.
But most regular models tend to come with 8-12 hours of running time upon a single charge, while higher-end ones last longer. A typical android battery will serve you perfectly for 2-3 years given that other factors remain constant.
3. Which ipad Has The Longest Battery Life?
All iPads come with a battery life of around 10 hours. Hence, whichever model you choose, you basically get the same battery performance.
The rest depends on how you efficiently use your device and how good you are at conserving the charge.
4. How Do I Make My Tablet Battery Last Longer?
You cannot extend the battery capacity of your device but what you can do is slow down the rate of how fast your tablet battery is used up.
This can be done in numerous ways such as lowering the brightness, closing background apps, closing/removing unused apps, disabling unnecessary notifications, reducing the screen sleep time, avoiding unnecessary multitasking, not playing too many games of large sizes for long durations, etc.
Buy on eBay, Walmart, Etsy (subject to availability)
SAMSUNG Galaxy Tab S7 11-inch Android Tablet 128GB Wi-Fi Bluetooth S Pen Fast Charging - Walmart, Etsy, eBay
SAMSUNG Galaxy Tab S6 Lite 10.4-inch Android Tablet 128GB Wi-Fi S Pen AKG Dual Speakers, - Walmart, Etsy, Ebay
2020 Apple iPad Air (10.9-inch, Wi-Fi, 256GB) - Space Gray (4th Generation) - Walmart, Etsy, Ebay
New Microsoft Surface Go 2 - 10.5" Touch-Screen - Intel Pentium - 8GB Memory - 128GB SSD - Walmart, Etsy, Ebay
CHUWI Hipad X Android 10.0 Tablet PC, 10.1 inch Unlocked Phablet 4G LTE with Dual Micro - Walmart, Etsy, eBay
VASTKING KingPad K10 Pro 10.1" Octa-Core Tablet, 4GB RAM, 64GB Storage, Android 10, - Walmart, Etsy, eBay
Lenovo Chromebook Duet, 2-in-1, 10.1" WUXGA (1920 x 1200) Display, MediaTek Helio P60T, - Walmart, Etsy, eBay
Samsung Galaxy Tab A7 10.4" 64GB with Wi-Fi + 64GB microSD Memory Card (Gray) - Walmart, Etsy, eBay
VASTKING KingPad K10 10.1 in Tablet, Android 10, 1920x1200 Resolution Octa Core Tablet, - Walmart, Etsy, eBay
All-new Fire HD 10 tablet, 10.1", 1080p Full HD, 32 GB, latest model (2021 release), Black - Walmart, Etsy, Ebay
Conclusion for Long Battery Life Tablet Buyers
In the end, it all boils down to what you are using the tablet for, and that will decide the battery life you need. What might seem like a very high battery life for a writer can actually be a very low number for a gamer.
But do make sure to check on other features, such as the storage or the display size when looking for the tablet with best battery life. Because all of these together will work to provide you with the finest service a tablet can give.