Since tablets are a mixture of a laptop and a smartphone in a way, their big screens while being more portable are probably a few of the reasons we love them so much.
While tablets are all fine and dandy when it comes to providing a large screen experience, the desire or need to go widescreen doesn't end here. Whether for watching photos and videos with loved ones or mirroring your favorite game on a big screen, connecting your tablet to a TV comes in handy.
There is no need to fret either as regardless of how small or large your tablet is, as long as it possesses the right interfaces and with adapters too, if necessary.
We are thus about to walk you through the entire process of connecting your tablet devices to your TV for the ultimate widescreen home theatre experience!
Limitations Of Connecting Tablet To TV Wirelessly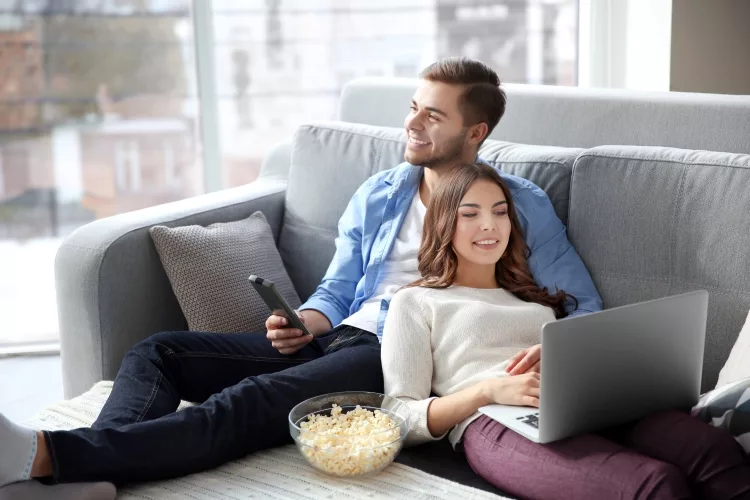 Wireless options to connect your device to a TV may not always be the most convenient option. This is because, not everyone is tech-savvy, and thus will find the screen mirroring platforms too complicated to work with.
Also, the devices, especially TV, have to able to support those wireless display devices and apps. Since wireless casting involves connectivity to a network; particularly the Wi-Fi since you're at home, fluctuations in bandwidth may result in lags and buffering, leading to additional frustration nobody asked for.
Hence, wired connectivity such as via HDMI cables is one of the most straightforward methods to connect to your TV, either from your tablet or phone. It also directly converts the media into a format your TV supports, thus making the entire operation and experience amazingly seamless!
Ways To Connect Tablet To TV With HDMI Cable
HDMI To Mini/Micro HDMI
There was a time not too long ago when Android devices including tablets came equipped with an HDMI port.
Those interfaces were not the full-sized ones we find in TVs, PCs, or laptops, but a smaller version. Hence, they were known as Micro or Mini HDMII interfaces.
If you happen to possess such an older model tablet, all you'll need to do is purchase an HDMI cable compatible with those mini ports. Once you have it in your hands, connecting to your TV is as simple as described below
Plug in the mini end of the cable into your device
Plug in the other end to your TV
Turn on your TV and choose the input source as your tablet
Start playing your streaming app or content of choice
Using HDMI Adapter Via USB Type-C
If you're wondering how to connect Samsung tablet to tv with HDMI cable, then the device you are in need of is an HDMI adapter. And this hack works not only for your Samsung tablets but for tablets of any brand.
Since most modern tablets of today possess USB Type-C ports, in order to connect them to your TV via an HDMI cable, you'd need a USB Type-C HDMI adapter. Now, in order to connect Samsung tablet to tv HDMI, follow the steps below. The process is basically the same for almost any tablet-not just Samsung.
Check if your TV is compliant with your tablet's video signals. Some TVs require a manual setting of the HDMI resolution so that it matches your tablet for proper display of images
Next, connect the adapter to your tablet via the USB interface. Then attach one end of the HDMI cable to the adapter
Plug in the other end of the HDMI cable to your TV. Take a mental note of which HDMI port you are plugging it into if your TV has more than one port
From your TV, identify the source of input. It is going to be the tablet you connected via the corresponding HDMI interface.
Select your input device, which is the tablet of course, and start enjoying the widescreen experience!
Using HDMI Converter Via USB Type-C
An HDMI converter is similar to an HDMI adapter but the difference is, it not only comes with an HDMI interface but with one or multiple USB-C outlets.
This means, while you connect your device to your TV via an HDMI cable and carry on mirroring the tablet screen, you can plug in your charger cable too! As a result, you can enjoy widescreen entertainment as long as you desire without your tablet battery ever running out!
Hence, these devices allow you to get double the performance with a single tool, simultaneously sharing your screen while charging up your tablet like a boss!!
Using HDMI Adapter Via Micro USB
For tablets with a Micro USB interface, a USB-C HDMI adapter will obviously not work. Most previous android models are equipped with a Micro-USB slot, thus requiring a Micro USB HDMI adapter.
With this process of connection, your tablet needs to comply with a different protocol known as MHL (Mobile High-Definition Link). So if you're curious about how to connect Samsung tablet to monitor via this method, here is a list of items you'd need.
A compliant MHL-enabled tablet, whether it's Samsung or any other brand
A power and HDMI cable
A TV with HDMI interfaces
A micro-USB MHL HDMI adapter or cable
The connection process is virtually the same every time, you just need different tools based on the type of your tablet. For maximum flexibility, you can even purchase a universal adapter that is compliant with all tablets and interfaces including HDMI
Conclusion
Just because you own a tablet doesn't mean that your viewing experience needs to be limited in that wider-than-smartphone screen.
For a more immersive experience that can be shared comfortably with your loved ones on a wider screen, connecting your tablet to a compatible TV is a superb way.
Though you can obviously go wireless to connect it; but the perks of doing so via HDMI are unbeatable, especially when it comes to seamless playback.
Regardless of the type of tablet you own, a simple adapter and HDMI cable has it all to transform your whole entertainment into a home theatre experience in no time!