Growing up, remember playing all the nostalgic games in our old-school gaming consoles? Like Super Mario or Mortal Combat? These games still have an immovable place in our hearts and we can't get enough of them even after all these years!
But all the games you used to love as a kid, their gaming consoles are either no longer available. Or the games that you do love of today are only compatible with high-end gaming consoles that will chip off a huge chunk of your wallet.
Hence, thanks to the tech-gods out there, emulators come into the spotlight; enabling you to play all your favorites in your affordable single device. And today, we are about to discuss some of the best tablets for emulators to aid you in puchasing the ultimate gaming gear!
Top Tablet for Emulation 2021 by Editors' Picks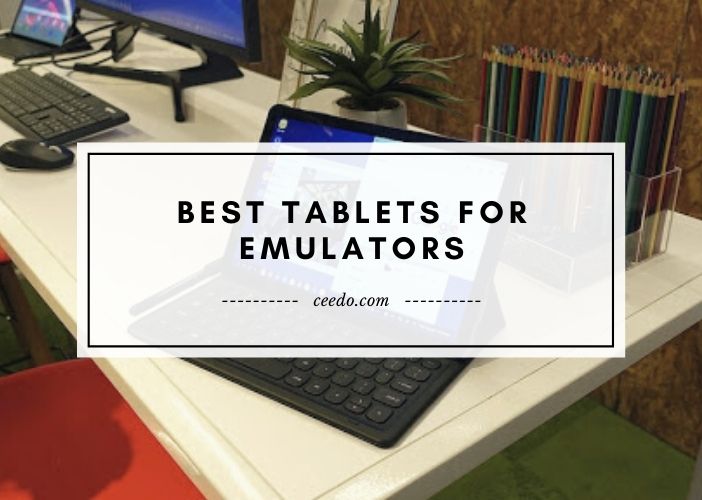 List Of Top Tablets For Emulators
Comparison Chart For Top 10 Tablets For Emulators
IMAGE
PRODUCT
Display size
(Inches)
Resolution
Processor
price

Apple iPad Air
4/64 GB (4th gen)

10.9

2360×1640

A14 Bionic chip

Apple iPad Mini
4/64 GB (5th gen)

7.9

2048 × 1536

A12 Bionic chip

Lenovo Yoga Smart Tab
4/64 GB (2020)

10.1

1920×1200

Qualcomm Snapdragon 439

Microsoft Surface Go 2
8/128 GB (2020)

10.5

1920 x 1280

Intel Pentium Gold Processor 4425Y

Microsoft Surface Pro 7
8/128 GB (2019)

12.3

2736 x 1824

10th Gen Intel Core i5

Amazon Fire HD 8
2/64 GB (2020)

8

1280 x 800

MediaTek MT8168

Samsung Galaxy S6 Lite
4/128 GB (2020)

10.4

2000 x 1200

Exynos 9611

Samsung Galaxy A7
3/64 GB (2020)

10.4

2000 x 1200

Qualcomm SM6115

Lenovo Tab M10 FHD Plus Gen 2
4/64 GB (2020)

10.3

1920 x 1200

Mediatek MT6762 Helio P22T

Huawei MediaPad M5
4/64 GB

10.8

2560 x 1600

HiSilicon 8 core processor
Best Tablets For Emulators Reviews
1.GPD XD Plus | Best Android Device For Emulation
This compact handheld device comes with a compact 5-inch display with an incredible resolution of 1280 x 720P for an amazingly immersive gaming experience. It possesses an Android 7.1 Nougat OS and is powered by Dual-Core A72 2.1 GHz & Quad-core A53 1.7GHz processors.
Hence, it can provide you the most powerful gaming experience even when emulating. It also owns an amazing PowerVR GX6250 graphics for the most amazing image quality of your emulated games. This model's 4GB RAM will also contribute to providing a seamless and smooth operation.
It's a compact device and weighing only 1.01 pounds, it can easily be your travel companion with its ability to fit into your pockets effortlessly. The device is equipped with a Vulkan Engine as well for boosting the performance of your emulators & games.
It comes with an integrated key-mapping feature that will allow you to link entity & virtue keys. The entity support buttons are also capable of operating over 1800 games of Android. This intelligent gadget also ensures that all processor cores are simultaneously running when you're playing more advanced games.
This prevents a single core from overheating; so that neither the device performance and nor your gaming experience gets hampered. Besides being a gaming console, it serves as a tablet too and comes with an incredible 10 hours of battery life for full-on gaming.
Highlighted Features
Runs single core when not in use and all cores during advanced gaming
Vulkan Engine for boosting the performance of emulators & games
Can link entity & virtue keys via key-mapping
Convenient, portable, foldable and lightweight device
2.Microsoft Surface Pro (5th Gen, 1796) | Best Tablet For Dolphin Emulator
This powerful device by Microsoft comes with an amazing 2736x1824P resolution display of 12.3 inches. Hence, you can immerse yourself in the most comfortable gaming experience thanks to its high-quality visuals on a widescreen. This versatile device can also be used in a tablet, laptop, or studio mode according to your convenience.
This model comes with advanced connectivity features including LTE Advanced connectivity. Hence, you will never be disconnected from the internet and run all your favorite games via direct download or by emulators.
It is powered by Intel Core M3 processor and possesses an Intel HD Graphics 615 for a stellar gaming performance and incredible visual quality. The device also possesses an impressive 4GB RAM. It will further provide you with a smooth and hassle-free emulation for all your favorite games.
The Surface Pro comes with a Windows 10 Home OS. It can be accessorized with a Surface Pro Signature Type Cover keyboard and Surface Arc Mouse for a more convenient gaming experience. And with a spectacular battery of up to 13.5 hours, you can binge on a non-stop gaming experience for day long!
Highlighted Features
Astounding 13.5 hours' battery longevity
LTE Advanced connectivity for 24/7 internet access
Powerful processor and graphics
Wide-screen PixelSense display with ambient light sensor
3.Fire HD 10 | Best Phone For Emulation
Powered by a mighty Octa-Core 2.0 GHz processor, the Fire HD 10 comes with a PowerVR G6250 Graphics Processing Unit to ensure a stunningly seamless and gorgeous emulation for all your favorite games. Its 2GB RAM will further enhance its performance.
It comes with a decent screen size of 10.1 inches with an FHD resolution of 1920 x 1200P for impeccable visual quality. And an expandable storage of up to 512GB will offer you more room to accommodate all your desired games and emulation. The device also possesses a Type-C USB interface to facilitate rapid recharging.
With its an awesome battery-life of up to 12 hours, you can enjoy unlimited emulation and gaming all day long, even on the go. It also features dual-band Wi-Fi connectivity to facilitate reliable emulation and gaming of all your favorite games.
Highlighted Features
Mighty Octa-Core 2.0 GHz processor for powerful emulation
FHD display and PowerVR G6250 GPU for impeccable game visuals
Can expand storage up to 512GB to accommodate bulks of emulated games
Battery can last up to 12 hours for break-free gaming
4.Nintendo Switch Lite
This version of the Nintendo Switch is definitely "Lite"-er than the other members of the Nintendo Switch gaming console club-not only in size but also in terms of its affordability. This model is optimally designed to more easily portable and more effortless for handheld usage.
This model comes with a compact 5.5-inch display with a resolution of 1280 x 720P. This impressively high resolution, along with the NVIDIA Tegra CPU and graphics, can provide you an astounding gaming experience with a captivating and realistic image quality.
It comes with a fairly amazing battery-life of up to 6 hours to enjoy long hours of emulation of all your favorite games. This model features a sleek and compact design, built-in controls, and a light mass of just 10.6 ounces. Hence, it could easily be the dream gadget for the gamers out there constantly traveling or on the move.
This device is compliant and can emulate every Nintendo Switch games which are compatible with the handheld form of usage. It possesses a storage space of 32GB; and is available in a range of bright and fun colors to choose from!
Highlighted Features
Miniature version of the Nintendo Switch
Compact and light in mass with built-in controls
Can emulate all Nintendo Switch games compatible with handheld usage
5.JXD S192K Singularity RK3288 | Best Android Tablet For Emulation
The Singularity 192K is a portable gaming console plus a tablet that comes with a compact IPS screen of 7 inches. This makes it not only effortlessly portable, but the IPS display will also ensure reduced eyestrain for comfortable gaming for hours on end.
The device also possesses an attractive 1920 x 1200P FHD resolution. This, along with the built-in ARM Mali-T764 GPU, can provide you with marvelous visuals. Thus, you'll be able to enjoy the most immaculate and immersive gaming experience. With a 10000mAh battery, you can also play away for 8-10 hours non-stop!
It could easily be the ultimate gear for emulation as it can not only support 18 simulations, but also can emulate desktop games, Android games, and PSP, NDS, PSP, CPS1/2/3, Neo-Geo, etc. games. And to ensure you with superb game controls, it is equipped with dual 3D joystick and fully-functional buttons.
Powered by Quad-Core 1.8GHz processor, this model comes with an impressive RAM of 4GB and 64GB of storage expandable up to 128GB. You thus can not only emulate your favorite games smoothly, but also have room to store them all.
Highlighted Features
IPS display to ensure lower stress on the eyes upon prolonged gaming
Can support 18 simulations and can emulate the widest range of games
3D joystick and fully-functional buttons for gaming
Tablets For Emulators Buying Guide
Compatibility
Since the key goal is purchasing a tablet for running emulators, ensure the compatibility of your device to run them. Depending on which games you intend to play, opt for a model accordingly.
You'll find models that can emulate PSP, desktop games, Android games, NDS, PSP, Neo-Geo, CPS1/2/3, etc. to choose from.
Processor
In order to ensure the optimum game emulation experience, the device should come with a powerful processor. It will provide you with an effortlessly smooth and speedy performance. This is because a laggy or unresponsive device is a big no-no when it comes to a flawless gaming experience.
So to secure yourself the ultimate gear, opt for the strongest processors within your budget with the maximum number of cores and highest clock-speeds
Graphics
The graphics or GPU play a key role in determining the quality of game visuals which has an overall effect on your gaming experience. Most tablets that can emulate come with integrated graphics so opt for the models with the best GPU.
Most tablets will probably not mention the frame rate of the GPU, but if you do happen to get access to that info, opt for the highest frame rate. This is usually measured in Hertz (Hz), and it determines how fast the device can make images appear on your display.
So understandably, the higher the frame rate, the more advanced the graphics is and the better the visual quality is.
RAM And ROM
A large capacity RAM is also a key determinant of how efficiently the device performs without lagging while also enabling you to multitask. Hence, in order to secure the best tablet for emulation, opt for devices with at least 2-4GB of RAM to enjoy the optimum experience.
Since the storage space will room where you store all your emulations, games, and other files, opt for a capacity according to your requirements. Even if the initial built-in storage doesn't seem satisfying, models with expandable memory can definitely save your day!
Battery
The ultimate gaming gear should come with a battery that can outlast your needs; as gaming devices naturally consume more power and cause faster battery drainage.
So ensure that the device of your choice comes with a day-long battery for non-stop gaming; especially when you are someone who needs to travel frequently. Around 8-10 hours of battery runtime can be more than satisfying to meet all your relentless entertainment, even on the go.
Advantages Of Emulators
If you're only using the emulator for playing games or browsing the web, you'll never need a powerful machine.
You can move the saved games between devices.
Emulators are easier on your system than directly running the software with which you want to emulate.
More software emulators than ever before are available, so it will be easy to find one that matches your needs.
Emulator apps can be downloaded from third party websites, which means they're not tied to a specific brand of device.
Emulators offer lots of configuration options, so you'll be able to find the right setup for your needs.
Emulator apps are typically small and take up very little space on your device, so it's easy to add them to your portable collection without adding too much bulk.
Emulation is one of the best ways for users to enjoy old games and legacy software on their computers. Instead of downloading individual applications from third party websites, users can install a single emulator that supports multiple platforms.
Choosing the Best Emulator for Android Tablet:
1. RetroArch
RetroArch is the most versatile emulator for Android. It's compatible with hundreds of old console systems, from the most obscure to the most popular. However, RetroArch isn't designed for beginners. You'll need to figure out your own settings when configuring each system within RetroArch.
2. Dolphin Emulator
Dolphin Emulator is an excellent choice for Android tablet. It's compatible with dozens of legacy consoles, from the Atari 2600 to the Nintendo 64. The interface is easy to navigate and you can easily configure it to fit your needs.
3. iOmega
iOmega is easier than Dolphin Emulator because it uses the software configuration built into the operating system rather than a graphical interface within RetroArch.
4. Mini Retro
Mini Retro was designed for gamers who want to test out their favorite games, but don't necessarily want to spend a lot of time configuring an emulator or running older software on their device.
5. BlueStacks
BlueStacks is designed to run any Windows software on your Android device without any configuration. It comes with a large catalog of supported apps, but you will find the most popular games with this option.
6. Genymotion
Genymotion is one of the best emulator options for people who want to test their apps on older devices that don't have the hardware required by newer Android versions. It's an excellent choice for app developers who need to ensure their apps will work on older phones and tablets.
7. 3DS Emulator
If you just want to play Nintendo games, then you should try this emulator for Android tablet and smartphone.
8. PPSSPP
If you're an avid Pokémon fan, you may want to give this emulator a try. It's the most compatible with Pokémon games available in the Play Store, so it's a good choice for fans of the franchise.
9. ePSXe
ePSXe is one of the best RetroArch emulators for Android tablet. It's easy to configure, and it offers a large variety of gaming options.
Be advised that older Android devices are not guaranteed to run every emulator app. Only some of these apps will run directly on an older device (though not all). To be safe, please check out the reviews for any emulator available in your market before purchasing.
Frequently Asked Questions
1. How Do Emulators Work?
Emulator software is software that emulates hardware. In other words, it makes your computer feel like a game console, so you can play the vast majority of games on your tablet.
In order to do this, it must be able to see the actual devices and recreate them (just like with a PC emulator).
Much like what happens with graphical power in emulators for PC, there are several stages involved. It begins by recognizing the controller (either through Bluetooth or USB). Then it sees the framebuffer which contains graphics and visual data, it then converts that into its own format using shaders and other software. This final stage is where you will see any graphical improvement.
2. Can Tablets Run Emulators?
Yes, the vast majority of tablets are powerful enough to emulate almost any game console.
3. What Emulators Can Be Used On Tablets?
The most common emulators available today use either PC, Mac or Linux. They will require a computer and a controller (USB or Bluetooth) to be used properly with them. Alternatively, you can connect your handheld device (iOS/Android) via WiFi or Bluetooth and play games using an app designed for it! There are also plug-and-play consoles which pair with your TV/Monitor in order to emulate video games.
4. What Tablets Can Run The Dolphin Emulator?
All Android devices with at least 1GB of RAM should be able to run the Dolphin Emulator. However, the speed at which the game will run on lower-end tablets or older ones is not guaranteed.
5. What Emulators Can't Be Used On Tablets?
Some emulators require certain chipsets or hardware to function (such as PSX or PCSX). For instance, you cannot play PlayStation games using a Game Boy Advance Emulator. Other emulators are restricted to PCs and not available for handhelds (such as Gens).
6. What Tablet Can Play PS2 Games?
Since the PlayStation 2 is a multi-platform console, it can be played on a wide variety of tablets. However, most of these games need to be either downloaded or purchased in-store and installed on your device.
As for emulators: PCSX2 requires fairly powerful machines to run games (most often PCs). If you are using PlayStation 2 games specifically, it is best to contact an emulator manufacturer directly.
7. Can You Emulate It On IOS?
It is possible, but currently not very convenient (there are no official apps to emulate anything and even if there were, they would not be very accurate). Also, as iOS does not support Bluetooth controllers, it is impossible to use them with most emulators.
8. Which One Of Them Is The Best Tablet For Hearthstone?
It depends on what you are really looking for. If you want to play Hearthstone casually (like online at home or while travelling), it is not a good idea to invest in an inexpensive mobile device because the gameplay will be extremely slow, and the graphics will not be as clear as on a gaming laptop.
On the other hand, if you need your devices to be compatible with various devices, then we would perhaps suggest going for a tablet like iPad Pro.
9. How Much RAM Is Required To Play Emulators On A Tablet?
It depends on the developer, but at least 1GB RAM is a minimum necessity to install and play any emulator.
10. Is Tablet Emulation Legal?
It depends on what you are emulating and where you live. Playing a game without owning an original ROM is illegal in most cases, but there are ways to get around even that.
Android-based emulators are often considered legal because it does not fall under the category of a console emulator like Gens/PSX Emulator because they don't actually have the game system's trademarked name in their package name.
Conclusion
As we just saw, money can no longer get in the way from enjoying your most favorite games, thanks to the best tablets for emulators. So why wait any longer? Let the game begin!