Many people invest in functional tablets to own a handy gadget that can perform the basic functions of a computer. But the constraints brought about by Wi-Fi-only connectivity makes portability unachievable.
You don't have to worry. The best Verizon tablets let you have the most from your device wherever you go, thanks to their compatibility with cellular connectivity options.
Verizon is a popular telecommunication company in the United States. It provides subscribers with cellular options, which includes amazing data plans. Therefore, Verizon gives users the versatility needed in tablets. The LTE-enabled tabs can access the internet wherever you go without worrying about Wi-Fi availability.
However, not every Verizon tablet will meet your needs. We will tackle some of the items that you need to know about these tablets. Besides, we will also review some of the most interesting models for your consideration.
Be ready for this interesting little guide.
Top Verizon Tablets 2022 by Editors' Picks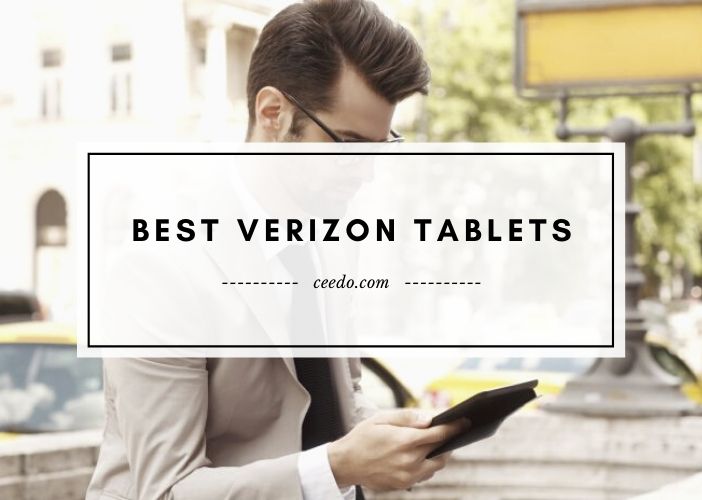 Comparison Table For Top 10 Tablets For Verizon
IMAGE
Product
Display size
(Inches)
Resolution
Processor
price

Apple iPad Air
4/64 GB (4th gen)
10.9
2360×1640
A14 Bionic chip

VANKYO MatrixPad S30
3/32 GB (2019)
10.1
1920 x 1200
SC9863A Octa-core 1.6GHz

Lenovo Yoga Smart Tab
4/64 GB (2020)
10.1
1920×1200
Qualcomm Snapdragon 439

Microsoft Surface Go 2
4/64 GB (2020)
10.5
1920 x 1280
Intel Pentium Gold Processor 4425Y 8th gen

VANKYO MatrixPad S21
2/32 GB (2020)
10.1.
1280 x 800
SC9863A Octa-core 1.6GHz

Amazon Fire HD 8
2/64 GB (2020)
8
1280 x 800
MediaTek MT8168

Samsung Galaxy S6 Lite
4/128 GB (2020)
10.4
2000 x 1200
Exynos 9611

Samsung Galaxy A7
3/64 GB (2020)
10.4
2000 x 1200
Qualcomm SM6115

Lenovo Tab M10 FHD Plus Gen 2
4/64 GB (2020)
10.3
1920 x 1200
Mediatek MT6762 Helio P22T

Amazon Fire HD 10 Tablet
2/64 GB (2019)
10.1
1920×1200
Mediatek MT8183
Top 5 Best Tablets For Verizon Reviews
1.Verizon Ellipsis 10 | Best Verizon Android Tablet
Most Verizon tablets are interestingly not from the Verizon brand. In fact, the telecommunications company hasn't been actively making tablets on its name. But the last few years have been phenomenal for the company. It unveiled a Kids' tablet. But the highlight is in the launch of the Ellipsis 8 and the Ellipsis 10.
The Verizon Ellipsis 10 is a larger version of the Verizon Ellipsis 8. The device lives up to the billing with a 10.1-inch high-resolution screen. the display features an impressive resolution of up to 1920 x 1080 pixels. This is a testament that the screen guarantees clarity and detail in every image that it displays.
The tablet is sleek and stylish. It rivals some of the most popular brands on the market. Interestingly, the device features a perfect screen to body ratio, which provides you with a compact body and a large display. At the top of the display is a 2MP camera for selfies while at the back sits an incredible 5MP camera.
Do you want a tablet that will keep you working for several hours while off the grid? Well, the Ellipsis 10 assures users of an incredible 25 hours of mixed usage, thanks to the 9,100mAh Lithium-ion battery.
Despite running on an earlier Android 5.1 Lollipop, the device is pretty powerful with a Quad-Core processor with processing speeds of up to 1.5 GHz.
Highlighted Features
It features standard wireless connections as well as 4G LTE.
A high display resolution of up to 1920 by 1080 pixels.
It features processing speeds of up to 1.5 GHz.
The device is lightweight, compact, and portable.
A 10.1-inch screen is perfect for work and entertainment.
2.Samsung Galaxy Tab S5e | Tablets Compatible With Verizon Wireless
Samsung is arguably the most popular brand in the Android tablets industry. Thus, it's no coincidence that it's an industry leader with several models to its name. The Samsung Electronics Galaxy Tab S5e is one of the most advanced and famous models from the company. And that shouldn't come as a surprise.
The device is LTE-enabled with reliable 4G connectivity capabilities. This gives you an incredible opportunity to stay connected wherever you go. You don't have to use a Wi-Fi connection when you are out of reach. But as you would expect, Samsung also has a Wi-Fi-only version for office or home use.
Interestingly, the Tab S5e provides you with sufficient internal storage to save all your work and entertainment content. It takes pride in a 64 GB internal memory, which has the capacity to store music, photos, videos, and professional files. However, anyone who prefers a more robust internal storage may consider the 128 GB version.
The device is pretty simple, smart, but immensely powerful. It features a pretty thin frame and that gives it a lightweight feel. You can carry it anywhere without feeling the baggage. Moreover, the compact and portable tab allows you to make calls and send texts without using your smartphone.
Highlighted Features
Multiple connectivity options include cellular, Wi-Fi, GPS, and Bluetooth.
The cellular connection allows you to stay connected without Wi-Fi.
It features a 10.5-inch Super AMOLED screen for captivating displays.
The BIXBY Voice assistant allows for convenient voice controls.
The ultra-light device is pretty portable.
3.Samsung Galaxy Tab A | Tablets That Work On Verizon
Another Samsung tablet makes it to our review of top Verizon tablets. It is none other than the popular Samsung Galaxy Tab A. The cellular device is 4G enabled, hence you can enjoy a consistent internet connection even in the remotest areas of the USA or the globe.
But let's get this straight. Just like most tablets that are compatible with Verizon Wireless, Tab A is not an exclusively cellular device. Apart from the reliable 4G connection, it also features a strong Wi-Fi and GSM connectivity options.
So, you can conveniently spare your Verizon data plan when you are within reach of a Wi-Fi network. Isn't that a measure of versatility and convenience?
Who doesn't like taking photos? Whether you are a big fan of social media sites such as Facebook or Instagram, there comes a time when you will need to save memory in a short video clip or snapshot. The Tab A features a perfect way to save your memories with the 5MP front and the 8MP rear cameras.
The single SIM tablet takes pride in the 10.1-inch screen and minimum bezel. But more importantly, Tab A is a device that you can conveniently share with the rest of the family members.
It comes with the famous Samsung Kids which not only allows you to control your child's screen time but also allows you to handpick the right Kid-friendly apps. While this feature comes with impressive entertainment programs, your child will equally enjoy unbeatable entertainment.
Highlighted Features
The portable design features a minimum bezel and a great screen.
A DOLBY Atmos speakers deliver entertaining sound.
The dual cameras allow you to capture moments and connect.
It features a battery life of up to 13 hours.
It is a versatile device for kids, teens, and adults.
4.Samsung Galaxy Tab S3 LTE | Tablets Compatible With Verizon
Samsung is truly giving Apple a run for its money. The last few tablet releases have provided direct competition to Apple's iPad. The Samsung Galaxy Tab S3 LTE is such a device. It features a 9.7-inch screen hence makes a perfect rival for Apple's iPad 9.7".
The S3 is a tablet version of the powerful Samsung Galaxy S9 smartphone. Interestingly, the 9.7-inch tablet features an LTE technology. The implication of this is that you can easily slip in a Verizon SIM into the tab and enjoy an uninterrupted internet connection.
The tab strikes a perfect balance between convenient screen size and overall size. While the screen is fairly large for an array of work and entertainment applications, the device remains pretty compact. Besides, the S3 takes pride in a 2048 x 1536-pixel screen resolution. This delivers detailed images.
The tab runs on a Qualcomm Snapdragon 820 processor. This is not only stable but equally powerful. It also beats its competitors when it comes to photo quality. The 13MP autofocus rear camera delivers impressive photographs and video clips. You can confidently take it with you to any festivals.
Highlighted Features
It is powered by a strong Qualcomm Snapdragon 820 processor.
It weighs under 1 pound hence perfectly portable.
You can expand the memory to a massive 516 GB.
It comes with a pressure-sensitive S Pen.
A 13 MP rear camera delivers stunning photos.
5.Samsung Galaxy Tab S2 | Verizon Capable Tablets
We end the review section of this article with another Samsung model. The Samsung Galaxy Tab S2 is an incredible option for shoppers looking for Verizon tabs without getting too extravagant. The device runs on Android, so you can expect to enjoy an unlimited variety of apps, software, and games.
It features an 8-inch screen that is bright and colorful, thanks to the impressive 4:3 aspect ratio and the 2,048 x 1,536-pixel display resolution. However, anyone looking for a bigger screen will find solace in the 10-inch version of the Tab S2 which is equally colorful and powerful.
Despite being the most affordable Samsung tablet, the Tab S2 brings a lot on the table. It weighs just 265 grams hence pretty lightweight. It is also compact hence comfortable to hold. Even more, it features a sleek design that stands out among other tablet models.
The tab features a 32 GB memory, which is pretty sufficient for low and moderate users. This provides room for nearly everything that you need to save on the device. But anyone with a higher need for storage capacity will find the expandability feature handy. You can expand your storage to up to 128 GB.
Highlighted Features
The device features a sleek modern design.
A 2048 x 1536 display resolution guarantees clear and vivid images.
It weighs just 265 grams hence perfectly portable.
It is affordable hence ideal for budget shoppers.
You can opt for the 8-inch or 9.7-inch versions.
Buying Guide For Verizon Tablets
What makes a good Verizon tablet? While there is no single answer to this question. However, the following factors will prove vital in your quest for a powerful Verizon tablet.
Operating Platform
Interestingly, while Android makes the bulk of Verizon tabs, you will also find an array of devices that run on other popular operating platforms. Apple, Windows, and Android have interesting products that feature reliable cellular connectivity options.
The choice when it comes to the operating platform is often about performance, functionality, and personal preference. Android models give you access to millions of apps and games from Google Play Store while Windows and Apple options are ideal for professional applications and feature incredible reliability.
However, a decision on the operating system alone isn't enough. You will need to also consider the operating system as well as the processor of the device that you intend to purchase. On both fronts, look out for models with advanced OS and processors.
Size
We will look into size from two perspectives. Firstly, the overall size of the device will determine the portability convenience that you can enjoy. Do you want an ultra-slim tab that can slip into your pocket? Or, are you looking for a model that fits into your laptop bag? Indeed, your choice will rely on individual portability needs.
The other aspect when it comes to the size of a tab is the required screen size. Larger screen sizes deliver cinematic displays and give you a better platform for multitasking. On the contrary, smaller options are incredibly portable.
While it is ideal to strike a balance between your portability needs and the need for a large screen, don't go for models with screen sizes under 8 inches. 7-inch tabs are nearly the size of your smartphone. So, if portability isn't a big issue, choose models that are as large as portable.
Camera Capabilities
Are you passionate about photos? If you are, then you need a device that can deliver the most stunning images. Tablets and smartphones have made fun of photography pretty achievable. So, unless you are a professional photographer or model, your tablet should meet your photography needs.
Nearly all Verizon tablets feature a minimum of two cameras-one at the rear and the other one on the front. The best tablet for Verizon would have a minimum of 2MP front camera and 5MP rear camera.
Internal Storage
Tablets are portable replacements of laptops and desktops. So, you should expect them to store a range of entertainment and professional files. These will include music, photos, videos, Word documents, Excel files, PDFs, and other files.
A tablet will only achieve this requirement if it has the right storage capacity. While an 8 GB memory capacity may be sufficient for low-volume users, it is always ideal to consider options with larger storage capacities. Also, it is ideal to choose models with expandability options to cushion unplanned need for more space in the future.
Verizon Tablet Frequently Asked Questions (FAQ)
1. What Tablets Are Compatible With Verizon?
Almost all android models from Samsung, LG, etc. tablets are compliant with the Verizon network. So are some iPads. You could also opt for Verizon Ellipsis Tablets to make the most of your devices even on-the-go.
While the operating system does play a role in the compatibility, focus on the processor power as well. Androids are almost always foolproof but feel free to go for Windows or Apple for enhanced professional purposes.
2. Can I Buy A Tablet From Verizon Without A Plan?
A Verizon tablet is like any tablet purchased from any sort of retailer that is non-cellular. So you can always purchase a Verizon tablet and use it as it is without the plan by canceling the initial plan it comes with.
3. Can You Use A Verizon Tablet Without Verizon Service?
Of course, you can. It will be just like using your everyday gadget without any cellular connectivity. So you'll be able to use your device to a great extent-just without any connectivity for making calls or messages when there is no access to Wi-Fi or hotspots.
You get to instantly delete your Verizon account right from the touchscreen or delete it later as you desire upon using up the existing plan. Or, simply let it expire without renewing the plan.
Final Words for Verizon Tablet Buyers

The best Verizon tablets are an incredible way to access the internet without worrying about a Wi-Fi hotspot. They come in handy when you need to work or get entertained while on the go.
But once you make up your mind on choosing one of the cellular options above, you equally need to consider the most appropriate plan. Identify a data plan that doesn't limit your usage. At the same time, don't purchase a plan that will leave you with a lot of wasted data at the end of the billing cycle.
While Verizon tablets come in a variety of brands to choose from, there are vital aspects that you will need to look out for. Consider options with a lot of storage, an incredible operating system, a great camera, and powerful processors.
Buy on Walmart
SAMSUNG Galaxy Tab S6 Lite 10.4-inch Android Tablet 128GB Wi-Fi S Pen AKG Dual Speakers, - Walmart Link
Samsung Galaxy Tab A7 10.4" (2020, WiFi + Cellular) 32GB 4G LTE Tablet & Phone (Makes - Walmart Link
Samsung Galaxy Tab A7 Lite 8.7" (2021, WiFi + Cellular) 32GB 4G LTE Tablet & Phone (Makes - Walmart Link
Ulefone TAB A7 Tablets 10.1-inch - Android 11 Tablet-PC Octa-Core Processor 4GB RAM 64GB - Walmart Link
Tablet 10.1 inch Android Tablet with 2GB+32GB, 3G Phone Tablets & Dual Sim Card & 2MP+ - Walmart Link
Samsung Galaxy Tab E T378V Tablet - Android 7.1 (Nougat) 32GB 8in TFT (1280 x 800) 4G - - Walmart Link
2021 Apple 12.9-inch iPad Pro (Wi‑Fi, 256GB) - Space Gray - Walmart Link
Apple iPad Air 4/64 GB (4th gen) - Walmart Link
VANKYO MatrixPad S30 3/32 GB (2019) - Walmart Link
Lenovo Yoga Smart Tab 4/64 GB (2020) - Walmart Link
Microsoft Surface Go 2 4/64 GB (2020) - Walmart Link
VANKYO MatrixPad S21 2/32 GB (2020) - Walmart Link
Amazon Fire HD 8 2/64 GB (2020) - Walmart Link
Samsung Galaxy S6 Lite 4/128 GB (2020) - Walmart Link
Samsung Galaxy A7 3/64 GB (2020) - Walmart Link
Lenovo Tab M10 FHD Plus Gen 2 4/64 GB (2020) - Walmart Link
Amazon Fire HD 10 Tablet 2/64 GB (2019) - Walmart Link
Buy on eBay
SAMSUNG Galaxy Tab S6 Lite 10.4-inch Android Tablet 128GB Wi-Fi S Pen AKG Dual Speakers, - eBay Link
Samsung Galaxy Tab A7 10.4" (2020, WiFi + Cellular) 32GB 4G LTE Tablet & Phone (Makes - eBay Link
Samsung Galaxy Tab A7 Lite 8.7" (2021, WiFi + Cellular) 32GB 4G LTE Tablet & Phone (Makes - eBay Link
Ulefone TAB A7 Tablets 10.1-inch - Android 11 Tablet-PC Octa-Core Processor 4GB RAM 64GB - eBay Link
Tablet 10.1 inch Android Tablet with 2GB+32GB, 3G Phone Tablets & Dual Sim Card & 2MP+ - eBay Link
Samsung Galaxy Tab E T378V Tablet - Android 7.1 (Nougat) 32GB 8in TFT (1280 x 800) 4G - - eBay Link
2021 Apple 12.9-inch iPad Pro (Wi‑Fi, 256GB) - Space Gray - eBay Link
Apple iPad Air 4/64 GB (4th gen) - eBay Link
VANKYO MatrixPad S30 3/32 GB (2019) - eBay Link
Lenovo Yoga Smart Tab 4/64 GB (2020) - eBay Link
Microsoft Surface Go 2 4/64 GB (2020) - eBay Link
VANKYO MatrixPad S21 2/32 GB (2020) - eBay Link
Amazon Fire HD 8 2/64 GB (2020) - eBay Link
Samsung Galaxy S6 Lite 4/128 GB (2020) - eBay Link
Samsung Galaxy A7 3/64 GB (2020) - eBay Link
Lenovo Tab M10 FHD Plus Gen 2 4/64 GB (2020) - eBay Link
Amazon Fire HD 10 Tablet 2/64 GB (2019) - eBay Link