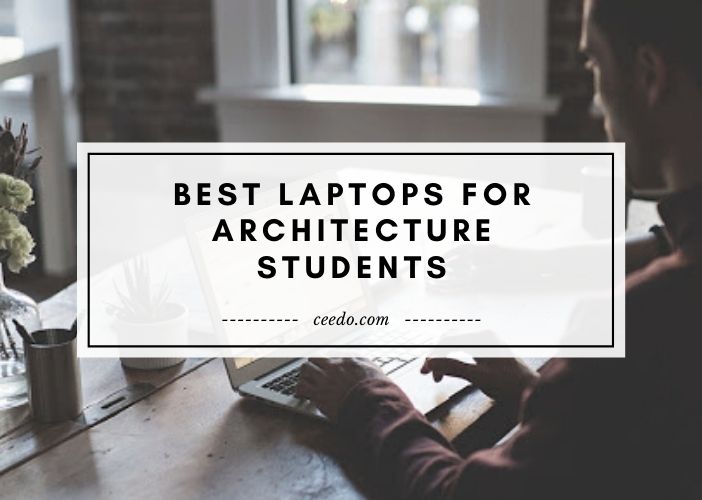 A big part of being an architecture student is drafting lots of models, and it does not stop once you graduate either. This means whether you are an architecture student or a professional architect, you need a good laptop that makes drafting more efficient.
While you will find a lot of computers that can run the computational software required, they will not all be good at it. This is why we are going to discuss the best laptops for architecture students, and how you can get your hands on them.
It is a waste when you spend hours on simple model renderings whereas you can get them done in a fraction of the time.
Laptops with the right processing unit, the right graphics unit, and the right kind of storage and memory can help speed up these processes saving you time and allowing you to work on more projects.
Comparison Chart For Top 10 Laptops For Architecture Students
Best Laptops For Architecture Students Reviews
1.Acer Aspire 5- Best Computer For Architecture
As a student, you need a laptop that is both good for your everyday tasks as well as powerful enough to tackle modeling and rendering related to your architecture coursework.
The Acer Aspire 5 laptop happens to be one of the finest choices when it comes to architecture because it packs a good combination of features suitable for students.
You have an impressive processor with a 4.2 GHz clock speed. With this, you can easily use most architecture software required without having to wait for long loading times. 
Plus, the Intel Core i5-10210U processor also helps save battery life by using less power at one go which gets you 9.5 hours of battery life.
For the display, you have a 15.6-inch Full HD widescreen IPS display that creates a vibrant and big space for you so you can comfortably work on your designs.
The Nvidia GeForce MX 250 helps enhance the graphics on-screen further so you can make use of all mid-level design software that would be required at school.
Highlighted Features
10th Generation Intel Core i5-10210U processor
8GB DDR4 RAM and 512GB PCIe NVMe SSD
NVIDIA GeForce MX250 graphics unit
Battery life goes up to 9 hours 30 minutes
Backlit keyboard for comfortable usage
2.Lenovo Yoga 720- Best Computer For Landscape Design
If you are concentrating on a niche like landscape designing, you will need a widescreen laptop. Ideally, this is done on bigger desktops but if you are a student you will probably want a laptop that you can carry.
This Lenovo Yoga 720 has a 15.6-inch touch-screen display with 4K Ultra HD resolution. It creates a bright and vibrant display with one of the finest resolutions you can find in laptops, providing you with the most intricate details in designing.
Furthermore, the Nvidia GeForce GTX 1050 is a top-notch GPU that enhances display graphics for gamers, hence it can do just as good a job here even if you use it for landscape designing.
The Quad-Core Intel Core i7-7700HQ processor is just as impressive with 2.8 GHz of clock speed. The HQ at the end of the model denotes a comparatively more powerful processor, but at the same time, it will also consume more battery life so you have to keep that in mind.
However, the battery life is not too bad since you can get up to 8 hours of usage. 
For storage, there is the 512 GB of SSD and for memory the 16 GB RAM. These make sure that the laptop is well suited for multitasking and that it does not end up freezing when you are working on designs. You can access the most editing software fairly easily without having to wait forever for them to load.
Highlighted Features
7th Generation Intel Core i7-7700HQ processor
16GB RAM and 512GB SSD
NVIDIA GeForce GTX 1050 graphics unit
360-degree flip-and-fold design allow for usage in tablet mode
3.Acer Aspire E 15
The Acer Aspire E 15 is built for performance and durability. So if you are looking for a device for long-term use, check this one out. As one of the more affordable laptops in the market, it provides you with an impressive range of specifications.
Well suited for mid-level rendering and modeling makes it the perfect fit for students who require completion of such tasks but at an affordable price point.
The Intel Core i5-8250U processor is an impressive one with a clock speed of up to 3.4 GHz that can run all the required architecture software at school. But at the same time, it is also energy-saving because it does not dish out all of its power at once.
This is something you should look into if you are a student who would require a high battery power for class. Here you get 15 hours which is more than enough for a day's worth of designing.
Plus, the Nvidia GeForce MX150 graphics unit can be used to support all kinds of mid-level modeling software which is common for students.
All of this alongside the 256GB SSD and 8GB RAM make sure that the laptop can keep up with multiple projects at once. You also do not have to face slow read or write speeds which can be a big drawback when working on complicated designs.
Highlighted Features
8th Generation Intel Core i5-8250U processor
8GB RAM and 256GB SSD
NVIDIA GeForce MX150 graphics unit
Battery life goes up to 15 hours
4.ASUS VivoBook S15 S532- Best Architecture Laptop
Architecture depends a lot on designing and the finest designs come out when you have better interaction with the laptop. With the ASUS VivoBook S15, you get a 15.6-inch full HD screen, alongside another 5.65-inch touchscreen as a replacement for the typical touchpad.
This is a very unique feature that you don't find on every laptop and it helps you become more productive since you can create multiple shortcuts using it.
Furthermore, it is great for architects because a big part of designing is working with multiple tools and software. Instead of having so many on the main display, you can use them on the screen pad for better navigation while having your main designs on the bigger display to work on.
The Nvidia GeForce MX 250 graphics unit adds dimension and accuracy to the already great display making it even more suited for designing.
Coming to the internal mechanisms, you have the Intel Core i5-8265U processor, 8 GB RAM and 512 GB SSD. The processor makes sure that the laptop as a whole runs smoothly.
The SSD storage minimizes all sorts of loading times so you can get to your programs faster. And with the 8GB RAM, you canwork with multiple software simultaneously.
Highlighted Features
8th Generation Intel Core i5-8265U processor
8GB RAM and 512GB SSD
NVIDIA GeForce MX250 graphics unit
Comes with a unique ScreenPad 2.0
5.Microsoft Surface Pro 7
The Surface Pro 7 proves to be a good choice for beginners and students who want a lightweight and flexible device for their architecture course works.
It boasts an impressive processor from the latest generation so you can expect to use this all through your 4 to 5 years of college life without facing any update problems.
Get an impressive Intel Core i5 processor and a battery life of 10.5 hours that lets you use this for back-to-back classes without having to carry a heavy charger around.
For the display you have a 12.3-inch touchscreen which you can easily fold complete 360-degree to use in tablet mode, or turn it back halfway to use in studio mode.
Having a kickstand also makes this easier to do as you get more control and the stylus lets you work directly on the designs for more precision.
The Intel Iris Plus graphics is well suited for most beginner to mid-level designs that you would be doing at school. It will however not transition into your work life where you would require more power from a discrete of GPU.
Even though this is a compact and slim device you still good 256 GB SSD and 8 GB RAM. Both of these are useful in making the device fast and enabling you to multitask effortlessly.
Highlighted Features
10th Generation Intel Core i5 processor
8GB RAM and 256GB SSD
Intel Iris Plus Graphics unit
Battery life goes up to 10 hours 30 minutes
Laptops For Architecture Students Buying Guide
Processor
Architecture students are required to run modeling software and CAD which higher power from the processing units. To be able to perform these smoothly you should aim to get a minimum of Core i5, or ones above it like the Core i7, i9, or Xeon, whichever suits your budget.
You should also make sure to see that you have around 4 GHz clock speed which would be great for drawing and drafting. If you also plan on using a laptop for rendering processes then look for CPUs that have 6 cores.
Graphics Unit
The best architecture laptop has to come with a dedicated graphics processing unit. Since you will be using a lot of software like Vectorworks, 3DS Max, Rhino, ArchiCAD, and many more, they all require a good GPU.
We recommend you go for graphics units from Nvidia or Radeon. As a student, you can go for the 1050 for 1050 TI GPUs from Nvidia. These have plenty of processing power which is more than enough to cover university projects.
If you are at the brink of graduation and you want a laptop that will serve you in your professional career as well, and then kick it up a notch and go for the Nvidia 1060 GTX since you will be working with bigger projects. And if you expect to work with Revit or 3DS Max Then opt for the Nvidia Quadro or FirePro GPUs.
Storage
The more design files you work on, the more storage space you require which is why a big storage space is a requirement for students studying architecture.
Solid-state drives tend to be faster and more reliable, however, they do not provide you with that big of a storage space, and if they do it has a high price tag, often unsuitable for students.
We recommend that you go for the 256 GB SSD storage and use a separate hard disk if you feel like you need more space. Or you could opt for hybrid drives that come with both an SSD as well as in HDD to enjoy a high storage space and speed together. 
Display
Working on architectural design requires a decent screen space so you get to see how your work comes out. But at the same time as a student, you would want a bit of portability that makes it easy to carry to class.
Taking this into consideration you should look to laptops with screen sizes between 15 and 17 inches.
Resolution wise consider getting a Full HD display at the least. But if you plan on using this after graduation as well, then you should invest and get a 4K or ultra-high definition (UHD) display instead.
4K especially is well suited since it gives you that panoramic view of interfaces and tools which is required in this context.
Architecture has become more than simply building structures. Be it for students or professionals, everybody looks into how to get the most out of little spaces and create unique structures that save energy.  
To be able to do all of these and more students require the latest software. They have to use CAD, virtual reality, and many more complex applications which require a powerful device.
In this article, we have covered some of the best laptops for architecture students which can meet all these requirements. So take a look and see which amongst these laptop models suit your taste and requirements.