There was a period when documents were often tucked into files and wedged into your drawers and shelves.
However, the invention of advanced technology has resulted in you being able to create digital documents and save those in your online folders, or hard drive.
Be it photos, receipts, or important business documents, you can get them all digitized effortlessly within your budget via an inexpensive scanner.
There is nothing to worry about either. Just because a device is affordable, it doesn't necessarily imply that it will deliver a poor performance in terms of quality.
You can also expect them to be more compact and sleek which will enable them to easily occupy your desk-space without congestion.
There is an overwhelming array of cheap options available in the market nowadays. Diving into making a hectic purchase without proper knowledge and guidance is not an ideal choice.
And that is where we come in, to provide you a detailed list of some important buying factors to consider. Also, some of the best cheap scanners will be discussed as well to further aid your buy.
Editor's Recommendation: Top Cheap Scanners 2021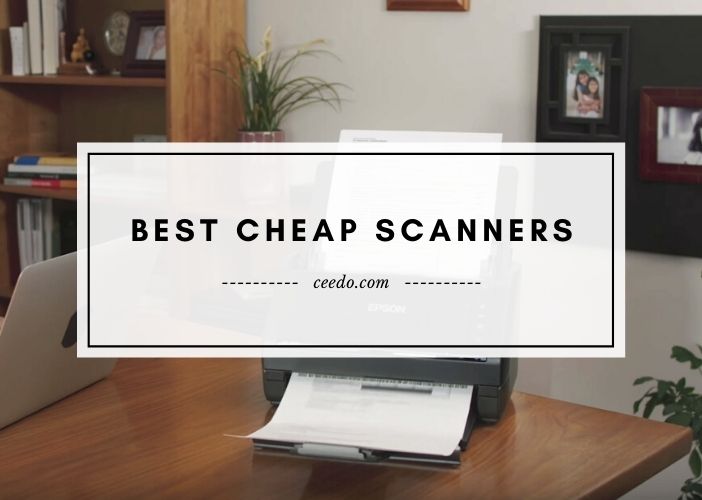 List Of Top Cheap Scanners
Comparison Chart For Top 10 Cheap Scanners
| IMAGE | Name | Speed | Monochrome | Resolution | price |
| --- | --- | --- | --- | --- | --- |
| | Epson Perfection V600 | Color: 21.00 msec/line; | 21.00 msec/line | 6400 x 9600 DPI | |
| | Brother DS-620 | 8 PPM | 600 x 600 DPI | 2.1 x 11.4 x 1.4 inches | |
| | Epson WorkForce ES-400 | 35 PPM | 600 x 600 DPI (Interpolated 1200 DPI) | 11.6 x 6.6 x 6.3 inches | |
| | Canon CanoScan Lide 300 | A4 in 10 seconds (300 DPI) | 2400 x 2400 DPI | 14.5 x 9.9 x 1.7 inches | |
| | Brother ADS-1700W | 25 PPM | 600 x 600 DPI (Interpolated 1200 DPI) | 4.1 x 11.8 x 3.3 inches | |
| | Brother DS-740D | 16 PPM | Up to 600 x 600 DPI | 11.9 x 2.5 x 1.8 inches | |
| | Epson WorkForce ES-50 | Single page in 5.5 seconds | 600 x 600 DPI | 1.8 x 10.7 x 1.3 inches | |
| | Canon imageFORMULA R40 | 40 PPM | 600 x 600 DPI | 11.14 x 9.90 x 9.60 inches | |
| | Doxie Go SE Wi-Fi | 8 seconds/page (300 DPI) | 600 x 600 DPI | 12.25 x 2.25 x 1.75 inches | |
| | Fujitsu ScanSnap S1300i | 12 PPM | 600 x 600 DPI | 15.75 x 7.80 x 5.80 inches | |
Best Cheap Scanner Reviews
1.Epson Perfection V600- Best Value Scanner
It's a pretty inexpensive and compact device that provides high-quality film, photographs, slides, and regular document scanning. A 6400 x 9600 DPI resolution generates extremely accurate and vibrant outputs. It also delivers clear magnifications of 17 x 22 inches maximum.
It has a spectacular 48-bit color depth plus 3.4 Dmax to further amplify the quality of its performance. All these appealing features combined makes it an excellent tool for all your photography demands within a budget.
Fully integrated OCR software enables you to translate scanned files to fully editable text files. Four adjustable controls can be used to scan, copy, create PDF files, and scan-to-email.
The device features Epson's groundbreaking ReadyScan LED technology for providing energy efficiency and improve productivity. Digital ICE for printing and recording prevents papers from being wrinkled or town.
This versatile tool can even eliminate stains and dust from your original input to create professional scans.
Highlighted Features
Ultra high-quality scans due to color depth of 48-bit plus 3.4 Dmax
Capable of restoring old, damaged photos
ReadyScan LED source enables energy efficiency
Amazing 6400 x 9600 DPI resolution
2.Brother Mobile Color Page, DS-620- Best Inexpensive Scanners
Delivering Brother's signature high-quality outputs, this device is as functional as it is sophisticated. For your search of a flexible device that starts from scanning standard documents organizing your photos, the DS-620 might just be one that does it all within your budget.
This multifunctional instrument is capable of doing it all when it comes to scanning photos, documents, receipts, laminated ID cards, illustrations, or drawings. The device can scan even the smallest, most complicated, and most strangely shaped objects with no issue at all.
Together with the fact that it can handle a variety of papers, the incredible pace it can produce is more advantageous. A speed of up to 8 PPM for single and 5 PPM for dual-sided is provided for scanning. The performance level is not hindered by a reasonable resolution of around 600 x 600 DPI.
It has a duty cycle of a minimum of 100 pages a day and can support paper dimensions till 8.5 x 32 inches. An even more important feature worth mentioning is how portable this device is. It weighs just below a pound, with an 11.4 inches length. No wall socket is required as it's a USB-driven device.
The software included with it will allow you to scan all your documents to a printer, shared folder, email, FTP, etc. With all these aspects, this device is the active proof that inexpensive doesn't always mean quality-compromised when chosen wisely.
Highlighted Features
Can support a versatile range of paper types and sizes
Lightweight, portable and small footprint to save space
USB connection means that no power outlets are required
Can support at least 100 pages a day
3.Epson Workforce ES-400- Best Affordable Scanner
This affordable device from Epson comes with a super high pace of 35 PP and can produce high-grade outputs with a 600 x 600 DPI resolution. A 50-page ADF can provide you the much-needed boost to your productivity and efficiency.
It is compatible with both Windows and Mac OS. The built-in Nuance OCR technology is capable of generating searchable PDFs; and Excel/Word documents that can be edited.
You can easily upload or send your files to popular cloud platforms such as Dropbox, Evernote, or Google Drive. Epson ScanSmart Software facilitates quick scanning and direct scan to e-mail, upload, preview, etc. Time can be saved by automated file naming and object recognition.
Ultrasonic Double Feed Detection prevents papers from ever being lost. The device also provides Dynamic Skew Correction. TWAIN driver included with the model lets you conveniently connect to almost all applications related to document management.
Highlighted Features
Sensational 35 PPM scanning rate
Automatic file-naming plus object recognition to raise efficiency
Dependable system of sheet feeding to guarantee that no pages get lost
Supports almost all applications via the TAIWAN driver
4.Canon CanoScan Lide 300- Best Scanner Under 100
Using the CanoScan LiDE 300, you can instantly and effortlessly scan high-resolution documents. This lightweight, stylish and compact model comes with a 2400 DPI optical resolution (interpolated 19200 DPI resolution). It is therefore optimal for capturing digital photos or other documents.
It is a flatbed CIS scanner with the ability to scan a full document page within only 10 seconds (at 300 DPI). 4 EZ keys will enable you to enjoy a speedy operation in a number of distinct modes.
This device also features the Advanced Z-lid, which can be lifted parallelly to 21 mm from the top of the scanning panel. This makes precise scanning achievable when you require to scan newspapers, magazines, or big books.
The gadget also facilitates power and data relocation directly from a USB port, removing the requirement to access any individual AC power adapters.
Highlighted Features
Amazing 2400 x 2400 DPI resolution
USB connectivity ensures no power adapter requirements
Advanced Z-lid for enables scanning thick media
Compliant with Linux, Windows and Mac OS
5.Brother Wireless ADS-1700W- Best Cheap Document Scanner
It is configured for adaptive and smooth running. This wireless ADS-1700W contains a 2.8-inches color touchscreen for instant one-touch operation. It even has the ability to personalize predefined control settings and areas. It goes light on your wallets while providing you nothing less of a premium performance.
This version has a resolution of up to 600 x 600 DPI, 24-bit color depth, and a powerful scanning rate of 25 PPM. It even comprises of a built-in 20-page capacity single-pass ADF for increased productivity.
It can support single pages as well as dual-sided documents effortlessly. There is even a specified card slot for scanning plastic cards. It can accommodate multiple "Scan-to" areas such as file, FTP, email, OCR, FTP, mobile, network, and Cloud services.
You can easily depend on this model for your workload as it has a 1000 pages duty cycle. The device comprises of a micro-USB 3.0 interface. What's more, the included software bundle constitutes of apps for Image Enhancement, OCR, document arrangement, and an array of scanning service programs, etc.
Highlighted Features
8 inches color touchscreen for convenient operation
Individual card slot for scanning cards made of plastic
Single-touch operation enhances efficiency
Perfect for both single and dual-sided scanning
Cheap Scanner Buying Guide
What Will Be Scanned?
Materials that you're going to scan, and how much you're going to do so are crucial aspects. They will help you to determine which type of scanner you're going to need. Documents and photos are the most typical objects to be scanned.
But materials such as books, ID cards, stamps, magazines, etc. are important and common scan items as well. So choose the cheapest model according to your purpose.
Flatbed Or Sheetfed?
If you're going to scan photos and delicate papers like old papers or cuttings, you would require a flatbed scanner. It's because the big glass plate where the objects that are to be scanned are placed, will aid in keeping the originals protected.
You may choose to go for a sheet-fed scanner, but you face the possibility of harming the materials you choose to scan. But they are the optimum choice for bulk document scanning.
How Important Is Resolution?
When looking for the best cheap scanners, some buyers think resolution must be compromised as the price is low. But it is quite a significant feature and should not be overlooked.
Most activities would be fine with 600 DPI resolution. But highly detailed-photo files or photo-scanning will require greater resolutions. In such cases, you would want to use a device with a resolution of at least 1200-4800 DPI or more.
Is Speed A Factor?
For scanning a vast amount of documents, you would need a device that can deliver scans efficiently and is reliable and convenient to use. For high-volume requirements, opt for a higher pace to maximize productivity and vice versa.
ADF And Duplexing
Pick ADF and duplexing features based on the quantity and length of documents you normally would require to scan.
If you're intending to scan frequently, particularly papers longer than a few pages, you'd probably need a sheet feeder or ADF model. They are ideal for high volumes as well to scan up entire stacks of papers unattended. For scanning a couple of pages each time, a manual paper feeder is likely to be sufficient.
For when you may need to scan dual-sided documents on a regular basis, you will definitely require an auto-duplexing device. Otherwise, opt for more manual options which are more economical.
Conclusion
Keepsakes/files of the past will accumulate up to create a mess out of whatever free room you have. You probably require or desire for a remedy to all these by now. But you don't want to introduce another large and heavy device to your house or office. Neither do you want to drain your wallet for a no-good device.
There is a false assumption that the cost is perhaps the most crucial indicator of how much you will get when purchasing office or home equipment. But this is not always the case. The market is penetrated by hundreds of outrageously expensive scanning devices at present.
Hence, it would be a wise move to opt for any of the best cheap scanners discussed here as per your requirements.