Flatbed scanners are ideal for someone who needs to archive and create back up of all their printed photos. And also for companies who have to store or edit sensitive documents.
Pictures, stamps, and other materials can be run through sheet-fed devices, but the quality of the scanned output may deteriorate and the objects can be damaged.
If you just have to perform such scans infrequently, a sheet-fed device might keep you going, but the output quality is prone to degenerate.
But with the best flatbed scanners, however, you don't have to be concerned about mediocre scan quality. Image enhancement technologies in fact, enable some of them to generate outputs that seem even more enhanced compared to their originals.
Whether for your home or professional purposes, if you're looking for the perfect gear to scan away like a pro, then worry no more. This is because we are about to provide you with a detailed guideline with examples to aid your buy of that perfect upgrade.
Editors' Picks for Top Flatbed Scanners 2021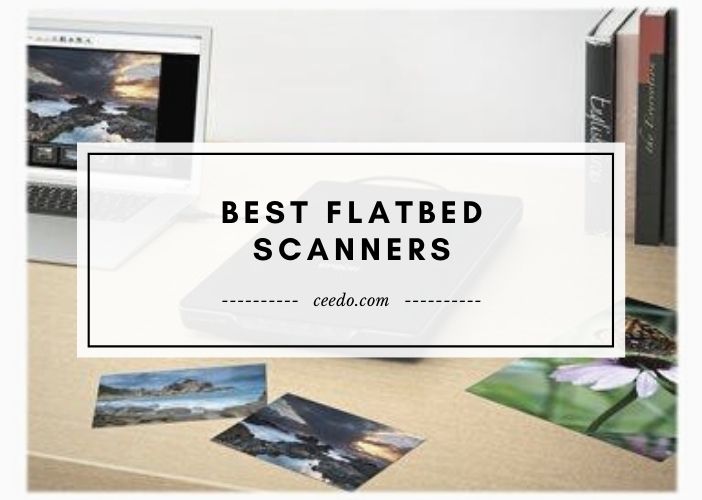 List Of Top Flatbed Scanners
6.Plustek A3 Flatbed Scanner OS 1180
7.Doxie Flip – Cordless Flatbed Photo & Notebook Scanner
Comparison Chart For Top 9 Flatbed Scanners
| IMAGE | Name | Speed | Resolution | Maximum Scan Area | price |
| --- | --- | --- | --- | --- | --- |
| | Epson Perfection V600 | Color: 21.00 msec/line; Monochrome: 21.00 msec/line | 6400 x 9600 DPI | Max 8.5 x 11.7 inches | |
| | Canon CanoScan Lide 400 | 2msec/line (4800 DPI) | 4800 x 4800 DPI | Max 8.5 x 11.7 inches | |
| | Epson Perfection V19 | Letter size in 10 seconds (300 DPI); in 30 seconds for 600 DPI | 4800 x 4800 DPI | Max 8.5 x 11.7 inches | |
| | Epson Perfection V39 | Letter size in 10 seconds (300 DPI); in 30 seconds for 600 DPI | 4800 x 4800 DPI | Max 8.5 x 11.7 inches | |
| | Canon CanoScan LiDE220 | Letter size within 10 seconds | 4800 x 4800 DPI | Max 8.5 x 11.7 inches | |
| | Plustek A3 Flatbed Scanner OS 1180 | Greyscale A3- 9 seconds; Color A3- 15 seconds (both for 300 DPI) | Up to 1200DPI | 69 x 17 inches | |
| | Doxie Flip – Cordless Flatbed Photo & Notebook Scanner | 7 seconds per scan (300 DPI) | 600 x 600 DPI | 4 x 6 inches | |
| | HP ScanJet Pro 2500 f1 | 22 PPM | 1200 x 1200 DPI | Max 8.5 x 122 inches | |
| | Xerox DocuMate 3220 | 23 PPM (black); 13 PPM (color) | 600 x 600 DPI | Max 8.5 x 14 inches | |
Best Flatbed Scanner Reviews
1.Epson Perfection V600 Color Photo, Image, Film, Negative & Document Scanner
It's a pretty lightweight product that delivers high definition documents, photos, negatives, film, and regular slides scanning. A high resolution of 6400 x 9600 DPI supports extremely accurate and vibrant results. This can also create a perfectly clear high magnifications of up to 17 x 22 inches.
Its brilliant color depth of 48 bit, as well as 3.4 Dmax, contribute further to the overall performance of this gadget. The alluring combo of functions forms this model into an impeccable resource for just about every photographer.
Fully integrated Optical Character Recognition (OCR) software will aid you to quickly transform scanned products to a fully editable text file. Four interchangeable scanner controls may be used for scanning, scan-to-email, and copying and immediately producing PDF files.
The V600 also highlights Epson's revolutionary ReadyScan LED technology, which can administer energy conservation and optimize your productivity. The producer also offers optical ICE for films and prints. This is a flexible machine that removes marks and dust from the original media to create professional-grade scans.
ICE technology also prevents the creation of tears, wrinkles, and cracks in aged, blurred images. There are also no inherent dangers with needless touch-ups of old photographs.
Highlighted Features
Has a 3.4 Dmax and 48-bit color depth
Is able to restore old and distorted images
Energy efficiency is ensured by ReadyScan LED source
Super high resolution of up to 6400 x 9600 DPI
2.Canon CanoScan Lide 400 Slim Scanner
You can scan files in excellent quality efficiently and speedily with the LiDE 400 Slim from Canon. This lightweight, compact, and sleek model comes with an amazing resolution of 4800 DPI and is suitable for digital photography/document capturing.
The 8.5 x 11.7 inches flatbed CIS device is competent enough to scan entire pages of 300 DPI resolution within just 8 seconds. Perpendicular scanning feature is also achievable with the included stand.
This device kit contains 5 EZ Control Buttons, which allow a seamless and efficient operation in a variety of modes. Advanced Z-lid Extension Top allows scanning of thicker media sources like books.
Preconfigured applications can repair scanned photos for dust, scratches, and several other defects in the Windows version. The Submit to Cloud alternative facilitates speedy uploads to cloud platforms such as Dropbox or Microsoft OneDrive etc. when connected to a gadget.
Highlighted Features
Strong resolution of up to 4800 x 4800 DPI for maximized quality outputs
Convenient operation using the 5 EZ buttons
Advanced Z-lid Expansion Top ensures compatibility with thick media
Correction software available for images that remove dust, scratches, etc.
3.Epson Perfection V19 Color Photo & Document Scanner
This portable Epson model allows effective scanning and is gentle on your wallet. For dealing with text files or pictures, the V19 provides a stunning resolution of 4800 DPI and rapid speeds. You will receive letter-sized documents scanned in a matter of ten seconds.
Convenient-to-use function buttons allow scanning directly into laptops/PCs, emails, or PDFs, or with extreme agility. This flatbed CIS gadget comes with a scan area of max 8.5 x 11.7 inches. It even possesses an inherent color depth of 48-bit for accurate color reproduction.
The device has an incorporated stand for vertical operation for saving your room/office space. It comprises a removable lid for scanning larger files or books. It is powered by the USB 2.0 hub and thus requires no AC adapters or time to warm-up.
More functionalities provided by this device constitute Epson Easy Photo Fix Technology, and Advanced Digital Dust Fix; which will facilitate the restoration of aging photos and print. Epson Easy Photo Scan app users should be capable of uploading scans instantly into Facebook, Picasa, Evernote, etc.
Highlighted Features
Mind-boggling resolution of up to 4800 DPI
48-bit of color depth for recreating spectacularly accurate colors
Upright functioning option and removable cover to handle large sheets
Dust issues can be fixed and old file restoration by using apps
4.Epson Perfection V39 Color Photo & Document Scanner
The Epson Perfection V39 can make scanning, sharing, and restoring images simpler than ever before. With an optical resolution of 4800 DPI, it delivers high-quality scans at rapid rates of letter-sized paper in 10 seconds (300 DPI) and in 30 seconds for 600 DPI.
It doesn't require any warm-up period either. From images to records, this flexible pro gear can make scanning easy for you every day. You'll be able to scan directly into Dropbox, Evernote, or Google Drive and other cloud storage options.
The incredibly simple-to-use buttons will allow you to scan straight to PDFs and emails as well. Its built-in stand for upright positioning will contribute to saving more of your work area's space.
An included removable cover has the capacity to handle thick objects and books. The device also contains software for scanning bulky media, restoring color to fading images, dust removal, and even for transforming files into editable documents.
Highlighted Features
Requires no time to warm up
Digital stitching supported via the included ArcSoft Scan n Stitch Deluxe app
Faded photos' color can be restored
Requires no AC adapter
5.Canon CanoScan LiDE220 Photo and Document Scanner– Best Portable Flatbed Scanner
The CanoScan LiDE220 provides sophisticated functions, ease of usage, and 'Send to Cloud' capabilities. It will help you to upload photos to Cloud storages with incredible ease. With a resolution of 4800 x 4800 DPI at max, its 48-bit color depth is able to produce more than 281 trillion real colors.
Auto Document Fix automatically generates gorgeous scans with extensive photo analysis and data rectification. The Auto Scan Mode can analyze the scanned item and will store it with the correct settings accordingly on its own.
The device will also aid you to function effectively with five EZ Buttons that allow you to scan, send to cloud, copy, or form single or multi-page PDF files in a matter of seconds.
It scans rapidly as well, producing a colored letter-sized output in only around 10 seconds. It provides a stand to allow upright operation and can support workstations of almost every size. The Advanced Z-LidTM Expansion Top expands to allow you to scan bigger objects, such as thick pages, textbooks, etc.
Highlighted Features
Ultra-high color depth and resolution
User-friendly with 5 EZ Buttons
Upright scanning facility to save space
The Advanced Z-LidTM Expansion Top enables scanning of thicker media
Flatbed Scanners Buying Guide
Regular Or Special Purpose
Most flatbed scanning devices are constructed for generic functions, for example, scanning pictures and ordinary letter-size media. The rest though, are primarily designed for scanning books, business cards, and images.
Book scanners are created to enable its pages to lay flat; business card scanners or other small objects are portable and compact; scanners for slides are comparatively more miniature but possess characteristics very much alike.
So based on your professional or personal demands, choose the specialized device accordingly.
Size Of Subject
Picking the ideal flatbed wide enough to support the materials you would require to scan might seem like the obvious no-brainer. But it's easy to underestimate or ignore when browsing among so many alternatives to choose from.
The majority of flatbed scanners are engineered to handle documents of letter-size or A3 at max. This would be a matter of concern should you ever intend to scan wider formats.
Although most ADF-based flatbeds are capable of scanning bigger files, every flatbeds don't possess this feature and some can't accommodate legal-size pages.
You can get bigger scanners with wider flatbeds, but you're going to have to compromise some space. This, for many, is a precious advantage that's hard to let go of.
Resolution And Speed
The resolution offered is an essential factor of a flatbed scanner. This characteristic calculates the number of dots that produce a single digital photo, and the higher the number of dots, the stronger the quality.
You can decide whether you're going to scan a lot of pictures as the quality would be more crucial than only text files. If you're going to use it primarily for digital photos, look into options that come with at least a 600 DPI resolution.
If you plan to scan a lot of pages, you will require a fast-paced scanner so that you don't end up with a stack of incomplete tasks. Faster speed will boost your productivity as you'll get done with more files in very little time.
Connectivity
Keep in mind how you're going to link the scanner with your desired device. Most of the best flatbed scanners come with a Wi-Fi, USB or Bluetooth connectivity.
But choosing the perfect alternative relies on your priorities. For the most efficient and most dependable connection, go for USB connectivity. Although you should take into account that it will reduce the gadget's portability.
Software
Most of them will work with almost any scan-related program. As a result, if the correct software are provided with the product, it will save additional expenses.
Based on what you'd like to scan, some software features you may want include image and text editing, optical character recognition (OCR), production of searchable PDF files, etc.
Conclusion
When picking the best flatbed scanners, there are numerous open alternatives. However, the purpose of each device is unique. Therefore, before deciding on a flatbed scanning device, you must consider your requirements and invest in the perfect model.
Research is vital before finalizing your buy of any electronic equipment. This is one of those occasions where spending a little bit of your time at the beginning would lead to a much lesser pain in the long run.
Not only can will you be spending your cash, but also investing your time achieving extraordinary things with your device. So choose wisely and happy shopping!