Whether you are a teacher or a student, you must have to deal with different kinds of paper works for different purposes. Sometimes due to frequent usages, some papers tear apart or look so repulsive that they may wear down your spirits.
Moreover, sometimes even the ink becomes illegible. If it happens with an important document, it may cost you a lot but the damage might not be controlled with money.
That is why you should always preserve your essential documents by laminating. However, running to a shop every time you need to laminate something might prove to be expensive for you.
So, why not get a laminator of your own to make everything easier for you?
Sounds like a great idea, right? That is why today we have come up with an elaborate article comprising the best roll laminators for schools available in the market. You will also find a buying guide here that will help you determine which would be the apt option for you. So, without further ado, let us dive in.
Editors' Picks for Top Roll Laminators for Schools 2022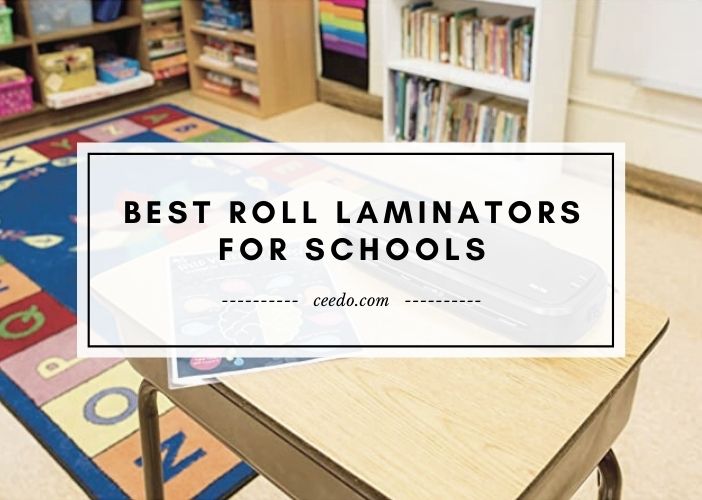 List Of Top Roll Laminators For Schools
2.Scotch Brand Pro Thermal Laminator (TL906)
3.Eficentline YE381 Thermal Laminating Machine
4.GBC Ultima 65 Thermal Roll Laminator
6.Budget 2700 Thermal Roll Laminator inc.
7.D&K Minikote G2 Two-sided Laminator
8.USI Thermal Roll Laminator Kit
9.V350 350mm Hot Cold Roll Laminator
Top 9 Laminators For Schools Comparison Chart
| IMAGE | nAME | Speed | Warm-up time | Max. width | price |
| --- | --- | --- | --- | --- | --- |
| | Scotch Thermal Laminator | 15"/minute | 8 minutes | 9" | |
| | Scotch Brand Pro Thermal Laminator (TL906) | 15"/minute | 5 minutes | 9" | |
| | Eficentline YE381 Thermal Laminating Machine | 250 mm/minute | 5 minutes | 330 mm | |
| | GBC Ultima 65 Thermal Roll Laminator | 10″/minute | 10 minutes | 27" | |
| | GBC HeatSeal Pinnacle 27 EZ | 10'/minute | 8 to minutes | 27" | |
| | Budget 2700 Thermal Roll Laminator inc. | 3-1/2 fpm | 20 minutes | 27" | |
| | D&K Minikote G2 Two-sided Laminator | 9.5'/minute | 5 to 10 minutes | 27" | |
| | USI Thermal Roll Laminator Kit | - | - | 27" | |
| | V350 350mm Hot Cold Roll Laminator | - | - | 350 mm | |
Top 5 Best Roll Laminators For Schools Reviews
1.Scotch Thermal Laminator- Best Laminating Machine For Schools
Let us start this segment with one of the most popular laminators and that is Scotch Thermal Laminator. This roll laminator waterproofs your documents and so it is appropriate for places like school where rambunctious kids may spoil your documents by spilling water.
This affordable laminator weighs just 1 pound. Therefore, you can effortlessly carry it around to your school and home. So, if you want to solidify the precious pictures of your students or important paperwork, it can have your back.
To gear up for your lamination jobs, this machine needs 8 minutes. So, if you are someone who hates to wait, this machine may not be the one for you.
However, your patience will be rewarded with blistering lamination speed. The device is endowed with a marvelous speed of laminating 15" every minute. Hence, it is safe to say that if you wait a bit, it will not go in vain.
To suit the differing needs of varied kinds of media, this device is equipped with a double roller system. Consequently, you can opt for the perfect temperature setting based on the thickness of your papers.
The laminator is also proficient at correcting any errors while it is performing. So, even if you insert the wrong media, you can relax.
Now moving on to media specification, this device is suitable for documents having maximum 9" width. The device is standard for 8.5" x 11" documents and photos. Besides, it has 3 mil and 5 mil pouches.
The laminated documents with this device look much more polished and so your students are bound to love those. Moreover, you will not have to be in the constant fear of misplacing them either. This machine also has a storage in it for the cord wrap. All in all, it is a worthy shot.
Highlighted Features
Turns your documents into durable objects.
Enabled with a dual roller system.
It can laminate 15" per minute.
It has a storage for cord wrap.
You can carry it around anywhere.
2.Scotch Brand Pro Thermal Laminator- Best Laminator For Schools
We cannot get enough of the brand 'Scotch' as they never compromise with quality. That is why our second pick is Scotch Brand Pro Thermal Laminator. You can conveniently accommodate this 3.2-pound laminator even if you have sparse space on your desk.
You can laminate your desired items effortlessly with this device. All you have to do is feed it your media and it will come out looking more professional and being more durable than ever.
You must have to deal with different kinds of papers for your schoolwork. Keeping this in mind, Scotch has enabled this machine to handle a varied range of media. Moreover, its Never Jam Technology can rectify the errors when you misfeed any paper. So, even if you get mindless sometimes, you can count on it.
The device needs 5 minutes to get ready for lamination works. When it is warmed up enough, its green light will give you a signal.
You will be marveled at the lamination speed of this machine. It can cover 15″ every minute. So, even if you leave any work for the eleventh hour, it will not be nerve-wrecking.
This user-friendly device is vigilant about power consumption. After an hour of inertia, it shuts down automatically to cut electricity wastage. How economical, right? But if warm-up time makes you antsy, you will be delighted to know that on being switched on again, it will carry on from where you took off.
To avail the peak performance of this machine, use it with a grounded 120V outlet. Otherwise, any accident may take place. So, why take any chance?
The throat width of this machine is 6″ to 10″. It is compatible with media up to 9″ in width. As for pouch thickness, you can go for either 3 mil or 5 mil.
The dual roller system of the machine makes it more efficient. That is why you can choose a suitable temperature for your media based on its thickness. Now tell me who would not love so much flexibility?
Highlighted Features
It has a remarkable laminating speed.
Equipped with an automatic off feature.
Enabled with Never Jam Technology.
It can laminate various kinds of documents and papers.
A compact machine and apt for people with minimal space.
3.Eficentline YE381 Thermal Laminating Machine
You can never go wrong with Eficentline YE381 Thermal Laminating Machine. This device is one of the most popular laminators right now since the package includes 50 pouches. Therefore, you can utilize them for the varied thickness of papers.
Among its 50 pouches, 25 are allocated for A4 papers, while the rest can be used for A6 papers. You can also use these for A3 papers, cardstocks and others as long as the thickness does not exceed 0.5 mm. So, why would someone not like such a versatile machine?
This cost-effective 5 in 1 laminator offers you a corner rounder and a paper trimmer. The trimmer has 3 patterns- perforated, wave & straight. Moreover, its paper rounder is perfect for fillet cutting, photos papers and anti-slip tape. So, see, just by purchasing one laminator, you can avail so many other tools!
If you are scared of ruining your valuable documents due to temperature issues, rest assured that its dual heating system will not let so happen. You can opt for milder temperatures if your media is thin and go for hot temperatures for the thicker ones.
This machine can warm up in only 3 minutes! It has got a decent speed. It can zip through laminating 250 mm in a minute. So, it can maximize your productivity notably.
This device can accept up to 330 mm wide media. Their thickness must be 0.5 mm or less. Otherwise, I am afraid this machine will not be of much help.
Since you work in a school, the noise of boisterous students is enough to make you aggravated. You do not want to make your temperance any worse with an extra dose of a noisy laminator. That is why you should go with this machine since it does not make any noise and lets you work in tranquility.
Do you hate lousy laminators that get stuck in the middle of laminating? Well, this device comes with an ABS button. Simply pressing this button, you can release paper jams and enjoy a smooth laminating experience.
Highlighted Features
A cost-effective 5 in 1 laminator.
25 pouches for A4 papers and 25 for A6 papers.
It can laminate 250 mm per minute.
It does not require more than 3 to 5 minutes to warm up.
You can release paper jams with its ABS button.
4.GBC Ultima 65 Thermal Roll Laminator- Best School Laminators
If you are looking for a laminator with advanced features, then you should consider GBC Ultima 65 Thermal Roll Laminator. This device offers an AutoSpeed feature that can be activated with a single touch. So, now you know why I labeled it as advanced.
Owing to this unique option, the device can discern how much speed is needed for which kind of media and then acts accordingly. Therefore, you can achieve the optimum result with minimal effort.
This machine can be warmed up within 10 minutes. You can have the privilege of laminating up to 27″ wide documents with this amazing device. And do you know how much area you can laminate in a minute? Well, the answer is 10″. So, now the warm-up time sounds worth it, no?
Loading films in it is easier than you can ever imagine. Just purchase EZload Gray Cap NAP I Film or standard NAP I roll film. Doing so and by going through the user manual, you will master the technique of laminating quickly.
If you use this device with a pivoting table, you can approach the rollers without any hassle. The AutoGrip shafts of this device ensure that you can simply add and remove standard films.
These films are available in up to 3 mil. Moreover, thanks to its Auto Reverse option, since there is a bare minimum chance of errors, you can save your films from going in vain. Therefore, you can see how cost-effective this machine is.
Apart from that, this device guarantees that your documents are aligned correctly. So, it will not induce your OCD by going even slightly wrong. Besides, its internal trimmer aids you in detaching already laminated media from the roll. Also, let us not forget how the auto-reverse and the slow forward option prevent unnecessary paper jams.
This nominal machine turns to standby mode after 2 hours of idleness. Once the period exceeds 3 hours, it switches off on its own.
Highlighted Features
Laminates 10" per minute.
Takes 10 minutes to warm up.
Switches off automatically after 3 hours of idleness.
Accepts up to 27" wide media.
Enabled with Auto Reverse option.
5.GBC HeatSeal Pinnacle 27 EZ- Heavy Duty Laminator For Schools
Like the typical laminators, GBC HeatSeal Pinnacle 27 EZ will not limit you but let you spread your horizon. To be precise, the device is fitting for wider photos and documents.
Being designed with EZload technology, it gives you the liberty of inserting your preferred media without any complexity. But if you sometimes feed it the wrong media, unfortunately, you can amend that too. All hail to its Auto Reverse option for that.
Not only that, but the color-coded end caps will help you in loading films accurately. So, if you want fewer errors and more successful outcomes, pay attention to its instruction manual.
By purchasing this device, you will be saying no to film wastage. Besides, the footage counter keeps you updated about the remaining films. Hence, you can purchase some before you are left with none.
As if these were not enough, it is sanctioned with a digital temperature readout. That is why you can easily tell apart which temperature setting s compatible with which kind of media.
You will have to wait for 8 to 10 minutes after turning on the device while it warms up. That does not mean that it is a slow-performing machine. It has a flashing speed of laminating 10′ in a minute! So, if you laminate smaller documents, they will be done before you can even blink!
Another thing you will love about this device is its built-in trimmer. With its help, you can easily cut your laminated goodies from the roll.
If you tend to wander around before finishing the pile you aim to laminate, this machine can save you from soaring up the electricity bill. If you leave it unattended for over 2 hours, it goes to standby mode. If this period exceeds 3 hours, it will completely shut down.
The device is appropriate for 3 mil thick films. You can either purchase NAP I or NAP II EZ Load Gray Cap Films. Combined with this device, the films will provide you with attractive laminations that will leave everyone awestruck.
Highlighted Features
Requires 8 to 10 minutes warm up time.
It can laminate a massive 10′ area in a minute.
The Auto Reverse feature undoes your mistakes.
Turns itself down automatically if left unused for 3 hours.
Enabled with a built-in trimmer.
Roll Laminators For Schools Buying Guide
Size
If you are a teacher who is planning on keeping the laminator at your school, then you must buy a compact laminator. Your desk may be muddled up by files and copies every now and then. If you go for a bulky laminator, you may not always have space for additional documents.
Moreover, if all space of your desk is occupied by the laminator, you will not be even able to laminate in peace. So, always opt for a compact laminator. But if you plan on keeping the device at your home and you have adequate space, then you can do as you please.
Speed
The best roll laminators for schools are blessed with remarkable speed. Sometimes you may need to laminate a document in the least possible time. You do not want to miss a deadline just because you could not laminate on time, do you? So, go for a laminator that can laminate standard documents in a minute or so.
Wondering how much of an area should be covered in a minute? Well, to find that out skim through our individual product reviews.
Heating
A laminator with adjustable heat is always a convenient option. Therefore, dual heating system laminators are garnering much popularity among users. They offer both cold and hot temperatures.
While the hot temperature helps you in laminating quickly, it can sabotage thin documents. On the other hand, the laminator that can offer only cold temperatures will take ages to operate on thicker papers.
Hence, to get rid of this problem, modern technology has furnished laminators with dual rollers. As a result, the devices can have your back regardless of the media density.
School Roll Laminator Frequently Asked Questions (FAQ)
1. What Is The Best Laminator For School Use?
Laminators that possess both cold and hot temperatures and easy controls. This is because unlike roll laminators, not all sizes of media can be laminated via the smaller pouch laminators, and not all media are unreactive to hot or cold temperatures.
They are also able to handle various thicknesses and colors for maximum versatility and flexibility to meet all your academic needs with great efficiency. Models with a built-in cutter will make your operations more efficient and hassle-free as well.
The Scotch Thermal Laminator (TL901X) is one of the finest laminators out there that is phenomenal for school use.
2. How Do You Use A School Laminator?
It's quite simple really. Turn the device on and ensure that your media and film are properly in place. Adjust the speed and temperature settings according to the media you intend to laminate. Thicker media need more time to laminate and vice versa.
Since the laminator will take a significant amount of time to warm up, it is advised to start it up ahead of time for efficiency. Once the device indicates that it's ready to laminate, place your items in place and press the "run" button to initiate the lamination process.
Final Words for School Roll Laminator Buyers

So, these are the best roll laminators for schools. Which one appealed to you the most? Whichever you opt for, you are going to be rewarded with paramount outcomes since our article is backed by rigorous research.
Buy on Walmart
Laminator Machine for A3/A4/A6, YE381 Thermal Laminating Machine for Home Office School - Walmart Link
Fellowes Ayla 125 with Rapid 1 Minute Warm Up Paper Laminator Including Pouch Starter Kit - Walmart Link
GBC Thermal Roll Laminator, Ultima 65, 27 inches Maximum Width, 10 Minute Warm-Up - Walmart Link
Scotch Thermal Laminator, 2 Roller System for a Professional Finish, Use for Home, Office - Walmart Link
Laminator, A4 Laminator Machine, 4 in 1 Thermal Laminator for Home Office School Use, 9 - Walmart Link
13 inches Laminator Machine for Home Office School Use,6 in 1 Thermal Laminator with 20 - Walmart Link
Laminator Machine, Sinopuren 9-Inch Thermal Laminator, Personal 3-in-1 Desktop Laminating - Walmart Link
2.Scotch Brand Pro Thermal Laminator (TL906) - Walmart Link
3.Eficentline YE381 Thermal Laminating Machine - Walmart Link
4.GBC Ultima 65 Thermal Roll Laminator - Walmart Link
5.GBC HeatSeal Pinnacle 27 EZ - Walmart Link
6.Budget 2700 Thermal Roll Laminator inc. - Walmart Link
7.D&K Minikote G2 Two-sided Laminator - Walmart Link
8.USI Thermal Roll Laminator Kit - Walmart Link
9.V350 350mm Hot Cold Roll Laminator - Walmart Link
Scotch Thermal Laminator (TL901X) - Walmart Link
Buy on eBay
Laminator Machine for A3/A4/A6, YE381 Thermal Laminating Machine for Home Office School - eBay Link
Fellowes Ayla 125 with Rapid 1 Minute Warm Up Paper Laminator Including Pouch Starter Kit - eBay Link
GBC Thermal Roll Laminator, Ultima 65, 27 inches Maximum Width, 10 Minute Warm-Up - eBay Link
Scotch Thermal Laminator, 2 Roller System for a Professional Finish, Use for Home, Office - eBay Link
Laminator, A4 Laminator Machine, 4 in 1 Thermal Laminator for Home Office School Use, 9 - eBay Link
13 inches Laminator Machine for Home Office School Use,6 in 1 Thermal Laminator with 20 - eBay Link
Laminator Machine, Sinopuren 9-Inch Thermal Laminator, Personal 3-in-1 Desktop Laminating - eBay Link
2.Scotch Brand Pro Thermal Laminator (TL906) - eBay Link
3.Eficentline YE381 Thermal Laminating Machine - eBay Link
4.GBC Ultima 65 Thermal Roll Laminator - eBay Link
5.GBC HeatSeal Pinnacle 27 EZ - eBay Link
6.Budget 2700 Thermal Roll Laminator inc. - eBay Link
7.D&K Minikote G2 Two-sided Laminator - eBay Link
8.USI Thermal Roll Laminator Kit - eBay Link
9.V350 350mm Hot Cold Roll Laminator - eBay Link
Scotch Thermal Laminator (TL901X) - eBay Link