There are a handful of people in the world who can resist the sheen exuded by the laminated surfaces. Besides, laminated documents and photos last longer as they do not get damaged due to mishandling.
The predominance of laminators is not only limited to offices or shops nowadays. A lot of people are buying this device for their home use as it saves them a lot of money as well as hassles.
If you have a laminator at your home, you may laminate your important documents at any given hour. As lamination makes our documents more solid, they are less likely to be lost. Hence, you can store your favorite recipes, certificates of achievements, old letters or any other papers close to your heart more tidily.
Lamination is not hard to master. Still, for want of the best laminator for home use, it may seem to be an intimidating task to you. So, in case, you are planning to buy a laminator, give this article a thorough read. We have come up with everything you need to know before finalizing your purchase.
Editors' Picks: Top Laminator for Home Use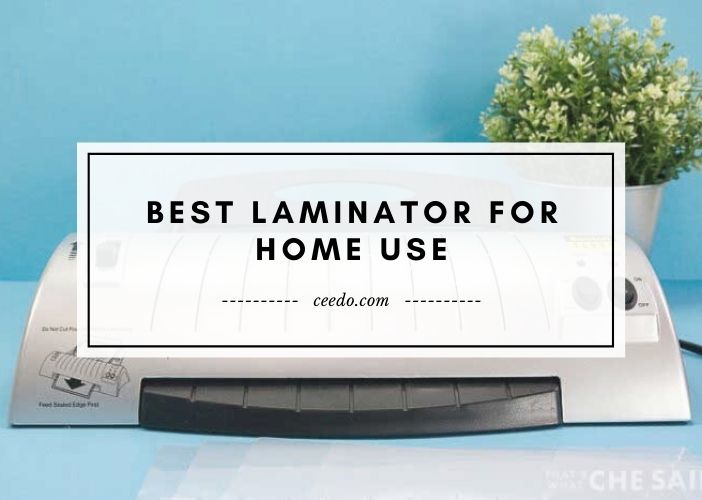 List Of Top Laminator For Home Use
1.Scotch Thermal Laminator (TL901X)
2.Scotch Brand Pro Thermal Laminator (TL906)
4.AmazonBasics Thermal Laminator
Top 10 Laminators For Home Use Comparison Chart
| IMAGE | Name | Speed | Warm-up time | Max. width | price |
| --- | --- | --- | --- | --- | --- |
| | Scotch Thermal Laminator (TL901X) | 15"/minute | 8 minutes | 9" | |
| | Scotch Brand Pro Thermal Laminator (TL906) | 15"/minute | 5 minutes | 9" | |
| | Crenova A4 Laminator | 250mm/minute | 5 minutes | 9" | |
| | AmazonBasics Thermal Laminator | - | 4 minutes | 9" | |
| | UALAU Laminator | 250mm/minute | 5 minutes | 9" | |
| | ABOX A4 Laminator | 300 mm/minute | 4 minutes | 9" | |
| | Blusmart A3 Laminator | 250mm/minute | 5 minutes | 13" | |
| | YE381 Thermal Laminator | 250mm/minute | 5 minutes | 330 mm | |
| | Fellowes Saturn3i Laminator | 12"/minute | 1 minute | 12.5" | |
| | Swingline Laminator | 9″/minute | 4 minutes | 9" | |
Best Home Laminating Machine Reviews
1.Scotch Thermal Laminator (TL901X)- Small Laminator Home Use
Looking for a laminator that can waterproof your sensitive documents? In that case, you should laminate those with Scotch Thermal Laminator TL901. But worried about its affordability? Well, please do not be as it comes at a very reasonable rate.
You can conveniently transport it between your home and your office as it weighs only 1 pound. Therefore, you will not have to invest in several laminators. Moreover, it is an expert at laminating both photographs and documents. So, one cannot help falling in love with such a versatile machine.
You can laminate up to 9" media with this device. if your photos and documents are 8.5" x 11" in size, then this is the ideal laminator for you. moving on to pouch thickness, do not aim for more than 5 mm. You may also work with 3 mil pouch thickness if you want.
This machine does not start working instantly after you turn it on. It takes some time to warm up- at max. 8 minutes.
But it does not mean that you should mistake the machine to be a slow one. It is enabled with a double roller system. Owing to that, you can adjust the work speed to your own accord. It also gives you the liberty to correct any error in case you feed any wrong document into the device.
If you laminate your frequently used or valuable documents with this device, it will render them much longevity. Besides, they will be waterproof and will not look unpleasant due to being crinkled either.
You will find a storage in it where you can keep the cord wrap. It can laminate 15 inches per minute. So, if you laminate an 8.5" x 11" photo, you will be done in merely 45 seconds!
You may switch between its two temperature settings. Hence, there is minimal chance of damaging your media if you are on your guard.
Highlighted Features
Safeguards your documents and photos.
Paces at the rate of laminating 15" per minute.
You can adjust the temperature.
The maximum pouch thickness is 5 mm.
Ideal for 8.5" x 11" documents and photos.
2.Scotch Brand Pro Thermal Laminator (TL906)- Best Laminating Machine For Home Use
Scotch is a prominent brand in the laminating field. That is why our next item is yet another stellar choice from Scotch and that is Scotch Brand Pro Thermal Laminator. The compact machine weighs only 3.2 pounds and so it will not occupy much space in your safe haven.
This efficient device can remarkably laminate varied kinds of papers and photos. Ranging from your drawing, recipe, ID card to business card and others; it can tame them all.
The device is pretty simple to work with. All you need to do is just feed it your desired items. And then they will come out with a shield that can protect them from all the odds.
After you turn on the laminator, it takes 5 minutes to be warmed up. You know it is ready for the action when the green light indicator is activated. The device can zip through laminating 15″ every minute.
Designed with Never Jam Technology, the laminator gives you a hassle-free laminating experience. As a result, if you insert any wrong media, you may rectify it in a breeze.
You must operate the laminator with a grounded 120V outlet. If you combine it with an incompetent outlet or voltage converter, you will be tampering with the device.
Scotch is cautious about sufficient electricity consumption. That is why the laminator is furnished with an automatic off feature. If it is left unused over an hour, it turns itself off automatically.
However, on turning it on again, the device does not take any additional time for warming up. You can resume from where you took off.
The acceptable throat width for this laminator ranges from 6" to 10". As for the maximum document width, do not exceed over 9". Also, you can make the most out of its 3 and 5 mil pouch thickness.
You can choose the most suitable heat for different kinds of papers- thanks to its dual roller system. So, you will not have to walk on eggshells fearing to damage your goodies.
Highlighted Features
It can cover 15" in a minute.
The dual roller settings are a delight to work with.
Turns itself down automatically.
A budget-friendly laminator.
Enabled with never jam technology.
3.Crenova A4 Laminator
The next model on our list is CrenovaA4 Laminator. This proficient laminator ensures that air bubbles cannot make your laminated documents or pictures look dull and unprofessional.
You will not have to sweat a bucket to run this device. Just turn on the machine and within just 5 minutes, it will be ready to go. The signal will be conveyed to you through its green light.
The laminator comes with a corner rounder, 20 laminating pouches and a paper trimmer. Hence, you need not buy them separately. Moreover, the ABS lever rewards you with a jam-free laminating task. What more do you want?
The laminator is endowed with impressive speed. In a minute, it can laminate up to 250 mm area. So, why waste hours on a lamination job when you can do it in a few minutes? You can laminate up to 50 A4 documents in an hour with this machine. So, if you want to boost up your productivity, now you know where to seek help.
This machine has pouch thickness options from 2 x 2.5mil to 2 x 4mil. You can laminate up to 9" papers with it. It does not discriminate much between different kinds of media. As long as you insert papers, it can serve you well.
Like our previous models, this too offers a two-roller system. So, you can choose the appropriate heat for different types of papers. Trust me, it will not damage your precious photos or documents as long as you opt for the right setting.
This featherweight machine is only 2.97 pounds. Hence, it can fit anywhere in your home sphere. And if you want, it can also accompany you to different places without burdening you.
Highlighted Features
An affordable purchase with necessary tools.
It can be used as a portable laminator as well.
It has a blistering speed.
Rewards you with a jam-free laminating experience.
Safeguards your important documents and pictures.
4.AmazonBasics Thermal Laminator Machine- Best Home Laminating Machine
AmazonBasics Thermal Laminator is one of the most user-friendly devices that you can lay your hands on. It is apt for different kinds and sizes of documents and so users cannot stop raving about it.
You may feed the machine different types of documents and it will laminate them wonderfully. But make sure that the size does not surpass 9". It is perfect for 9.4″ x 11″ pictures and documents. So, if you usually work with slightly bigger media, this is the one for you. It can also dexterously handle legal-size, letter-size, photo size and business card size papers.
You can find two pouches in this machine- 3 mil and 5 mil. Among them, 3 mil is the better option for denser documents. It gets heated up very soon and so it may damage thinner documents. So, if you are laminating a thin paper, 5 mil would be the fitting choice.
No one likes it when the machine gets jammed up in the middle of laminating a document. Therefore, to satiate the clients, Amazon has equipped this device with a jam release lever. So, gone are the days when you would be moping throughout your day over such a petty problem.
This machine produces durable and non-bleed through laminated documents. Consequently, the luster of your precious photos and documents will be intact for an extended period.
We know that it can be quite boring to keep seated in one place for a long time. This tightly packed device is just 2.44 pounds. So, you can move around it in different rooms of your home with ease.
The warm-up time for this machine is only 4 minutes. The light indicator will let you know when you should start working with this after turning it on. It will not be too far-stretching if you call it one of the fastest laminators available in the market.
Highlighted Features
One of the fastest laminators.
It has two pouch options.
The laminated surfaces are not bled through.
Laminates different sizes of documents.
It has a jam release lever.
5.UALAU Laminator Machine
The last item in this segment is UALAU Laminator Machine. This is a 4-in-1 device that comes with not just a laminator but a trimmer, 20 laminating pouches paper and corner rounder, So, it will prove to be quite of a cost-effective purchase for you.
The laminator takes only 3 to 5 minutes as the warm-up time after being switched on. The 'Ready' indication light will illuminate to let you know if you should start laminating yet. It can laminate 250 mm in a minute. So, you should not have any doubts regarding how amazingly it can maximize your productivity.
If you want to use this machine for the better, do not operate it more than 30 minutes at a stretch. Otherwise, it may fail to deliver its best.
This laminator can cooperate with the media up to 9″ width. It is great for 3 mil to 5 mil pouches. So, whether you want to laminate letter, business card, legal or photo size papers; it can have your back.
Sick of dealing with paper jams while laminating? The ABS button of this machine can act as a breath of fresh air for you. Whenever the papers get jammed, just pull the ABS button and your problem will disappear. How convenient, right?
This machine makes sure that your laminated documents stay in good condition for a long time. So, you can preserve your important papers and precious letters or greeting cards for ages. It is lightweight and can be carried around to your office as well. So, I think it is a worthy shot.
Highlighted Features
A lightweight and cost-effective laminator.
It has a pretty decent speed.
Comes with an ABS button to release the jam.
It should not be used for more than 30 minutes.
The maximum accepted width is 9″ for it.
Laminator For Home Use Buying Guide
Measurements
What kind of media do you usually laminate? What is your ideal size? You must buy a laminator that is suitable for your needs.
Purchase a laminator that can cooperate with a diverse range of dimensions. You do not want to buy separate laminators for tiny documents like ID cards and larger documents like pictures, certificates, etc., do you?
Pouch thickness is also important in this regard. Make sure the laminator is compatible with both thinner and thicker documents. All in all, make sure you go for a multipurpose laminator. If one device can do it all, why should you buy several?
Speed
Speed is a crucial factor when it comes to the best laminating machine for home. After all, you do not want to spend half of your day toiling after a single lamination job. Therefore, you need to make sure that you lay your hands on one of the quickest laminators.
Scrutinize how much of an area the laminator you are eyeing on can cover in a minute. The desirable number is 5". Even if the machine cannot laminate such a huge area per minute, try to grab one that can reach anywhere nearby 5" at least. Otherwise, the device will not help you in maximizing productivity. Rather, it will slow you down.
Furthermore, you should check out its warm-up time. Most laminators are not functional as soon as you switch them on. Still, the warm-up time should not be any more than 8-10 minutes. Yet, the less, the better.
Heating
You should buy a laminator with a dual heating system. In your laminating journey, you will have to laminate different kinds of papers for different purposes. If it comes with only one default temperature setting, that may not be fitting for every kind of paper.
If the temperature is on the hotter side, your thinner documents may get damaged. If the temperature is on the colder side, it will take you ages to laminate thicker papers.
So, to solve these problems, get yourself a device that's temperature can be adjusted as per your needs. That way, neither you will not have to be too scared to deface your papers, nor will your lamination speed be slow.
Final Words for Home Laminator Buyers

That is all we have for this article. Which one of these do you think is the best laminator for home use?
Whichever you go with, it will not disappoint you at all since our article is based on thorough research.
But before finalizing your purchase, make sure that the device is compatible with your preferred measurement. Otherwise, your hard-earned money will go in vain.
Buy on Walmart
Amazon Basics 9-Inch Thermal Laminator Machine - Walmart Link
Laminator Machine, BONSEN 4 in 1 Thermal Laminator with 50 Laminating Pouches, A4 - Walmart Link
Scotch Thermal Laminator Combo Pack, Includes 20 Letter-Size Laminating Pouches, Holds - Walmart Link
Scotch Thermal Laminator and Pouch Bundle, 2 Roller System, Laminate up to 9" Wide - Walmart Link
Laminator Machine, Nic pow A4 Laminator Machine with Laminating Sheets,4 in 1 Thermal - Walmart Link
Laminator Machine for A3/A4/A6, YE381 Thermal Laminating Machine for Home Office School - Walmart Link
13 Inches Laminator Machine, Dekewe A3 Laminating Machine with 20 Laminating Sheets for - Walmart Link
1.Scotch Thermal Laminator (TL901X) - Walmart Link
2.Scotch Brand Pro Thermal Laminator (TL906) - Walmart Link
Buy on eBay
Amazon Basics 9-Inch Thermal Laminator Machine - eBay Link
Laminator Machine, BONSEN 4 in 1 Thermal Laminator with 50 Laminating Pouches, A4 - eBay Link
Scotch Thermal Laminator Combo Pack, Includes 20 Letter-Size Laminating Pouches, Holds - eBay Link
Scotch Thermal Laminator and Pouch Bundle, 2 Roller System, Laminate up to 9" Wide - eBay Link
Laminator Machine, Nic pow A4 Laminator Machine with Laminating Sheets,4 in 1 Thermal - eBay Link
Laminator Machine for A3/A4/A6, YE381 Thermal Laminating Machine for Home Office School - eBay Link
13 Inches Laminator Machine, Dekewe A3 Laminating Machine with 20 Laminating Sheets for - eBay Link
1.Scotch Thermal Laminator (TL901X) - eBay Link
2.Scotch Brand Pro Thermal Laminator (TL906) - eBay Link