In the era of social networks and modern technology, the next prominent group of people idolized after celebrities are probably the influencers on the internet today.
Whether for entertainment, motivation, life hacks, fashion, gaming, lifestyle, makeup, cooking, etc. more; the podcast industry has taken over our lives more than we know.
Fame is no child's play these days as all it takes is a few seconds of content recorded and uploaded on the web to make or break you. Podcasting is, hence, one of the most powerful tools to create a name for yourself out there.
And in order to get down to it and make a difference in the world, you are in need of the perfect equipment to go pro or just for fun.
So today we are all about the best webcams for podcast which could possibly pave your way into becoming the next internet sensation. Let's dive into all that you need to know in order to make that perfect buy!
Editors' Picks for Top Webcam for Podcast 2021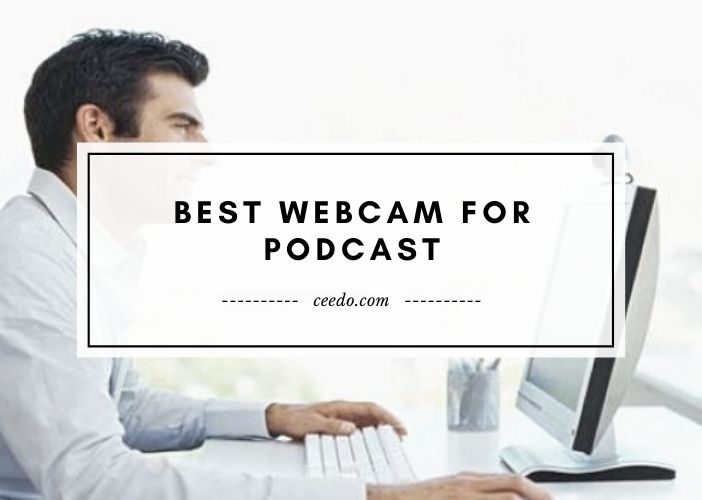 List Of Top Webcam For Podcast
2.Full 1080P Webcam By NANSHIBA
Comparison Chart For Top 10 Webcams For Podcast
| IMAGE | Name | Device Resolution & Frame Rate | Microphone | Viewing Angle & Focus | price |
| --- | --- | --- | --- | --- | --- |
| | Vitade 960A USB Pro | Full HD 1080P; 30 FPS | Dual noise-canceling microphones | 80°; Autofocus | |
| | Full 1080P Webcam By NANSHIBA | Full HD 1080P; 30 FPS | Dual stereo mics with noise cancellation | 90°; Autofocus | |
| | Logitech C930e | Full HD 1080P; 30 FPS | Two omnidirectional with auto noise reduction | 90°; Autofocus | |
| | Logitech HD Pro C920 | Full HD 1080P; 30 FPS | Two omnidirectional with auto noise reduction | 78°; Autofocus | |
| | Logitech StreamCam | Full HD 1080P; 60 FPS | Dual omnidirectional mic plus noise-reducing filter | 78°; Autofocus | |
| | Mevo Plus | Full HD 1080P; 30 FPS | Stereo microphones & external plug-in support | 150°; N/A | |
| | Logitech C270 | HD 720P; 30 FPS | One omnidirectional noise canceling | 60°; Manual | |
| | Logitech C922x Pro | Full HD 1080P; 30 FPS (60 FPS for 720P) | Dual with stereo sound | 78°; Autofocus | |
| | Logitech C510 | HD 720P; 30 FPS | Noise-canceling mic | N/A; Autofocus | |
| | Aoboco USB Pro | Full HD 1080P; N/A | Dual stereo with noise reduction | 90°; Autofocus | |
Best Webcams For Podcast Reviews
1.Vitade 960A USB Pro
For the most stunning visual quality without the hassle of fancy lighting equipment, this is easily a winner of a device for your podcasting sprees. This is because it possesses a ring-light built into it for making you look perfect every time no matter what and wherever you are!
The brightness of the lights can be adjusted within three levels as you desire. This Full HD device comprises a magnificent Standard 6+1R element Full HD optical glass lens too for an impeccable image quality during your streaming, recording, etc. and more!
The autofocus convenience ensures a flexible and tension-free podcasting experience as you don't have to worry about your webcam focusing in the wrong place. And with an ample frame rate of 30 FPS and a viewing angle of 80°, it performs ideally every time, capturing everything around you perfectly.
Even if you are around the rowdiest environments, its noise suppression feature along with its dual microphones will facilitate flawless audio captures. If you're worried about shaky network connectivity, there's nothing to fear either!
This is because its H.264 encoding compression technology ensures superb video quality even on fluctuating or poor connectivity! Along with the ring light, the device owns a low-light adaptability feature too, providing your audience an even more phenomenal visual no matter how bad your lighting is.
Highlighted Features
Backgrounds are replaceable via Chromacam-2.2.1.14 on Windows
Duo of microphones enhanced with noise reduction
Ring-light is built-in with three levels of adjustable brightness
Standard 6+1R element Full HD optical glass lens
2.Full 1080P Webcam By NANSHIBA
Another great gear to elevate your podcasting journey like no other. This HD gadget comes with a stellar Full HD resolution and with a frame rate of 30 FPS, offers magnificent video capturing every time. Easily attach it to any of your devices effortlessly and get podcasting in no time!
Even if you're up to 32 feet away, it picks up sound perfectly, ensuring crystal-clear sounds thanks to its noise-canceling system. It is equipped with dual omnidirectional microphones for capturing audio like a boss, elevating your overall podcasting experience.
Its low-light correction and autofocus brings you an enhanced true-to-life quality of videos regardless of the lighting around you perfectly. And with a capacity to be rotatable by 360 degrees, capture anything and everything around you like a breeze with a viewing angle of 90⁰.
It is compatible with the widest array of Operating Systems and devices as well. These include Android, Mac, Chrome, Windows, TV/ Smart Tv, Xbox One, Ubuntu, etc. and more! So, if you're looking for the perfect, flexible option to get podcasting like a boss, this model sure has it all.
Highlighted Features
360⁰ rotatable camera with 180⁰ foldable clip
Picks up sound even 32 feet away
Autofocus with 90⁰ viewing angle
Compatible with many OS including Xbox One, Ubuntu, Linux, etc.
3.Logitech C930e
Logitech is no new name when it comes to the world of the finest webcams of today, and for all the right reasons. The C930e is such a model by this brand that has more than enough to knock your socks off. With a Full HD resolution and a camera performance of 30 FPS, be sure to expect nothing but the ultimate podcasting experience.
With a UVC H.264 encoding to loosen up the bandwidth of your network, be sure to expect the optimum video quality and smoothness at all times. Just plug and play into your PC, laptops, or other monitors and get podcasting in no time effortlessly.
The device offers a superb viewing angle of 90⁰, enabling you to capture everything around you perfectly. It comprises a glass lens with autofocus which further enables perfect video capturing focusing on what's crucial. And with a 4x zoom feature, demos or products, presentations, etc. couldn't get any easier!
This is easily one of the finest options to go for if you intend to go pro. Featuring the RightLight 2 Technology, it makes you look like a stunner in any amount of lighting. With all these magnificent specs packed into one, this piece of tech is easily the go-to gear for all your podcasting needs.
Highlighted Features
A UVC H.264 encoding for smooth performance in low bandwidth
The RightLight 2 Technology for perfect low-light activity
Features a 4x zoom feature
Superb viewing angle of 90⁰ with autofocus glass lens
4.Logitech HD Pro C920
You'll never miss out on the best of Logitech thanks to its endless range of top-notch webcam models to choose from. And the C920 Pro is no different when it comes to providing a premium standard performance to back up your professional or hobbyist podcasting sprees.
Just like the C930e discussed above, this model offers a Full HD resolution with an amazing frame rate of 30 FPS for superb camera performance. It is equipped with two omnidirectional mics with auto noise reduction as well for providing your audience with a nuisance-free clear sound.
It comes with a standard lens with autofocus with a convenient viewing angle of 78° for capturing it all for your podcast fans. The device is super-convenient to use and install whether you want to fit it to your laptop, PC, etc. or even just a tripod.
No matter how dim or harsh the light, it automatically adjusts itself to provide optimum visual quality anytime, anywhere. Recording videos couldn't get any easier either, and you can upload them effortlessly without any hassle thanks to the H.264 encoding.
Highlighted Features
Viewing angle of 78°
Easy to clip on PCs, laptops, monitors, tripods, etc.
Standard lens with autofocus
264 encoding for lightning-fast uploads without hassle
5.Logitech StreamCam
Though quite different from its relatives, the Logitech StreamCam is no doubt a little beast when it comes to performance. With a Full HD resolution, this camera comes with a phenomenal frame rate of 60 FPS, guaranteeing the most unbelievable performance unlike most of its rivals out there.
It is equipped with a Full HD premium glass lens that not only focuses automatically for the perfect podcasting experience. But a great viewing angle of 78° ensures that all that's vital is not left out from your frame. Vertical videos are possible too just by turning it by 90° for shifting into a portrait mode.
When used with Logitech Capture, the device is more unbeatable as it unlocks the most versatile array of features otherwise unavailable. These include automatic stabilization, framing, exposure, etc. and more; thus, facilitating the creation of pro-level podcasts.
It possesses dual omnidirectional microphones plus a noise-reducing filter for capturing crystal-clear and immersive audio. And thanks to its flexibility to be mounted on in the most versatile ways, podcasting has never been more A-grade and effortless.
Hence, if you are on the hunt for the perfect gear to go pro, this bomb of a device sure ticks all the boxes to accompany you all the way to fame!
Highlighted Features
Full HD premium glass lens with smart autofocus
Can be turned 90° into portrait mode for capturing vertical videos
Logitech Capture unlocks features otherwise unavailable such as automatic stabilization, framing, exposure, etc.
A phenomenal frame rate of 60 FPS,
Webcam For Podcast Buying Guide
High Frame Rate & Go HD!
This isn't your everyday video conference we are talking about. This is why, it is absolutely critical that your podcasts showcase crystal clear quality to provide your audience with an immersive and realistic experience. Whether for streaming live or uploading videos, opt for at least an HD resolution model for perfect quality.
But it is highly recommended to go Full HD in order to achieve the ultimate output for your loyal fans. Frame rate should be as high as possible and no less than 30 FPS either if you don't want your device to be slower than you or end up with broken videos.
Focus & Lens
Try your best to choose a model with autofocus to save you from troubles as there will be no manual intervention required in-between your shoots. The lens will follow you on its own, ensuring perfect focus throughout your podcast.
Manual or fixed focus models aren't bad either. It all depends on the degree of convenience and flexibility you prefer.
Glass lenses are a far better option than plastic lenses. So, choose accordingly as they not only last longer but also come with enhanced features to further elevate the visual quality.
Compatibility & Mounting Options
Ensure that the device you are going for is compatible with the device you intend to use it with. Not only must it be compatible with your desired Operating System, but be mountable on them too.
Luckily, most models today are compliant with the widest array of Operating Systems including Windows, Mac, Android, Chrome, Linux, etc. Some are compatible with gaming consoles as well, along with various streaming and recording platforms.
Most webcams are plug-and-play and can be mounted on almost all your desired devices; while some can be independently mounted on tripods too!
Compression
This feature ensures that your videos keep on running smoothly even when there is a drop in the network bandwidth. It is a key feature to consider as the compression technology also facilitates effortless uploads with minimum hassle
Audio
The best podcast webcam must provide impeccable audio quality besides flawless video quality as well. As a result, ensure that it comes equipped with powerful microphones that capture perfect sounds even within long distances.
Another feature you mustn't miss out on is the noise-suppression feature as it plays a vital role in enhancing the sound clarity by reducing background noise
Frequently Asked Questions (FAQ)
1. What Cameras Do Podcasters Use?
Podcasting isn't your regular basic video capturing. Hence, podcasters use premium quality webcams that possess at least an HD resolution or more.
Their webcams also come with a minimum frame rate of 30 FPS or higher in order to keep up with them, along with a high-quality lens, wide viewing angle, and great focus. Microphones for clear audio capturing is essential as well.
Enhanced features of their high-tech webcams may include noise cancellation technologies and compression features. The compression facility enables smooth performance even when the network bandwidth fluctuates while also facilitating more convenient uploads.
2. Which Webcam Do Youtubers Use?
All the features discussed above are desirable on the webcams used by Youtubers. Do keep in mind that glass lenses are way better than plastic ones.
Also, if the webcam of your choice possesses a light correction function, you get to further elevate the quality of visuals of your YouTube content.
The Logitech C922x Pro Stream Webcam is one of the overall best webcams that Youtubers tend to go for more frequently.
3. Which Webcam Is Best For Zoom?
For conferencing or streaming via Zoom, you don't need the most expensive webcam to get the job done. Just focus on standard levels of resolution, frame rate, microphones, viewing angle, etc.
If your budget permits, you can opt for more pro devices with enhanced features. Another thing to consider is how often you'd need to zoom in or out during your video sessions.
This is because, zooming in, either intentionally or accidentally, deteriorates the image/video quality.
Hence, models with autofocus are the smarter alternative to prevent the hassle of frequent focus adjustments and blurry visuals. The NANSHIBA 1080P webcam is one of the best webcams for Zoom within a budget that comes with the autofocus convenience.
Conclusion
All said and done, it is evident that acquiring the best webcam for podcast is no impossible task. All you need to do is keep an eye out for the key factors and know what you want, and you will surely end up landing the perfect gear.