Webcams have become a necessity in today's busy lives, where most of our work has turned virtual. This means virtual classes, meetings, and even interviews! In either case, we all know how bad the installed webcams usually are on laptops. Even if they are high-end, they are often no match for the external ones.
And given that external ones can come cheap too, there is little reason not to get yourself one. In this article, you will find a wide discussion on how to find the best webcam under 50$. This is a moderate price limit since you can get ones at way cheaper prices too, but those will not contain all the good features you would need and love.
Also, if you have never bought webcams before, you probably need a little webcam knowledge. A little buying guide is given down below for that reason. So any time you are confused or face any jargon along the way, just refer back to this.
Editors' Picks: Top Webcam Under $50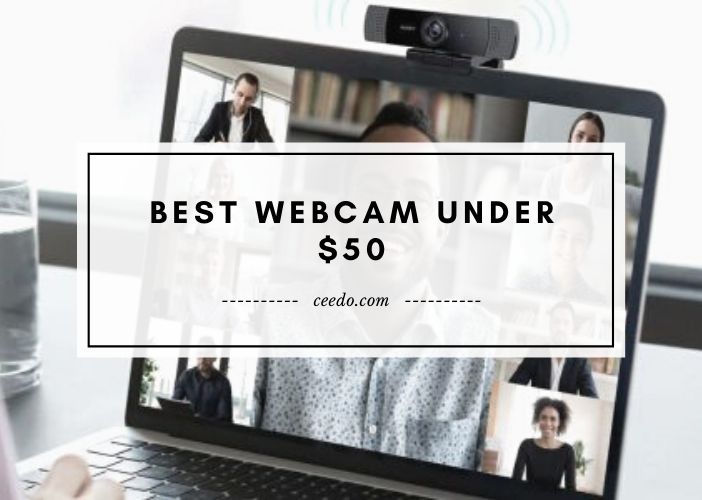 List Of Top Webcam Under $50
1.Ausdom USB Computer Web Camera
Comparison Chart For Top 7 Webcams Under 50$
IMAGE
PRODUCT
Resolution


Microphone
Special Features
price

Ausdom USB Computer Web Camera
1080P
Noise reduction stereo microphone
Six layers film-coated glass lens.

Unzano Webcam
1080P
Dual digital stereo MICs
100-degree angle view
H.264 video compression technology

TedGem Webcam
1080P
Captures sound within 5 meters
90 ° wide-angle lens
Built-in stereo microphone

Logitech HD Webcam C310
HD 720p
Noise reduction microphone
Automatic light correction

Angetube 920 PC
1080P
Dual microphones
100 degree wide angle lens

AUSDOM Webcam
1080P
Noise-canceling mic
30M focus area
360°omni-directional adjustable

ZIQIAN Webcam
1080P
Auto noise reduction mic
110-degree view angle
Top 5 Best Webcam Under 50$ Reviews
1. Ausdom USB Computer Web Camera | Best Webcam Under $40
The Ausdom webcam is a good choice for creative students who are into live streaming, creating videos online or even taking classes. It comes at a good price, so students need not worry about too much expense either.
The full HD 1080p camera makes sure that all the details are clearly seen through the lens, so the person at the other end or the audience in general does not have to experience a dull or blurry view.
Some webcams have a good photo resolution, but it drops during video conferencing. That is not the case here. Whether you are clicking pictures or on Skype, the resolution stays 1080p and the frames per second stays 30 throughout.
The lens is a Full HD 6-layer glass lens that comes with tuned manual focus, which further clears the images.
The microphone is built-in, and has noise reduction properties too, which is really a score at this price point. You can use this for live gaming, video blogging and so much more without spending more on an external microphone. Not to mention, the background noise gets cut out too for a clear sound.
While most webcams do not have the automatic low light correction feature at these price points, this one does. So even if you do not have a light set up, or accidentally lose light for some reason, this will not go black. It will still be focused on you, sending clear images through.
The mounting is also very flexible with the hook style. It can be attached to most monitors and displays. And with the USB connection, you can use this with pretty much all types of devices.
Highlighted Features
Contains 6 layers of film-coated glass lens
30 frames per second at 1080p resolution
Noise reduction stereo microphone is built-in
Low light correction enhances picture quality
2. Unzano Webcam | best streaming webcam under 50
This Unzano Webcam is another great find that is truly a good webcam that boasts features you would normally expect to find in a higher-end model. It comes with a 7 element optical glass lens, so the pictures and videos are crystal clear all throughout. Moreover, the resolution is a full HD 1080p too, so you can rest assured about the picture quality.
On top of this, the webcam includes facial-enhancement technology as well. With this, video conferencing, or even chatting online becomes a lot easier since your face is more clearly visible this way. Plus, it enhances the features too so you do not need to polish up to look your best in front of the camera.
Microphones are built-in. These have noise reduction features which filter out all the background noises so you are left with clear and clean audio. This makes doing and conducting classes equally easy and smooth without the common audio hiccups.
With the 100-degree wide-angle view, it also lets you work in wider spaces. While this is not required for online classes, it is great if you are a teacher or if you are leading a conference, using a board, or in general, need to have a wider view.
The focus is manual here. And the focus area is up to 10 meters. We do not think you will be exceeding this distance using a webcam, but in either case, it is good to have this long-distance focus so you have a clear view.
With the automatic low light correction, videos are clear even if the lighting is not. You will be visible in dim lights too, so there is no need to set up for extra lights either.
The Advanced H.264 video compression technology is here, so you can record those long videos and then have them compressed so it does not take up too much space on your computer. Plus, they are easier to upload this way too.
Highlighted Features
7 element optical glass lens
Includes facial enhancement technology
Stereo mics have noise reduction abilities
100-degree angle view for a wide coverage
Features automatic low light correction
3. TedGem Webcam
The TedGem Webcam has a 1080p resolution for crystal clear pictures. But unlike most, it holds on to the high full HD resolution when recording videos as well as taking pictures. And it does so at 30fps, which gives you a clear and grainless video.
With the 90-degree wide-angle lens, the webcam also covers a decent area removing the dead angles. This way, your video comes out proper and natural and you do not need to worry about too much being left out of the screen.
Then there is the.264 video compression technology as well. If you frequently record videos and upload them, this will certainly help you. Since the videos take up less space this way, and that makes it easier to upload and store.
The autofocus and light correction features are ones we are happy to have since they are usually found in more pricey webcams. The autofocus keeps the focus on you even if you move around, which let us face it, is a given.
And the light correction ensures you are visible even if there is a change in lighting, or if the surroundings are dim. Plus, since the lens is made of glass, it naturally elevates the view.
Noise reduction microphone is also here like any good webcam would have. It eliminates the background noise and can catch sounds up to 5 meters.
This webcam is supported by all operating systems. From the Windows OS to the Mac, Linux, Chrome, Android, it will work with every device. And it will work with every video chatting application as well, so compatibility is not something you need to think too much about.
Highlighted Features
30 frames per second at 1080p resolution
90-degree wide-angle lens
Includes.264 video compression technology
Noise reduction microphone built-in
4. Logitech HD Webcam C310
Logitech is one of the biggest names in webcams, the list would not be complete without a webcam from this brand. It has a resolution of 720p when video recording as well as when taking pictures. You will experience this no matter what video chatting application you use.
It can also take snapshots up to 5 megapixels. The frame rate is 30 fps, which gives you a clear screen, free from those annoying grits.
The diagonal field of view is 60 degrees. It is plenty for students who need to be properly visible through the lens, as well as for meetings, where you do not want the screen to be too congested, or too wide.
Automatic light correction is a given. So whether you have dim lights or low lights, none of that would matter highly, and you will still be clearly visible. This is especially important if you plan on doing online classes with this.
The mic built-in has noise reduction. This way the background noises are naturally canceled out and only your voice is sent through.
For attachment, it has a universal clip. Use this on a laptop, desktop, or television, it would surely fit. So if you are looking for something versatile, do check this out.
Highlighted Features
30 frames per second at 720p
Snapshots can be taken up to 5 megapixels
Includes automatic light correction
Noise reduction mic is built-in
5. Angetube 920 PC
The Angetube 920 PC is for professionals who need a proper webcam that covers a lot of area. This has a 100-degree wide-angle lens, so it can very well be used in conference or meeting rooms. Of course, you can use it at home too, such as for gaming, or any time you need more area coverage like family gatherings.
Coming to the microphones, you get two instead of one. This too is suitable for meetings, where you can have more than one person speaking into the webcam, and it can take in all the voices from both directions. And of course, it eliminates the background noises, letting only the important information pass through.
Optical distortion is also eliminated here. So the view it sends out is a natural and horizontal one, instead of the curved view that webcams usually create.
H.264 video compression is another feature here that further helps to record, compress, and then send videos. You save space on your computer, and the transfers are fast and efficient too.
We love that it has a background replacement option. Even if you are not in the tidiest of space, your colleagues do not need to know about that. You can use this with Chromacam to get this feature.
Highlighted Features
1080p full HD webcam resolution
100-degree wide angle lens
Dual microphones are built-in
No optical distortions are created
Buying Guide for the Best Webcam Under 50$
Resolution
When you buy a webcam, one of the very first concerns you have is regarding the quality, which comes down to the resolution primarily. While there are other factors at play, this without a doubt affects the video quality.
Obviously, the higher the resolution, the better the quality is. The standard which everyone opts for is the 1080p resolution. There are higher ones, such as 4k resolutions, but that is not something you will get for this budget. Under 50$, 1080p is frankly really good, since you do get to see details and colors properly.
If you have an even lower budget, or you simply do not need the 1080p and would rather save the extra cash, then 720p would not be too bad either. For online classes or skype videos, this would still beat the installed webcam any day.
Frame Rate
The frame rate, also sometimes termed as the frames per second is another factor you need to understand before you look for the best webcam under 50 dollars. This describes the quality and smoothness of the video. A higher frame per second or fps means a smoother and less grainy video.
For absolute regular usage at home, 25 fps is okay. But if you are looking for web conferences or zoom meetings, you might want a better screen for more professionalism. For this, 60fps would be a good buy and would be very clean and clear.
Microphone
When you buy a webcam, we assume you want better communication, and hence the microphone becomes just as important. Of course, you can get an extra pair altogether, but newer webcams have some splendid microphones you can check out, and this will save your total cost as well.
Firstly, you need to check if a microphone is built-in and then look for other characteristics of it. Stereo microphones are very common today that let sends clear sounds across.
You will find them as extensions on the sides of the webcam, but sometimes they come hidden, so check the label. Some have dual microphones as well- the more the merrier. This way the sounds are clearer.
Webcam Adjustability
One of the main reasons you get a separate webcam is to be able to work easier with it than the rigid ones that laptops carry. For this reason, you should check the adjustability of the webcams.
See how well they move, rotate, or tilt. So you can adjust it depending on your sitting position or ease of use.
Mounting Options
This might not seem like a big deal, but it becomes one when your laptop dies. See, one mounting option is perfectly fine when you use a webcam with a laptop. But in case you want to use it with a desktop, or any other monitor like the TV, then you need to look into more options.
Does it sit well on a flatscreen TV, does it have a wire long enough to be used with a desktop, how flexible is the mount? These are all the questions you need to be asking before buying the webcam.
Types of Webcams
The USB webcam
There are a few different types of webcams available on the market. The most common type is the USB webcam, which plugs into your computer's USB port. These webcams are typically small and portable, and they're perfect for use with laptops.
The Built-in Webcam
Another type of webcam is the built-in webcam. This is a webcam that's built into your computer's chassis, and it doesn't require any external hardware. Built-in webcams are generally low quality, but they can be useful in certain situations.

Finally, there are external webcams. These webcams connect to your computer via a cable, and they offer better quality than built-in webcams. External webcams are perfect for use with desktop computers, and they're a great option if you need to do a lot of video chatting.

So, which type of webcam is right for you? It depends on your needs and budget. If you need a portable webcam that can be used with a laptop, then a USB webcam is the best option. If you need a high-quality webcam for use with a desktop computer, then an external webcam is the way to go. And if you don't have any requirements, then you can't go wrong with a built-in webcam.

Factors to Consider When Purchasing a Webcam
When purchasing a webcam, there are several factors you need to consider. The most important factor is the purpose of the webcam. If you plan to use it for business purposes, you'll need one with high resolution and good sound quality. If you're just using it for personal use, however, those features may not be as important.
Other factors to consider include:

Whether the webcam is compatible with your computer's operating system
The maximum resolution and frame rate the webcam can capture
Whether the webcam has a built-in microphone or not
How easy it is to set up and use
The price
How to Set Up Your New Webcam
Now that you have your new webcam, it's time to set it up and get started using it! Here are a few easy steps to follow:
Plug the webcam into an available USB port on your computer.
Once the webcam is plugged in, your computer will automatically start installing the drivers for it. This process may take a few minutes, so be patient.
Once the drivers have been installed, open up your webcam software. This can typically be found by searching for "webcam" in your Windows Start menu.
Your webcam software will open up and you should see a live view of yourself (or whatever else you have chosen to share). If not, make sure your webcam is plugged in and the drivers have been installed properly.
To start using your webcam, click on the "Start" button in the bottom left-hand corner of your webcam software window. This will begin recording video or taking pictures.
To stop recording, click on the "Stop" button in the bottom left-hand corner of your webcam software window.
You can also choose to save your recordings by clicking on the "Save" button in the bottom right-hand corner of your webcam software window. This will save the recording as a.WMV file to your computer's hard drive.
Tips for Using Your Webcam
Webcams can be a great way to stay in touch with friends and family, or to just check in on what's going on around the house. Here are some tips for using your webcam:
1. Make sure your webcam is properly adjusted to get the best picture quality.

2. Make sure there is enough light in the room so that you can be seen clearly.

3. Make sure you are in a quiet place where you won't be disturbed.

4. Dress appropriately! You don't want to be caught on camera in your pajamas!

5. Have fun with it! Use your webcam to do fun things like play games or chat with friends.

FAQs about Under $50 Webcams
1. What Is A Good Inexpensive Webcam?
A good webcam doesn't necessarily have to break your bank. For your standard everyday needs, a webcam with HD resolution, at least 30 FPS frame rate, built-in microphone, etc. is good enough.
If you get additional conveniences such as automatic light correction, noise cancellation, easy mounting and compliance, etc., it's definitely a plus! The Logitech HD Webcam C310 is one such great model that is impressively inexpensive given its specs.
2. Are Cheap Webcams Any Good?
For personal day-to-day use, cheap webcams are more than sufficient to handle all your tasks with ease. You'll find many models under $50 that possess HD resolution, a decent frame rate, great quality microphone, convenient mounting and compatibility, etc.
All these conveniences within a budget that doesn't hurt your finances is proof that cheap doesn't always mean poor quality. In fact, if done right, inexpensive is the smart way of shopping.
Buy now at Walmart, eBay, Etsy (quality guaranteed)
AutoFocus Full HD Webcam 1080P with Privacy Shutter - Pro Web Camera with Dual Digital - Walmart, Etsy, eBay
PC 1080P Webcam with Mic. USB Camera for Video Calling & Recording Video - Walmart, Etsy, eBay
AutoFocus Webcam with Microphone, Wansview HD 1080P USB PC Web Camera with Privacy Cover - Walmart, Etsy, eBay
1080P Web Camera, HD Webcam with Microphone, Software Control & Privacy Cover, NexiGo N60 - Walmart, Etsy, eBay
Logitech HD Pro Webcam C920, Widescreen Video Calling and Recording, 1080p Camera, - Walmart, Etsy, Ebay
Microsoft LifeCam Cinema 720p HD Webcam for Business - Black - Walmart, Etsy, eBay
Logitech C615 HD Webcam - Walmart, Etsy, eBay
Logitech C270 HD Webcam, HD 720p, Widescreen HD Video Calling, HD Light Correction, - Walmart, Etsy, Ebay
1.Ausdom USB Computer Web Camera - Walmart, Etsy, eBay
4.Logitech HD Webcam C310 - Walmart, Etsy, eBay
Conclusion for $50 or Less Webcam Buyers
Since the audience for webcams has become so wide and diverse, so has the definition for the best webcam under 50$. From personal choices in microphones to top-notch camera resolutions and even the budget, having different requirements is normal.
However, the things you should definitely look out for include a 1080p resolution, noise-canceling microphones, and automatic light correction.
These very basic points are what makes a good webcam and provides clear views. Of course, there are more advanced features that you can keep adding but do not forget to include these for a good webcam.