Home theatre systems are something we are seeing more of nowadays, especially given that people are staying home more often as well. But, what was once limited to elites and expensive setups is now more or less accessible to the mass, thanks to these easy setups.
Setting up your own home theater is not the easiest, but it is not the hardest either. As with any new setup, you will need to do some calculations and see what fits and what does not. A little bit of time reading, a little looking at instructions and models, but at the end of the day, it is all worth it.
If you want to know all the details of how to set up a home theater system with a projector, then you can start from here. Given that this is a pretty big task, we suggest you take the time to get to know everything about all the components you need and how you can use them, before jumping in to get your set up.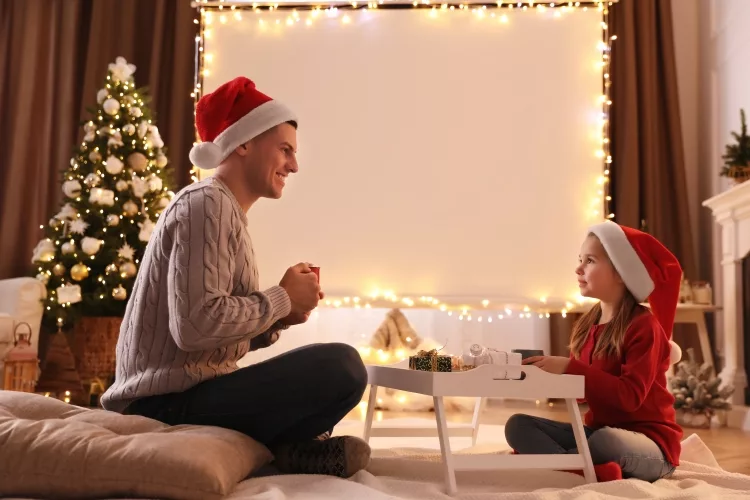 Setting Up A Home Theater System With Projector
When you have these huge tasks on your hands that require getting a lot of different things done, the easiest way is to make lists and follow them in order.
This way you have all the things you need noted down, so you don't forget anything along the way, which happens sometimes with these big tasks.Moreover, you are organized which lessens your panic about missing out on things!
We recommend that you note this down if that allows you to remember, or simply bookmark so you can refer back when required! So let us get down to these points.
1. Fix Your Space
One of the first things you will need to do is adjust the area where you plan on setting up the home theater system. Unlike a flat-screen TV, there are a ton of factors that affect how you view images on a projector. And it starts with the projector itself and the screen.
Projector And Screen
These are the two major components you will be adding to your space, so you have to clear things out to make way for them. If you haven't already purchased these, measure your space to understand how big of a projector screen you require, and the kind of projector that would fit.
If you want a big screen, you will need more space between the screen and the projector for the image to fit onto the screen. So don't jump on a large screen unless you've got that space.
The other option is to go with a short-throw projector that will work with a short distance but will cost you comparatively higher as well.
Next comes the position of the projector. You could mount it on the ceiling if you are looking for a permanent solution. And if not, then a mobile projector is better.
Light Sources
The lights in the room most likely need to be adjusted too. With projectors, you want a space that has low ambient light, so that the images pop more on the screen. If you have large windows, consider getting blackout curtains.
Seating Arrangement
Unlike a TV, you will need an unobstructed view here to be able to enjoy the screen. So position your couch in that manner.
2. Pick The Right Projector Screen
After you are done choosing how and where you can put your projector screen, it is time to choose one. And it is pretty tricky if you have not bought one before since there are a few different types.
Some people prefer hanging a white bedsheet, but that beats the whole purpose of a good setup, so let us ditch that from the get-go.
Go for screens that have been optimized for better image quality, which means they reflect the projections better and show deeper and more realistic colors on screen. This is especially important if you have ambient light in your room, which most rooms have. And these will also be on the expensive side.
However, if you have a complete setup where there are little to no lights, then you can skip the really expensive screens and get a normal one.
3. Pick Your Content Source
So nowadays we all get out content from different sources. These include things like a set-top box to a gaming console to streaming sticks and many more. For these basic ones, you will need an HDMI port on your projector, which you won't have a hard time finding.
However, if you find that your TV has options like Bluetooth, MHL, or VGA, then you should consider getting those in the projector you choose so you never miss out on anything with the shift from the TV to a projector.
4. Pick Your Sound System
Like all home theater systems, you will need a sound system to go with it. Now, the thing with TVs is that they come with their own speakers, which are not the best for a home theater setup, but they fare better compared to projectors. This means, you definitely need a new set of speakers here.
Things you need to consider when getting a speaker is that it is compatible with your projector and that it covers your space. The projector itself will also make some noise due toits fan, meaning you will ideally need more sound to cover that up which you normally wouldn't with a TV, so consider that too.
And if you already have speakers at home, all you have to check for is the compatibility of the speakers with the projector.
5. Connect The Dots
Once you have all the elements of your entire setup, now it is time to get down and get it all together. You can choose to do it yourself, or hire a professional, depending on how complicated it is, and how experienced you are.
Some parts, especially the mounting of the projector or the screen are a bit tough sometimes if the screen is very big. If you don't feel up to it, get a pro so you don't damage it.
Things to note here are that you should always read the instructions and manuals that come with each and every element of your system before you get down to connecting them. There are often crucial pieces of information that people tend to miss out on. And do read it even if you get a pro, so you can understand how it works afterward.
6. Wrap It Up
Once you are done connecting everything together, make sure it is all works. Do the necessary alignment required for your projector until you can see things clearly, tuck away all those cords, set up the sounds as you like them, and do a test run! Voila, you are done.
Conclusion
When going for a home theater system, some go for high-end parts, others choose more affordable ones. There are good choices in both, but what you really need to understand is the setup, and have to get it right if you want to be able to enjoy the whole experience of a home theater.
This brings us to proper guides, and that is where this article comes in. A complete guide on how to set up a home theater system with projector, so you can get all your details and then proceed with knowledge.
Without the right steps, even the most expensive sets will fail, so we hope you will take the time to do some reading!