If you are an architect, a printer is not a mere luxury, but a necessity for you. I mean why should you waste hours by running to a cybercafé every time you need a print? That massive amount of time and money is worth investing in something else, don't you think?
So, of course, you should get a printer of your own to make everything easier for you. Being an architect, you cannot grab just any random printer. It must be capable of generating professional as well as large outputs.
But which is the best 11×17 printer for architects? To find out, stay tuned with us for we have covered every detail you need to know.
Top 11x17 Printer for Architects 2021 by Editors
List Of Top 11×17 Printer For Architects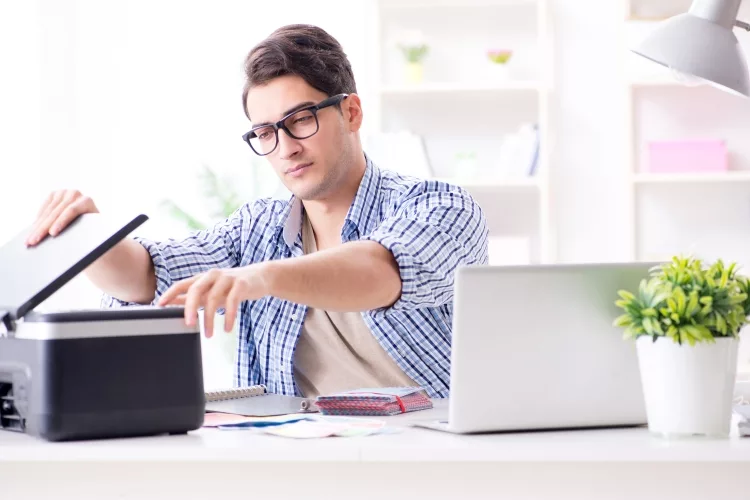 1. Epson Expression Photo HD XP-15000
8. HP Color Laserjet Enterprise M751n
Comparison Chart For Top 10 11×17 Printers For Architects
| PRODUCT | RESOLUTION | SPEED | MAX. SIZE | PRICE |
| --- | --- | --- | --- | --- |
| Epson Expression Photo HD XP-15000 | 5760 x 1440 dpi | 9.2 ppm | 13" x 44" | |
| Canon Pixma Pro-100 | 4800 x 2400 dpi | 51 sec/8" x 10″ | 13" x 19" | |
| Canon Pixma iX6520 | 9600 x 2400 dpi | 14.5 ppm | 13" x 19" | |
| Epson WorkForce WF-7710 | 4800 x 2400 dpi | 18 ppm | 13" x 19" | |
| HP OfficeJet Pro 7740 | 1200 x 1200 dpi | 22 ppm | 11″ x 17″ | |
| Epson Artisan 1430 | 5760 x 1440 dpi | 9.5 ppm | 13" x 19" | |
| HP Officejet 7110 | 1200 dpi | 29 ppm | 13" x 19" | |
| HP Color Laserjet Enterprise M751n | 1200 x 1200 dpi | 40 ppm | 11″ x 17″ | |
| Brother MFC-J5330DW | 4800 x 1200 dpi | 22 ppm | 11″ x 17″ | |
| Canon Pixma iX6820 | 9600 x 2400 dpi | 14.5 ipm | 11″ x 17″ | |
Best 11×17 Printers For Architects Reviews
1. Epson Expression Photo HD XP-15000- Best 11×17 Inkjet Printer
When it comes to wide format prints, the competency of Epson Expression Photo HD XP-15000 is unsurpassed. This machine can provide you with a Professional ultra-HD photo with maximum 5760 x 1440 dpi print resolution.
This machine can handle a different range of media up to 13″ x 44″. As for borderless prints, you can aim as high as 13″ x 19″. Rest assured that its distinctive 6 colors Claria Photo HD ink will give results to the most vibrant yet immaculate prints you have ever laid your eyes upon.
This compact machine is perfect for those who have a jammed-up work station. Besides, you can use it both wired and wirelessly for it features Wi-Fi, Ethernet and USB connectivity options.
Other than that, it also includes direct printing facilities like Wi-Fi Direct, Apple AirPrint, Epson Connect Solutions, Android printing, Google Cloud Print, Mopria Print Service, Fire OS printing.
This machine has an admirable speed. It paces at the rate of 9.0 ISO ppm color and 9.2 ISO ppm grayscale. It can also present you with automatic double-sided prints to lessen your expenses and labor.
The paper handling capacity of this device is quite impressive as well. It comes with a front feed tray that can accommodate 200 sheets and a rear feed tray for 50 sheets. Additionally, the device has another output tray where you can conveniently keep up to 100 printouts.
This RoHS compliant inkjet printer should be used only with genuine Epson cartridges for optimum results. Otherwise, your machine may not perform satisfactorily.
Subscribe to Amazon Dash Replenishment service if you hate running out of inks all of a sudden. That way you can not only always know your toner level but also make an advanced reorder before being exhausted of inks completely.

Highlighted Features
Impeccable prints with 5760 x 1440 dpi resolution.
The maximum media size is 13" x 44″.
Comes with multiple paper trays.
Admirable print speed.
An RoHS compliant inkjet printer.
2. Canon Pixma Pro-100- Best A3 Sublimation Printer
Canon Pixma Pro-100 is an apt choice for architects as it can create professional-quality prints with minimal hassle. This machine accepts media up to 13″ x 19″. So, getting large prints is just a matter of a few minutes now.
With its 8 Dye-based inks, you can hope for ethereal quality photos and crisp documents. Moreover, thanks to the patented print head of Canon FINE Technology, your pictures will be generated with microscopic droplets.
You connect this printer to different devices through Ethernet, Wi-Fi or USB. It allows printing from CDs and DVDs. Not only that, if you want to print pictures directly from your digital camera or iOS, you may utilize its PictBridge and AirPrint connectivity options.
The maximum resolution of this inkjet printer is 4800 x 2400 dpi. Hence, you will not have to worry about the legibility of your prints.
Enabled with the Optimum Image Generating System, this printer guarantees that you are rewarded with realistic pictures. But how? Well, owing to this system, it can identify how to combine tonal gradations inks, etc. with respect to different color and media type so that you can be served with nothing less than paramount outcomes.
This machine comes with some of the most resourceful software. The Print Studio Pro plug-in makes sure you can maintain quality even if you print directly from Adobe Photoshop Lightroom and Photoshop CS and Elements.
Sanctioned with Chroma Optimizer, this printer ensures that your prints are endowed with longevity. It also hinders exterior reflection and takes care of uniform ink height.
This machine is adorned with an ADF that can accommodate a decent number of papers depending upon the media type. You will also love the fact that this machine permits you to load media from both front and rear ways. The manual feed slot specializes in handling thicker papers.

Highlighted Features
Accepts media up to 13″ x 19″.
The highest print resolution is 4800 x 2400 dpi.
8 Dye-based ink system ensures vivacity.
Enabled with the Optimum Image Generating System.
Takes 51 seconds to print an 8" x 10″ media.
3. Canon Pixma IX6520
Enjoy supreme print qualityand quick speed with Canon Pixma iX6520. This device can print a 13″ x 19″ picture or document in under a minute. So, why should you deprive yourself of such a privilege?
Equipped with a magnificent print resolution of 9600 x 2400 dpi, this machine can provide you with some of the most unforgettable color prints ever. As for black ones, its maximum resolution is 600 x 600 dpi.
You can even generate Full HD Movie Prints from different movies to take inspiration from some gasp-worthy infrastructures. On top of that, the 'My Image Garden' app lets you customize your photos to your heart's content.
This device comes with 5 dye-based colors. In a minute, you will get 14.5 black images or 10.4 color images.
This device features USB, Ethernet and WIFI connectivity options. Other than that, you can print remotely through AirPrint, Google Cloud Print Service, Pixma Printing Solution app etc.
The printer is compatible with a diverse range of media. It is furnished with a 150 sheets automatic feeder to reduce your hassle.
This compact printer offers an auto on-off option to minimize electricity wastage. Furthermore, if you cannot stand noisy machines, you will be glad to know that it has a quiet mode.
All hail to ChromaLife100+ ink system, your photos can even outlast you! With proper preservations, its shelf-life can extend to even 3 centuries!
Highlighted Features
Prints 9600 x 2400 dpi color documents.
Comes with useful software.
Can convert and then print images from movie clips.
A massive 150 sheets automatic feeder.
Durable and alluring prints to awe everyone.
4. Epson WorkForce WF-7710- Best 11×17 Color Printer
The next product on our list is Epson WorkForce WF-7710. This mighty printer is the caliber to bless you with meticulous photos and documents to boost up your enthusiasm.
This device can intricately print over a versatile range of media up to 13″ x 19″. It offers you 4800 x 2400 dpi print resolution. As a brownie point, it is comprised of 4x DURABrite Ultra Ink cartridges. Hence, everything will be captured with the utmost precision.
The printer can zip through printing 18 black or 10 color pages per minute. It is also enabled with auto-duplexing. So, if you want to enhance your efficiency, this can aid you a lot.
This all-in-one printer comes with a 1200 x 2400 dpi scanner. Therefore, if you are someone who needs to digitize your files frequently, no need to invest in a separate machine.
Epson cares about your obsession with neatness. That is why they have included a 250 sheets input tray with this printer. Moreover, it has another output tray for 125 sheets. As if it were not enough, you will also find a 35 sheets ADF and a rear feed for specialty papers.
This device has flexible connectivity features. You can avail its Wi-Fi, Ethernet or NFC option depending on your preference. It also allows printing directly from different Cloud storage.
You can print up to 20,000 pages every month with this device. Nevertheless, the recommended volume is 1300 pages.
The Energy STAR certified device will make sure that your electricity bill does not soar up. Additionally, if you want to measure your ink level, activate the Amazon Ink Replenishment service. It will also enable the machine to reorder inks on your behalf before running out totally.

Highlighted Features
An affordable and compact all-in-one printer.
The highest print resolution is 4800 x 2400 dpi.
You can print up to 18 pages in a minute.
Acceptant towards a versatile range of papers up to 13″ x 19″.
Equipped with NFC facility.
5. HP OfficeJet Pro 7740- Best 11×17 All In One Printer
HP OfficeJet Pro 7740 is one of the most highly acclaimed printers available currently and it has rightfully earned this tag. You can print up to 11" x 17" media with this stellar machine with ease.
This printer can be connected to different devices via Ethernet, USB 2.0 and WIFI. It also offers wireless options like Mopria Print Service, Wi-Fi Direct, Apple AirPrint, Google Print service and HP ePrint.
But scared about the primary installation process? Well, at that time, the HP Smart app will make everything free of complexity. You can also make use of it to scan different items to your Cloud storage or smartphone.
Adorned with 4800 x 1200 dpi print resolution, the prints result in neat and immaculate papers that you would want to preserve forever. Not a single inch of your prints will lack perfection.
Apart from that, its scanning resolution is 1200 x 1200 dpi. So, yes, if you would like to fit your hard documents inside your computer screen, the device will do a remarkable job at that conversion as well.
HP cares about your time and so they have bestowed this printer with blistering speed. It can replicate 22 black or 18 color prints every minute. It is also capable of auto-duplexing to share some of your burdens.
The most alluring aspect of this printer is its paper handling. To let you print with utmost neatness, it has two input trays to hold 500 sheets altogether! You will also find an output tray where you can safely place maximum 75 sheets. Furthermore, the device is also capacitated with a 35 sheets ADF.
You should not opt for any ink cartridges other than HP 952XL and HP 952 ink cartridges. They will provide you with twice the prints other inks can produce with a single cartridge.
The maximum monthly duty cycle of this printer is 18,000 pages. Nevertheless, the endorsed volume ranges from 50 to 1,500 pages.
When you are knee-deep in responsibilities, you can voice-control this printer. But for that, you have to separately own an Amazon Alexa.

Highlighted feature
Picture perfect 1200 x 1200 dpi resolution prints.
Sanctioned with two input and one output trays.
Maximum media size must be 11" x 17".
Produces up to 18000 pages monthly.
It can be voice-controlled with Alexa.
11×17 Printer For Architects Buying Guide
Resolution
Regardless of any kind of printer, the resolution is the first and foremost thing you should enquire about. The print resolution is measured and expressed with 'dpi' (dots per inch) to indicate how flawlessly a machine can imitate the pixels of the original document.
You should never settle for lower than 1200 x 1200 dpi printers. But there is no harm in aiming for more.
Speed
Your printer must be endowed with admirable speed unless you want to regret your purchase. To know a printer's print speed, have a look at its 'ppm' count. It will tell you how many pages that particular device can print every minute.
The best 11×17 printers for architects should not take more than a minute to generate a document of this size. But if you print smaller photos or documents, obviously, it will take even less time.
Paper Handling
Of course, you do not want to make a mess while printing. That is why you must pay close attention to this criterion.
A good printer for an architect is the one that comes with decently capacitated input and output trays. If you want something fancier, try to go for the ones that have a manual slot to load specialty media.
Also, versatility is the key! So, ensure your printer can accept different kinds of media without throwing any tantrum.
Apart from that, the device should also include an auto-duplexing facility and an Automatic Document Feeder. It will make your printing journey much smoother.
Duty Cycle
The duty cycle of the printer you are eyeing has to match your monthly expectation for printing. If not, you will end up running to the cybercafe anyway!
Now it is completely up to you. How many pages do you usually have to print in a month? 1500 or 15000? Make sure that your printer is formulated to meet that quota.
Final Words
Choosing the best A3 printer for architects is a tough nut to crack. The printer must have diverse functions as you cannot and should not compromise with your professionalism. But who has so many spare hours to spend in such hair-splitting research?
Well, we do and that is why you can count on our information. We hope we could bring you closer to a printer of your choice. Happy printing!