Does your work heavily rely on digitization of paper works? So much that even when you are on the go, you may end up needing a scanner?
If so, purchasing a portable scanner will make your life a thousand times easier. Thanks to the advancement of technology, whatever you need today can be at your doorstep. But it has a downside as well.
Nowadays, we are bombarded with so many options that finding a gadget truly suitable for all our needs can be overwhelming.
This is where we come to on your rescue. In this article, you will get to know which are the best portable scanners available in the market currently. You will also be familiarized with what makes a portable scanner pass as the finest option. So, stay tuned.
Editors' Picks: Top Portable Scanners 2022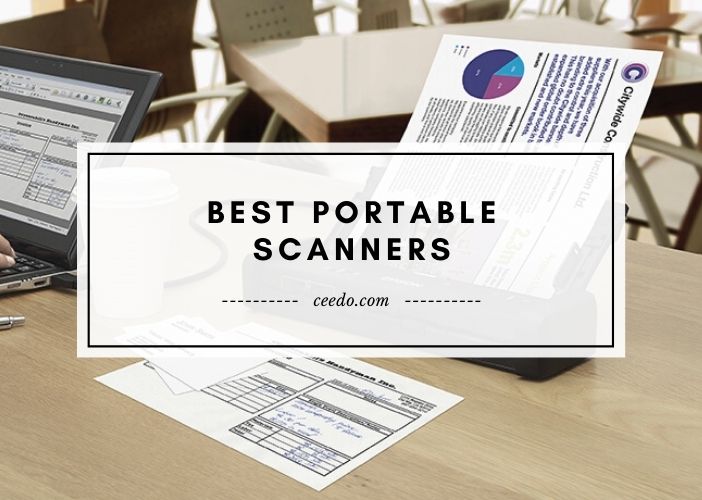 List Of Top Portable Scanners
9. VuPoint Solutions Magic Wand ST415
Comparison Chart For Top Portable Scanners
| IMAGE | Name | Speed | Resolution | Weight | price |
| --- | --- | --- | --- | --- | --- |
| | Brother DS-620 | 8 ppm | 1200 x 1200 dpi | 0.88 pounds | |
| | Epson WorkForce ES-400 | 35 ppm/70 ipm | 600 x 600 dpi | 50 sheets | |
| | Brother DS-740D | 15 ppm | 600 x 600 dpi | 20 sheets | |
| | Brother ADS-1700W | 25 ppm/50 ipm | 600 x 600 dpi | 20 pages | |
| | Epson WorkForce ES-50 | 5 sec/scan | 600 dpi | 0.59 pounds | |
| | Doxie Go SE | 8 sec/scan | 600 dpi | 400 pages | |
| | Canon imageFORMULA P-215II | 15 ppm | 600 x 600 dpi | 20 sheets | |
| | Brother DS-720D | 8 ppm | 600 x 600 dpi | 1 pound | |
| | VuPoint Solutions Magic Wand ST415 | 12 sec/1 scan | 900 dpi | 6.9 ounce | |
Best Portable Scanner Reviews
1.Brother DS-620 Mobile Color Page Scanner- Best Portable Document Scanner
Brother DS-620 is compact scanner weighing under 1 pound that is perfect for your field trips and outdoor meetings heavily relying on digitization of paper works. However, do not take this lightweight machine lightly for it can make your scanning experience amazing.
To power up this device, wall outlet or batteries are not needed. If you have your laptop with you or the place you are taking it to has a desktop computer, through USB connection, it is good to go.
This scanner can immaculately digitize business cards, photos, plastic ID cards, receipts along with of course books and newspapers. Nevertheless, the media must not exceed 8.5" x 32″. That way, you can get precise scans with resolution of 1200 x 1200 dpi.
Brother DS-620 comes with a bunch of resourceful software to let you scan with ease. If you would like to, you can directly scan any file to Cloud destinations, email, printer or even FTP. It eliminates your need to depend on the storage of your PC and lets you share documents faster.
Apart from that, the neat scanner organizes your documents better than anyone. It relentlessly converts, organizes, repurposes and shares PDF documents. Moreover, it can merge a number of files of different formats from various folders into one multi-page PDF.
The device is enabled with advanced OCR that allows you to create editable and searchable PDFs as well as text documents. Elaborating on its efficiency, contact information from business cards can directly be scanned and then exported to Microsoft Outlook or similar other system to save your time. It also labels scanned items as per company, group, first or last name and category.
This machine can run at the rate of scanning 8 color or monochrome pages per minute. Its maximum daily duty cycle consists up to 100 pages.
Highlighted Features
Can scan your document with 1200 x 1200 dpi.
Weighs under 1 pound.
Comes with advanced Optical Character Recognition feature.
Scans 8 pages per minute.
Able to produce up to 100 scans per day.
2.Epson WorkForce ES-400 Color Duplex Document Scanner- Best Travel Scanner
Epson WorkForce ES-400 is a miniature scanner that will satiate all your scanning needs in a snap. It weighs only 8.10 pounds and so you can carry it around wherever you want.
This efficient scanner comes with 50 pages ADF which is a rare feature for portable scanners. So, say goodbye to frequent paper loading and relax while it gets everything done.
Besides, you will not have to indulge in complex operations while you are on a go. That is why it is enabled with Single Step Technology which delivers double sided scanning in single pass!
Legibility is the utmost priority of Epson. That is why the scanner can scan your documents with 600 x 600 dpi. Hence, your digital files will be crisp and clear.
On the top of that, Epson Image Processing Technology makes sure your scans are free from all unwanted faults. It helps you to remove unflattering backgrounds of any document. Besides, it can automatically crop, remove background and delete blank pages.
The Epson ScanSmart Software works rigorously to make your scanning experience minimum arduous. It shows you preview your scans and lets you scan directly to your favourite Cloud destination. Dedicated to make every task easier for you, it can automatically label different files. Moreover, it is able to recognize various types of documents.
The TWAIN driver coming with this scanner also contributes in flexible connectivity. Hence, you do not need to worry about the compatibility of your document management software with it since it works well with almost any of them.
If you are not really mindful type of person and easily zone out like us, its Ultrasonic Double Feed Detection feature will work as a blessing for you. It makes sure that none of the pages are missing when it scans. The Dynamic Skew Correction is yet another noteworthy feature offered by this scanner.
Apart from all of that, this device has a built-in Nuance OCR (Optical Character Recognition). Therefore, creating editable Excel and Word files and searchable PDFs will be easy for you. The scanner offers a maximum resolution of 1200 dpi.
All these marvelous features do not lag down its speed. It has a blazing speed of 35 pages or 70 images per minute.
Highlighted Features
Weighs only 8.10 pounds.
Scans 35 pages or 70 images per minute.
Creates editable Excel and Word files and searchable PDFs.
Comes with Ultrasonic Double Feed Detection feature.
Has Auto Document Feeder of 50 pages.
3.Brother DS-740D Duplex Mobile Document Scanner- Best Mobile Scanner
The next portable scanner on this segment is Brother DS-740D that weighs only 2.3 pounds. This machine will be a remarkable companion for you to wherever you go and make scanning as easy as ABCD for you.
To power up this device, all you need is a laptop. As long as you have your laptop with yourself and you can develop a USB connection between them, you are good to go.
The machine can scan versatile range of documents with 600 x 600 dpi. So, of course, illegibility of documents is out of question here. Its scanning speed is quite impressive as well. The device is capable of scanning 16 pages every minute.
Because of being furnished with an advanced Optical Character Recognition, it can optimize your texts and images. You are provided with options of auto rotation, color drop, color correction, background removal, prevention of bleed through, etc. to enhance your scans. Moreover, creating searchable and editable PDFs or text documents are no big deal for it.
You can perform duplex scanning with the scanner. Its memory capacity is 256MB. To transfer your files, you will have to connect it to your computer or laptop via USB cable.
This device is compatible with Windows, Linux as well as Mac OS. It operates with a free app named Brother iPrint&Scan that makes scanning directly to various cloud destinations like Google drive, iCloud, Evernote etc. possible for you.
Highlighted Features
Scans your documents with 600 x 600 dpi.
Delivers 16 scans per minute.
Does not need a wall outlet to be powered up.
Lets you directly scan to your preferred Cloud destination.
It has an advanced OCR that optimizes your texts and images.
4.Brother ADS-1700W Wireless Document Scanner- Best Compact Scanner
Do you need a scanner that can provide you with an impressive number of scans just in a minute? Well, then Brother ADS-1700W is our pick for you. The 3.3 pounds scanner can organize all your paper works like a pro even when everything else is getting on your nerves.
The machine comes with a 2.8″ color touchscreen that demonstrates one-touch scanning technology. Powering it up via AC or USB connection with your PC, you can scan at your heart's content.
This remarkable scanner comes with an automatic document feeder that can accommodate 20 pages. To scan business cards or plastic ID cards with more neatness, the machine has a special card slot.
Besides, it offers Auto Start Scan feature. So, when you drop the paper you want to scan into the feeder, it can automatically scan your document to a predefined profile. As a result, the whole task involving scanning will be less time consuming for you.
Even if your physical documents are in not so perfect condition, their digital version can be. To attain that, this scanner has various software. They enhance the quality of your scans with features like- auto color detection or adjustment, image rotation (for PC only), background removal, prevention of bleed through, color drop or text enhancement.
The magnificent comes with a resolution of 600 x 600 dpi. The scanner has 24-bit color depth. It features a blazing speed of 25 ppm or 50 ipm for both color and monochrome documents. It comes with a maximum daily duty cycle of 1000 sheets. So, if you need to scan massive amounts of files in a day, this is appropriate for you.
Brother ADS-1700W offers diverse connectivity options. It allows directly scanning to different destinations such as- network, email, FTP, Mobile Devices, Cloud services and USB flash memory drive. To transfer the freshly scanned items to your PC, you can use USB cable or Wi-Fi.
Highlighted Features
Has a scanning resolution of 600 x 600 dpi.
Has a laudable speed of scanning 25 pages in text or 50 images per minute.
Optimizes your digital documents.
Lets you directly scan to multiple destinations like FTP, Cloud accounts etc.
Demonstrates simplex and duplex scanning.
Has a dedicated slot to handle business cards and ID cards.
5.Epson WorkForce ES-50 Portable Sheet-Fed Document Scanner- Best Handheld Scanners
Now coming to our last pick Epson WorkForce ES-50 which weighs only 0.59 pounds. So, you will not even feel as though you are carrying around something because it is as light as feather.
This scanner can scan your documents with 600 x 600 dpi. It can scan a page just within 5.5 seconds. The device can efficiently scan versatile range of documents including ID cards and receipts up to 8.5" x 72".
It is a single sided scanner. But if you flip over pages manually, it can scan on the both sides of the paper. It is fed power through USB connection to PC or laptop. Hence, no wall outlet or batteries are required for it.
The machine comes with smart tools like Epson ScanSmart Software which makes scanning, reviewing and saving your digital documents simpler. It can also organize documents with professionalism. The machine has a Nuance OCR that is expert in creating searchable PDFs and editable Word and Excel files.
Apart from that, it comes with a Twain driver which can work virtually with any imaging software. Moreover, this device can scan directly to your cloud accounts. Hence, you do not have rely on storage capacity of your PC anymore.
This scanner is compatible with Windows and Mac. It features Automatic feeding mode. So, if you want to combine multi page scans into one single file, it has got your back.
Even though this tiny machine lacks an ADF, it automatically accepts each new sheet when they are inserted. The scanner comes with an HDMI Cable, Power Cable, USB Type C Cable in the box.
Highlighted features
Scans with 600 x 600 dpi.
Weighs only 0.59 pounds.
Scans versatile range of documents.
Capable of scanning a page in 5.5 seconds.
Neatly organizes your documents.
Portable Scanners Buying Guide
Weight
When it comes to portability, weight is the number one thing you need to take into consideration while buying a scanner. Carry around a portable scanner must not feel like a chore. Otherwise, why even bother buying it?
The best portable scanners are small and can easily slide into your bag and sometimes even in your pockets! So, lift up the scanner you are eyeing on and make sure you are comfortable in carrying it around. If not, check out another one.
Connectivity
Since you are buying a portable printer, chances are that you may need to carry it to remote places. For the best-case scenario, opt for a portable that can be powered up with USB connection through laptops or adapters. You may even go for the once running on batteries. In that case, check out its battery life. If it supports wireless activities, it will be a cherry on top. Moreover, most scanners can directly scan to CLOUD destinations. Try not to compromise with that.
Sheet Feeder
Since portable scanners are really compact, they may not always have a sheet feeder. However, a lot of portable scanners come with this feature and those are the ones that give you ultimate scanning experience while you are at a go. So, unless the scanner you are wanting to buy offers extremely advanced features, do not compromise with an ADF.
Optical Recognition Character
The finest scanners come with advanced OCR. They help in optimizing your digital documents and creates editable and searchable files. As a result, you can easily extract your desired information.
Memory
A portable scanner should come with a decent storage space. If you take it to a remote place where you cannot easily transfer your scanned files to another device, it will be a real bummer. So, it should be capable of storing thousands of scans in it. Moreover, it should have an SD card slot to help you store even more files.
Final Words for Portable Scanner Buyers

So, these are the best portable scanners you can lay your hands on. The memory capacity, weight, connectivity options, OCR are some of the features you must scrutinize about making your purchase.
If they satisfy you, congratulations! The particular scanner was specifically made for you. So, buy it as soon as possible and let it take care of your scanning works.
Buy on Walmart
Canon imageFORMULA R10 Portable Document Scanner, 2-Sided Scanning with 20 Page Feeder, - Walmart Link
Doxie Go SE - The Intuitive Portable Scanner with Rechargeable Battery and Amazing - Walmart Link
Epson WorkForce ES-50 Portable Sheet-Fed Document Scanner for PC and Mac - Walmart Link
Brother DS-640 Compact Mobile Document Scanner, (Model: DS640) -1.5" x 2" x 11.9" - Walmart Link
Vupoint Solutions Magic Wand Portable Scanner with Color LCD Display and Auto-Feed Dock - Walmart Link
Fujitsu ScanSnap iX1600 Deluxe Versatile Cloud Enabled Document Scanner with Adobe - Walmart Link
CZUR Aura-B Book & Document Scanner,Capture A3 & A4, Auto-Flatten & Deskew Powered by AI - Walmart Link
9. VuPoint Solutions Magic Wand ST415 - Walmart Link
Buy on eBay
Canon imageFORMULA R10 Portable Document Scanner, 2-Sided Scanning with 20 Page Feeder, - eBay Link
Doxie Go SE - The Intuitive Portable Scanner with Rechargeable Battery and Amazing - eBay Link
Epson WorkForce ES-50 Portable Sheet-Fed Document Scanner for PC and Mac - eBay Link
Brother DS-640 Compact Mobile Document Scanner, (Model: DS640) -1.5" x 2" x 11.9" - eBay Link
Vupoint Solutions Magic Wand Portable Scanner with Color LCD Display and Auto-Feed Dock - eBay Link
Fujitsu ScanSnap iX1600 Deluxe Versatile Cloud Enabled Document Scanner with Adobe - eBay Link
CZUR Aura-B Book & Document Scanner,Capture A3 & A4, Auto-Flatten & Deskew Powered by AI - eBay Link
9. VuPoint Solutions Magic Wand ST415 - eBay Link