Are you sick of organizing your receipts? No matter how hard you work to organize them, do some of them always manage to get away? Did you ever had to go through any bitter experience due to losing receipts?
Trust me, it has happened to many of us at one or another point of our lives!
Well, if you want, you can get rid of this problem for good. Have you ever thought of digitizing them? That way, you can not only make sure that your receipts never get lost, but you can also declutter your space. So, why not have a look at the best receipt scanner that will make your life a lot easier?
But how to figure out what are the must have criteria for a receipt scanner? To figure it out, check out our dedicated buying guide section as well.
Editors' Picks: Top Receipt Scanner 2022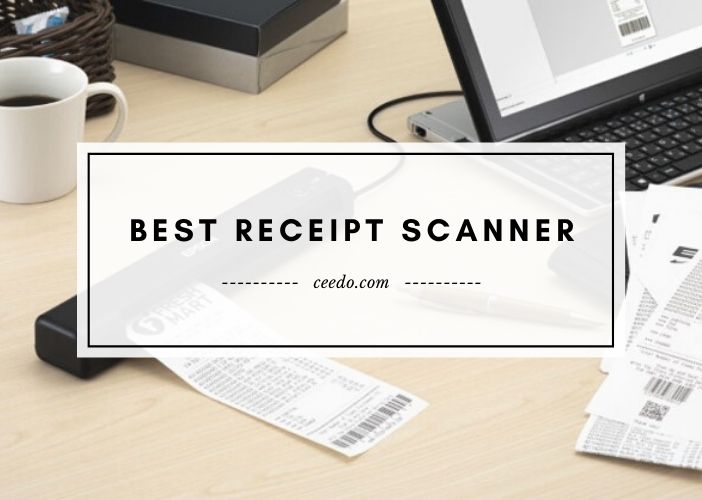 List Of Top Receipt Scanner
Comparison Chart For Top Receipt Scanners
| IMAGE | Name | Speed | Resolution | Weight/ADF/Technology/Battery life | price |
| --- | --- | --- | --- | --- | --- |
| | Brother DS-620 | 8 ppm | 1200 x 1200 dpi | 0.88 pounds | |
| | Fujitsu ScanSnap iX1500 | 30 ppm | 600 x 600 dpi | 50 pages | |
| | Epson WorkForce ES-400 | 35 ppm/70 ipm | 600 x 600 dpi | 50 sheets | |
| | Epson WorkForce ES-50 | 5 sec/scan | 600 dpi | 0.59 pounds | |
| | Doxie Go SE | 8 sec/scan | 600 dpi | 400 pages | |
| | Fujitsu fi-7160 | 60 ppm/120 ipm | 600 dpi | 80 pages | |
| | Brother DS-720D | 8 ppm | 600 x 600 dpi | 1 pound | |
| | Epson Perfection V39 | 4800 dpi | 48-bit Internal | CIS | |
| | Xerox DocuMate 3125 | 40 ppm/70 ipm | 300 dpi | 50 sheets | |
| | Raven Original | 17 ppm | 600 dpi | 50 sheets | |
Top 5 Best Receipt Scanner Reviews
1.Brother DS-620 Mobile Color Page Scanner- Best Scanner for Documents and Receipts
If you are looking for a scanner that is portable and will serve you well in every regard, Brother DS-620 would be perfect for you. It lets you scan your receipts with much ease and organizes them for you as well.
To power up this device, all you need is a computer or laptop. Establish a connection between the scanner and your PC through the USB cable provided in the package, and it will be ready to serve you.
The machine comes with a scanning resolution of 1200 x 1200 dpi and so it can intricately scan your receipts along with photos, business cards, plastic ID cards, books and newspapers. It is focused on capturing your receipts with sharp details. So, you do not have to worry about the legibility of even the tiniest information.
To aid you in a more relaxing scanning experience, this device offers a number efficient software. Its TWAIN and SANE drivers enable it to scan directly different Cloud destinations, printer, email, FTP and some popular applications. Thus, it saves your time.
Other than that, this machine can reduce the task of organizing receipts for you. It can convert, repurpose, organize, and share your digitized PDF receipts. Additionally, if you intend to merge a bunch of receipts from different folders into a multi-page PDF, this machine can make it possible for you.
Now let's talk about the feature that make it one the most sought-after scanner-its advanced OCR. With its assistance, creating editable and searchable PDFs or text documents will be easy as pie for you. The device can export information scanned from receipts directly to Microsoft Outlook or any other system. To let you browse through your files faster, it tags receipts under their respective group, company, first or last name and category.
In a minute, the device can scan 8 color or monochrome receipts. It is capacitated to scan up to 100 receipts per day.
Highlighted Features
Scans your receipts with 1200 x 1200 dpi.
Has a maximum daily duty cycle of 100 receipts
Its Optical Character Recognition feature creates editable and searchable PDFs and text documents.
Enabled with a speed of 8 ppm.
Organizes your receipts neatly.
2.Fujitsu ScanSnap iX1500 Color Duplex Document Scanner- Best Receipt Scanner and Organizer
if you want to scan your receipts with ease and take your productivity to the next level, Fujitsu ScanSnap iX1500 may make that possible for you. Engineered with one touch scanning technology, avoiding any complexity of operations is its utmost priority.
This device can scan your receipts or any other kind of documents with 600 x 600 dpi. It can relentleslly scan diversified arrays of documents flawlessly. When scanning normally, it can cooperate with receipts up to 8.5" x 14.2″. When you go for manual or folded scanning mode, it can accommodate documents up to 11″ x 118.1″.
Now let me tell you one of its features which will make the task of scanning easier than ever. With the 50-page automatic document feeder, it can efficiently present you with double-sided scanning. Hence, you can breathe relaxedly. As for speed, it can scan 30 receipts per minute.
The device is Wi-Fi enabled. So, you can wirelessly transfer your scanned receipts to your PC. Moreover, it lets you to scan directly to preferred Cloud accounts like Dropbox or Google Drive. That way, you do not have to solely depend on the storage capacity of your PC.
Talking about its efficiency, let's not forget ScanSnap Home- a software which will make everything simpler. It lets you fashion up to 30 pre-configured user profiles where you can save any type of scanning related information you want. Afterwards, with relevant keywords you can search them up and use as per your convenience.
The software aids in enhancing the quality of your digitized receipts as well. With Automatic Image Cleanup, it can clean up your files relentlessly. Moreover, you can customize contrast, brightness of your receipts or crop/rotate automatically to suit your taste.
This review will be incomplete if we do not include its Dust Detection function. So, even if your receipts has got flakes of dust, they will not be visible in the digital version. It also has another feature called Streak Reducer for nuance free scans. With its assistance, you are provided with non-streaky digital receipts.
Highlighted Features
Scans your receipts with 600 x 600 dpi.
Organizes your digital receipts like a pro.
Comes with a 50 sheets ADF.
It can scan 30 receipts every minute.
Its Streak Reducer makes sure that your scans are nuance free.
3.Epson WorkForce ES-400 Color Duplex Document Scanner- Best Receipt Organizer
The next entry on our list is Epson WorkForce ES-400 weighing only 8.10 pounds. It will not occupy much space in your home or office. You can even carry it around in case you need to scan receipts on the go.
This machine has a 50 pages Auto Document Feeder. As a result, continuous receipt loading will no longer be one of your headaches. Receipts are small in size and so harder to handle. Its ADF will make sure that your receipts get scattered here and there while scanning.
Moreover, its Single Step Technology provides you with double sided scanning at one go. So, you can work faster than ever before.
This machine comes with a resolution of 600 x 600 dpi. So, undoubtedly your digital receipts will be sharp and precise. Besides, it is furnished with Epson Image Processing Technology that protects your scans from undesirable errors. So, now you can remove unwanted backgrounds from receipts, crop them automatically or rotate to suit your needs.
The built-in Nuance Optical Character Recognition of this machine is one of its finest features. With its help you can create editable Word and Excel files and searchable PDFs. So, extracting information will be a lot easier for you. Those files can have resolution up to 1200 dpi.
Other than that, it has another resourceful software named Epson ScanSmart Software. It singlehandedly makes your scanning experience more comfortable. With its help, you may watch previews of your digital receipts.
Moreover, it permits direct scanning your Cloud accounts. It also labels different files automatically and recognizes them with relevant information. This machine includes a TWAIN driver which makes it compatible with most document management software. So, get ready for the ultimate smart scanning experience.
With Epson's Ultrasonic Double Feed Detection feature, no receipts will go missing during scanning. Another mention worthy feature of this scanner is its Dynamic Skew Correction.
Its commendable speed is what makes this scanner one of the most amazing receipt scanners out there. It can scan 35 pages or 70 images per minute.
Highlighted Features
Compact and lightweight.
Has got an admirable speed.
Creates editable Word and Excel files and searchable PDFs.
Its Ultrasonic Double Feed Detection feature makes sure that no receipt goes missing.
Furnished with a 50 pages Auto Document Feeder.
4.Epson WorkForce ES-50 Portable Sheet-Fed Document Scanner- Best Way to Scan Receipts
If you want a compact scanner for your tiny receipts, check out Epson WorkForce ES-50. It weighs only 0.59 pounds making it one of the most lightweight scanners to lay your hands on.
The device can digitize your receipts with 600 x 600 dpi. It is pretty fast as well. You can scan a receipt just in 5.5 seconds with it. Other than that, it can also meticulously scan books, business cards, ID cards etc. as long as they are within 8.5" x 72".
Talking about energy consumption, it will require USB connection to laptop or PC to be powered up. This is basically a single sided scanner. If you want scan both sides of a receipt, you can simply flip them over manually.
To ease up your workload, it offers tools like Epson ScanSmart Software. With its help, you can scan, review and save the digital versions of your receipts without any hassle. To organize your files better, it has a Nuance OCR. So, create searchable PDFs and editable Word and Excel files as much as you want and easily extract information from them.
Moreover, its Twain driver makes it compatible with most of the any imaging software out there. The machine can directly scan receipts to your desired Cloud account such as Google Drive, Evernote, iCloud etc. So, save time and scan more.
The scanner can cooperate well with Windows and Mac. It has Automatic feeding mode that lets you combine several page scans into only one file. The machine immediately accepts whenever you insert a new page into it. In the package, you will find a Power Cable, HDMI Cable, USB Type C Cable along with the scanner.
Highlighted features
Has a scanning resolution of 600 x 600 dpi.
Affordable and lightweight.
Scans a receipt in 5.5 seconds.
Comes with a TWAIN driver.
Organizes your scanned receipts on behalf of you.
5.Doxie Go SE - The Intuitive Portable Scanner- Best Receipt and Document Scanner
It is claimed by the company, "Doxie's everything you want modern scanning to be." The users across the globe seem to nod in affirmation. Now, let's find out why.
It is standalone scanner that does not require any computer to be operated. It comes with a rechargeable battery. So, charge it up and you are good to go. When fully recharged, the device can scan 400 receipts without being exhausted.
Doxie loves simplicity and so they engineered the scanner in a way to be operated without any complexity. After you turn it on and insert you're the receipt you want to scan, the device can digitize in 8 seconds. As for resolution, it comes with 600 dpi. Hence, your scanned receipts are surely going to be immaculate.
Other than that, if you want to make any alteration in the digital versions, resort to its Auto Adjust options such as de-skew, smart cropping, and automatic contrast. Consequently, your digital receipts are going to look better than the original ones.
This scanner does not come with any driver. But even then, it permits you to directly scan to your desired Cloud destinations such as- Dropbox, Evernote, OneNote, & iCloud. Just sync the scans to its adjunct software. Doing so, organizing your files, creating searchable PDFs and then uploading them to your favorite applications like Photoshop or Cloud storage will be easier than ever.
For creating aforementioned searchable PDFs, the machine is furnished with award winning ABBYY OCR technology. So, recognizing information with relevant keywords is just a child'd game for it.
This device can store up to 4000 scans in its SD card. An 8 GB memory card is included in the box. After using up the space, simply transfer the files to a computer with USB connection and it will be as good as new again.
Highlighted Features
Adorned with 600 dpi.
Scans a receipt in 8 seconds.
Furnished with award winning ABBYY OCR technology.
Comes with an 8 GB SD card.
Scans 400 pages with a single charge.
Receipt Scanner Buying Guide
Resolution
It is a no brainer that the first thing you need to consider to get yourself the best scanner for receipts is its resolution. If the information written on the receipts become illegible in the digital versions, they will be of no use.
To figure out the resolution of your scanner look at the 'dpi' on its specification. It is an acronym for 'dots per inch' that determines how intricately the machine can digitize your files.
Your scanner should have at least 300 dpi. But never aim for more than 1200 dpi scanners. They may distort your files by over scanning.
Sheet Feeder
Sheet feeders are something that minimizes the number of time you need to spend behind media loading. Hence, they contribute in smoother scanning experience. So, try to get yourself a scanner that's automatic document feeder can bear a decent number of receipts. That way, your receipts will not fly away during scanning.
Optical Recognition Character
If you want to extract information easily from your digital receipts, get yourself a scanner with advanced OCR feature. It helps you in creating editable and searchable digital receipts. So, looking them up with relevant keywords will not toil you for hours.
Cloud Connectivity
In this era of hustle and bustle, no one has hours to spend behind scanning. So, get yourself a scanner that allows you to scan directly to your preferred Cloud accounts or popular applications like Photoshop. That way, your reliance on the storage of your PC will be reduced as well.
Final words for Receipt Scanner Buyers

So, these are the best receipt scanner models gracing the marketplace today. If you want, they can grace your lives as well. So, declutter your place and make these monstrous receipts captive inside your screen forever.
Make sure that the one you are purchasing serves you well in the terms of resolution, speed, OCR and ADF.
Buy on Walmart
Epson RapidReceipt RR-60 Mobile Receipt and Color Document Scanner with Complimentary - Walmart Link
Canon imageFORMULA R10 Portable Document Scanner, 2-Sided Scanning with 20 Page Feeder, - Walmart Link
Brother DS-640 Compact Mobile Document Scanner, (Model: DS640) -1.5" x 2" x 11.9" - Walmart Link
Epson WorkForce ES-50 Portable Sheet-Fed Document Scanner for PC and Mac - Walmart Link
Epson RapidReceipt RR-600W Wireless Desktop Color Duplex Receipt and Document Scanner - Walmart Link
Epson Workforce ES-500WR Wireless Color Receipt & Document Scanner for PC and Mac, Auto - Walmart Link
Epson RapidReceipt RR-70W Wireless Mobile Receipt and Color Document Scanner with - Walmart Link
Buy on eBay
Epson RapidReceipt RR-60 Mobile Receipt and Color Document Scanner with Complimentary - eBay Link
Canon imageFORMULA R10 Portable Document Scanner, 2-Sided Scanning with 20 Page Feeder, - eBay Link
Brother DS-640 Compact Mobile Document Scanner, (Model: DS640) -1.5" x 2" x 11.9" - eBay Link
Epson WorkForce ES-50 Portable Sheet-Fed Document Scanner for PC and Mac - eBay Link
Epson RapidReceipt RR-600W Wireless Desktop Color Duplex Receipt and Document Scanner - eBay Link
Epson Workforce ES-500WR Wireless Color Receipt & Document Scanner for PC and Mac, Auto - eBay Link
Epson RapidReceipt RR-70W Wireless Mobile Receipt and Color Document Scanner with - eBay Link