It seems like Google Assistant has entered every aspect of our lives, and they have not excluded soundbars from the list. Soundbars are amazing on their own, they are flexible, compact, and easy to connect and set up.
Having the voice command on top of that is like an additional advantage. And with everything becoming automated, you should look into the best soundbar with Google Assistant. With a device as such, you can integrate all the devices at your place with this soundbar and enjoy audios without even having to get up!
To find a complete list of all the soundbars that have Google Assistant built-in, or are compatible with it, take a look at the full article below.
Top Soundbar With Google Assistant 2022 by Editors' Picks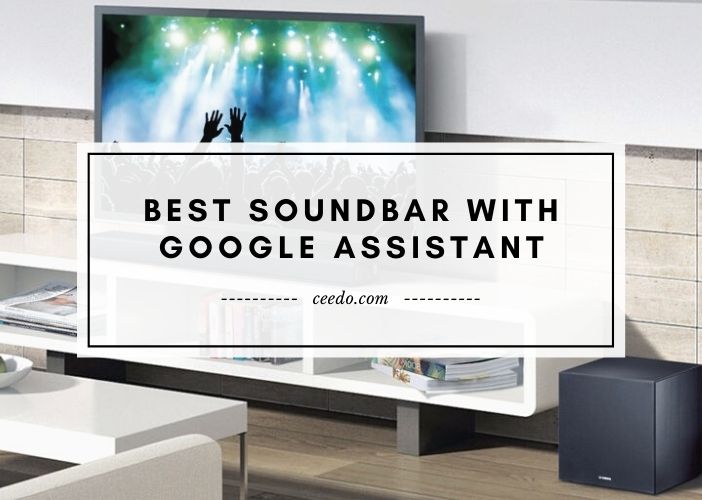 List Of Top Soundbar With Google Assistant
Comparison Chart For Top 10 Soundbars with Google Assistant
IMAGE
Product Name
Drivers
System Power
SPECIAL FEATURE
price

Sonos Beam
5
N/A
Speech Enhancement, Night Mode

P olk Audio MagniFi Mini
6
150 watts
Subwoofer Included
Universal

Polk Audio Signa S3
5
N/A
Built-in Chromecast
Wireless subwoofer

JBL Bar 5.1
2
510 Watt
10 hours playing time
4K compatible

VIZIO SB36514-G6
4
145 Watt
Wireless subwoofer

Sonos Arc
11
N/A
Dolby Atmos
HDMI connectivity

TCL Alto 7+ 2.1
2
N/A
IR pass-through cable

SAMSUNG HW-T550 2.1ch
-
340 Watt
3D surround sound

Bose Soundbar 500
5
N/A
Bose Music Mobile App

Yamaha Audio YAS-209BL
2
200 Watt
Wireless subwoofer
X virtual 3D surround sound
Top 5 Best Soundbar With Google Assistant Reviews
1. Sonos Beam | best sound bar for google home
This Sonos Beam soundbar is a small and compact device that is easy to set up, and easy to use, while it takes up very little space on your counter. Use it for your TV or other devices, and command it using only your voice when you feel too lazy to get the remote.
With its high definition sound quality, the Sonos Beam soundbar provides crystal clear audios so you can enjoy every bit of dialogue, while it fills the room.
The soundbar has Amazon Alexa built-in. So you have more than one option even when it comes to choosing the voice command. If you still prefer Google Assistant, this is compatible with it, so you can go ahead with it.
Sonos also has a mobile application that makes usage so much easier in the 21st Century. This gives you yet another alternative to the remote.
Other attractive features of this award-winning brand include a night mode and speech enhancement.
And we think it is great that the soundbar has incorporated an HDMI ARC since now you can connect it to a range of devices without worrying about a loss in quality.
Highlighted Features
Connects to several rooms with Wi-Fi
HDMI Arc audio input
Sonos S2 mobile application can be used for control
Connects with streaming services for customization
2. Polk Audio MagniFi Mini | google home compatible surround sound
The Polk Audio MagniFi Mini is a mini soundbar as its name states, which make it a suitable choice for all users who are a bit tight on space but still want the finest wireless audio experience.
Being a little over a foot in length, these surprisingly contain powerful tweeters and drivers to provide you with exceptional sound.
Polk has a patented SDA audio technology that helps to create clean and clear sounds from the soundbar which will not disappoint. Moreover, the 5.1 Dolby Digital Coding is also present to promise you a quality audio experience, regardless of the size of the device.
A wireless subwoofer is provided with the soundbar. You can add this on whenever you like, and it will surely enhance the audio quality further by bringing out all those lower sounds and thumps which you otherwise would not experience.
Polk also has a Voice Adjust Technology exclusive to the brand. Using this you can control the voice levels according to your liking, and this in turn will increase sound clarity, lower delays, and all muzzled sounds. All these effects together come into place to create flawless audio that is as close to natural as it gets.
Highlighted Features
1 Dolby Digital coding
Subwoofer included with mini soundbar
Includes independent modes for movies, sports and audios
Comes with a 6-driver array
3. Polk Audio Signa S3 | google home tv sound bar
The Polk Audio Signa S3 is a soundbar that can quite easily match any higher-end model out there, but it comes at a fraction of the price making it a score for those on a budget. One of the first things we notice is the sleek exterior, that goes with pretty much all sorts of spaces and interiors.
Coming to the specifications, the soundbar has Chromecast built-in, so you can use this to synch all the systems at home and eventually use voice command for a complete automated system.
The soundbar also has an HDMI connection. This further makes it easy to connect to devices, not to mention 4K devices too if you have any around the home. And all of this without any loss in quality or speed.
Polk comes with its own Voice Adjust Technology. Having this ensures that every audio and speech you hear is enhanced to be heard in its finest form. Plus, there is Dolby Digital as well, so you never have to worry about unclear sounds.
The soundbar employs a wireless external subwoofer. Thanks to this, even the lowest background noises can be head properly and with dimension for a natural and lively experience.
Highlighted Features
Chromecast is built-in for more connectivity
Includes a wireless subwoofer
Includes Dolby Digital 5.1
Polk Patented Voice Adjust Technology
Universal TV compatibility for flexible usage
4. JBL Bar 5.1 | smart soundbar google assistant
JBL is one of those names you hear at least once when talking about anything audio, so here we are. This is the JBL Bar 5.1.
The 5.1 tells us that this is one of the finest combinations of soundbars in the market with one soundbar, added speakers plus a subwoofer. All together this setup creates unforgettable audio.
The surround speakers on the sides of the soundbar are detachable. This is great because you do not always entertain big crowds, so you can let go of them when they are not in use, and connect them back up when needed.
These are battery-powered, and they give you a total of 10 hours of playtime. So they can easily get you through a couple of movies back to back.
The 10-inch subwoofer creates a rich and deep bass to amplify and highlight the sounds. This is especially great when you are watching movies and get to listen to all the big and little sounds in harmony.
HDMI inputs are always appreciated. Here there are three, so you are never at a loss and can keep connecting devices left and right for ease of use and functionality. Connect to 4K devices, and your audio and video experience will together be enhanced.
Highlighted Features
10-inch wireless subwoofer included
Maximum system power is 510 Watts
Three HMDI ports connect to 4K devices
Playing time is up to 10 hours
5.VIZIO SB36514-G6 | soundbars that work with google home
This soundbar from VIZIO is one of the most popular soundbars out there when it comes to Google Assistant usage. This has been praised for its compatibility and ease of use and being Google Home App friendly. So if you are looking for such qualities, do check this out.
Using this you can connect Chromecast built-in gadgets and devices to experience multi-room streaming.
There is an external sub-woofer to highlight all the low audios that usually get cut out or overlooked. It provides a complete experience and you do not miss out on even the smallest of sounds.
With the Dolby Atmos multi-dimensional audio, the soundbar turns your private space into a full-blown home theatre mode with its exquisite sound system. This along with the 10-channel surround system ensures that sounds will be as loud as they are clear.
If that was not enough, the soundbar also has four upward-firing height speakers to further amplify the sound and its quality. If you have a lot of space to cover or in general have a larger room, this is a good choice to look into. Every corner of the room will be filled with audio in its most natural state.
Highlighted Features
Includes Dolby Atmos multi-dimensional audio technology
Comes with ten-channel surround sound system
Multi-dimensional experience with four upward firing height speakers
10 channel surround system
Soundbar With Google Assistant Buying Guide
Size
When buying soundbars, you will find that they come in various sizes and shapes. From mini soundbars to ones bigger than a large flatscreen TV, the sheer range of sizes can confuse you. What you should do here is find one that matches the width of your TV.
Do be careful with the measurements though. The size of your TV is measured diagonally, so double-check the width and get a soundbox of similar width or one that is a little smaller.
Another point you need to check along with the size of the driver. A wider soundbox would require more drivers for optimum sound, and naturally, the number of drivers are more in larger soundboxes.
However, some sound boxes come in larger sizes without an adequate number of drivers, and those are the ones you should avoid. Because you simply end up paying for empty space this way.
Controls
You might be looking for the best Google Assistant soundbar, but that should not mean that you can overlook or disregard other forms of control. While Google Assistant certainly helps, other ones might come in handy too.
Some of the soundbars have their dedicated mobile applications that let you connect and disconnect from multiple devices around the home and make full use of the soundbar.
Of course, remote controls are also there that let you control the TV and the soundbar from the same device.
Bass and Sub-Woofer
You know all those low rumbles you hear? That is where the Bass comes in. Having a soundbar where you can adjust the bass can heighten your audio experience by a lot. So definitely look into this.
Also, you will need to have a subwoofer in order to take advantage of the bass feature. This is what helps to unlock that physical bass which enriches the audio further.
Subwoofers can be external or internal, where external ones are more powerful. This is because they have a separate power output, which gives you richer and deeper bass.
Soundbars with both an internal and external sub-woofer have superior performance, and these are a good choice for users who do not have a lot of space to spare for extra parts.
Connectivity Options
This is very important today no matter what device you decide to buy. Wi-Fi is crucial, and the soundbar you choose should have it at all costs.
Bluetooth is another. While you might think it is okay to have either, more options simply give you more flexibility of use, which is what we always want.
HDMI is another port that is good to have. We love this because it lets you transfer data fast and lets you connect the soundbar with 4K devices, which otherwise is hard to accomplish with the same quality.
Channels
Channels refer to the sound emission point of the soundbar. Naturally, a higher number of channels mean a louder and better sound. 5 channels are considered the industry standard, so try to get a soundbar that has 5 channels at least, if not more.
Conclusion for Google Assistant Soundbar Buyers
You have to take into consideration a lot of factors when buying gadgets nowadays, and voice command is one of the topmost wanted and required features. This is why we have provided a detailed article on the best soundbars with Google Assistant.
From the size to the mounting system to the sub-woofer, there are other things to consider as well. Of course, things like the brand and price are personal choices, but everything else has been put down here.
For a quick review, you can check out the comparison chart and get an overview of what we have talked about.