Soundbars are pretty ideal for users who are short on space, and users who are looking for something slim and compact to go with their flat-screen TVs. In cases when you are short on space, you usually have to sacrifice elements, and in this case, that ends up being the subwoofers.
But this sacrifice is not one where you lose sound quality in any way or form. Today, we bring to you a list of the best soundbars without subwoofers. So you can get the quality sound experience you want and can make it work even in a small space.
Of course, simply removing the subwoofer will not make it a good buy, there are other points to take into account as well. From the kind of connections it holds to the number of channels, you will have to dig a little bit deeper to find a good one.
Top Soundbars With Subwoofers 2021 by Editors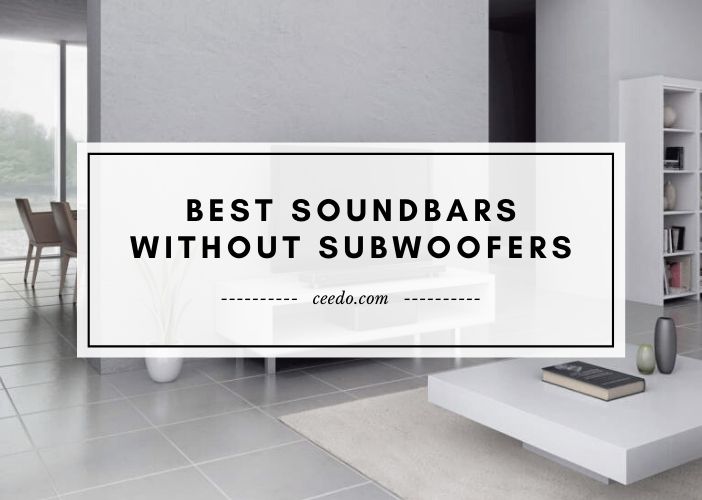 List Of Top 10 Soundbars Without Subwoofers
6. ZVOX SB500 Aluminum Sound Bar
Comparison Chart For Top Soundbars Without Subwoofers
| IMAGE | PRODUCT | Bluetooth | Output Power | Special Features | price |
| --- | --- | --- | --- | --- | --- |
| | TaoTronics | Yes | 90 Watts | 3 different equalizer modes | |
| | Bose | Yes | 30 Watts | Universal remote control | |
| | Sony Soundbar | Yes | 120 Watts | Built-in tweeter | |
| | Sonos Beam | No | 64 Watts | Amazon Alexa Built-in | |
| | BYL | Yes | 100 Watts | DSP Technology | |
| | ZVOX SB500 Aluminum Sound Bar | Yes | 140 Watt | Anodized aluminum cabinet | |
| | Samsung SWA-8500S | No | 54 Watts | Wall Mountable | |
| | Roku Smart Soundbar | Yes | 60 Watts | 4K Streaming | |
| | BESTISAN | Yes | 40 Watts | Multiple device compatibility | |
| | Wohome | Yes | 80 Watts | DSP Technology | |
Best Soundbars Without Subwoofers Reviews
1. TaoTronics Three Equalizer Mode Audio Speaker | best tv soundbar without subwoofer
TaoTronics is an industry leader when it comes to audio devices, so we trust that this is a good brand, which in turn means it provides sound quality. This particular model has been designed for mid-sized rooms that range between 15 to 30 m².
This TaoTronics soundbar is very special because of its 3 equalizer mode feature. With these three different modes, you can fine-tune the sound according to usage so you can get a different experience with different audios.
This includes one for the game mode, where sounds have more bang to them; a music mode for a harmonic experience; and a movie mode for all those awesome sounds.
The soundbar makes sure that you get the finest experience, be it from a wired mode, or a wireless mode. You get the standard audio cable, optical input, and RCA. But if you want to wirelessly connect a laptop or cell phone, you can very well do that too with Bluetooth.
Other shortcuts to control the soundbar are also provided, some of which can be done remotely as well. When you click the power button twice lets you switch through different functions while the screen shows you the current one being used.
Highlighted Features
Comes with 3 equalizer modes
Bluetooth, RCA cable, audio cable, and optical connection available
Suitable for mid-sized rooms
System output power is 90 watts
2. Bose Solo 5 Sound System | best sound bar no subwoofer
This Bose soundbar comes with a handful of impressive features, all of which will surely wow you.
It comes with a dialogue mode, that can be used to enhance dialogue when you watch movies, so every word can be heard clearly. As scenes change, you often have to change the volume to be able to keep up, but you don't have to do that any more thanks to this feature.
It comes with Bluetooth technology too, so you can practically place this anywhere and use it wirelessly. It gives the soundbar more flexibility and increases the way you can use it.
The universal remote is added to make life easier. This way, you do not have to move or use different devices for different functions.
Simply use the one remote provided for the TV, the Bluetooth connections, the bass, and even the Blu Ray player and gaming systems. As long as they are connected to the TV, every function can be controlled from a single remote.
Bass is excellent on this device. From dramatic shows to the most intense thrillers, this will bring out all those background sounds in the most exciting form. Plus, you get to control the bass too! So if someone is sensitive to the sounds, you can change it for the audience, and change it back for you later on.
Highlighted Features
Bluetooth technology allows for remote connections
Includes dialogue mode for clearer audios
Bass can be controlled
System output power is 30 Watts
3. Sony S100F 2.0ch Soundbar
Sony claims that this soundbar gives you the 'Straight from the theater to your home' experience. Well, with the brilliant features that this has, it is definitely not wrong.
This has a two-channel speaker and is super easy to set up. You do not require professional help, and will only take a matter of minutes to set it up.
It has a bass reflex speaker that helps you hear all those amazing thumps which enrich the movie-watching experience by a lot, and is what gives you that theater-like experience from your living room.
The voice enhancement feature is another addition we love on this. This helps to amplify all those hushed tones and sounds that you cannot normally hear and eventually read off of the subtitles. Well, now you will not have to do that anymore!
The S-Force Pro Front Surround also plays a role in making you feel like you are in a theater. It ensures that sounds are sent from all sides so that they naturally fill the room.
With the Bluetooth connection, you get to not only use a TV with this soundbar, but other devices too. So any time you want to stream videos straight from the laptop or phone, you do not need to go and look for wires.
Highlighted Features
Comes with a built-in tweeter
Bass reflex speaker provides clear sounds
S-Force Pro Front Surround sends audios from all sides
System output power is 120 Watts
4. Sonos Beam | sonos playbar surround without sub
This Sonos Beam is one of the more well-known and renowned soundbars out there, and this is because it comes from an award-winning brand.
It is a very compact and sleek device, so you do not have to worry about space. If you are looking for something practical, small, yet packs a bang when it is used, this what you want.
Its high definition sound can be just as easily controlled as heard. Of course, there is a remote, which can be used to control all the features. Plus, there is a Sonos app too. So if you want more flexibility, or have lost the remote, simply switch to this.
The soundbar has voice control too, which can be done with Amazon Alexa. Since this is something we have gotten used to over the years, it simply makes the use a lot easier.
Using this feature you can use the soundbar for your daily activities, like setting the alarm or playing audios or checking dates. Except, now it will be a lot louder and clearer, so you can practically do it from a different room.
And if in the future, you ever want to add a subwoofer, but are not sure of it right now, you can add ones here to create a complete system.
Highlighted Features
Can be controlled with the Sonos app
Includes speech enhancement and night mode
Amazon Alexa is built-in
System power output is 64 Watts
5. BYL Bestisan Soundbar
This BYL Bestisan Soundbar is one that has a lot of power! This model in particular is suitable for LCDs that are between 40 ad 65 inches.
The soundbar provides very deep bass and has an incredible power output of 100 Watts for an intense and amazing audio experience. This bass is not just loud, but just as clear, so you get a complete movie-watching experience.
You get a total of 4 full-range speakers alongside 2 tweeters, which all come together to give you 105db of sound that fills the entire room up to the brim. Plus, the 2 bass reflex tubes that are built-in also add rich bass to the sound to further enhance the quality.
The remote shows you all the different modes using different LEDs. With so many variations newbies can get confused, so this certainly helps. The sound you get is also 360 degrees, which makes it sound natural, instead of the kind you usually get from TVs- stiff and one-sided.
DSP technology is also provided. With this, you get to change sound effects with audios, news, and movies. Since they all belong to different genres, having this feature really makes a difference in how you listen.
Highlighted Features
4 full-range speakers are built-in
2 bass reflex tubes are built-in
Includes DSP technology and multiple interfaces
System output power is 100 Watts
Soundbars Without Subwoofers Buying Guide
Size
Soundbars are in general purchased because they are slim and compact, take up less space and mix in with the television, all the while providing great sounds. This makes the size or dimension one of the first factors to consider.
You do not want it to be too small, which would look out of proportion with the TV and would not be able to provide the right sound quality either. Too big, and it would look like an eyesore and mismatched. If you cannot get the exact size as the TV, opt for a tad bit smaller size.
Sound Quality
Of course, sound quality plays one of the biggest roles in your decision, so when buying the best soundbars without subwoofers check to see if the soundbar can decode Dolby sources.
Because most films and movies today are in Dolby Digital, having a soundbar that is compatible with the technology can give you a top-notch audio experience, even without the subwoofers.
Another thing you can check for is if the soundbar can give you DTS Virtual 3D sound alongside Dolby Atmos. These are excellent technologies which will amplify not only the sounds but the quality of them too.
Connectivity Options
Obviously, you have to have the right connectivity options if you want to connect the soundbar to the TV, as well as other devices around the home if you want.
HDMI input is the primary input and a must-have. This lets you connect the soundbar to 4K TVs and this transmits audio frequencies with little to no lag speeding up the process.
In some soundbars, you will find there are more than one HDMI inputs. If you are planning on connecting more than just the TV simultaneously, definitely check these out.
Wireless options should also be seen since we all want more automation today. Wi-Fi support is a must-have today, alongside Bluetooth. These let you stream videos directly from the phone or laptop without using any wires whatsoever.
Also, check to see if the voice command option is supported by the soundbar, so you do not always need the remote. Another remote alternative is mobile apps, which some soundbars have, so do look out for those if you want the flexibility.
Channels
The number of channels a soundbar has can affect the overall volume and quality of the sound. A higher number means better sound, and that the sound comes from all directions for complete coverage instead of hitting you with loud sounds from a single row.
Normally, 5 channels are considered the industry standard, but these contain a subwoofer. So you can go with a lower number of channels that don't have one.
Conclusion
Soundbars prove to be a good way to add that extra boost to the TV volume, and you can connect them with other devices too when you need them. But contrary to popular belief, you can get some of the best soundbars without subwoofers if you look hard enough.
Or you could simply check out this article here where we have a compiled list of the similar soundbars that give you the perfect audio without the external subwoofer which takes up more space. This will let you enjoy movies, audios, games, and all those extra sound effects, but from a smaller device.