Are you missing out on your favorite shows due to hearing problems? Don't worry! With the addition of hearing aid technology into the newly launched soundbars, you can have an elevated listening experience.
Wearing hearing aids throughout the day can be extremely uncomfortable, especially while relaxing on the couch with a blanket on. To enjoy TV programs without any hassle, you should get yourself a TV soundbar specially made for hearing impaired peoples.
Millions of Americans go through hearing problems every year, but this shouldn't stop us from enjoying TV programs. The soundbars can lift the audio of dialogues and music, making them clear and easy to understand for you.
In an effort to help you out with the process of choosing the right one, we have made a list of the best TV soundbar for hearing impaired. Read on to find out!
Editor's Recommendation: Top TV Soundbar for Hearing Impaired 2022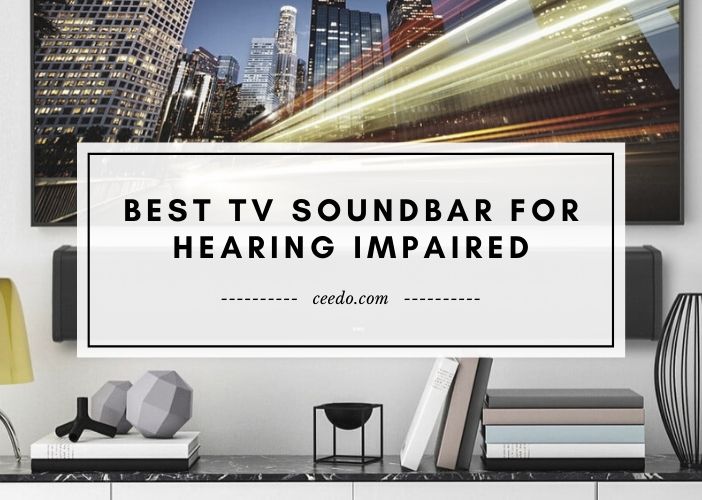 List Of Top TV Soundbar For Hearing Impaired
Comparison Chart For Top 9 TV Soundbars For Hearing Impaired
PRODUCT
Connectivity
Special Features
Check Price

ZVOX SB380
Bluetooth and HDMI Cable
AccuVoice Technology

BYL Bestisan
Bluetooth 5.0 Technology
3D Surround Sound

ZVOX AV200
3.5 mm AUX Jack
AccuVoice and Hearing Aid Technology

Q Acoustics M4
Bluetooth 4.0 Technology
Subwoofer and BMR Drive

ZVOX SoundBase 440
HDMI and Optical Cable
Three Speakers and AccuVoice

Audio Fox
3.5 mm Headphone Jack and Bluetooth
Wireless Speakers

ZVOX AV203
Bluetooth and HDMI
Six Levels of Voice Boost

SIMOLIO SM-621D
Advanced 2.4GHz FHSS and 3.5mm Headphone Jack
100-feet Range from TV

ZVOX AV155
Optical Cable
Accuvoice Technology and Voice Boost
Top 5 Best TV Soundbars For Hearing Impaired
1. ZVOX SB380 Aluminum Soundbar | Best Voice Clarifying TV Speaker
If you have a hard time hearing your TV audio, this product will be the ideal soundbar for you. The unit is specially designed with voice clarifying systems to help you have a better sound experience while watching TV.
The prime feature of this soundbar is that it comes with six levels of AccuVoice boost technology. On each upgrade to a new level, you will have an enhanced and stronger dialogue while reducing the non-vocal part.
This product is one of the finest in the business as you won't need a hearing device to enjoy every bit of the movie. And the noteworthy part is, you won't get this six-level boost technology on any other soundbars since it is patented by ZVOX.
This product can produce a room-filling 3D sound as it features a PhaseCue Virtual Surround Sound technology. This incredible feature will ensure that you can clearly hear every single audio detail and have the ultimate audio experience.
With this soundbar, you can have the most soothing movie watching experience. It comes with an output leveling feature, which will balance out the loud and soft sound into balanced audio so that you won't have to endure further hearing damage. You are just a click away from having the most satisfying movie-watching experience.
Highlighted Features
Produces room-filling 3D sound
Comes with six levels of AccuVoice technology
Output leveling balances loud audio
Features a built-in powerful subwoofer
Connectable with Bluetooth and HDMI
2. BYL Bestisan Soundbar | best soundbar for hard of hearing
The BYL Bestisan is one of its kind, being the most versatile soundbar; this will fulfill all the sound needs you have. Grab this TV soundbar to enjoy watching TV without a hearing aid.
With this soundbar, you don't have to go through the trouble of adjusting the volume repeatedly. It comes with three different modes - music, movie, and dialogue. You just need to choose an audio mode, and the soundbar will automatically set the volume so that you can hear everything loud and clear.
This product features a built-in subwoofer. It will produce and reproduce low-frequency sounds and enhanced bass so that you don't miss out on any exciting parts. You can connect the soundbar to your TV with an optical cable or Bluetooth 5.0 technology.
Its remote comes with an IR blaster and LED indicators. So you don't have to control it by directing it to the TV; you can do so by laying on the bed or couch.
Sometimes we buy something, and after using it, we don't feel satisfied with the product. With this one, you don't have to go through this, as it comes with a 90 days home trial. If you don't like the soundbar, you can return it with no questions asked.
Highlighted Features
Can be connected with advanced Bluetooth 5.0 technology
Features a high-sensitivity IR blaster remote control
Produces 3D surrounding sound
Comes with two bass reflex tubes, and two 25W range drivers
3. ZVOX Dialogue Clarifying Soundbar | Best TV Speakers For Hard Of Hearing
ZVOX is a reliable name in the TV soundbar industry for hearing impaired people. This unit is jam-packed with features, perfect for serving your sound needs to have a better viewing experience when watching TV.
The soundbar comes with a built-in hearing aid technology. It even enhances the low volumes into loud and super-clear audio so that you can hear the dialogues of a movie or a TV show. Perhaps using this TV soundbar, you won't need your hearing aid to watch TV.
Another remarkable feature of this product is the ZVOX patented AccuVoice technology. With this feature, you won't have any problem with hearing your TVS audio as it produces loud audio and offers maximum clarity.
None of us want to go through a lengthy installation process. And the best part is, with this soundbar, you don't have to. The setup process is straightforward and takes only minutes to complete by taking help from a one-page installation manual.
It also comes with a 30-day home trial so that you can test out its features. The soundbar is also compatible with all types of TV, including LG, Samsung, Sony, etc.
Highlighted Features
Offers super-clear voice with built-in hearing aid technology
Comes with ZVOX patented AccuVoice technology
Can be connected using a 3.5 mm AUX jack
Extremely easy to set up
Automatically adjustable volume according to the video
4. Q Acoustics M4 Soundbar | best tv sound bar for hearing impaired
The Q Acoustics M4 Soundbar has all the necessary features of an excellent TV soundbar for people with hearing difficulties, including a built-in subwoofer and BMR drive units.
This soundbar is compatible with all TVs, including smart TVs. It is also equipped with a protection system for its power system and charging device. Its unique design and matte black finish won't make it look out of place on any interior design.
It features BMR drive units, which provide an incredible sonic sound for delivering the finest sound quality. The sonic performance creates a loud and clear sound that can fill a wide room. With this soundbar, you will have the ultimate cinematic experience.
You can connect the soundbar to a wide range of devices with its optical and analog inputs. The soundbar is also Bluetooth enabled; you can sync it to any Bluetooth compatible TV.
If you don't want to go through the trouble of learning to use a soundbar, you should choose this one. This unit is extremely easy to use; just plug it into your TV, and it will be ready to provide you the finest sound quality.
To save power, the soundbar features a standby mode. The mode automatically activates after 20 minutes of inactivity.
Highlighted Features
Can be connected with Bluetooth 4.0 technology
Features built-in subwoofer
Offers sonic performance with BMR drive
It's a wall-mountable soundbar
5. ZVOX SoundBase 440 28″ Soundbar | best tv sound system for hearing impaired
If you are looking for a TV soundbar that provides the ultimate sound experience despite having hearing problems, this might interest you! The soundbar comes with AccuVoice and a built-in subwoofer to provide crystal-clear audio.
While watching TV shows and movies with your curtain down or at night, the soundbar's LED display could be irritating. So the ZVOX SoundBase 440 comes with a disappearing display so that you can have a satisfying cinematic experience.
Since the product is specially made for hearing impaired people, it features AccuVoice hearing aid technology. The soundbar comes with three built-in speakers and a powerful subwoofer to produce a loud enough sound for you to hear everything clearly without a hearing aid.
The soundbar is compatible with almost all TV and can be connected with Bluetooth or HDMI cable. And the soundbar is so well built that you place your TV on top of it.
With this soundbar, you won't have to adjust the volume on loud commercials. It will automatically tame extremely loud commercials and sounds.
The soundbar is anything but difficult to use and features a highly functional IR blaster remote. Generally, it's an extraordinary pick for those with hearing problems.
Highlighted Features
Features a built-in subwoofer and three sets of speakers
Compatible with all TV sets
Comes with AccuVoice
30-day free home trial
How To Choose The Right TV Soundbar For Hearing Impaired
Sound
Sound quality and level are the most significant features to look for while choosing a soundbar for a hearing-impaired person. The audio should be so clear that you can have the ultimate hearing experience without even using a hearing aid.
To have a satisfying movie-watching experience, you should go for a TV soundbar featuring multiple sound modes that enhances sound effects and voice clarity.
Since the main purpose of the upgrade is to get rid of hearing aid while watching TV. So you should get a TV soundbar that features AccuVoice technology. This incredible offering will enhance the clarity and loudness of the audio so that you can enjoy movies without going through the trouble of wearing hearing aids 24/7.
Subwoofer
The subwoofers can really impact the bass frequencies, be it indoors or outdoors. In the event that you struggle to hear the low notes without your listening devices, a subwoofer can have a decent effect.
While choosing a soundbar, you should look for one with built-in subwoofers or external ones. However, the external subwoofers function better since they can produce a sound loud enough to fill in the whole room.
Design
The cabinet style soundbars can be an incredible choice for home TV sets and home theaters. They are minimalist and elegant; they don't occupy a lot of space, so that you can use them without any hassle.
If you frequently travel, you should go for a portable soundbar. These resemble boom boxes. Think about this factor before purchasing a TV soundbar.
Pricing
The pricing of TV soundbars especially made for people with hearing problems are slightly higher than the conventional ones. The pricing is somewhat justified as it comes with some unique features to enhance sound quality so that everyone can have the best hearing experience without a hearing aid.
The price range depends on sound quality, range, subwoofers, and ease of use. You should pick one that meets your needs and is within your budget.
Connections
The connection doesn't necessarily relate to hearing problems, but it will provide you convenience when watching programs on TV.
Most soundbars support Bluetooth, permitting the soundbar to interface with Bluetooth-enabled TVs. If you like to carry your soundbar around, you should go for the best wireless TV speakers for hearing impaired. Besides, by Bluetooth connection, you can additionally stream music into the soundbar from cell phones.
Although Bluetooth provides maximum range, the top-notch TV soundbars offer HDMI Arc and Optical cable connections. These can handle features like Dolby Atmos and DTS. With these connections, you will also have real-time audio since they have zero latency.
Final Word for Hearing Impaired TV Soundbar Buyers
For someone with hearing difficulties, the loudness and clarity of sound is the most vital factor to enjoy watching TV shows and movies. To bring you the best TV soundbars for hearing impaired, we have looked into hundreds of soundbars.
The special soundbars will help you hear dialogues and music without using a hearing aid. They offer AccuVoice technology, an incredible feature for people with hearing problems.
All of the soundbars on our list are on top of their game. We hope you find the right one to suit your sound needs.
Buy on Walmart
ZVOX Dialogue Clarifying Sound Bar with Patented Hearing Technology, Twelve Levels of - Walmart Link
Hisense HS205 2.0ch Sound Bar, 60W, Wireless Bluetooth, HDMI ARC/Optical/AUX/USB, 3EQ - Walmart Link
TV Ears Voice Clarifying TV Sound Bar - TV Speaker System for Great Sound and Hearing TV - Walmart Link
ChairSpeaker Voice Enhancing TV Sound Bar Alternative Lets You Hear Clearly Without - Walmart Link
Sound Bar, TOPVISION 36-Inch Sound Bars for TV, 2.1CH Sound Bar with Built-in Subwoofer, - Walmart Link
Wohome Sound Bar S88 20-Inch 50W Audio Stereo Home Theater Soundbar Speaker, with - Walmart Link
Klipsch Cinema 400 Sound Bar + 8Inch Wireless Subwoofer with HDMIARC - Walmart Link
4. Q Acoustics M4 - Walmart Link
5. ZVOX SoundBase 440 - Walmart Link
Buy on eBay
ZVOX Dialogue Clarifying Sound Bar with Patented Hearing Technology, Twelve Levels of - eBay Link
Hisense HS205 2.0ch Sound Bar, 60W, Wireless Bluetooth, HDMI ARC/Optical/AUX/USB, 3EQ - eBay Link
TV Ears Voice Clarifying TV Sound Bar - TV Speaker System for Great Sound and Hearing TV - eBay Link
ChairSpeaker Voice Enhancing TV Sound Bar Alternative Lets You Hear Clearly Without - eBay Link
Sound Bar, TOPVISION 36-Inch Sound Bars for TV, 2.1CH Sound Bar with Built-in Subwoofer, - eBay Link
Wohome Sound Bar S88 20-Inch 50W Audio Stereo Home Theater Soundbar Speaker, with - eBay Link
Klipsch Cinema 400 Sound Bar + 8Inch Wireless Subwoofer with HDMIARC - eBay Link
4. Q Acoustics M4 - eBay Link
5. ZVOX SoundBase 440 - eBay Link