Imagine looking for a particular colored paint or sculpting material/tool that is unavailable at every store you know. The hassle and frustration is incomprehensive and not to mention the constant pain of keeping track of all the materials you'd need to constantly restock.
Thankfully, for sculptors and artists today, digital gadgets are a godsend thanks to the introduction of drawing tablets. Not only can they enable you to create the most stunning and precise masterpieces, but they are also super-convenient and portable. And unlike real-life art, you can hit the undo button for every wrong stroke.
This article is all about the best tablets for Zbrush for those exasperated sculptors looking to go digital at long last. And those of you looking to purchase one to get on with your digital sculpting, painting, or drawing sprees, today's your lucky day indeed!
Editors' Picks: Top Tablets for Zbrush 2021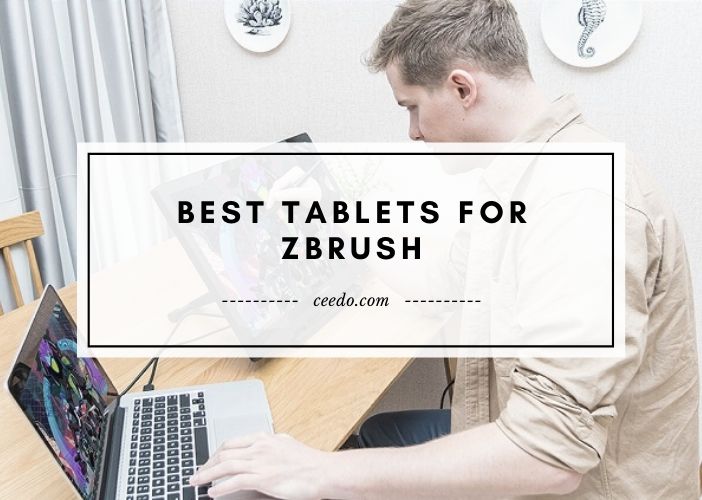 Comparison Chart For Top 10 Tablets For Zbrush
IMAGE
PRODUCT
Display Size
(Inches)
Resolution
Active Drawing area (inches*inches)
price

HUION KAMVAS 22 Plus

21.5

1080p

25.00 x 17.80

Wacom PTH460K0A Intuos Pro (Small)

10.5

5080lpi

6.3 x 3.9

Google Pixel Slate
8/64 GB

12.3

3000 x 2000

11.45 x 7.95

Apple iPad Air
4/64 GB (4th gen)

10.9

2360×1640

10.2 x 7.44

UGEE M708

10

5080lpi

10 x 6

Lenovo Yoga Smart Tab
4/64 GB (2020)

10.1

1920×1200

11.77 x 6.89

GAOMON M106K PRO

10

5080lpi

10×6.25

Huion HS611
(2020)

10.1

5080lpi

15.60 x 9.20

Wacom One Graphics tablet

6

5080lpi

6.0 x 3.7

Microsoft Surface Go 2
4/64 GB (2020)

10.5

1920 x 1280

7.81 x 10.61
Best Tablets For Zbrush Reviews
1.GAOMON PD1561 Pen Display | best pen tablet for zbrush
With a spectacular 15.6-inch screen, this device can facilitate amazingly convenient work experience. It comes with a stunning 1920 x 1080P Full HD resolution to provide you with impeccable visual outputs as well. Its large viewing angle of 178 degrees will also ensure perfect visuals in any comfortable position.
The GAOMON PD1561 also possesses a high response rate of 266RPS which will provide you with a realistic sculpting/drawing experience, lag-free. The device is equipped with an incredible 10 express keys for you to personalize with your top shortcuts. It that still can't impress you, 2 more customizable stylus keys surely will!
It also comes with 5 menu keys at the side for adjusting brightness, contrast, color, etc. The device can be used equally effortlessly regardless of whether you're right-handed or left-handed. An included two-finger glove will also greatly aid in reducing friction and smudges as you sculpt or draw away.
Its battery-free stylus is capable of producing high-quality outputs of 5080LPI resolution and comes with an amazing 8192 levels of pressure. Hence, you'll be able to produce the most gorgeously detailed outputs in high quality with a realistic drawing feel. It also possesses ±60 degrees of tilt support.
Highlighted Features
Wide viewing angle of 178 degrees
10 express keys for shortcut personalization and 2 customizable stylus keys
Includes two-finger glove for reducing friction and smudges
Large display with Full HD resolution
2.XP-PEN Artist22E Pro | best tablet pc for zbrush
For those in need of creating large artworks and requiring wide hand movements, this 21.5-inch screen could easily be your ultimate choice. With a stunning resolution of 1920×1080, you can receive the ultimate visual quality of the outputs you never knew could be possible.
It comes with a super-sensitive rechargeable stylus with 8192 levels of pressure for the most realistic pen-paper feeling and details. The rechargeable pen is good to go for up to two whole months upon a single full charge. It also includes a multi-function stylus holder which can safe-keep your pen nibs as well.
This ergonomic model also comes with a stand that can be adjusted between angles of 15-85 degrees for your comfort. It will also avert the device from slipping or shaking while you sculpt/draw away. Feel free to attach it to a VESA mount as well if you require extra height.
The device is super-responsive with a 266RPS to ensure you a lag-free creative journey. It comes with an unbelievable number of shortcut keys which can make your life so much easier. A total of 16 keys are located on each side to facilitate both right and left-handed users.
And you can even customize the keys with your favorite shortcuts conformed to individual software. Hence, with this device, you can unleash your creativity in a whole new level. And that too, with such an extent of convenience and efficiency you never knew could be possible!
Highlighted Features
Phenomenally large working surface
Highly sensitive rechargeable stylus with a 5080P resolution
Multifunction pen holder that can store pen nibs too
Ergonomical model with adjustable stand and VESA mount
3.Huion Inspiroy H950P | zbrush compatible tablets
This model, with its compact drawing space of 8.7 x 5.4 inches and weighing just 1.76 pounds, could easily become your go-to device. For those with a congested deskspace or frequently on the move, the H950 could be the thing to answer all your prayers. Its thickness of just 8mm also enhances its portability further.
For all you sculptors and artists out there, this device not only supports the Zbrush software, but also a large range of art software. These include Corel Painter, Manga Studio, Adobe Photoshop, Krita, Illustrator, Gimp, Clip Studio, etc.
Upon activation of a Press Lock button, you'll also be able to stop unforeseen strokes from ruining your masterpieces. This, along with compatibility to support the above art apps will open every realm of professional art and sculpture for you to utilize.
Its battery-free stylus comes with 2 customizable keys. So along with the device's 8 express keys for shortcuts of your choice, you'll get 2 more from the stylus itself! It is highly sensitive and responsive with 8192 levels of pressure and a response rate of 233RPS
It is thus capable of delivering you the most realistic sculpting/painting experience with the most detailed and accurate outputs of resolution 5080P. The pen also possesses an amazing ±60 degree of tilt support which will allow a natural usage while drawing or shading as well.
Highlighted Features
2 customizable keys on the stylus and 8 on the device
Compliant with Zbrush and other art software
Press Lock button for stopping unforeseen strokes/touches
Compact to save space and lightweight to enhance portability
4.UGEE M708
For those looking to work a little more freely and comfortably, this device could be a great choice with its large working area of 10 x 6 inches. The device is super user-friendly to use and you can customize it to your preference with the 8 shortcut keys.
You can simply personalize the keys with your most-needed shortcuts to boost your productivity and efficiency. The device is also incredibly responsive with a high reporting rate of up to 266RPS which will make it respond instantaneously to your strokes/touches.
To further elevate your sculpting, painting, or drawing sprees, this device is compliant with a vast array of software. The most popular of them include Pixologic ZBrush, SAI, Fireworks, Comic Studio, Illustrator, Macromedia Flash, Photoshop, Infinite Stratos, 3D MAX, Autodesk MAYA, etc.
Hence, drawing/sculpting digitally with this device will seem almost like the real thing. The battery-free stylus with 8192 levels of pressure will also aid in generating highly precise and detailed outputs. With a 5080P resolution, your most stunning artwork can come to life in a breeze!
Highlighted Features
Comes with a holder for the stylus and nib replacements
A high reporting rate can ensure a highly responsive experience without lag
8 customizable express keys for personalizing desired shortcuts
Equally convenient for left or right-handed sculptors/ artists
5.GAOMON M10K2018
With an impressive working space of 10 x 6.25 inches, it is a highly responsive device with a reporting rate of 233RPS. As a result, not only do you have enough room to let your creativity flow comfortably, but it also responds as fast as you do.
Equally convenient for both right and left-handed artists, it can support both Windows & Mac OS. It weighs only 0.695 grams; and with a thickness of just 10.5mm, it can effortlessly become your travel buddy. Hence, whether on the move or at home, your creativity can be limitless without any obstacles.
To further increase the convenience of portability, this device comes with a stylus jacket to safely tuck in your stylus while you travel. The battery-free Artpaint AP31 stylus comes with an incredible precision thanks to its high pressure-sensitivity of 8192 levels.
Its amazing 5080LPI resolution will further contribute it producing the most magnificent outputs. The device possesses an astounding accuracy of ±0.03 mm and can boost your convenience and efficiency thanks to its 10 customizable keys.
A touch key (customizable) and round key are included as well which supports finger-control. You can thus have more control of its functions to enhance your convenience. 8 stylus tips and a two-finger glove is included as well. The device can support a range of art software as well including Photoshop, Illustrator & more.
Highlighted Features
Included a stylus jacket for carrying the pen conveniently during travel
Astounding accuracy of ±0.03 mm
Finger-controlled touch and ring keys
Compatible with both free and paid drawing software
Tablet For Zbrush Buying Guide
Compatibility
The first and foremost thing to consider when purchasing a tablet for Zbrush is whether the device actually supports this software. Most drawing tablets obviously support all the main and popular art software such as Photoshop, Illustrator, etc. But that doesn't mean it is compliant with Zbrush as well.
So ensure that your targeted model clearly mentions its compatibility with the desired software before making your buy.
Work Space
The working area you should opt for is dependent on your convenience, preference, mobility, desk space, and the magnitude of artworks or sculptures you need to create.
You'd require larger models for producing bigger artwork as it'll require wider hand movements and vice versa. But smaller ones can be ideal for portable use or when you are short on space.
Stylus
The stylus is another key aspect to consider as it is the main tool you'll be working with. They can come either in battery-free or rechargeable forms. Opting for battery-free ones would be a smarter move as it would eliminate the hassle of recharging another device.
But even if you do opt for rechargeable ones, ensure that they last for a long duration so that your productivity isn't halted.
Other features you need to consider are the pen's pressure sensitivity, resolution, thickness of tip, tilt support, grip, etc. High levels of pressure indicate a more sensitive stylus which can detect even the faintest difference between the pressures exerted.
Hence, the can provide the most detailed outputs as you'd be able to produce lines of a more versatile range of thicknesses and opacities.
A good tilt support will facilitate a wider angle of pen support which will make it more convenient to hold and use the stylus just like a real pencil or pen. Hence, you'd be able to sketch as well.
Responsiveness
The best Zbrush tablet should also be highly responsive to your pen strokes or other inputs. This is crucial for receiving the most realistic sculpting/drawing feel as a laggy device will not only be annoying and time-consuming, but will also result in inaccurate outputs.
Frequently Asked Questions (FAQ)
1) Do You Need A Tablet For Zbrush?
Basically, any tablet that is compliant with a stylus is good enough for using Zbrush. Since this art software is all about the pressure sensitivity similar to real paper drawing, the stylus or the pen is the key tool you need.
So as long as your tablet of choice works with one, you're good to go. But for more advanced convenience and pro-level digital art, you should consider getting yourself a drawing tablet.
Conclusion
These models reviewed are some of the best tablets for Zbrush you could choose from if you desire. The main idea behind reviewing these products was to display to you all the realms of convenience and efficiency such a device can unlock.
So it's time to finally brush off all that dilemma and hit the home run with the perfect gadget for your artsy sprees!