Would you go with a standalone printer or an all in one printer? The debate is a hard one to call. However, the versatility that comes with multifunctional machines helps to create space on your desk, office, or workroom. We welcome you to our options for the best all in one printers for Mac.
You see, about a decade ago, most printers were not compatible with Apple machines. Things have since changed and we now live in a joyful world where most printing machines come with macOS drivers or allow for downloadable options. Though this, too, comes with the challenge of making the right pick.
Mac users understand how the devices are exceptionally top performers. We, therefore, focus on products that will best complement your machine to provide the utmost creativity, quality, and productivity. Stay tuned!
Editors' Picks for Top All in One Printers for Mac 2021
List Of Top All In One Printers For Mac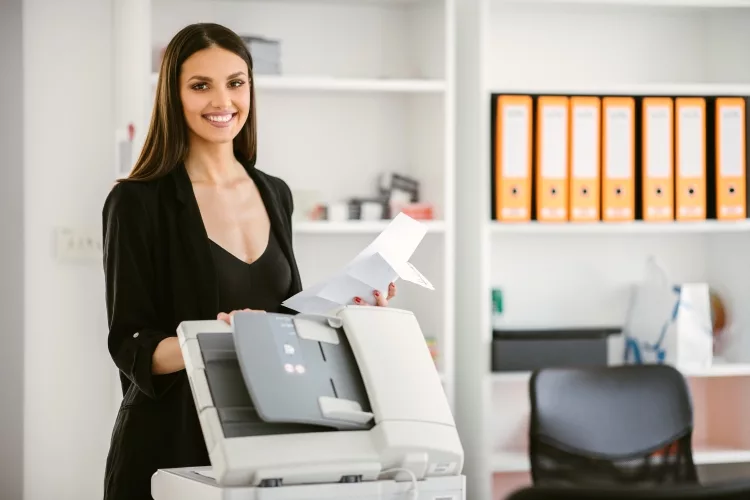 Comparison Table For Top 10 All In One Printers
| PRODUCT | SPEED | CONNECTIVITY | FUNCTIONS | PRICE |
| --- | --- | --- | --- | --- |
| HP ENVY 5055 | 7ppm | USB, Cloud Printing, Wi-Fi, | Print, copy, scan | |
| Canon TS5120 | 40 ppm | USB | Print, copy, scan | |
| HP OfficeJet 5255 | 20 ppm | USB, Cloud Printing, Wi-Fi, Bluetooth | Copy, scan, print, fax | |
| HP OfficeJet Pro 8025 | 20 ppm | Ethernet, Wi-Fi | Copy, scan, print, fax | |
| Canon PIXMA TR8520 | 22 ppm | Cloud Printing, USB, Bluetooth, Wi-Fi | Print, copy, scan | |
| HP OfficeJet Pro 8035 | 20 ppm | Ethernet, Wi-Fi | Copy, scan, print, fax | |
| Brother MFC-J995DW | 12 ppm | Ethernet, Wireless, USB | Print, copy, scan | |
| HP DeskJet 3755 | 9 ppm | USB, WiFi | Print, copy, scan | |
| Brother MFC-J805DW | 12 ppm | USB, WiFi Direct, Wireless | Print, copy, scan | |
| Epson EcoTank ET-2720 | 10 ppm | USB | Print, copy, scan | |
Best All In One Printers For Mac Reviews
1. HP ENVY 5055 Wireless All-In-One Photo Printer
The HP ENVY 5055 Wireless All-in-One Photo Printer makes a perfect option for artists and publishers who use Apple devices. It is a versatile printing tool that is incredibly easy to set up. It comes with a host of software that enhances usability and advanced customization.
As we already mentioned, an ideal printer for Mac features remarkable connection options. The Envy 5055 doesn't fail this requirement. It lets you stay connected to your MacBook, iPhone, or iPad. However, that's not to stay that it won't allow a reliable connection Windows and Android gadgets.
The paper handling capability of this printing machine also deserves a mention. The all in one printer conveniently prints on a range of paper sizes. It performs remarkably well on legal, letter, 4×6-inch, 5×7-inch, and 8×10-inch papers. It will also do a wonderful on no. 10 envelopes.
2. Canon TS5120 Wireless All-In-One Printer
The Canon TS5120 Wireless All-In-One Printer is one of the most basic all in one printer for Mac. It is an ideal printing machine for home and small business use. It features a sleek design that blends well with the rest of your home and office décor. Moreover, the office measures a paltry 16.8×12.5×5.8 inches.
It features duplexing capabilities. However, the quality that the device is capable of delivering is what makes it a good buy is the quality that it comes with. It features high-quality, dark, and sharp texts both on single-page and double-page printing. Besides, the colors are saturated and look natural.
The printer uses only two cartridges, a feature that makes purchasing inks for the TS5120 pretty easy and hassle-free. It uses a standard black and tri-color cartridge which are both easy to find. It is also worth mentioning that the cost of printing isn't as high as most of its competitors.

3. HP OfficeJet 5255 Wireless All-In-One Printer
The HP OfficeJet 5255 Wireless All-in-One Printer is the ideal tool for the seasoned Apple computer enthusiast who intends to hack all office functions from one device. it is adaptable to accomplish all the requirements of your office. It can perform duplex printing, scanning, copying, and also send faxes.
It doesn't stop there with the HP OfficeJet 5255 multifunctional printer. Firstly, it has a reliable auto-duplexing feature that helps you save on time and paper. The 35 automatic document feeding capacity comes with a lot of convenience for busy Mac users. It also has a 100-sheet input tray.
We believe that it is also important to mention the efficiency and versatility that comes with the connectivity and device compatibility of this printer. Look, the OfficeJet 5255 is compatible with Mac, Linux, Windows, Android, and iPhone devices. Thus, you don't have to worry in case you opt to change your device.
4. HP OfficeJet Pro 8025 All-In-One Wireless Printer
Are you looking for a powerful printer for Mac to upgrade your business or office? The HP OfficeJet Pro 8025 All-in-One Wireless Printer is your ideal device for an effective upgrade. It is powerful, reliable, efficient, and incredibly sleek in design.
It is arguably the easiest way to organize documents. It eliminates repetitive tasks hence it is 50% faster than other models. It allows you to efficiently synchronize with quick books and access every document to Google Drive.
Another exclusive feature of the HP OfficeJet Pro 8025 is that it gives you a chance to manage all your printing tasks. The HP Smart app that the device uses helps you to access and organize your documents in a breeze.

5. Canon PIXMA TR8520 Wireless All In One Printer
If you are looking for a compact printer that is powerfully versatile and efficient, then the Canon PIXMA TR8520 Wireless All in One Printer will do you insurmountable justice. It incredibly boosts your productivity by handling all your office, business, or home needs.
The versatility of this Apple printer allows you to print, copy, and scan documents and reports. It also allows you to send a fax when you need to do so. It is, therefore, an all in one printer that comes in handy for a range of office applications.
You have a chance to handle an endless list of activities, thanks to the amazing featuresthat the device comes with. It comes with two paper feeding trays, auto duplex printing, a memory card slot, a 5 distinctive ink system, and unrivaled connectivity options.

All In One Printers For Mac Buying Guide
We can't review some of the most popular multifunction printers for Mac before we provide you with a buying guide. The factors here should guide you in making an informed decision.
Compatibility
There were very few printers that were compatible with Mac devices up to about the last decade. Now, the market has an unlimited range of Mac compatible printers.
This is a consequence of the unstoppable popularity of Mac office machines. While many printer models are now compatible with Mac, there are many more that won't work with Mac.
And that brings you to the need always to confirm compatibility before you make a purchase. Besides, you will undoubtedly be doing yourself a favor by opting for a printing tool that is compatible with other operating systems as well.
You will realize that there are Mac compatible devices that are also compatible with Windows, Linux, iPhone, and Android operating systems. Such machines give you the convenience to attend to tasks without compatibility restrictions.
Functionality
We target multifunction printers in this article. Thus, every machine that we feature here performs beyond basic printing. You probably know the benefits that come with multipurpose printers, as well as the need to have one.
If you don't, then it is worth stating that they not only save you from running into debts by investing in several single-function machines, but they also save office space since a single machine will handle all the tasks.
However, versatility among all in one printing tools for Mac vary from one device to another. Notably, nearly multifunction printers will print, scan, and copy. A more versatile variety can add faxing and document conversion to the tasks already mentioned.
Connectivity
Well, compatibility is one thing, but connectivity is another thing altogether. Both of them are incredibly critical in your quest for a functional Mac printer. You already know that the machine of your choice is compatible with your Mac. Great.
However, what connectivity options does the device provide? It is critical to select a machine with connectivity options that you can easily understand and use. Besides, an excellent printing tool comes with a variety of printing options.
Mac machines can conveniently be connected with printers in multiple ways. Bluetooth, Ethernet, USB, Wi-Fi, and Cloud Print are some of the most popular ways to connect printers with Macs. The more the number of options, the more useful the machine.
Speed
Macs are synonymous with productivity. So, you don't talk about Mac machines without mentioning productivity. And there's no denying that speed is a significant factor that promotes productivity.
You will need to choose a tool whose print rates can handle the amount of work that you have at hand. If your enterprise deals with a lot of printing or copying work and strict deadlines, then you will need a machine that is fast and reliable.
You can consider slower options if you don't have a large workload and turnaround times that are strict. Choosing a more time-consuming printing tool could save you some pocket change.
Final Word
As you'd expect, the most ideal printer for Mac ensures a reliable wired or wireless connection to your Apple machine. But compatibility is not the only factor to look for in a MacBook printer. The best all in one printers for MacBook not only deliver the finest quality prints but also provide reliable copying, scanning, and faxing functions.