Whether you enjoy taking photographs for fun or are a pro, a superior photo printer can give you the finest results for your captures of art. HP photo printers offer a wide variety of choices when it is about printing your masterpieces.
HP offers specialized photo-printers for smaller projects, as well as multi-function models for home or office use. These are all much more compact than regular ones, and they are lightweight and portable enough to travel with if you're constantly on the move.
The majority of these all-in-one printers from HP are capable of copying, scanning, faxing, and printing your documents, as well as creating breathtaking, borderless printed versions of your artwork for easier framing or scrapbooking.
Today, we've produced a list of the best HP photo printers on the market, to showcase their amazing attributes that differentiate them from the ordinary.
Top Hp Photo Printers 2021 by Editors' Picks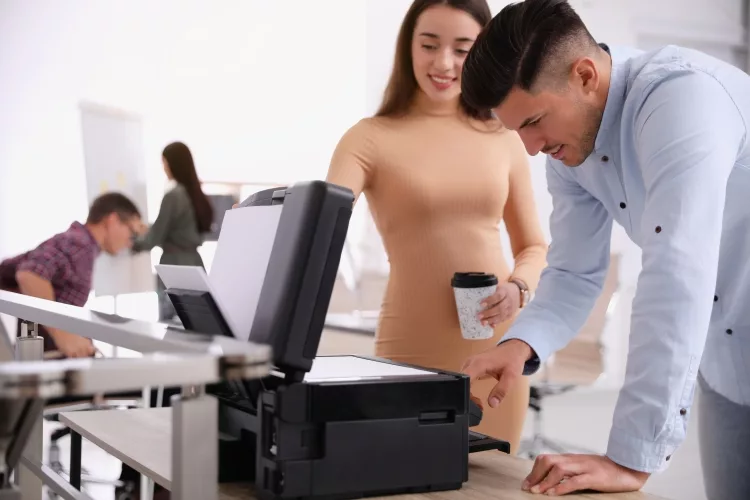 List Of Top HP Photo Printers
1. HP Sprocket Studio Photo Printer
7. P Color LaserJet Pro Multifunction M479fdw
Comparison Chart For Top 10 HP Photo Printers
| PRODUCT | SPEED | PRINT RESOLUTION | FUNCTIONS | PRICE |
| --- | --- | --- | --- | --- |
| HP Sprocket Studio Photo Printer | N/A | 300 DPI | Print | |
| HP ENVY 5055 | 7 PPM (color); 10 PPM (B/W) | 4800 x 1200 DPI (color); 1200 x 1200 DPI (B/W) | Print, scan, copy | |
| HP Officejet Pro 8035 | 20 PPM (black); 10 PPM (color) | 4800 x 1200 DPI | Print, scan, copy, fax | |
| HP Officejet Pro 9025 | 24 PPM | 4800 x 1200 DPI | Print, scan, copy, fax | |
| HP Envy Photo 7155 | 14.5 PPM (black); 9 PPM (color) | 4800 x 1200 DPI (color); 1200 x 1200 DPI (B/W) | Print, scan, copy | |
| HP OfficeJet 3830 | 8.5 PPM (black), 6.5 PPM (color) | 4800 x 1200 DPI (color); 1200 x 1200 DPI (B/W) | Print, scan, copy, copy, fax | |
| P Color LaserJet Pro Multifunction M479fdw | 28 PPM | 600 x 600 DPI | Print, scan, copy, fax | |
| HP OfficeJet 250 | 10 PPM (black); 7 PPM (color) | 4800 x 1200 DPI (color); 1200 x 1200 DPI (B/W) | Print, scan, copy | |
| HP ENVY Photo 7855 | 15 PPM (black); 10 PPM (color) | 4800 x 1200 DPI (color); 1200 x 1200 DPI (B/W) | Print, scan, copy, fax | |
| HP Envy 4520 | 9.5 PPM (black); 6.8 PPM (color) | 4800 x 1200 DPI (color); 1200 x 1200 DPI (B/W) | Print, scan, copy | |
Best HP Photo Printer Reviews
1. HP Sprocket Studio Photo Printer
This device enables you to instantly print 4 x 6 inches photos straight from your smartphones using the HP Sprocket app and Bluetooth. If things couldn't get any better, it produces photos that are waterproof and smudge-free and has an amazing archival life of up to 100 years.
It can even be used cordlessly with the portable optional battery and you can easily use its power bank to recharge the device when you're on the move. The HP Sprocket app even enables you to edit your photos with stickers, frames, doodles, and available templates before printing.
It produces sticky-backed images with resolutions of up to 300 DPI and is Energy STAR certified to save energy. The Sprocket app also allows you to add videos to your photos so that you can relive them in augmented reality whenever you feel like taking a trip down memory lane.
Highlighted features
Direct print from phones via Bluetooth
Portable with rechargeable battery
Produces sticky-backed images
Photos have high archival life of up to 100 years
2. HP ENVY 5055 Wireless All-In-One Photo Printer
This particular inkjet product may easily be synonymous with the term "consumer-friendly." It takes under 5 minutes to install and features a monochrome touchscreen which helps you to quickly perform all the important functions without struggling.
The device is capable of handling a wide variety of paper sizes and materials to meet all your versatile requirements. Resolutions of up to 1200 x 1200 DPI for monochrome and 4800 x 1200 DPI (color) produces crisp, clear, and high-quality printresults.
With printing speeds of 7 PPM (color) and 10 PPM (B/W), it can scan and copy as well. The auto-duplex feature helps you to print double-sided pages effortlessly; while saving energy, time, and paper waste. Bluetooth Smart and dual-band Wi-Fi ensure unrestricted and secure connectivity.
This device has the capacity of printing up to a thousand pages per month. It enables wireless/mobile printing via AirPrint, Mopria, HP ePrint, and voice commands via Google Assistant or Alexa.
You can scan files straight from your phone's camera and link it to up to 5 devices at the same time. Print instantly from your social network or cloud as well using the HP Smart App.
Highlighted features
Easy to install and use
High-quality monochrome and color prints
Touchscreen monochrome panel that is simple to use
Voice-control is supported
3. HP OfficeJet Pro 8035 All-In-One Wireless Printer
This does everything when it comes to printing, copying, scanning; and faxing too. Built-in Automatic Document Feeder (ADF) and automatic-duplex features can make your life easier and more stress-free. Voice-enabled printing can also be used for a more interactive experience.
You can run your functions at a super-fast printing pace of up to 20 PPM for black and 10 PPM for color prints. Its 4800 x 1200 DPI resolution is capable of producing clear, precise, crisp, and high-quality outputs. It is also easy to use with a few quick swipes and taps on the color 2.65 inches touchscreen.
This device can delete repetitive tasks and sync to Quickbooks, Google Drive, etc. via Smart Tasks, which will make arrangements of your documents 50 percent faster. You can access to both printing and scanning services on the move and monitor ink levels with the help of the HP Smart app.
It even comes with primary security features, including Wi-Fi security, basic encryption, and password and document protection. This model also supports Ethernet networking along with standard wireless and mobile printing via Wi-Fi Direct, Wi-Fi. Mopria and AirPrint.

Highlighted Features
Includes essential security features
Voice-activated printing mode available
65 inches color touchscreen
50% faster arrangement of documents via Smart Tasks
4. HP Officejet Pro 9025 All-In-One Wireless Printer
Another HP model that could surely provide your office the update it deserves. You can print, copy, scan, and fax away like a pro along with its 35-page ADF and automatic-duplex feature. It is 39 % smaller and is up to twice as faster in scanning than the HP OfficeJet Pro 9010 series.
Shortcuts can be created easily and it can also sync to QuickBooks, Google Drive, etc. via Smart Tasks to efficiently digitize and arrange photos on your printer or phone. High resolution of 4800 x 1200 DPI guarantees spectacular, vibrant and accurate print quality with up to 24 PPM fast printing service.
This device and its ink levels can be accessed, operated, and monitored on-the-go with the help of the HP Smart app and you can scan documents directly in the cloud. Just browse and modify them later just ahead of printing. It delivers professional-quality pictures with a borderless print just at your fingertips.
With a duty cycle of up to 30,000 pages per month, your devices and confidential data will remain secure with built-in security specifications. Some of them include simple encryption, document and password protection, Wi-Fi security, etc.
You can also scan straight to email or print photos directly from USB drives. With self-healing Wi-Fi and Ethernet networking and Wi-Fi, you can expect the highest consistent output from one of the bests on the market at present.

Highlighted Features
Self-healing Wi-Fi for a more reliable connectivity
Directly scans documents into the cloud which can be searched and edited
Can scan straight to email
High resolutions and speed
5. HP Envy Photo 7155 All In One Photo Printer
This product can generate outputs of exquisite quality with precise and clear text/photo resolutions of 4800 x 1200 DPI for color and 1200 x 1200 DPI for black. It also has decent printing speeds of 14.5 PPM (black), 9 PPM (color); and has a monthly printing capacity of around 1000 pages.
You can even make high-quality copies with resolutions of up to 600 x 600 DPI (color) and 300 x 300 DPI (black). This consumer-friendly model has a 2.65 inches color touchscreen for comfortable operation. Its auto-duplex feature adds more convenience while also saving paper.
An included SD card slot helps you to increase the capacity of this device further. HP Instant Ink subscription will enable you to print stunning borderless images for less than 5 cents each. It's all about providing a smooth, reliable, and straightforward operation to satisfy all your printing demands.
Dual-band Wi-Fi plus Bluetooth Smart ensures that you can count on an undisturbed wireless connectivity. This product can be used for scanning right from your phone's camera using the HP Smart app; as well as for printing photos straight from the cloud or social media.

Highlighted Features
Can directly scan from phone's camera with the help of HP Smart App
Comes with an SD card slot to support SD cards
Reliable wireless connectivity via Bluetooth Smart and dual-band Wi-Fi
Great print and copy resolutions
HP Photo Printer Buying Guide
Paper Handling
Most printers typically support A4 sizes, but choose models that support different sizes and materials for increased flexibility. Bigger paper trays generally possess higher paper capacity for supporting high volumes.
Aim for models with auto-duplex feature for automated dual-side printing on each page without you having to flip them manually. Automatic Document Feeders (ADF) Printers are also a suitable way to handle heavy-duty printing to save time and for a trouble-free experience.
Print Speed And Output Quality
Just go for higher printing speeds for high-volume printing. Look at the resolutions for both color and B/W. The higher the value of dots per inch (DPI), the better the resolution and the better the photo quality. Colored print resolution is more important if you mainly need colored and photographic materials, and vice versa.
Monochrome Printing Capacity
You need to consider if you'll be printing B/W or grayscale photos which many printers fail to handle properly. The most typical weakness is a tint, or various color shades of gray.
If you would print B/W pictures, you'll need to test the accuracy of the printer's B/W or monochrome outputs along with the quality of its color photographs. Most often, this is a concern for focused, rather than near-focused photo printers, but you do need to consider it in both cases.
Connectivity Options
Keep an eye out for extra connectivity options; such as wireless services, along with conventional USB support. Make sure that the product supports all your smart devices and operating systems that you are likely to work with-including android, iPhones, mac, windows, etc.
Ink Quality
There are two types of inks for a color printer:
Inks based on coloring agent
Inks based on pigment
Inks based on coloring agents are a cheaper alternative if you can afford to compromise on quality. By sacrificing quality, we imply that the ink-based coloring agent is less immune to light exposure, whereas the pigment-based inks are more resistant and yield the finest results.
An ink-based on coloring agent comes with a few benefits. But if you're looking for studio-quality images, you can't depend on it because it can't support intense colors and the colors also disappear upon prolonged exposure to light.
But the bonus is that if you use it to on paper, it performs like laser printing, producing thin prints.
Pigment-based inks are more superior if you're aiming for higher quality photos that will last longer. The range of colors is vast for these types of inks and hence, the prints are more vivid. And some of the best HP printer for photos use pigment-based inks to provide you the finest quality photos.
Duty Cycle
Each device has a capacity of how much it can print per day or month. Pick a model that has a capacity that suits your monthly requirements. Focus on the recommended volume instead of on the maximum capacity to avoid overworking and declining the lifespan of your device.
Conclusion
Pictures capture the favorite moments of our lives, so it's important for anyone to be able to look at them forever to revisit those moments.
When we can look at a beautiful picture, we are reminded of our favorite memories. And that is where high-grade photo-printers come to play their role.
Some of the best HP photo printers were discussed here just to aid your buy. Now that you know by now what aspects you might need, gear up and print away to your heart's content!