Like the other good things in life, your printer isn't going to last forever either. No matter how many memories you have with it or how greatly you've been benefited from it, there will come a time when the device will serve you no more.
Unless you're fond of hoarding junks, you'll have to get rid of it. But how to do that safely?
Like other kinds of trash, you can't just throw it away. Well, you can but that wouldn't be an eco-friendly option.
Even if your old printer is still functional but you've got your eyes on a newer model, you can effectively recycle the old one. But how?
In this article, we've discussed how to recycle a printer. So, if you'd like to know more, stay tuned with us.
Why Should You Recycle A Printer Properly?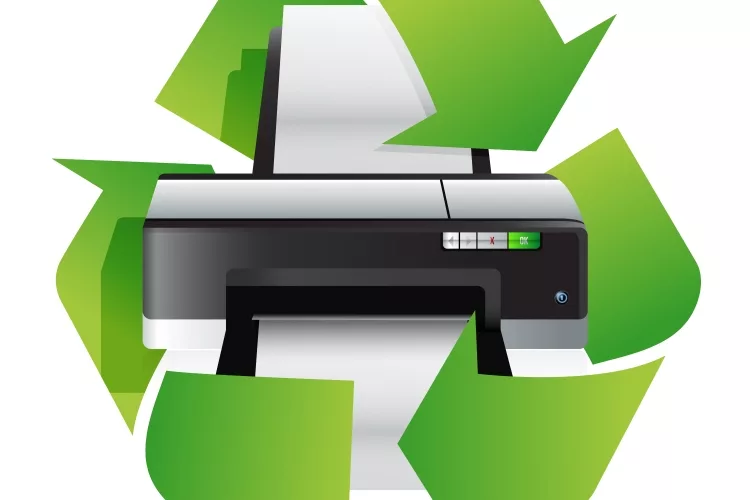 Ink cartridges of printers contain chemical substances which may jeopardize nature in case of mishandling.
The toner cartridges use approximately 3.5 liters of chemical and may need nearly 1,000 years to be decomposed. By properly recycling a printer, you keep harmful elements like mercury away from nature.
It also helps to recover non-renewable resources like steel, copper, aluminum, etc.As a result, it can lessen the need for mining minerals from the grounds.
Recycling metals and other materials require reduced energy than going through the whole procedure of mining and processing the raw materials.
Finally, if you dispose of them irresponsibly, you may even have to go through legal repercussions.
How To Recycle Printer Cartridges
If you don't like to reuse ink cartridges, there's always an option for recycling. Moreover, at the end of your printer's lifespan, if you want, you can recycle the cartridges separately instead of dealing with them as a whole.
This is not an intimidating task. There are numerous retailers who buy used cartridges. You can sell it to them and cash out some bulks. If you don't have enough time to drop by those places, you can send the cartridges through the courier service.
You may also donate it to any nonprofit organization that you think could be benefitted from these.
How to Dispose Of Waste Toner
You should never treat e-waste like regular wastes. You should always get rid of it safely. It's beneficial for you as well as our nature. By correctly disposing of toners, you can eradicate wastage to a significant extent and contribute to the greater good.
Whom Can You Rely Upon For This Purpose?
You can contact the original manufacturers of the toner brand you use. Several renowned brands conduct their very own recycling programs to eliminate wastage. You can participate in it. Just call them or check their website.
If that's not a convenient option, you can contact a local company. There are numerous retailers who work with obsolete computers, printers, monitors, empty cartridges, etc.
What To Do Before Handing The Toner Over To Retailers Or Manufacturers?
Take out the remainder of the toner cartridge from your printer.
If you still have its box, see if there's any contact number in the box. Some toner manufacturers include the details of their recycling programs so that the customers may return the used cartridges without any hassle.
Now, keep the toner inside the box (in case you don't have the original box, get a new one).
Tape the box carefully.
Write down the mailing address of the manufacturer or retailer on the box.
Call the carrier number (I.e., FedEx or UPS) and you're good to go.
How To Recycle Printers
Now, let us move on to the bigger fish- that's how to recycle a whole printer. The procedure is more or less similar to disposing cartridge.
1. Return It To The Place You Bought The Printer From
As mentioned before, many manufacturers have a recycling program for used and old office supplies.
So, call them and ask if such an option is available. If they do, send your printer to their mailing address or if it's nearby you can deliver the device on your own.
As a cherry on top, if you're buying a new model, because of the exchange, you can have some discount on your purchase.
You may also check with Staples, BestBuy or Target. If you're in the US, know that you can take their service. Just drop your printer at the store and the rest will be taken care of.
If you don't want that, you may look for other local retailers as well who collect obsolete computer parts. Also, depending on where you live, you may look for an e-waste center.
You can find out if there's any nearby e-waste center from the internet. If there is, just contact them and they'll be at your doorstep to pick the printer.
However, you'll have to pay them a small amount for the service. If you don't want to spend money, you can always drop off the printer at your convenience.
4. Donate The Printer
Like the rest of your old goodies, you can also donate your printer to a goodwill or charity foundation. You may visit their office or call them to ask if they'd like to receive your donation. Some organizations may even be willing to pick it up from your place.
Nevertheless, make sure your printer is still functional and doesn't look like it has been through havoc. You don't want to send out a damaged product for a good cause, do you?
5. Sell The Printer
Yes, there's no shame in counting some extra bucks by selling your outdated equipment. But where can you sell them?
Local Refurbishment Shops:There are plenty of repair shops and companies that purchase broken electronics and resell them by refurbishing them. So, you may lookout for any such shops nearby.
Digital Marketplace:If you fail to find one, put it on any digital marketplace such as Craigslist or eBay. Just take a decent picture of your printer, write down its model and basic specifications and post it online.
Buy And Sell Groups On Social Media:There are also several buy and sell groups on different social media. You may post advertisements on there as well. But make sure not to overhype your printer and conceal any issues. Otherwise, it may have to face unwanted consequences.
Conclusion
So, these are some of the tried and tested methods of recycling an old printer. You can't just throw your printer in the trash for it'll be an irresponsible job.
So, as a responsible citizen of our country, we all should care about the environment and know how to recycle a printer properly. This way, we can rest assured that we're not make things worse for already decaying earth.