It's always a great idea to purchase the most versatile large-format printer that your business can afford to serve various roles in the company. But with all the things that the best large format printers are capable of getting done, the idea can only get so far.
Whether for the basics (posters, banners, and in-store promotional materials); or for designing photo-realistic pictures for product launch, printing on fabrics for fashion shows, or outdoor components for the launch event of your new store-you need to use large printers that are designed for those particular purposes.
If you're looking to buy a large format printer at some point in the foreseeable future, you've landed on the right spot. Even though they might seem more complex on the surface than your usual, small office gear, but it's actually not. And we, are just about to prove that.
Editors' Picks for Top Large Format Printers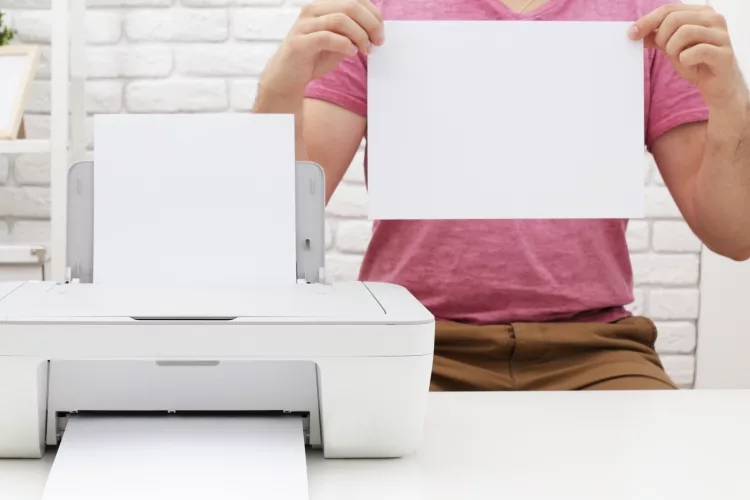 List Of Top Large Format Printers
5. Epson Expression Photo HD XP-15000
8. Canon PIXMA Pro9000 Mark II
Comparison Chart For Top 10 Large Format Printers
| PRODUCT | SPEED | PRINT RESOLUTION | FUNCTIONS | PRICE |
| --- | --- | --- | --- | --- |
| WorkForce WF-7710 | 18 PPM (black); 10 PPM (color) | 4800 x 2400 DPI | Print, copy, scan, fax | |
| Canon Pixma iX6820 | 10.4 PPM (color); 14.5 PPM (black) | 9600 x 2400 DPI | Print only | |
| Brother MFC-J6545DW | 22 PPM (black); 10 PPM (color) | 4800 x 1200 DPI | Print, copy, scan, fax | |
| Canon Pixma Pro-100 | 5.20 PPM (black); 3.35 PPM (color) | 4800 x 2400 DPI | Print only | |
| Epson Expression Photo HD XP-15000 | Up to 9 PPM (color); 9.2 PPM (black) | 5760 x 1440 DPI | Print only | |
| Epson WorkForce WF-7720 | 18 PPM (black), 10 PPM (color) | 4800 x 2400 DPI | Print, copy, scan, fax | |
| HP OfficeJet Pro 7740 | 22 PPM (black); 18 PPM (color) | 4800 x 1200 DPI (color); 1200 x 1200 DPI (B/W) | Print, copy, scan, fax | |
| Canon PIXMA Pro9000 Mark II | 11 x 14 inches color photo ≈ 1 minute 23 seconds | 4800 x 2400 DPI | Print only | |
| Epson Artisan 1430 | 2.8 PPM | 5760 x 1440 DPI | Print only | |
| HP Envy 4520 | 4 x 6 inches picture: 42 seconds; 11 x 14 inches picture: 1 minute 51 seconds | 5760 x 1440 DPI | Print only | |
Best Large Format Printer Reviews
1. Epson Workforce WF-7710 Wireless Wide-Format Color Inkjet Printer- Best Large Printer
With its all-in-one capability to print, scan, fax, and copy, this device is particularly suitable for home usethat can be utilized by up to 5 individuals at once. 10 PPM (color) and 18 PPM (black) print speeds along with a 4800 x 2400 DPI resolution can give you great-quality and extremely detailed prints.
It has a maximum capacity of printing 20,000 pages per month (1300 advised). The model also offers automatic-duplexing and 35-page ADF to make your tasks much more efficient. This Epson inkjet device can also support a wide variety of paper dimensions and materials.
This even enables wireless and mobile print through NFC, Ethernet, Fire OS, Epson Email Print, Google Cloud Print, Epson Remote Print, AirPrint, Epson iPrint Mobile App, etc. Thanks to its 4.3 inches color touchscreen, the device is effortless to monitor and use.
Energy STAR certification assures that electricity is saved. It is even more cost-effective for your flexible printing needs as it uses 80 percent lesser energy than most laser color printers.

Highlighted Features
Auto-duplexing feature and ADF facilities
Impressive duty cycle
Ethernet, NFC and Fire OS supported too
80% less energy usage than laser color printers
2. Canon PIXMA IX6820 Wireless Business Printer
This remarkable Canon prototype can deliver an outstanding resolution of 600 x 600 DPI for black and 9600 x 2400 DPI for color. It will also aid in providing you the most exquisitely vibrant and detailed prints.
The device has a remarkable printing pace of a maximum of 14.5 PPM in black and 10.4 PPM in color. It comprises of five separate high-performance inks, one of which is a pigmented black ink for producing brilliantly clear and crisp textures.
You can print right from your suitable devices through the complimentary PIXMA Printing Solutions (PPS) software. It will also let you organize and modify your photos before printing with the software called "My Image Garden".
The ChromaLife100 + system along with the original Canon Photo Papers could be used for printing breathtaking borderless photos with an archival lifespan of up to 300 years.
The device even supports Ethernet networking along with built-in wireless connectivity and mobile printing through Google Cloud Print and AirPrint. You can save money and time too via its Automatic on/off facility; and its Quiet Mode will let you work away like a pro without noise.

Highlighted Features
Its photos have an archival life of up to 300 years
Organize and edit pictures via My Image Garden Software before printing
Amazing color resolution of up to 9600 x 2400 DPI
Automatic on/off and Quiet Mode facilities
3. Brother MFC-J6545DW Inkvestmenttank Color Inkjet All-In-One Printer- Best Large Format Inkjet Printer
With this device, you can print, copy, scan, and fax to fulfill all your professional needs. It comes with impressive speeds of 22 PPM (black) and 20 PPM (color). With a monthly cycle of up to 30,000 sheets, this product can deliver high-quality prints at all times with a resolution of 4800 x 1200 DPI for both B/W and color.
It consists of 4 specific large-yield cartridges for greater cost-effectiveness and high-quality quality printing. You can even print for under $0.05/page (color) and under $0.01/page (black) by selecting 'INKvestment Tank cartridges' which possess ultra-high capacities.
This model will enable you to boost your productivity with its ability to handle a versatile range of paper types and sizes of up to 11.7 x 17 inches. It is also equipped with a 50 page ADF, auto-duplex feature and has a 250-page paper tray to amplify your efficiency and convenience.
The color 3.7 inches touchscreen is straightforward to use. It has exceptional scan and copy resolutions of 2400 x 1200 DPI and 4800 x 1200 DPI respectively. Mobile and wireless printing is supported as well through Mopria, AirPrint, Google Cloud Print, Ethernet, Brother iPrint&Scan, Wi-Fi and Wi-Fi Direct.

Highlighted Features
High-resolution printing, scanning and copying
4 separate cartridges for boosting cost-effectiveness
Both color and B/W prints have high-speeds
7 inches color touchscreen
4. Canon PIXMA Pro-100 Wireless Color Professional Inkjet Printer
8 individual ChromaLife 100 + inks are going to offer you spectacular gradients and color. Three out of the eight inks are crafted for grayscale prints and stunning B/W printing. They create an improved, dark black density to enhance the quality of professional printing while providing a strong grayscale style of photography.
Optimum Image Generation System can duplicate the colors of your desire by picking the accurate blend and location of the ink. The most gorgeous details can be developed by 4800 x 2400 DPI resolution and fine technologies.
It takes about 51 seconds for printing 8 x 10 inches of bordered image on A4 paper and 1.5 minutes to produce 11 x 14 inches of bordered image on A3+ paper. PictBridge connection enables you to print images directly from compatible devices such as video cameras, mobile phones, digital cameras, etc.
This device can be used simultaneously by up to 5-10 users and can also print on CDs / DVDs. It supports a vast array of paper materials and sizes and even features an ADF for an efficient, effortless, hands-free printing experience.

Highlighted Features
Computer-free experience via PictBridge connection
Prints CD/DVDs
3 out of the 8 individual inks are specialized for greyscale photos
OIG system can replicate desired colors
5. Epson Expression Photo HD XP-15000 Wireless Color Wide
The model comes with 6 separate Claria photo HD inks, which includes both red and gray inks for a broader range of colors and enhanced B/W prints. It is suitable for homeor personal use with its resolution of 5760 x 1440 DPI and printing speeds of 9 PPM for color and 9.2 PPM for black.
The product facilitates Ethernet networking along with mobile and wireless printing via AirPrint, Epson iPrint, Google Cloud Print, Mopria, Wi-Fi Direct, etc. It is equipped with auto-duplexing, a 200 sheet front tray, and ADF for providing increased efficiency and ease of use.
This gadget might just make printing simpler for all your professional projects with these features. It is compact to save your desk-space and simple to use with its LCD 2.4 inches screen along with buttons. Its Energy STAR certification strives to conserve energy while you're working away through your task smoothly.

Highlighted Features
Compact design saves desk-space
Dual paper trays for supporting specialty and ordinary media
Energy STAR certified
4 inches touchscreen along with buttons for easy operation
Large Format Printers Buying Guide
Some of the same considerations that you weigh when choosing your office/home printer apply here as well. The purpose of this guide is to help you identify 5 main; yet basic considerations to keep in mind while making your buy.
Types Available
Large format printers are usually available in either of the two configurations: multi-function or printer-only.
Printer-only setups just print digital files either from a user's computer, from its history list, or a USB drive. Multi-function ones on the other hand are capable of scanning, copying and sometimes, faxing too. So choose a configuration that serves your needs.
Color Or Monochrome
Like a home/office printer, large-format printers possess the ability to print in color, monochrome, or both. When you print a mix of monochrome and color, is it better to own a monochrome and a color printer or just a color printer that does both?
Well, with lower print rates, the output costs of most devices would be the same for monochrome and color printing. Only when you have to print larger volumes is it really necessary to focus on having two printers instead of one.
Performance And Speed
Youshould opt for faster devices if you're a regular user with high-volume requirements and vice versa. Most comparable rated models would have almost identical specifications of speed; however, their performance can differ considerably.
The printing rate, however, should be taken into account more in case of printing text files. It is important to recognize and accept that greater-quality photos require more time to print.
Image Quality
When you think of large format printers and picture quality, the very first thing that probably comes to mind is resolution, which is represented in DPI (dots per inch). The more the dots, the better the photo is created and greater resolution printers are more costly.
If you wish to have fine quality prints, opt for a reasonable resolution. It is recommended that a minimum resolution of 4800 x 2800 DPI be selected to achieve optimal quality outputs.
Even so, greater resolution doesn't always automatically mean the highest quality. The way they process data is as critical as the printing technology itself.
For large-format monochrome printers, regardless of what media is used, the quality of the print is almost the same. However, in case of a color inkjet printer, quality may vary considerably depending on your choice of media.
When printing on photo or glossy papers against bond papers, fluctuations in the quality and color performance of thin and fine lines may occur.
Costs
Make sure you get the most out of your gadget by investing as little as possible. Replacement of ink/toner and energy consumption would add more to the cost. Ensure that the correct inks/toners of your desired product are cost-effective and readily available.
Energy-saving products are always a nice bonus. Analyze the operations and maintenance facilities as well that could be rendered by the company or by other means.
Conclusion
For when your regular, letter-sized printers aren't cutting it anymore and you need something edgier and bigger, a large format printer could just be your next pal.
They can open a domain of possibilities like no other; starting from the creation of professional graphics, presentations, advertisements, and more. Your gadget is going to be more than just an accessory sitting at the corner of your office/home.
So in your hunt for the best large format printers out there, hopefully we could shed some light on what to look for along with some of the finest ones in the market to aid your buy.