For the perfect immersive gaming spree, the impact of the game audio is quite the significant attribute to consider. The TV sound may just not cut it. Or, the sound just isn't projected and spread the way it should have been able to.
And in such cases, a proper sound-emission is what can make all the difference in your gaming encounters. Regular speakers of the old ages simply aren't good or trendy enough; while the hassle of home theatre accessories might be too much for your wallet and room aesthetics.
This where the perfect soundbar comes to save the day for you and the rest. So, let's take a dive into everything we ought to know in scoring the best PS4 soundbar for your loved one or yourself.
Top Ps4 Soundbar 2021 by Editors' Picks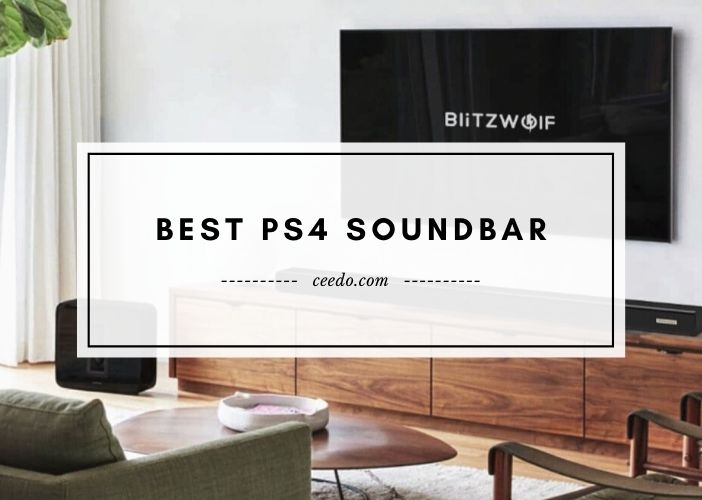 List Of Top PS4 Soundbar
5. Samsung Harman Kardon (HW-Q90R/ZA)
Comparison Chart For Top 10 PS4 Soundbars
| IMAGE | Name | Sound | Connectivity | Speaker | Check Price |
| --- | --- | --- | --- | --- | --- |
| | Sony HT-S350 | Virtual Surround Sound Technology: S-Force Pro | HDMI ARC, HDMI, Optical, Bluetooth | Wireless subwoofer | |
| | Sonos Beam | N/A | HDMI ARC, | 4 woofers | |
| | Soundcore Infini Pro | Dolby Atmos | HDMI ARC, HDMI, Optical, Bluetooth 5.0 | 2 Mid-range drivers, 2 subwoofers built-in, & tweeters, dual bass reflex ports | |
| | Yamaha YSP-5600BL | DTS:X and Dolby Atmos | HDMI, Bluetooth, Wi-Fi, Spotify Connect, MusicCast, Airplay | 4 tweeters, 2 woofers, and 2 integrated subwoofers | |
| | Samsung Harman Kardon (HW-Q90R/ZA) | DTS:X and Dolby Atmos | HDMI, Bluetooth, Optical | Wireless Subwoofer and 2 wireless rear (17 built-in) | |
| | Bomaker | 3D surround | USB, Optical, Coaxial, AUX, Bluetooth | 4 20W drivers and wireless subwoofer | |
| | Yamaha YAS408BL | DTS Virtual: X virtual 3D surround | HDMI, HDMI ARC, Bluetooth, Ethernet, Stereo Mini, Digital Optical, AirPlay | 2 tweeters, 4 woofers, wireless subwoofer | |
| | Sony Z9F (HT-Z9F) | Vertical Sound Engine, DTS:X, Dolby Atmos | Bluetooth, Wi-Fi, HDMI | Wireless Subwoofer | |
| | Sony S200F (HT200F) | Surround S-Force Pro Front | HDMI, HDMI ARC, | Built-in subwoofers | |
| | Yamaha YAS-108 | DTS Virtual: X Virtual 3D surround audio | HDMI, HDMI ARC, Stereo Mini, Digital Optical, Bluetooth | Two of each: tweeters, woofers, built-in subwoofers | |
Best PS4 Soundbar Reviews
1. Sony HT-S350 Soundbar | best soundbar for ps4 pro
From quite the renowned brand, this particular soundbar sure is a great choice to elevate your gaming experience. Whether for your PS4 or other devices, this model is effortless to set up and offers the widest array of connectivity options. These include the HDMI ARC, HDMI, Optical, and Bluetooth.
Thanks to its 2.1 audio channels and included wireless subwoofer, the sound output is spectacularly immersive with rich bass. To top things off, its Virtual Surround Sound Technology: S-Force Pro creates surround effects fit for theatre, transporting you entirely into the world of your favorite games.
The device includes a Voice Enhancement feature for masking background noise like a pro, thus ensuring enhanced audio clarity. Besides having a unique sound mode for gaming, this device by Sony possesses six other audio modes to choose from.
Go ahead and take a pick from Game, Auto Sound, Music, Cinema, News, Standard Audio Mode, & Sports modes as you desire. Hence, it ensures no matter what purpose you intend to use if for aside from playing your favorite PS4 games, you are provided nothing less than a premium experience.
Highlighted Features
Virtual Surround Sound Technology: S-Force Pro audio for pro performance
Voice Enhancement feature for enhanced clarity due to background noise reduction
7 sound modes to choose from
Wireless subwoofer included for elevated bass outputs
2. Sonos Beam | best soundbar for gaming ps4
Featuring a sleek design with dimensions of 25.6 x 2.7 x 3.9 inches, this compact model weighs only 6.35 pounds. Hence, whether you find it comfortable to mount or place near your PS4, you are good to go either away. It is super-easy to set up and get started with your gaming just within minutes from being unboxed!
To make your life a luxury, this model is compatible with Amazon Alexa, ensuring hands-free control of your sounds effortlessly even when you're mid-gaming. It can also be operated via the Sonos application or remote according to your convenience.
This model offers the widest variety of cabled and wireless connectivity options which are HDMI ARC, HDMI, Optical, Ethernet, Wi-Fi, AirPlay 2, etc. Its compact and slim design looks perfect sitting or mounted near your TV, and that too, without blocking anything or hanging off.
The built-in speakers consist of 4 woofers with full-range and 1 tweeter for amazing sound outputs. Feel free to equip it with additional Sonos speakers to further upgrade your gaming experience should you desire.
Highlighted Features
Compact, sleek, and lightweight ideal for wall-mounting as well
Voice control via Amazon Alexa
Can be accessorized with additional speakers available separately
Controllable via Alexa, Sonos app, or remote
3. Soundcore Infini Pro | best soundbar for playstation 4
This device is easily a great option to go for and has it all to become your dream gaming partner. With two subwoofers already built-in, it involves no hassle of losing extra space while providing your with quite the stellar bass of up to 105dB.
Thanks to its 2.1 channel speakers composed of two mid-range drivers, dual tweeters, and dual bass reflex ports, you are sure to receive the perfect audio emissions to compliment your PS4 like a boss. And we are all aware that nothing beats Dolby Atmos sounds, right? And that is exactly what this model possesses.
The device produces a theatre-standard sound and offers three audio modes to pick from- Voice, Movie, and Music. The Soundcore application enables you to not only switch audio modes effortlessly but also lets you control the volume or pick a source of input.
Flexibility when it comes to connectivity makes life easier as it supports it all! HDMI ARC, HDMI, Optical, Bluetooth 5.0, etc. all facilitate you to conveniently connect to your PS4 in a breeze, along with other devices too! So why wait any longer?
Highlighted Features
Dual built-in subwoofers for bass of up to 105dB
Theatre-standard sound with three audio modes- Voice, Movie, and Music
The Soundcore application facilitates easy and convenient operation
Versatile connectivity options for all you'll ever need
4. Yamaha YSP-5600BL
This is easily one of the top options you could opt for as it is one of the first-ever soundbars in the world that possesses 7.1.2 channels. With the power of DTS:X and Dolby Atmos audio, it easily has it all to provide the most immersive gaming experience while you binge away for hours on your PS4.
It comes with dual subwoofers already built-in for providing superb bass without the hassle and space consumption. This model offers a flexible array of connectivity options which include HDMI, Bluetooth, MusicCast, Wi-Fi, Spotify Connect, and Airplay.
With dimensions of 3.70 x 43.30 x 8.40 inches, it perfectly complements your TV and game setting with its slim and sleek design. The device's speaker contains 46 drivers for providing magnificent audio every time. Adding separate subwoofers or speakers are always welcome to further elevate the experience.
It works with Amazon Alexa as well if you choose to add Alexa devices separately. It thus enables you to enjoy the utmost convenience even when you're busy battling away the boss level in your favorite PS4 game!
Highlighted Features
1.2 channels for superb audio emission
Versatile connectivity options including HDMI, Bluetooth, MusicCast, Wi-Fi, Spotify Connect, and Airplay
Speaker with 46 drivers for stellar sounds
4 tweeters, 2 woofers, and 2 integrated subwoofers
5. Samsung Harman Kardon Soundbar HW-Q90R
For those who love all things Samsung, the HW-Q90R soundbar is sure to make your day. With dimensions of 48.26 x 3.26 x 5.35 inches, it perfectly complements your TV and PS4 without compromising the aesthetics of your room. With a phenomenal 7.1.4 channels, the emission of audio simply can't get any better.
The device possesses DTS:X and Dolby Atmos sound to provide a premium experience that is unbeatable. It comes equipped with 17 integrated speakers accompanied by a wireless subwoofer. Out of the 17 speakers distributed among the device itself and the two wireless speakers, four of them fire sound upwards.
This ensures all-around sound even more which is sure to elevate your gaming sprees to a pro-level. Regardless of how low the volume of the sound, the Adaptive Sound technology provides optimized clarity and sound at all times. Along with Harman Kardon's expertise in sounds, audio is impeccable every time!
With HDMI, Bluetooth, Optical, etc. connectivity options to choose from, setting up & getting started is as simple as 1-2-3. Compatibility with Amazon Alexa also ensures a hands-free convenience.
With so many perks to enjoy, there is absolutely no reason why this device shouldn't have a home in your world of gaming and entertainment.
Highlighted Features
Magnificent sound emission via 7.1.4 channels
Total 17 speakers out of which, four are upward-facing
Teamed up with Harman Kardon's expertise in sounds
DTS:X and Dolby Atmos sound along with Amazon Alexa convenience
PS4 Soundbar Buying Guide
Compliance
Since you are out and about for accessorizing your PS4 for an enhanced performance, ensure that the model you have chosen is compatible with your gaming console. Most devices are compatible with the widest range of devices such as TVs, laptops, gaming consoles, and even smartphones, etc.
Connectivity
This is where, along with the compatibility of the soundbar, comes the connectivity palette it offers. HDMI, USB, etc. are your standard options. But HDMI ARC interface enables connectivity to both your device and TV via just one cable while offering more control.
Wireless connectivity is always the smarter choice as these allow you to connect even your tablets, smartphones, etc. Hence, look out for both wired and wireless alternatives including Bluetooth, Wi-Fi, AirPlay, HDMI ARC, HDMI, USB, optical, coaxial, stereo mini, etc.
For when you intend to connect multiple devices to your soundbar at once, the safer and more hassle-free move would be to choose one with numerous HDMIs. It saves you the trouble of repeatedly connecting and reconnecting cables or waiting until the port is free.
Quality Of The Sound
The best soundbar for PS4 must provide a top-notch degree of sound for ensuring a premium gaming experience. The sound quality and performance are the first things to consider; which involves the following- channels, audio type, subwoofer, speakers, & power.
The channel represents the exit or emission points of the audio from the soundbar; and the more the channels, the better. This is mainly because it ensures more of a surround sound that allows the audio to spread evenly everywhere. Powerful and numerous speakers further amp up the sound quality than ever before.
The more power your chosen device possesses, it is expected that the strength and clarity of the sounds will improve. Subwoofers may come already integrated into the device, separately as wireless or cabled, or not come with your chosen model.
Bass is not the most important feature to keep in mind when it comes to PS4 gaming. Hence, it's a plus if they come included or already built-in. Separately purchasing them aren't really necessary for your gaming requirements.
Try your best to choose a model with Dolby Atmos sound or Dolby decoder for the ultimate immersive sound quality. This is because nothing else performs better.
Some extra sound features to further enhance the sound output is welcome always. Examples include voice-enhancement technology, background noise reduction, etc.
Conclusion
Nothing should ever get in the way of you enjoying the perfect gaming or other entertainment encounters. A soundbar really is such an upgrade that provides a whole new level of cinematic and immersive experience with rich, velvety sounds to wow your socks off. That too with minimal expenses and hassle.
And if you really did bear with till now, choosing the best PS4 soundbar will no longer be that much of a challenge to be afraid of.