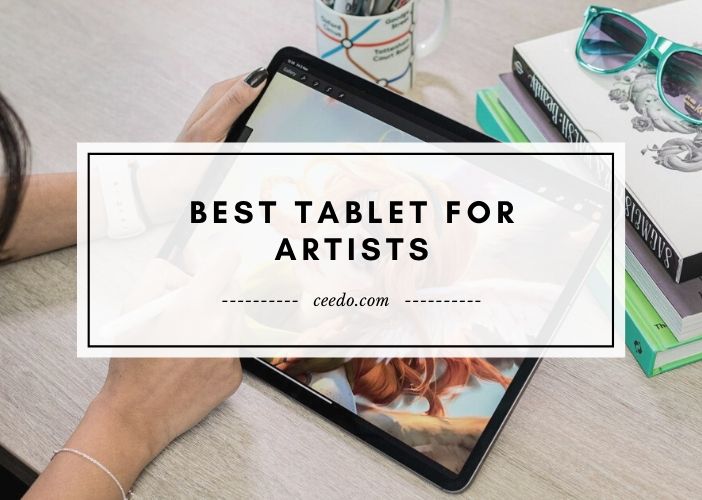 Tablets have become a wonderful way for artists to unleash their creativity in this modern age. Whether you're an amateur who draws or paints as a hobby or a pro, such tablets are definitely a godsend in either case.
Not only are you exempted from the hassle of endless canvases, paints, brushes, color pencils, etc. But you can enjoy more enhanced levels of sophisticated features too that you never knew could exist.
Creativity can bloom in the minds of artists at any moment of any day no matter where they are. So, specialized tablets for artwork don't let your "being away from your home or studio" get in the way of expressing your creativity. This is because they all come in highly portable sizes and with long battery life.
Regardless of your experience levels, if you're a creative individual convinced to get yourself the best tablet for artists, this article is for you.
Choosing from the endless crowd of tablets in the market today without knowing what to look for is undeniably an overwhelmingly daunting task. But we're about to make it a whole lot easier.
Comparison Chart For Top 10 Tablets For Artists
Best Tablets For Artists Reviews
1.Microsoft Surface Pro 7 | Best Tablet For Artwork
Powered by Intel Core i5, this device comes with a 12.3 inches display with a phenomenal resolution of 2736 x 1824P. Hence, you can expect nothing less than the most stunning quality visuals to unleash your creativity.
This device has a high-capacity battery life that can support up to 10.5 hours, Instant On feature, and super-fast charging. Hence, it will ensure that there are no delays as soon as your inspiration hits. It possesses the Windows 10 Home OS and facilitates both USB (dual) and wireless (Bluetooth 5.0) connectivity.
It is super sleek and portable and has the ability to adapt according to your comfort and environment into laptop, studio, or tablet modes. You can also accessorize this tablet with the Surface Pen and Surface Arc Mouse by purchasing them separately for a more realistic drawing feel and laptop setting.
This beast is also equipped with 8GB ram for flawlessly smooth operation with zero lag and a large storage capacity of 128GB. Hence, you can bid farewell to all worries of where to save all your bulky-sizes artistic creations.
Highlighted Features
Marvelously high display resolution
Dual USB and Bluetooth connectivity
Instant On feature for efficiency
High battery life with fast charge
2.Huion KAMVAS Pro 16 | Best Pen Display Tablet
With an HD resolution of 1920 x 1080P, the KAMVAS Pro 16 comes with a large display of 15.6 inches which is fully encased in an Anti-glare glass. This will enable you to work prolonged hours without straining your eyes. The device is also easy to use with a single Touch Bar and 6 customizable buttons.
It comes with a battery-free stylus (pen) with 8192 levels of pressure, saving you the trouble of frequent extra charging. The high-pressure sensitivity allows you to enjoy a more realistic drawing experience. This is because you'll be able to obtain more thicknesses, opacities, and dimensions from your pen strokes.
A high report rate of 266 RPS ensures that the device is extremely fast in responding to your pen movements. Thus you can paint/draw away more smoothly and efficiently. The device supports both Mac and Windows OS and is incredibly lightweight and sleek for convenient portability.
It has a highly rich color palette capacity of displaying 16.7 million colors brightly. You can also enjoy an improved performance of the pen due to its ability to recognize ±60 degrees tilt. It also has its parallax reduced to the bare minimum to boost the accuracy of your stylus.
Highlighted Features
Anti-glare glass reduces the strain levels on your eyes
Reduced parallax error for enhanced accuracy
Single touch bar and 6 customizable buttons
High report rate for speedier operation
3.Apple iPad | Best Art Tablet With Screen
Apple is no new name when it comes to the world of smartphones, laptops, PCs or tablets, etc.  This stunning creation of Apple comes with a 10 inches Retina display and a high battery life of up to 10 hours. It also comes with a high 1080P resolution to deliver you stunning quality outputs of your artistic creations.
This iPad comes with an amazing storage space of 32GB. It is equipped with a Touch ID Fingerprint Sensor which will provide you effortless security through which, only you can access your arts. Its large display will enable you to multitask conveniently. 
This tablet also comes with a full-sized keyboard that can also function as a cover when not used. It is compatible with Apple Pencil which you can use to draw or jot down ideas/creative info. It also possesses an 8MP rear camera and 1.2MP front camera for you to effortlessly capture videos or Face-Timing.
If you feel like listening to your favorite jams while you're on you're working on your artistic projects, the iPad has got your back with its stereo speakers to amp-up your rhythm. It is also light and portable to accompany you while traveling.
Highlighted Features
Fingerprint Sensor for easy but strong security
Multitasking capacity
Full-sized keyboard that also can act as a cover
Has front and rear camera along with stereo speakers
4.GAOMON PD1560 Pen Display | Best Drawing Tablet With Screen
This model comes with a large display and huge active area of 15.6 inches with a Full HD 1920 x 1080P; 5080 LPI resolution. Hence, you can bid farewell to all concerns about high-quality results and color precision. It is equipped with 10 customizable shortcut keys along with 5 menu buttons at the side for ease of use.
The device also comes with a rechargeable pen that can run 2-2.5 hours upon full charge and has a total capacity to deliver 350 hours. You will be provided with a set of 8 replacement nibs as well. The PD1560 also has a high report speed of 233 RPS, ensuring the efficiency of your pen strokes.
The pen comes with 8192 levels of pressure to provide you the most impeccable, detailed, and realistic painting/drawing experience. It is ideal to use for both left-handed and right-handed artists and can support both Windows and Mac OS.
The device can support USB and HDMI ports and comes with a three in one cable to reduce the hassle of entangled mess at your desk. You can also adjust the angle of the tablet screen by adjusting the monitor stand to set the most comfortable working angle.
Highlighted Features
3-in-1 cable for reduced hassle and mess
Rechargeable pen with ultra-high levels of pressure
Ideal for both left and right-handed users
10 customizable shortcut keys for boosted convenience
5.XP-PEN Artist12 | Best Tablets For Digital Art
The XP-Pen comes with a wide screen of 11.6 inches with full HD resolution of 1920 x 1080P along with 72% NTSC (100%SRGB) Color Gamut. This enables it to display highly sharp and clear images, bright color shades, and impeccable detail to create a spectacular showcase of your works of art.
The HD IPS screen is perfect for drawing, image editing, sketching, fashion, photography, amateur art painting, animation, 3D sculpting, drawing beginners, architecture design, etc. The screen also possesses a coating which is anti-reflective. The device is also capable of supporting both Windows and Mac OS.
This model is also compliant with Photoshop, Painter, Illustrator, SketchBook Pro, SAI, MediBang, CDR, Clip Studio, etc. software to handle all your digital art requirements. The device also includes 6 customizable buttons for shortcuts, a sleek Touch Bar, and buttons as the side for adjusting brightness levels.
It comes with a battery-free stylus with 8192 levels of pressure to facilitate the most realistic drawing feel. The pen is also a tack-free and non-slip grip for the most comfortable usage. A pen holder is included as well to protect the pen nibs and can also be used as a pen holder if you wish.
Highlighted Features
Anti-reflective material coated display with a 100%SRGB Color Gamut
Non-slip pen with pen holder
6 customizable buttons for shortcuts and a sleek Touch Bar
Ideal for a versatile range of functions and compatible with major software
Tablet For Artists Buying Guide
Display Size
We all know that the higher the resolution the better. But it is no question that larger displays are also always more comfortable to work on. You not only will have a clearer output, but it will also save you the frustration of frequently zoom in or out or swiping around your art piece.
Hence, it's a wise move to opt for devices with large screens for enhanced comfort. Now by display size, we don't mean the overall size, but the actual size of the active area you'll be working on. So ensure that your device comes with a large enough active display area.
Connectivity
Most tablet models may require you to connect them to a computer, laptop, or other devices. Tablets can be connected either by cables via USB, HDMI, or other ports, or they can connect wirelessly; while some support both.
Cable connectivity is no doubt, a convenient option. It can also connect to other devices with supported ports. But it is only ideal if you intend to work at a desk without much mobility. And not to mention the hassles of entangled mess ruining your creative workspace.
Wireless connectivity on the other hand can offer you endless versatility and flexibility. You will get a more realistic drawing feel as you will be able to work in any corner of your room while standing, sitting, or laying on your bed or couch.
It is also extremely convenient in terms of portability as there will be no hassles of carrying cables or searching for power outlets. You could also opt for models that support both wired and wireless connectivity to enjoy the finest of both worlds.
Pressure Sensitivity
This aspect determines the thicknesses of the lines you draw by detecting the weight exerted on the pen with every stroke. The higher the pressure the thicker the line is drawn and vice versa. This results in providing a more realistic drawing experience that you feel when drawing on real paper with pencils/pens/brushes.
The higher the levels of pressure, the more dimensions, thicknesses, and opacities you will be able to receive to create more realistic and detailed works of art.
Report Speed (RPS)
This is basically for fast your device responds to your strokes; and the higher the rate the better. This is because a higher rate will ensure enhanced efficiency due to the higher speed. For example: a tablet with a report speed of 200 means that it can send data to your device in 1/200th of a second.
Battery
In order to run your creative flairs without interruptions, it is essential that your device comes with a decent battery life. Most tablets are rechargeable while others come with battery-free pens. Ensure that your desired model comes with a high battery capacity to last you throughout the day.
Usually, the best tablets for art may come with drawing pens for a more realistic drawing experience. It would be smarter to go for models with battery-free pens as the ones with rechargeable pens will only just add another device to your list that need to be charged regularly.
With the multitude of tablets currently available in the market, it is getting increasingly challenging for artists all over to ascertain which model would be ideal for them.
The best tablets for artists range in various sizes and shapes, with an wide array of features and functions. This makes the choice complicated and confusing for potential buyers who don't know precisely what they might need.
Through this comprehensive blueprint summarizing the key factors to consider along with top model reviews and comparison, hopefully, things now seem a whole lot simpler.