Like most work today, drawing and different forms of art are also integrated with technology to make them easier and more efficient. Drawing tablets are used by a lot of people. From artists to designers to architects, these have become a staple for all who need to draw for their work or leisure.
However, the kind of tablet you go for will depend a lot on your work. Artists and architects have different requirements and will look for different features. But fining them out can pose a challenge, especially if you are new to this.
This is why we have covered some of the top models in the market today. You will find they all vary and come with different specifications.
Checking these out will help you find your best portable drawing tablet. To find out more about what these tablets are and how they perform, keep on reading.
Top Portable Drawing Tablet 2021 by Editors' Picks
List Of Top Portable Drawing Tablet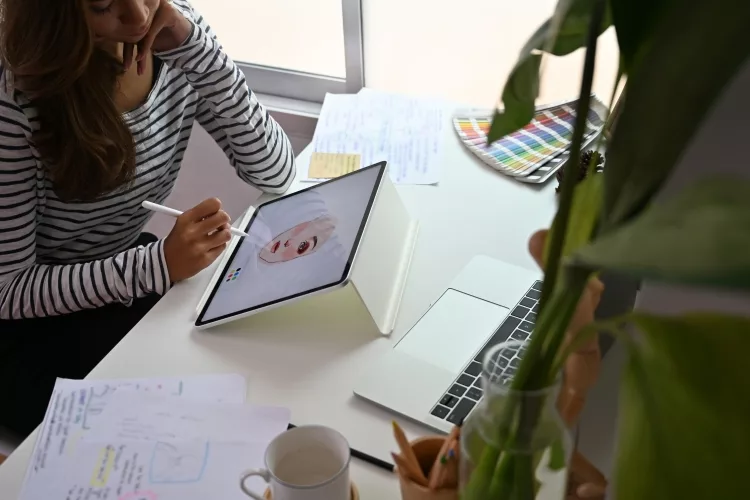 5.Simbans PicassoTab 10 Inch Drawing Tablet
6.VEIKK A15 Graphics Drawing Tablet
7.Wacom One Digital Drawing Tablet
8.VEIKK A30 Graphics Drawing Tablet
Comparison Chart For Top 9 Portable Drawing Tablets
| PRODUCT | DISPLAY SIZE (INCHES) | RESOLUTION | PRESSURE (LEVELS) | PRICE |
| --- | --- | --- | --- | --- |
| Fire HD 10Tablet | 10.1 | 1080p FullHD | N/A | |
| GAOMONPD1161 | 11.6 | 1920 x 1080 | 8182 | |
| HUION KAMVASPro 12 GT-116 | 11.6 | 1920 x 1080 | 8192 | |
| Apple iPad10.2 | 10.2 | 1620 x 2160 | N/A | |
| Simbans PicassoTab 10 InchDrawing Tablet | 10 | 1280×800 | 8192 | |
| VEIKK A15GraphicsDrawing Tablet | 10 x 6 | 5080 LPI | 8192 | |
| Wacom OneDigitalDrawing Tablet | 13.3 | 1080p | 4096 | |
| VEIKK A30GraphicsDrawing Tablet | 10 x 6 | 5080 LPI | 8192 | |
| XP-Pen G430SOSU Tablet | 4 x 3 | 5080 LPI | 8192 | |
Best Portable Drawing Tablet Reviews
1.Fire HD 10 Tablet | Best Portable Drawing Tablet For Beginners
When it comes to drawing tablets, you want good storage space to be able to keep all your work for the future, without having to delete ones along the way.
With this Fire HD 10 Tablet, you get two options of either a 32 GB or a 64GB. Depending on your workload and budget, opt for whichever is more suitable for you.
In case you end up needing more space than you had planned, you can expand the storage space up to 512 GB. All you need is a MicroSD card.
We also want to talk about the processor, since this is what keeps the device smoothly running. With the 2.0 GHz octa-core processor plus the 3GB RAM, you get a tablet that does not lag. Your work will not be disturbed, and drawings can be done in a fast and efficient manner.
The screen size of 10.1 inches is also a nice size which gives you space to work on, but is also small enough to be portable when required.
Highlighted Features
Strong battery lets you use it for 12 hours straight
Can be used hands-free with the help of Alexa
Comes with both a front and rear-facing camera
Storage can be increased up to 512 GB with microSD
The display is full HD for better detailing work
2.GAOMON PD1161 | Best Portable Digital Drawing Tablet
The GAOMON PD1161 is a fine choiceof a tablet for it comes with a range of features that cater to artists for all their drawing needs.
There is a pressure level of 8192. This ensures that you get accurate and perfect lines with every stroke.
Most importantly, it makes the work look natural, and the pen would on paper. The pen is also battery-free, meaning it is not as heavy and does not need charging either.
Shortcut keys are very important for artists. These help you fix your techniques so you do not have to repeatedly do them. It saves time and makes your work look more coherent. Here you get a total of 8 short cut keys, which you can customize as you like.
It also sports an HD resolution. Now while you put in so much effort into your works, you can see and enjoy them too in HD. It helps you better see all the details, hence improving your work techniques.

Highlighted Features
Anti-slip silicone covered pen provides comfort even with long use
8 replacement nibs make this a versatile and long-lasting pen
Tablet has a wide viewing angle of 178 degrees
Includes a screen film that prevents scratches and marks
8 shortcut keys are provided for work efficiency
3.HUION KAMVAS Pro 12 GT-116 | Best Portable Art Tablet
One of the strongest and sturdiest tablets in the market, this is the HUION KAMVAS Pro 12 GT-116. It features a laminated screen, which is one of the most important factors for drawing tablets. With this, you can draw and sketch all you want, without fearing any lines or scratches on the screen.
Having an HD screen on the other hand lets you see the work you do in detail. The better you see the art, the better your techniques become. Not to mention, you also get to enjoy your final work on a bright and vibrant screen.
The screen itself is anti-glare. This helps you work for long hours on the tablet, without feeling any eye fatigue. A very thoughtful and useful quality which professionals would appreciate.
For customization, you get 4 keys and one-touch bar. Now you can fix your frequent moves using these keys, so you do not have to repeatedly draw them on.

Highlighted Features
Glass is laminated to prevent any scratches from drawing
Anti-glare glass helps to reduce eye fatigue from long-time usage
Includes one-touch bar and 4 express keys for fast work
Pen has 60-degrees of tilt recognition allowing for smoother work
Wide viewing angle of 178-degrees provided
4.Apple IPad 10.2 | Best Mobile Drawing Tablet
Apple is one of the top brands out there when it comes to tablets, so it is no surprise that we have one from this brand on our list. This is the 10.2-inch iPad. The size is just big enough to work on with drawings, but is also compact enough to carry on the road, making it a very versatile tablet.
Another point which also makes this a travel-friendly tablet is the battery life. Getting 10 whole hours at one go is amazing, and you can take this outdoors without having to worry about charging it.
Of course, since this is from Apple, you get the Retina Display, which is one of the finest in the market. It makes sure that you can see every detail vividly, which helps you perfect your work.
Even devices need their own security. Here you get the Touch ID Fingerprint Sensor as you will find on most Apple devices. It helps you keep your tablet safe and prevents strangers from grabbing it and leaving.
Highlighted Features
Tablet has stereo speakers for a complete entertainment experience
Includes a high battery of 10 hours on a single charge
The retina display gives clarity while working or drawing
Includes a touch ID fingerprint sensor to security
Tablet is compatible with smart keyboard if required
5.Simbans PicassoTab Drawing Tablet | Best Portable Tablets For Artists
The last tablet we are going to talk about today is the Simbans PicassoTab Drawing Tablet. For most, this serves as a drawing and work tablet, making this a multi-purpose device.
Being one of the more affordable ones in the market, this is a great choice for students or aspiring artists who are on a low budget, and yet want a good tablet for their work.
Now, this might be an affordable choice, but that does not make it any worse than others. You get an HD screen that lets you enjoy your work with the brightest and most vibrant colors.
It also allows you to improve upon your work, because now you can properly see all the details. Naturally, the better you can observe your work, the better your work is going to get.
This comes with multiple connectivity options, but we want to mention the Wi-Fi network because this is what we end up using the most. It lets you work wherever you want, as long as you have access to the Wi-Fi

Highlighted Features
HD display helps to provide clarity with drawings and work
10 inches of the display provides a wide space to work on
Storage can be increased up to 128 GB with MicroSD
Incudes a 2MP front camera and 5MP back camera
32GB of storage provides a large space for multiple software usage
Portable Tablet For Drawing Buying Guide
Pressure
Pressure sensitivity might not always be a big factor for tablets, but when buying one for drawing tablets, it is one of the first things to check out. The easy way to understand pressure sensitivity is to know how hard you must press the stylus to get an outcome. And how your outcomes differ as you put varying pressures.
Most drawing tablets out there will have a pressure sensitivity of around 300 up to 3000 levels. The ideal pressure level is above 1000 levels, and for very advanced work it should be above 2000 levels.
The higher the pressure level, the more the screen recognizes your stylus movements. Mimicking a real pen, when you press harder you will get thicker lines, and vice versa. It gives you increased precision and a more life-like outcome.
Size
When buying the best portable tablet for drawing, you might overlook the size of the device. While the size has no relation to the quality of drawing you do, but it does matter for portability.
If you are an aspiring artist, you have to move a lot for work; if you are an architect you might have to move to meet clients and structures outdoors. All of these point to a device that is lightweight and small enough to carry.
This is why you need to check for the size. It purely depends on your preference, and how small or big you want it to be. But the more portability you seek, the smaller the better.
Resolution
Resolution is important because without it you will not be able to see the outcomes of your work in its finest form. For drawing tablets, resolution is measured in Lines per Inch or LPI. The higher your LPI, the more details you can see.
Without a high resolution, it will be difficult for you to work with too many details. Especially if you are a professional, then we recommend you opt for the highest resolution you can for the finest results.
Responsiveness
Responsiveness depends on a lot of other factors like the GPU, the CPU, and the RAM. These ensure that your lines appear instantly as you draw, and that you do not face any lag. If you go for older software or a lower RAM, over time you might experience a lag in your work.
This can affect your work speed, and is horrible for deadlines. So check out these specifications to make sure you get the latest and finest ones for a tablet that works smoothly.
Battery Life
After everything else, the last thing we usually like to check is the battery life to make sure we get a complete package. Yes, you can charge your device and work, but that beats the whole purpose of portability.
A long battery life lets you work outdoors. You can carry it and wok on it while going through traffic, and most importantly, you do not have to constantly charge it before using it.
Check the battery life, and is possible how long it takes to charge, which is also important if you are someone who is always on the move.
Conclusion
While looking for the best portable drawing tablet out there, you need to consider a lot of factors to ensure that the one you get is suitable for your work. While some look for large screens, others want smaller ones for portability. Requirements change as customers do.
This is why you need to check out a wide range of options before deciding on what is ideal for you.
Besides the descriptions, the comparison chart also helps you to see how each model measures up to the next, what makes each special and why you should get them.
We hope this has been a helpful guide with drawing tablets, so you need not look elsewhere.