Who wouldn't want to watch regular TV programs on a larger projector screen, right?
But the question might arise in your mind: is it really possible to watch TV on a projector screen without even having a cable box. Well, it turns out that it is possible.
That being said, the process of connecting the TV to a projector can be somewhat tricky, mostly if you are not that tech-savvy. It needs to be done in the right way to have the best movie-watching experience.
If you are eager to understand how to watch tv on projector without cable box in the correct way, then you are in the right place. Read on to know more.
Which Things Are Required To Watch TV On Projector Without Cable Box?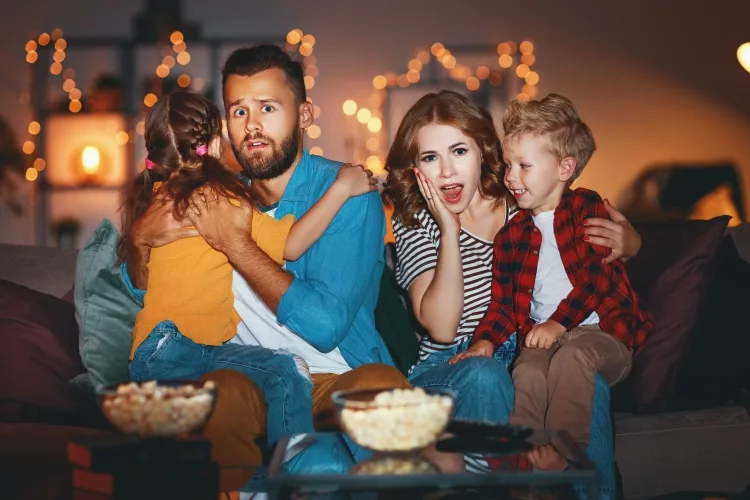 Few items are an absolute necessity when it comes to watching TV on a projector without the presence of a cable box. Before starting the process, you need to make sure that you have all of the items or a couple of them is available to you.
Let's have a look at the things that you will definitely need.
1. HDMI
The HDMI connection is the most suitable option to watch TV on a projector without a cable box because it offers the finest picture quality.
It also provides a reliable connection with any type of device, and the latency rate is extremely low for HDMI connection. Since you want to watch TV on a projector, this stable connectivity will come in handy.
If your projector doesn't come with an HDMI port, you must be wondering how to connect TV to the projectors' HDMI port. Well, you will be able to purchase an HDMI adapter from your local stores or Amazon. The price of this adapter is quite low, and you won't need to spend a fortune on it.
2. High-Speed Internet
As you don't have a cable box, you will have to rely on streaming services and devices to watch TV on the projector. For having a satisfactory TV watching experience with those streaming options, you will need high-speed internet.
In case you don't want any cables hanging out from the ceiling in your living room, then getting high-speed internet is crucial. It will make sure that you can enjoy TV shows on a projector while maintaining the aesthetics of your home.
With a faster internet connection, the live TV streams become buffer-free. So, while selecting an internet package, we suggest you go for at least 50 Mbps. This internet package can be a little expensive, but it will offer you much better TV streams.
· Wired vs. Wireless
You might be wondering which connection is better between wired and wireless. Well, the wired connection is still much better than the wireless connection for various significant reasons.
The connection of Wi-Fi can be interrupted due to various reasons, and one of the major reasons is Bluetooth. Since both Wi-Fi and Bluetooth use signals of 2.4 GHz, the connection can interfere with each other, limiting the speed of the internet.
On the other hand, ethernet cable provides a wired connection to a streaming device which provides the finest speed, and the connection will be stable no matter what.
However, if you don't want cables hanging from your wall or ceiling, then you should connect TV to projector wirelessly. In such a case, go for a Wi-Fi router with a 5 GHz band as it won't interfere with your Bluetooth devices' signal.
3. Speakers
With the TVs becoming slimmer and slimmer every day, the quality of the built-in speakers of the TV sets has gone down drastically. To have the finest TV watching experience, you will need to have a couple of high-quality speakers.
It will be best if you purchase a speaker set that consists of three speakers, one main speaker, and two sub speakers. To have a theatre-like experience, you should place the main speaker behind the projector screen and the other two speakers on both sides of the screen.
How To Setup A Projector To Watch TV?
Before we dive deep into the process of watching shows on a projector without a cable box, you need to understand how to use a projector as a tv. The process is fairly simple.
Check out the steps of setting up a projector to watch TV.
1. Find The Right Spot
The first and foremost thing you will have to do to install a projector for watching TV is to figure out which one will be the best spot to place the projector machine.
You will have to put the machine in such a way that it has enough space for the projection on the screen or the wall.
Projectors can commonly cast videos and images as large as 300 inches, estimated diagonally. The further the projector machine will be moved, the larger the projected image will get, and remember that bigger pictures will be dimmer.
If you are thinking of mounting the machine on the ceiling, avoid drilling on the beams as it might damage your buildings' structure.
2. Install The Screen
If you have decided to project the images into a wall, then this step won't be necessary for you.
Installing a screen is highly recommended because it offers a uniform surface that you won't be able to get on the regular walls. As a result, the picture quality will be much better on the screens.
Setting up a screen is extremely simple. If your projector didn't come with a screen, you could purchase one from both online and offline stores. Then just pull it upwards using the lever up to your required height.
3. Connect Your TV
This is the most crucial step that you will have to do precisely to watch TV on a projector. Take a look at the steps.
Turn off the projector and the TV.
Wait for a couple of minutes for them to cool down.
Insert an end of the HDMI cable into the projectors' HDMI port and the other end to the output port on the TV.
Now switch on both projector and the TV and then change the projectors' video input to HDMI.
4. Adjust The Projected Image
While adjusting the image, line up the focal point of the projection lens with the screens' center. Ensure the projector is pretty much as level and opposite as conceivable compared with the screen. The projected videos should fill the whole screen, and the most distant edges of it should be similar in size.
Most of the projector machines come with a zoom control with which you will be able to adjust the size. If it is accessible in your unit, use it.to adjust the image on the screen perfectly.
5. Choose The Right Video Mode
Similar to televisions, the projectors also have a couple of video modes for you to choose from. The video modes include movies, news, and more.
If the room is dark enough, the movie mode will be the finest option. Otherwise, you should opt for a brighter mode. You should select a mode according to the lighting setting of the room and the program you will watch on the projector.
How To Watch TV On A Projector Without Cable Box In Different Ways?
To watch TV on the projector without a cable box, knowing the right method is necessary.
A TV mainly connects to the satellite channels through a cable box, and to watch the shows on a projector without the cable box; you will have to resort to a few tactics.
There are a couple of ways by which you will be able to use a projector as a TV even without a cable box. Have a look!
1. Using Streaming Devices
You might think that what is the difference between installing a cable box and a streaming device. Well, with a streaming device, you will be able to watch every show and movie available in the highest resolution.
To activate these devices, you will need to plug their dongle directly into the HDMI port of the projector.
Here are some incredible streaming devices you can use:
a. Google Chromecast
The Google Chromecast is a compact device that comes with a remote with which you will be able to broadcast from your TV or mobile to the projector.
It basically uses a dongle-based system. Regardless of whether watching downloaded content or streaming straight from a streaming App, the dongle in the HDMI port of your projector will get the sign and will show you the contents.
With this unit, you can watch TV not only without a cable box but even without a TV itself. You can watch TV shows and live TV using your phone, and the best part is it will project videos at a higher resolution than your phone.
b. Roku Streaming Stick
The Roku Streaming Stick is a lightweight and compact device with which you can stream live TV shows, news, and sports on your projector after connecting it to the HDMI port.
In addition to that, using this dongle device, you can directly subscribe to streaming services like Netflix, Amazon Prime, Disney+, Hulu, and more.
c. Amazon Fire Stick
If you have already subscribed to Amazon Prime, then the Amazon Fire Stick will be the perfect device for you to watch TV on a projector.
After plugging in this streaming device and logging in to your Amazon Prime account, you will have access to all the series and movies available.
Not only Amazon Prime shows, but by installing the Locast App, you can have access to all your local TV channels.
2. Streaming Services
Since you don't have access to the cable box, you will have to subscribe to a streaming service for watching television on a projector.
After setting up the streaming device, you will need to get a streaming service. You will have to choose a service that is compatible with the device and meets your needs.
There are numerous streaming services available at the moment. Apart from movies and TV series, few services even offer live TV.
Let's have a look at a few of the most well-known streaming services.
a. Hulu
In recent times, Hulu has become one of the major streaming services as it offers the episodes of the finest TV shows immediately they launch on live TV. It also has a feature to watch live sports so that you won't miss out on any live programs.
b. YouTube TV
YouTube has been a major platform for videos for almost a decade. Now, they launch the YouTube TV service with which you can watch live shows, news, live sports on your projector.
Final Word
Thanks to the evolution of streaming services, now you won't miss out on any live TV programs even if you don't have a cable box. By setting up a projector with your cable box less TV, you can have the finest TV watching experience with your friends and family.
After reading our article, we hope that you have understood how to watch tv on projector without cable box.