Are you a DIY enthusiast and desire to make a hologram projector for a long time? Then get off your couch now and do it without any further ado.
With a hologram projector, you can watch both 2D and 3D pictures, animations, or videos without any glasses.
That being said, you might think that it is extremely tough to make due to its complex mechanism.
Turns out, making a hologram projector is not as difficult as it may seem.
With a few simple steps, you will be able to grasp the whole process. Read on to know how to make a hologram projector effortlessly.
What Is A Hologram Projector?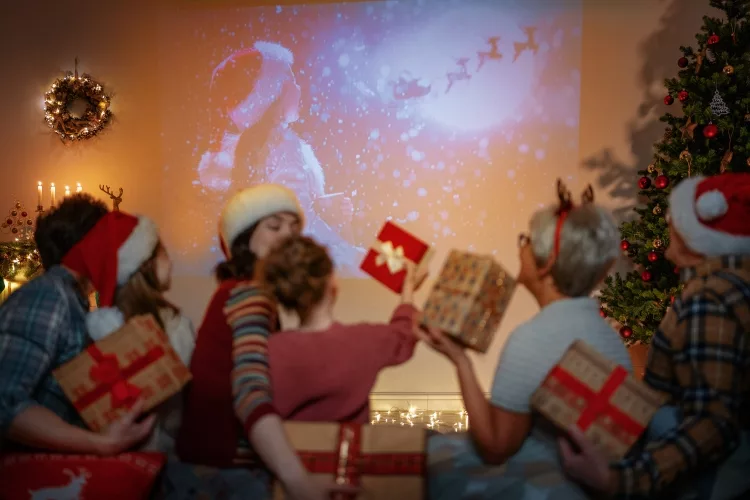 A hologram projector is basically a gadget that produces three-dimensional illusion by using holograms. It causes a picture to show up as though it is in midair. Apart from pictures, it can create 3D-like videos and animations as well.
This projector is a basic gadget that can be made with the help of a couple of plastic or glass sheets by converting them into a pyramid. It uses special laser light or white light to project the holograms.
How Does A Hologram Projector Work?
One of the best ways to become successful in making a hologram projector is knowing how it works. It will give you a basic idea about the item, and you will comparatively make fewer errors.
The hologram projector projects holograms using the Pepper's Ghost principle. This principle is an illusion technique that is mostly used in theatres to project movies and in museums to show pieces of information.
In simple words, four evenly inverse varieties of a single hologram or a picture are projected onto the four essences of the pyramid. By Pepper's Ghost principle, each side casts the picture falling on it to the focal point of the pyramid. These projections work as one to shape an entire figure, creating a multi-dimensional image.
How To Make A Hologram Projector Effortlessly?
Making a hologram projector is not that tough, but it is a work of patience. A little mistake can make the whole project unsuccessful.
If you want to know how to make a hologram projector at home, we have discussed all the necessary steps below. Check them out!
1. Purchase The Right Materials
Before you start the process of making a hologram projector, you should have all the materials beside you. This will make the process much more convenient for you since you won't have to get up again and again to get the tools.
Here are the pieces of equipment you will need.
Transparent Acrylic glass or CD case
Pen, scale, pencil, and eraser.
Scissor or anti cutter
Graph paper
Tape or glue
2. Make A Rough Diagram
Now that you have all the necessary equipment draw a rough diagram for your projector. With the help of this diagram, you will be able to cut the plastic or the glass with utmost precision.
We recommend making the diagram on graph paper because it will help you draw everything in completely straight lines, ensuring accurate measurement.
To make a regular-sized hologram projector, you should draw a figure with an 18 cm base, 10.5 cm height, and a 2 cm top region.
If you are also wondering how to make a hologram projector for your phone, then you will be delighted to know that the process is almost similar. You will just have to change the dimensions. The hologram projector for the phone should have a 6 cm base, 3,5 cm height, and 1 cm top portion.
You can increase or decrease the size according to your requirement, but we suggest you maintain the ratio of the dimensions mentioned above.
3. Cut The Glass
After making the rough diagram on graph paper, place it on a completely flat surface with enough lighting.
With the help of an anti-cutter or a scissor which you can purchase online or your hardware store, you can cut the glass or CD cover in a matter of minutes.
Check out how you will be able to cut the glass effectively.
Place the acrylic glass above the roughly drawn diagram.
Use a cutter to cut it directly, or mark the glass with a pen or marker for cutting it with a scissor.
Repeat the above two processes and cut four pieces of glass, which will help you make the pyramid structure.
5. Join The Glass Pieces
As you will have to make a pyramid shape to enable hologram projection, at this step, you will have to connect the four glass pieces.
To join the glass pieces, you can either use glue or scotch tape. However, it is better to use glue since it won't block any rays of light from coming in or going out from the projector.
This is one of the most crucial steps because if you make the slightest mistake while joining, the projector may come off after a certain period of time or can create scattered 3D-like illumination.
6. Project A Hologram Using The Projector
Now that your hologram projector is ready, it is time to check if it really works and the best way to do it is by projecting a hologram using it.
To help you with the process, here is a brief description of it. Have a look!
· Display A Picture Or A Video
A simple screensaver picture that fills the screen or a video that goes back and forth displayed on the screen will be more than enough to project 3D illusions. After setting the picture, put it on a plane surface.
Increase the auto screen off time during this process to ensure that the image is displayed on the screen for a long period of time.
· Place The Projector On Your Phones' Screen
Keep the hologram projector with the short end on the mobile phone screen and ensure that the video or the moving image is displayed. When the image is still moving, you will observe a 3D-like hologram projected in midair.
Final Word
Making a hologram projector is innovative work. With a hologram projector, you will be able to make simple videos and moving images much more interesting.
Due to the pyramid-like structure of this projector, you might first assume that making this will be a tough talk. Hopefully, after reading this article about how to make a hologram projector, your assumption has changed.