Just like with many adults, tablets are increasingly getting popular among children of all age groups. Thus, the best Android tablets for kids are a perfect way to ensure your child owns a tablet.
These big value gadgets aren't as expensive as you may think. Yet, they keep your kids safely glued in amazing games, music, movies, and educational programs. The truth is that Android tablets for children help you to manage and track what the kids do.
They also save you from the nightmare of sharing your tablet with the young ones and always upbeat about the content that they may access. You will often find your tablet with your child if they don't have one of their own. Does that sound familiar?
And while we have to agree that investing in a kids' tablet is an incredible step, finding the right one is often quite a challenge. We have some good news for you! This article contains a buying guide and a detailed review of some of the finest options.
Editors' Picks for Top Android Tablets for Kids 2022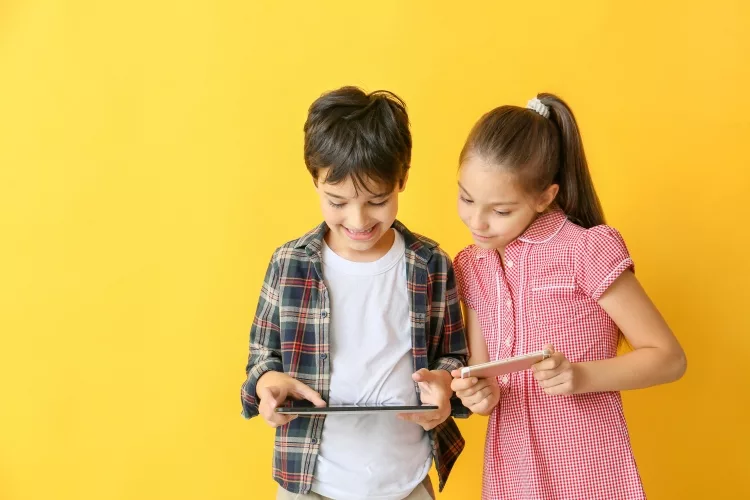 List Of Top Android Tablets For Kids
6.Amazon Fire HD 8 Kids Edition
Comparison Chart For Top Android Tablets For Kids
| PRODUCT | SCREEN SIZE | RAM | INTERNAL STORAGE | PRICE |
| --- | --- | --- | --- | --- |
| VANKYOMatrixPad Z1 | 7 Inches. | 1 GB. | 32 GB. | |
| YISENCE KidsTablet | 7 Inches. | 2 GB. | 16 GB. | |
| UJoyFeel KidsTablet | 7 Inches. | 1 GB. | 16 GB. | |
| Dragon TouchY80 | 8 Inches. | 2 GB. | 16 GB. | |
| Contixo V8-2 | 7 Inches. | 1 GB. | 16 GB. | |
| Amazon Fire HD 8Kids Edition | 8 Inches. | 1.5 GB. | 32 GB. | |
| FOREN-TEK KidsTablet | 7 Inches. | 2 GB. | 32 GB. | |
| SANNUO KidsTablet | 10.1 Inches | 2 GB. | 16 GB. | |
| PROGRACE KidsTablets | 7 Inches. | 2 GB. | 16 GB. | |
| TOPELOTEK KidsTablet | 7 Inches. | 1 GB. | 16 GB. | |
Top 5 Best Android Tablets For Kids Reviews
1.VANKYO MatrixPad Z1 Kids Tablet | Good Android Tablets For Kids
VANKYO is renowned for producing topnotch entertainment and professional electronic tools. They never disappoint when they mean to deliver on a promise. Ideally, tabs for children should be versatile and easy to use. VANKYO reliably achieves these and more with the VANKYO MatrixPad Z1 Kids Tablet.
The tablet is one of the easiest to use in the market today. You only need to turn on the device, navigate to Kidoz, and create an account. Interestingly, you get the convenience to create multiple accounts for different children depending on their age, abilities, and interests.
The inbuilt Kidoz feature allows kids to access an incredible range of kids-friendly content within the ever-versatile internet environment. The device gives kids access to tens of thousands of video clips, more than 100 channels, and several games, websites, and educational apps.
The VANKYO MatrixPad Z1 Kids Tablet reliably analyzes your child's usage history and uses that to deliver new relevant content. Besides, if your child has an interest in painting or creativity, they will find an enjoyable time with the Paint Box. This feature offers drawing stickers and eye-catching colors.
While the VANKYO MatrixPad Z1 features everything that your kid needs, it is impossible to ignore the unbeatable technical features incorporated into the device. The 7-inch tablet features a 1GB RAM, a 32GB inbuilt storage, a quad-core processor, and a reliable 2.4 GHz Wi-Fi connectivity.
Highlighted Features
It allows you to create accounts for multiple children.
You can easily handpick content for respective children.
The Kidoz app gives access to a range of kid-friendly content.
It comes with a kid-proof case hence more durable.
The HD display provides reliable eye protection features.
2.YISENCE Kids Tablet | Best Kids Tablet With Google Play
just like Android tablets are common among adults, they as well come with incredible benefits for kids. The YISENCE Kids Tablet is an incredible option for parents looking for an Android tablet.
The device comes with preinstalled Google Play Store, a feature that gives kids unlimited access to games and educational apps.
The colorful tablet comes with everything that you need to know. It makes studying easy and forms a key component in aiding learning processes. The YISENCE tab is pretty useful for toddlers and children who want to learn more about counting, painting, words, fruits, animals, stories, etc.
The device features a reliable Wi-Fi connection. But if you really want to take account of what your kids can access on the net, there is no better tool to purchase. The preinstalled iWawa app enables you to handpick content that you want your children to access.
It enables you to create profiles for each child and include the right games, music, books, videos, and apps. It rarely gets better than this.
Finally, the tab is pretty lightweight and reasonably compact for comfortable handling by toddlers and kids. It weighs just 1.21 pounds, which isn't bad for a tablet with a 7-inch display. Moreover, it features a compact size of only 8.94 x 5.94 x 1.89 inches.
Highlighted Features
It features a fast charging time of just 4 hours.
The tab is ideal for children of different ages.
It runs on an Android platform with a preinstalled Google Play Store.
The device is ideal for entertainment and educational purposes.
You can easily rotate the screen and still enjoy high-quality viewing.
3.UJoyFeel Kids Tablet | Best Android Tablet For Toddlers
If you have a toddler or an older kid that you want to gift, a tablet is one of the most exceptional options that you can ever have. Generally, tabs contain a lot of games and educational programs that children can benefit from. The UJoyFeel Kids Tablet is a perfect example of an affordable tablet that you can invest in.
It comes with unbeatable versatility that every parent will fall in love with. Despite being incredibly affordable, the device features a kid-friendly design ideal for kids of various ages. Therefore, your child can grow with the tablet from 2-14 years without the need to splash money on a new device.
The device is perfectly easy to use and comes with reliable parental control features. But more importantly, it features reliable protection against drops, physical mayhem, and bumps that most kids subject their electronic devices to. The included casing makes the fits perfectly and provides unrivaled protection.
Another exciting feature of the device lies in the incredible display. It features a superb screen resolution of up to 1024 x 600 IPS. The LED screen can easily rotate up to 360 degrees and provide a clear viewing experience devoid of any dead colors. It is also worth noting that the device doesn't harm the kids' eyes.

Highlighted Features
It is ideal for toddlers from 2-14 years of age.
It is one of the cheapest models in its category.
The tab features a unique selection of kids' content.
The LED screen delivers incredible display and is safe the eyes.
Kids can easily hold the device without any problems.
4.Dragon Touch Y80 8-Inch Kids Tablets | Best Android Tablet For Children
Anyone who understands the educational and psychological development of kids will acknowledge the power of bright colored items. Playing or learning accessories with colorful outlooks immensely appeal to kids. The manufacturer of the Dragon Touch Y80 8 inch Kids Tablets achieves that in an unbeatable way.
The device features a brightly colored casing that is pretty attractive to kids. However, it offers more than bright housing by including an array of features that appeal to kids. Your child will find likable characters in the device.
And since All-New Disney content is a favorite for millions of children across the globe, the Dragon Touch Y80 gifts your kid with Disney content at the comfort of their palms.
The device contains up to 18 and 6 Disney storybooks and audiobooks, respectively. Popular inclusions include Coco, Cars, Frozen, Finding Nemo, Frozen, Beauty and the Beast, and many more.
Finally, the tab features unbeatable technical specifications. It features a high-resolution screen of 1280 x 800 IPS, which guarantees vivid images. Other exciting features include a 64-bit processor, an Android 8.1 Oreo operating system, a 2GB RAM, and expandable internal storage.

Highlighted Features
It features a range of Kid-friendly software, apps, and Disney books.
Select what your child can access through the Kidoz app.
It features a high-quality display of up to 1280 x 800 IPS.
The parental control feature allows customization.
It features an inbuilt speaker for a high-volume audio experience.
5.Contixo V8-2 Android Kids Tablet | Kid Friendly Android Tablets
You don't have to spend a lot of hard-earned resources to acquire a tablet that can withstand the physical mayhem associated with playing accessories for children. The Contixo V8-2 Android Kids Tablet is not only a durable and robust device but equally a high-performer that comes at an affordable price.
The V8-2 tab features an environmental-friendly casing that provides reliable protection against bumps, dust, and substantial drops. More protection comes with the inclusion of a 3-layer screen protector. This feature ensures that the LCD screen remains protected against scratches and scuffs.
The parental control feature ensures that you identify the right content for your kids. Of course, this will depend on their age and abilities. Besides, the device allows you to upgrade to more advanced material as the kid develops.
Your kids can also capture and share moments thanks to the dual-camera system with which the device has. Both the rear and the front cameras have capacities of 2MP. That's pretty okay for capturing pictures among children.
The device is pretty strong and durable. There's no doubt about that. However, you will also marvel at the incredible power that the battery contains. The 3200mAh battery lasts for up to 10 hours on a single charge. This makes it ideal for campers, road travelers, and people taking long flights.
Highlighted Features
The protective casing protects the tab from bumps and drops.
An included screen protector helps to prevent scratches.
Ample internal storage takes care of data and other media content.
It features a powerful battery that lasts up to 10 hours.
You can easily upgrade to age-appropriate content as the kid grows.
Buying Guide For Android Tablets For Kids
Once you decide on settling for an Android tablet, you need to consider the factors that make your purchase a perfect buy. We explain the essential ones to ensure that you don't end up with a wrong device.
Durability
Your kid is certainly not as careful as you are. They will often stumble on anything or get sleepy on the couch and accidentally drop the tablet or whatever is in their hands. That's why while they genuinely deserve a sleek and colorful tablet, you don't need to gift them with fragile options like high-end Samsung models.
A perfect Android tablet for kids should feature a high-quality, rugged build to sustain frequent use and abuse. A sturdy exterior makes the device resistant to chipping or dents when it falls.
Besides, you need to consider models with compatible bumper cases, which also helps to extend the tablet's longevity. A tablet with a bumper case will potentially save the tablet screen on accidental falls.
Parental Controls
Another essential factor that you will need to look out for is parental controls. Indeed, parental controls are the vital determinants of whether a tablet is ideal for kids or not.
They help you to place restrictions on what your child can access. These could be limited to applications, websites, and YouTube videos. The hack is to limit your child to educational and entertaining content according to their desires, inspirations, and abilities.
Again, parental controls go with age. For example, a 13-year old boy may not find any fun in content meant for 6-year olds. You will need to get the right material for each age-group. On the same breath, 6-year olds may find content for 13-year olds too complicated for them to comprehend.
Size And Weight Of Tablet
Interestingly, tabs come in a variety of sizes, weights, and colors. And a lot of benefits come with investing in a big tablet for your kid. Like adults, kids enjoy large displays. But how big should you go? That's not a question that most new users are ready to answer.
Well, the display size goes hand in hand with the overall size and weight of a tablet. So, a larger display will, in most cases, translate to more volume and weight. The size of the tablet should be comfortable for the kid in question to handle and control.
In essence, you will need to take note of the child's age and the power on their hands. The best kids Android tablet would be the one with a perfect balance between weight, overall size, and display size.
Technical Specifications
The technical specifications of tablets for kids are as vital as they are in adult models. They determine the performance, reliability, and speed of the device. The following are some of the technical features that you will need to look out for;
Resolution: Often measured in pixels, the display resolution determines the quality of display that the user enjoys. A higher number is always better hence translates to clearer and more detailed images.
RAM: The tablet's RAM determines the overall performance of the tablet, which includes speed and reliability. Any tablet for kids or toddlers with a RAM of at least 1GB is pretty okay.
Internal Storage: The internal storage is vital if you are considering storing any content in the device. These could be videos, educational assignments, or music. Small internal storage capacity will mean deleting some content to save new ones, and this can be very inconveniencing.
Other essential factors that you may need to consider are the processor, operating system, battery life, and connectivity options.
Final Words for Android Tablet Buyers

"How much time should my kid take on tablets?" That's always one of the questions that most parents ask us. Of course, it's an essential question whose answer will depend on an array of factors. The age of the child is a factor to take note of as well as the type of tablet that they are using.
But an even more vital concern is the question about the kind of content that kids should access. Notably, tablets contain a range of games, videos, and web content. That's why you need a kid's tablet.
An ideal Android tablet for children goes beyond the usual specs to guarantee fun, durability, and affordability. The best Android tablet for kids should feature the right parental control features to help you limit your child to age-appropriate content.
Buy on Walmart
Fire 7 tablet, 7" display, 16 GB, latest model (2019 release), Twilight Blue - Walmart Link
Contixo Kids Tablet V10, 7-inch HD, ages 3-7, Toddler Tablet with Camera, Parental - Walmart Link
Kids Tablet 10 inch, 2 GB RAM, 32 GB Storage, Quad-Core Processor, Kidoz Pre Installed, - Walmart Link
Venturer Small Wonder 7" Android Kids Tablet with Disney Books, Bumper Case & Google - Walmart Link
Contixo Kids Tablet V8, 7-inch HD, Ages 3-7, Toddler Tablet with Camera, Parental Control - Walmart Link
Android Tablet Pritom 8 inch Android Tablet, 2GB RAM, 32GB ROM, Quad Core, HD IPS Screen, - Walmart Link
Tablet 10 inch, Android 10 Tablets, Octa Core Processor, Up to 1.8Ghz, 2GB RAM 32GB ROM, - Walmart Link
6.Amazon Fire HD 8 Kids Edition - Walmart Link
Buy on eBay
Fire 7 tablet, 7" display, 16 GB, latest model (2019 release), Twilight Blue - eBay Link
Contixo Kids Tablet V10, 7-inch HD, ages 3-7, Toddler Tablet with Camera, Parental - eBay Link
Kids Tablet 10 inch, 2 GB RAM, 32 GB Storage, Quad-Core Processor, Kidoz Pre Installed, - eBay Link
Venturer Small Wonder 7" Android Kids Tablet with Disney Books, Bumper Case & Google - eBay Link
Contixo Kids Tablet V8, 7-inch HD, Ages 3-7, Toddler Tablet with Camera, Parental Control - eBay Link
Android Tablet Pritom 8 inch Android Tablet, 2GB RAM, 32GB ROM, Quad Core, HD IPS Screen, - eBay Link
Tablet 10 inch, Android 10 Tablets, Octa Core Processor, Up to 1.8Ghz, 2GB RAM 32GB ROM, - eBay Link
6.Amazon Fire HD 8 Kids Edition - eBay Link