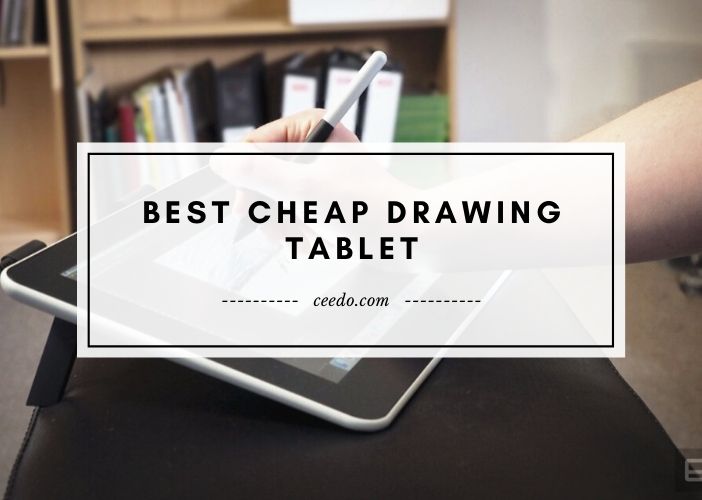 There was once a time when artists needed to carry around loads of brushes of various sizes for various thicknesses and textures. They also had to mix and match colors until they found the perfect shades. As you can imagine, it was quite the hassle and inconvenience-getting in the way of creativity by killing time.
Thanks to the inventions of modern technology, artists now have access to digital devices to take care of their drawing and painting sprees-hobbyists and pros alike. And most of them actually prefer going for these digital tablets because these can provide every versatility and colors they can think of and more; along with convenience.
When it comes to drawing tablets, it's not mandatory that you have to break the bank to score a great device. All that glitters is not gold and a pricey model doesn't necessarily mean the perfect device. And we are about to show you exactly how you can score the best cheap drawing tablet ideal for your needs.
Comparison Chart For Top 10 Cheap Drawing Tablets
Best Cheap Drawing Tablets Reviews
1.Wacom CTL4100 Intuos | Best Cheap Wacom Tablet For Drawing
This device comes with a 6.0 x 3.7 inches of working area and 2540 LPI resolution which should be adequate for your hobbyist drawing sprees. It can easily be connected to your laptop of PCs, laptops, etc. using a USB cable to draw, write, or edit your media.
Its compact and slim design makes it more portable and convenient. The pen that comes with it possesses 4096 levels of pressure to provide you with a realistic drawing experience. The battery-free stylus design also ensures enhanced portability and convenience as there are no extra hassles of charging it involved.
It is very simple to set up and install and is super-easy to use for both left-hand and right-hand users alike.
What's even better is that it will provide you 3 software upon registration (for American users). These include Corel after shot 3 (for editing photos), Clip Studio Paint Pro (for comic manga), and Corel Painter Essentials 6 (for graphic drawing). These will enable you to make the most of your device to facilitate more pro drawings.
It is also equipped with 4 customizable express keys which can be used for your desired shortcuts, boosting your convenience further. The device is compatible with both Mac and Windows and comes with quite a great reporting rate of 133 RPS.
Highlighted Features
4 customizable express keys for shortcuts
Highly compact and portable
Provision of 3 special drawing software upon registration
Convenient to use for both right and left-handed users alike
2.GAOMON PD1560 | Best Affordable Drawing Tablet
With a large screen size and big active area of 15.6 inches, this model comes with a stunning Full HD resolution of 1920 x 1080P or 5080 LPI. It is thus capable of producing stunningly high-quality outputs along with optimum color accuracy. The viewing angle can be adjusted as well up to 178° according to your comfort.
It comes with an amazing set of 10 shortcut keys that you can customize according to your preference. 5 menu buttons are equipped at the side of it as well to further boost the convenience of usage. A high report speed of 233 RPS will ensure that the device is super-efficient and speedy to bring your art to life.
The device includes a rechargeable pen that can effortlessly run 2-2.5 hours once fully charge and has a total capacity of 350 hours.  A set of 8 replacement nibs will be provided too. With 8192 levels of pressure, it will be able to provide the most realistic drawing experience along with impeccable and detailed drawings.
The PD1560 is compliant with both Mac and Windows OS and is equally convenient to use regardless of whether you're left-handed or right-handed. It is compatible with USB and HDMI interface and comes with a 3-in-1 cable for convenience. It also reduces the mess of entangled cables for a more tide workspace.
Highlighted Features
3-in-1 cable which can decrease mess and hassle
Rechargeable stylus with high levels of pressure sensitivity
Ideal for both left and right-handed users
10 customizable shortcut buttons for enhanced convenience
3.VEIKK A30 | Best Budget Tablet For Drawing
Equipped with a 10 x 6 inches working area, the affordable A30 comes with a great resolution of 5080P. The device is also highly responsive and efficient with an amazing report rate of 233 RPS.  It is also only 9mm thick and is ultra-light for effortless portability.
It includes a Gesture Touch feature along with 4 hotkeys which can be personalized according to your desire. The Gesture Pad will facilitate further convenience by enabling you to easily Undo/Redo or zoom out/in. It is also equipped with a Type-C USB interface.
The VEIKK A30 can work with both Windows and Mac OS and is compliant with major art and editing software including Photoshop, Corel Painter, Illustrator, Comic Studio, Clip Studio, Manga Studio, etc. The device comes with a battery-free stylus to provide you with an uninterrupted drawing experience.
The pen also comes with optimized 8192 levels of pressure to deliver a realistic, versatile, and more detailed drawing outputs. And the greatest part is, you will be able to get access to all these amazing features all within your budget.
Highlighted Features
Super-thin and light for more convenient portability
Type-C USB interface for connectivity
Gesture Touch feature with Gesture Pad
Compatible with main design and art software including Photoshop
4.Huion H610 Pro V2 | Best Cheap Drawing Tablet For Pc

Compatible with smartphones and tablets, the H610 can support Android 6.0 OS via OTG connectors. It has a 10 x 6.25 inches active area with a resolution of 5080 LPI to generate beautiful quality results of your creativity. An ingenious Tilt Control System will facilitate you to achieve the true essence and feel of drawing.
The device is extremely fast and efficient with a reporting rate of 233 RPS and comes with a battery-free stylus. 8192 levels of pressure of the stylus will allow you to have more natural and precise strokes. It has two pen buttons which will even enable you to use it like an eraser-like the pencils you used in school as a kid.
This model comes with 8 buttons and 16 soft keys which can be personalized for your desired shortcuts. This many customizable keys will superbly boost your convenience and efficiency of drawing. You can draw away for hours without worrying about dropping it as it comes designed with Anti-slip Mats at the back.
The device is also compatible with Windows and Mac OS and even with popular digital art and design software including Adobe Photoshop, Manga Studio, Illustrator, Corel Painter, Zbrush, Clip Studio, Gimp, Krita, etc.
Highlighted Features
16 soft keys and 8 hard keys for more shortcut personalization
Stylus with two buttons which can be used as an eraser as well
Anti-slip Mats to reduce possibilities of the tablet slipping and dropping
Compatible with Android tablets and phones too via OTG connector
5.Huion Inspiroy H640P | Best Inexpensive Drawing Tablet
Another creation of Huion, which comes with a more compact 6.3 x 3.9 inches active area to boost the ease of portability. Just like its predecessor, it is capable of supporting Android 6.0 OS as well via OTG connector along with Windows and Mac.
The device is super-slim with only 8mm thickness and comes with 6 express keys which you can customize with your favorite shortcuts. It has a battery-free stylus with 8192 levels of pressure. The device is also very fast and efficient with a great reporting rate of 233 RPS.
Its screen surface is durable and almost paper-like due to being coated with strong material which makes sure of durability and fineness of texture. Altogether, this gadget is not only cheap but also combines every convenience and durability you could need to pursue your drawing sprees.
Highlighted Features
More compact and light
Durable and paper-like screen due to special material coating
6 keys for personalized shortcuts
Cheap Drawing Tablet Buying Guide
Active Area
You might get confused about this factor that display dimensions and active/working area are the same. But that is not so. Active area is the area of the display that you can work on and that can detect and respond to your pen strokes. And as expected, larger areas mean greater comfort and convenience.
It is mostly dependent on your preference, but ensure that key features are not sacrificed to secure larger models.
Compatibility With Related Software
Since you are looking for the ideal device for drawing, ensure that it is not only compatible with your devices' Operating Systems, but also supports related software. Such particular software would be crucial to further boost your drawing experience. Some examples of such apps include Photoshop, Adobe Illustrator, Autodesk Sketchbook, etc.
Stylus Type
The stylus or pen that comes with the device is also an important aspect to consider. You have to ensure that the styluses come with the standard features to provide you a realistic drawing experience. These include the thickness of the tips, quality of grip, levels of pressure, and battery.
Styluses can come in two forms- rechargeable and battery-free. While both can do the job equally well, it would be wiser to opt for battery-free models. They would offer more convenience as you wouldn't have to deal with the hassle of charging another additional device.
Pressure Sensitivity
The levels of pressure are responsible for controlling the thicknesses of the lines you'll be drawing. The more pressure you'll exert, the thicker the lines you'll be drawing and vice versa.
The larger the levels of pressure of a stylus, the more ranges of thicknesses and opacities you'll be able to generate. It will enable you to create more details in your art. Hence, the best tablet for cheap drawing should have the highest possible pressure sensitivity within your budget.
Report Rate (RPS)
It is a measure of how fast your device responds to your every stroke and is measured in RPS. A 250 RPS signifies that the device can receive and send data in 1/250th of a second.
It is an important factor to watch out for as the faster the device, the efficient it will be and the more realistic your drawing experience will be.
Shopping within a budget is always another additional chore. But when done smartly, it can definitely end up in a win-win situation both in terms of money and quality. And that is exactly what we tried to show today.
With a buying manual along with some examples of the best cheap drawing tablets accompanying your own research, you should be good to go. The dream of enjoying the luxury of your own drawing tablet can now be a reality within your reach.