The best drawing tablet for beginner is a comparatively cheaper tool than a high-end option. But despite the affordable pricing, drawing tablets don't compromise on most of the essential features.
They are perfect tools for people who are just venturing into digital art and don't want to put so much money on a drawing tab while still looking for a model with the right features to keep them going.
Many professionals also consider some of the models in this category as fantastic spare tablets. Besides, most of the professional digital artists that you see online started with these models.
The truth is that there is quite a versatile range of options that fit into this category. That comes as an advantage because you will undoubtedly find a model that meets your needs. But on the other hand, arriving at the right decision will involve extremely overwhelming research.
You are in the right place. This detailed guide will save you from tedious and time-consuming research.
Editors' Picks: Top Drawing Tablet for Beginner
Top List Of Drawing Tablet For Beginner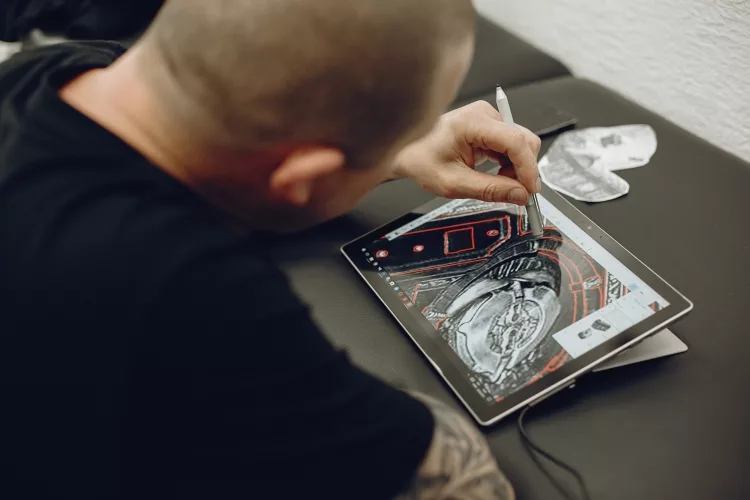 6.Huion Inspiroy Q11K Wireless
Comparison Chart For Top 10 Drawing Tablets For Beginners
| PRODUCT | ACTIVE AREA | PRESSURE SENSITIVITY | PEN TECHNOLOGY | PRICE |
| --- | --- | --- | --- | --- |
| Parblo Mast10 10.1″ | 8.5 x 5.3 Inches. | 2048 Levels. | EMR Pen.t | |
| VEIKK A15 Graphics | 10 x 6 Inches. | 8192 Levels. | EMR Pen. | |
| Wacom CTL4100Intuos | 6.0 x 3.7 Inches. | 8192 Levels. | EMR Pen. | |
| HUION New 1060Plus | 10.0 x 6.25 Inches. | 8192 Levels. | Rechargeable Pen. | |
| Wacom Intuos ProPTH660 | 8.7 x 5.8 Inches | 8192 Levels. | EMR Pen. | |
| Huion Inspiroy Q11KWireless | 11 x 6.8 Inches. | 8192 Levels. | Rechargeable Pen. | |
| UGEE M708 | 10 x 6 Inches. | 8192 Levels. | EMR Pen. | |
| Turcom TS-6610 | 10.0 x 6.25 Inches. | 2048 Levels. | AAA Battery-Powered | |
| Huion H610 Pro V2 | 10.0 x 6.25 Inches. | 8192 Levels. | EMR Pen. | |
| XP-Pen Deco 01 V2 | 10.0 x 6.25 Inches. | 8192 Levels. | EMR Pen. | |
Top 5 Best Drawing Tablets For Beginners
1.Parblo Mast10 10.1″ | Best Starter Drawing Tablet
Apart from the specifications highlighted above, every starter will need a tablet that is easy to use, customizable, and productive. While such models are not easy to come by, we present you with an incredible option in the Parblo Mast10 10.1″ Graphic Tablet. It blends these qualities in an unbeatable way.
First off, the Mast10 is an upgraded version of Parblo's popular Coast10 tablet. Thus, it features impressive improvements when it comes to installation and the availability of up to 6 express keys that make the system very customizable. You will need to download the user manual from the company's website for easy setup.
Again, the device features a combination of user-friendly stylus and monitor. The battery-free pen has a reasonable pressure sensitivity of up to 2048 levels. The stylus features a natural design and provides unbeatable fluidity and control.
The tablet is equally user friendly and comes with smooth drivers that are pretty easy to install. It takes just a few minutes to install the drivers and establish a connection between the drawing tool and the computer. Even more, the user-friendly tab is perfectly ideal for both left-handed and right-handed users.
Highlighted Features
It takes pride in a wide color gamut of up to 75% RGB.
Both the monitor and stylus are incredibly user-friendly.
Up to 6 customizable express keys enable efficiency.
The device is compatible with both Mac and Windows devices.
It is compatible with an array of designing/art applications.
2.VEIKK A15 Graphics | Cheap Drawing Tablet For Beginners
Interestingly, you can own a perfect tablet for beginners without necessarily putting in a lot of money. At well under $100, the VEIKK A15 Graphics Drawing Tablet comes out as the cheapest graphics tool that you will find on the market today. Yet, it comes with features that are competitively comparable to high-end options.
The VEIKK A15 is a tool for those who want to create large drawings without significantly having to zoom or pan the images as they draw. This is because it features an ultra-large active drawing area of up to 20 x 6 inches.
However, despite providing users with an incredibly large drawing area, the device features a thin and lightweight profile that makes it easy to bring along wherever you go.
We won't do justice to this device if we don't compliment the fantastic features that the pen brings to the table. Firstly, the intelligent passive technology deployed on the stylus ensures that you neither need to recharge the pen nor use batteries. The feature presents you with uninterrupted drawing experience.
Again, the pen features the highest pressure sensitivity of up to 8192 levels. That's unbeatable and comes as a surprise on a budget device. The high pen pressure levels enhance accuracy and precision hence enables you to take your art skills to the next level.

Highlighted Features
It is suitable for both right-handed and left-handed artists.
The slim profile makes the device lightweight and portable.
The tab comes with up to 20 spare nibs for a variety of applications.
Up to 12 hotkeys guarantee the finest graphic touch.
It features a report rate of up to 230 RPS.
3.Wacom CTL4100 Intuos | Best Entry Level Drawing Tablet
WACOM is one of the pioneers when it comes to the manufacturing of graphics tablets. It is one of the first manufacturers that still takes pride in its remarkable reputation. Interestingly, they offer models for beginners too. Why not invest in the Wacom CTL4100 Intuos Graphics Table and learn with the best?
The tab features a resolution of 2540 LPI and an excellent pen pressure sensitivity of 8192 levels. These features ensure that you create high-quality and detailed artwork with a lot of accuracy and precision.
The device is compatible with all the computer applications that involve animation, photo editing, and digital art. For example, it is compatible with Photoshop, Comic Studio, SAI, Illustrator, Paintstorm Studio, Corel Painter, and Clip Studio, among many others.
Besides, like all the other models in the Wacom Intuos series, the Wacom CTL4100 3 bonus software once you successfully register your device. The included software titles help to make your graphic drawing, comic mangal, and photo editing skills look more professional.
As you undoubtedly understand, graphics tablets are not standalone devices. So, compatibility is always an interesting factor to consider. It is interesting to learn that the Wacom CTL4100 is compatible with both Mac and Windows devices. Such a feature saves you the nightmare of incompatibility issues, particularly if you change your computer device.

Highlighted Features
It comes with three bonus software titles for artists.
It is easy to set up and use.
The 8192 levels of pressure sensitivity ensure precision.
The device features a moderately sizeable active area.
The USB connection mode is stable and reliable.
4.HUION New 1060 Plus
HUION is another incredible brand that is popular among many professional tablet users. They have a variety of models for various categories. When it comes to those willing to get started or looking for a spare graphics tab, we recommend HUION New 1060 Plus Graphic Drawing Tablet.
While the device is reasonably priced, it blends most of the essential features to deliver a tool that guarantees an incredible drawing experience.
Top among the features is the high display resolution of up to 5080 LPI and an enormous color gamut. The combination gives users a chance to get the highest detailed artwork in all the original colors that they prefer.
The HUION New 1060Plus is different from the original 1060Plus version. Unlike the previous model, the new version features a full area cover and a pen carrier. Besides, the design features thinner borders; hence the active drawing area is considerably larger at 10 x 6.25 inches.
HUION incorporates incredible high-end features into this device. Notably, the device features 12 hotkeys on the left side of the tab and another 16 soft keys just above the drawing surface. These sets of keys give you a chance to tailor your tablet to meet your applications.

Highlighted Features
The package contains three intuitive software at no extra cost.
It is compatible with both Mac and Windows systems.
A 10 x 6.25 inches is ideal for people looking for large drawing areas.
A combination of express keys and soft keys is ideal for customization.
The high 5080 LPI display resolution guarantees amazing images.
Another Wacom device makes it to our review. Of course, it's the famous Wacom Intuos Pro PTH660 Digital Drawing Tablet. The company has been in the market for more than three decades, and they aren't going to start disappointing.
The device is a reliable and robust performer and comes with the simplicity and customization features that make it ideal for new users.
As a beginner, you will easily find control and precision achievable. This is because the device features an incredible pen pressure sensitivity of 8192 levels. Even more, the drawing tool features a digital tracking that is devoid of any lags and is equally highly responsive to tilting.
Again, using the drawing tool produces a natural feeling that gives you a chance to transfer your paper design skills to digital graphics without a weird feeling.
The tablet features a multi-touch surface that allows navigation, zooming, and panning. Besides, it features three different texture sheets that give you natural paper experience. Indeed, you won't enjoy a better feeling than this with a separate tool.
Highlighted Features
The device is pretty slim, compact, and portable.
Incredible optimization feature for illustration, photo editing, and design.
The pen is responsive to tilt and features lag-free tracking.
You can easily customize the device to speed up workflow.
It is compatible with a range of art-related software.
Buying Guide For Drawing Tablets For Beginners
Like every other product, there are factors that you will need to consider when shopping for a graphics tablet. We present you with a guide that will walk you through the nitty-gritties of purchasing drawing tabs. But if you are in a hurry, save time by jumping to our reviews.
Pressure Sensitivity
Look, pen pressure sensitivity, also known as pen pressure level, is one of the most vital factors to consider when shopping for a drawing tab. It determines how accurate you can get. Moreover, it determines the line thicknesses as they appear on the screen by controlling the weight of every pen stroke.
Of course, graphics tablets provide different pressure sensitivity levels. This is often in a bid to accommodate various artists since artists have different skill and touch levels. Again, while some artwork will require broader sketching, others require a lot of intricacies.
When it comes to matters pressure sensitivity, tablets offer as low as 512 levels and as high as 8192 levels. A higher number delivers subtler differences that the tablet can detect. While any pressure lever from 2,048 onwards is good enough, beginners can conveniently start with models with a minimum of 1024 pressure levels.
Size
Well, size, as a factor to consider when shopping for the best beginner drawing tablet, is pretty complicated. So, when considering the size of a graphics tablet, you have to look at it from two perspectives.
You will need to consider the overall size of the device and the size of the active area. Indeed, these are two different aspects that you don't need to confuse.
The overall size of a tablet is precisely the total size of the device, including the casing. The reason why this is important is that it determines the level of comfort when handling a particular drawing tool, as well as its portability.
While most professionals will often want to go big, you must choose a device that strikes a perfect balance between size, portability, and comfort.
The active drawing area represents the portion where you draw on. If your device has a larger active drawing area, you can quickly draw larger artwork without panning and zooming. So, you need to consider the sizes of art that you will create when making this decision.
Type Of Stylus
The type of pen that your drawing tab comes with determines the efficiency that you can enjoy when using the drawing tool. The classification of pen types is based on how they get their power.
Battery-powered styluses operate on AAA batteries. They are considerably thicker to accommodate the dry cells. If you have small hands, you'll find these devices comparatively uncomfortable in your hands. But the most inconvenient lies in the possibility of running out of batteries midway through your work. Ensure that you equip yourself with an extra set of batteries.
Rechargeable pens work like phones, tablets, or laptops that you charge and use. They may also die anytime hence the need for power access. Interestingly, these models are smaller and will conveniently fit in your hands.
EMR styluses use a unique and innovative technology to transfer power from the tablet to the pen electromagnetically. You neither need to charge it, nor do you need to use batteries. They are also comparatively slim and comfortable in your hands.
Battery Life
Apart from the type of stylus, another factor that can ruin an incredible drawing process is the right in the middle of it. So, the battery life of the device that you intend to purchase is another critical consideration.
We always advise that you opt for a graphics tab with long battery life and relatively short charging time. This gives you sufficient time to complete your drawings. Any device with a minimum battery life of 3 hours isn't a wrong choice.
Final Words for Drawing Tablet Buyers

Gone are the days when artistry revolved around pieces of paper and brushes. Of course, these came with great inconveniences. You'd see artists carrying several papers and also worried about whether they had the right type of paper. Besides, they needed a variety of brushes for various applications.
If you are in this situation, then this is a chance for you to move your artistry to the next level by acquiring the best drawing tablets for beginners. We have included some of the most incredible options in this article.
They provide you with an array of advanced tools that revolutionize how you create art. While we have outlined everything about graphic tablets, it is vital to note that an ideal graphics tablet should be of the right size.
Moreover, vital features such as pressure sensitivity, screen resolution, reporting rate, and stylus technology determine the productivity and convenience that the device can deliver.
Buy on Walmart
UGEE M708 V2 Graphics Drawing Tablet, 10 x 6 Inch Large Drawing Tablet, 8192 Levels - Walmart Link
HUION HS64 Digital Graphics Drawing Tablet Android Support with Battery-Free Stylus 8192 - Walmart Link
M708 UGEE Graphics Tablet 10 x 6 inch Large Active Area Drawing Tablet with 8 Hot Keys, - Walmart Link
Wacom DTC133W0A One Digital Drawing Tablet with Screen, 13.3 Inch Graphics Display for - Walmart Link
[4 Bonus Items] Simbans PicassoTab 10 Inch Drawing Tablet and Stylus Pen, 2GB, 32GB, - Walmart Link
HUION Insiprpy H610 Pro V2 Android Support Graphics Drawing Tablet with Battery-Free - Walmart Link
HUION KAMVAS 16 Digital Drawing Tablet with Screen Graphics Pen Display with Battery-Free - Walmart Link
4.HUION New 1060 Plus - Walmart Link
5.Wacom Intuos Pro PTH660 - Walmart Link
6.Huion Inspiroy Q11K Wireless - Walmart Link
9.Huion H610 Pro V2 - Walmart Link
10.XP-Pen Deco 01 V2 - Walmart Link
Buy on eBay
UGEE M708 V2 Graphics Drawing Tablet, 10 x 6 Inch Large Drawing Tablet, 8192 Levels - eBay Link
HUION HS64 Digital Graphics Drawing Tablet Android Support with Battery-Free Stylus 8192 - eBay Link
M708 UGEE Graphics Tablet 10 x 6 inch Large Active Area Drawing Tablet with 8 Hot Keys, - eBay Link
Wacom DTC133W0A One Digital Drawing Tablet with Screen, 13.3 Inch Graphics Display for - eBay Link
[4 Bonus Items] Simbans PicassoTab 10 Inch Drawing Tablet and Stylus Pen, 2GB, 32GB, - eBay Link
HUION Insiprpy H610 Pro V2 Android Support Graphics Drawing Tablet with Battery-Free - eBay Link
HUION KAMVAS 16 Digital Drawing Tablet with Screen Graphics Pen Display with Battery-Free - eBay Link
4.HUION New 1060 Plus - eBay Link
5.Wacom Intuos Pro PTH660 - eBay Link
6.Huion Inspiroy Q11K Wireless - eBay Link
9.Huion H610 Pro V2 - eBay Link
10.XP-Pen Deco 01 V2 - eBay Link