If you are getting a new printer or upgrading your old low capacity printer, I'm sure you are searching for recommendations.
Simplex printing is excellent as long as the job is smaller in volume. When you own a business or work at an office that requires a lot of prints, then the duplex printers come in handy.
The best duplex printer should have an automatic duplexing facility. When you consider buying a printer that will need to perform pretty often and in bulk mode, get a duplex printer.
Besides, duplex printing can save up to 50% of your printing costs!
Top Duplex Printer 2021 by Editors' Picks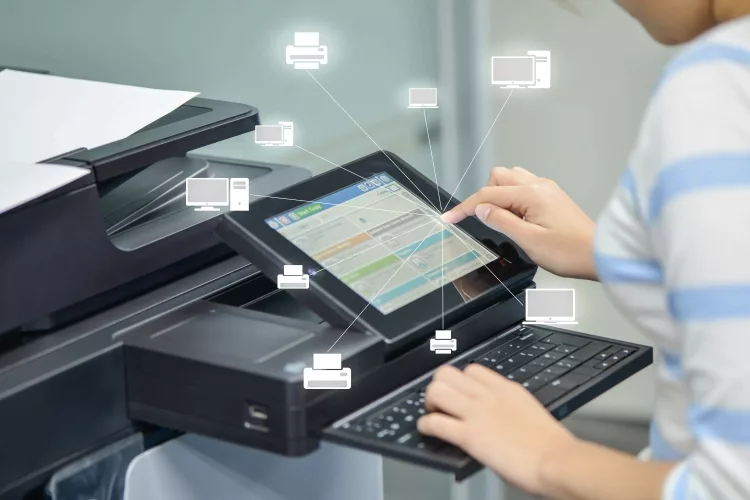 List Of Top Duplex Printer
Duplex Printer Comparison Chart
Image
Name
Functions
Print speed (up to)
Connectivity Technology
Media Size Maximum
Check Price
Canon PIXMA TR4520
Print, Copy, Scan, Fax
8.8 ipm (black); 4.4 ipm (color)
USB, Wireless
8.5 x 14 inch
Check
HP OfficeJet Pro 8025
Print, Copy, Scan, Fax
20 ppm
Ethernet, Wi-Fi
8.5 x 14 inch
Check
HP LaserJet Pro M281fdw
Print, Copy, Scan, Fax
22 ppm
USB, Ethernet, Wi-Fi
8.5 x 14 inch
Check
HP OfficeJet Pro 6978
Print, Scan, Copy, Fax
20 ppm black, 11 ppm color
USB; Ethernet; Wi-Fi
8.5 x 14 inch
Check
HP LaserJet Pro M254dw
Print
22 ppm black, 22 ppm color
USB, Ethernet, Wi-Fi
8.5 x 14 inch
Check
Brother MFC-J995DW
Copy, Scan, Print, Fax
12 ppm (Black) / 10 ppm (Color)
Wireless, Ethernet, USB
8.5" x 11.7"
Check
Brother HL-L3290CDW
Print / Copy / Scan
25 ppm / 25 ppm (Black/Color)
Wi-Fi
8.5 x 14 inch
Check
Brother Mfc-L3770CDW
Copy, Scan, Print, Fax
16 ppm (Black)
Wireless, USB, Ethernet
8.5 x 14 inch
Check
Brother MFC-L5900DW
Print/Copy/Scan/Fax
42ppm
USB, Gigabit Ethernet, Wi-Fi
8.5 x 14 inch
Check
Brother MFC-J805DW
Print/Copy/Scan/Fax
12 ppm
Wireless, WI-Fi Direct, UBS
8.5 x 14 inch
Check
Best 5 Duplex Printers Reviews
1. Canon PIXMA TR4520 Wireless All In One Photo Printer | Best Duplex Laser Printer For Home
Compact in size and very reasonably priced; I think if you are new to buying a printer, Pixma TR4520 is the right one for you.
Canon Pixma TR4520 is bundled with features and more than enough for home-usage. From printing to copying, scanning, and faxing, it has all the functions.
And of course, wireless connectivity to make your printing life simple.
If you have a smartphone and some free apps installed like Canon Print App, EPP Photo Editor App, AirPrint, and Morphia Printing app; You can print or scan anytime you want from home.
Those apps come with free resources like a photo frame, calendar template, and so many to edit and make your prints look a hundred times better.
2. HP OfficeJet Pro 8025 All-In-One Wireless Printer | Best Double Sided Printer
With the auto-duplex feature, the HP OfficeJet Pro 8025 can be a significant upgrade to your home office productivity.
This printer can print with a speedof 20 pages per minute, which is very fast. It also comes with color copying, faxing, and scanning functions.
While the printer is such feature-rich, it is 14% smaller in size than its predecessors.
Imagine you are printing an essential document in a hurry situation, and your printer disconnects from the Wi-Fi network. How troublesome that can be!
This printer features a 3 step self-healing reconnection attempts to make sure your productivity keeps rolling.
With HP Smart app installed on your phone, you can print, copy, scan wirelessly. You can even monitor the ink level with this app.
Its password protection, Wi-Fi security, encryption ensure the safety of your sensitive data. If you are not still impressed, the affordable price tag might help make up your mind to get one this to your home or office.

3. HP LaserJet Pro M281fdw All In One Wireless Color Laser Printer | Best Duplex Color Laser Printer
It's a great entry-level all-in-one printer for the home office.
Suppose you print more or less a thousand pages per year. If you use an inkjet printer, there's a pretty good chance that your ink will dry out in the long run.
The LaserJet Pro M281fdw can ensure nothing of such sort happens to you ever. While printing is the primary job here, copying, scanning, faxing as integrated features do sound amazing too.
If you have bad experiences in the past setting up a printer in the past, the M281fdw might change your view on that. It will find your Wi-Fi on the first run.
Whether you use a Mac or Windows PC, you will find no trouble downloading and installing the driver software.
With a speed of 22 ppm, the printer produces superb quality prints. You might even find it better than some high-end inkjet printers.
4. HP OfficeJet Pro 6978 All-In-One Wireless Printer | Best Auto Duplex Inkjet Printer
HP OfficeJet Pro 6978 is one of the most popular models in the OfficeJet series.
As earlier, we talked about double-sided printing, this printer not only features auto duplexing it also supports double-sided scanning as well.
It speeds-up up to 20 ppm for black and 11 ppm for color printing. Its 2.65-inch color touch screen makes it very simple to operate this printer.
Setting up has never been this more comfortable for any printer. You don't need any secret 'IPs' to connect the printer to your home network. Out of the box, turn on the power; It can detect available networks instantly.
Scan directly to USB, Email, and print from the USB as well, there are so many fascinating options available in this printer.
Printing from mobile devices wirelessly with the HP Smart app will blow your mind for how convenient it can get!
5. HP LaserJet Pro M254dw Wireless Color Laser Printer | Best Duplex Laser Printer
"Big performance in a small package." I can assure you the statement is a hundred percent true for this printer.
The LaserJet Pro M254dw is a compact size feature-rich printer within a very decent price range.
Whether you need it for your son's college assignments, your home office document printing, you can solely rely on this laser printer.
One of its best features is probably its size. Other printers in this category with almost the same features are big and bulky, while this one is comparatively small.
Most of all, it is lightweight.
The performance is the biggest pro for this printer. You don't need to keep an extra photo printer in your home. It can handle photos very well, while it is a champion in laser document printing.
The initial printing cost is about $0.14/per page, which is a big YES for me as well.
Duplex Printer Buying Guide
Let's look at some of the factors to consider when shopping for a duplex printing machine. We will be pretty brief.
Print Resolution
Automatic duplexing decreases the amount of time that you can use to complete large printing or scanning tasks. In turn, it increases productivity. But that should not occur at the expense of quality.
High-quality printing is admirable. And that is only necessitated by high print resolution. The road to incredible print output is, therefore, to consider buying a printer with a print resolution that is as high as possible.
ADF
A combination of auto-duplexing and an automatic document feeder in a single printing tool is an exceptional element for offices and businesses alike.
You get the convenience to attend to other tasks as the machine does the tasks independently. Still, go for a printer with a high ADF capability for more convenience.
Connectivity
Are you a big fan of wired or wireless connections? Whichever the side of the fence you choose to sit on, it is advisable to consider a printer with multiple connectivity options.
In case one option misbehaves, they sometimes do, then you always have an alternative. Notable connectivity options include Ethernet, USB, Wi-Fi, Wi-Fi-Direct, Bluetooth, and Cloud print.
The types of options available in your printing machine of choice also determine the types of media devices that you can connect to the machine. That would mean that you watch out for the compatibility of the printer with your media device.
Versatility
Do you prefer standalone printers over versatile options or vice versa? While the preference will undoubtedly vary from person to person, the choice sometimes goes beyond individual preference. Both types come with their respective merits and demerits.
For example, proponents of standalone printing devices adore them for their quality print output while proponents of versatile options like the fact that they can handle an array of tasks from a single printing tool.
Print Volume
What's the expected volume of work that you plan to handle? Have that in mind before you make your mind on the brand and model of the printing machine that you intend to buy.
An excellent printing tool should reliably meet your volume demands without being too expensive. Stay on the lookout for that!
Final Word
A good duplex printer can add up a lot to the productivity of an office. It reduces a lot of manual works in printing, such as queuing documents in the feeder.
While choosing the best printer for duplex printing, you can consider a few factors like; Paper tray, ADF Capacity, ability to scan in a single pass.
I hope our reviewed products help you with your decisions.