Parents decide to homeschool their kids for various reasons. While some are constantly on the move for jobs, making it hard to enroll in schools, others do not have the right education system, and some can be very costly. For these reasons and more, homeschooling has increased with time.
Since a lot of the study materials are found online today, having a laptop has become imperative for students who are homeschooled. Plus, not going to school means missing out on certain resources, which can be made up with a laptop and internet connection.
The best laptops for homeschooling are a bit different for different grades. Elementary school kids do not require a heavy-duty proper laptop. A Chromebook is well suited for their education.
Middle schoolers can opt for a proper laptop if they want to, and high schoolers definitely need a proper laptop with good specifications for proper education.
Top Laptops for Homeschooling 2021 by Editors' Picks
List Of Top Laptops For Homeschooling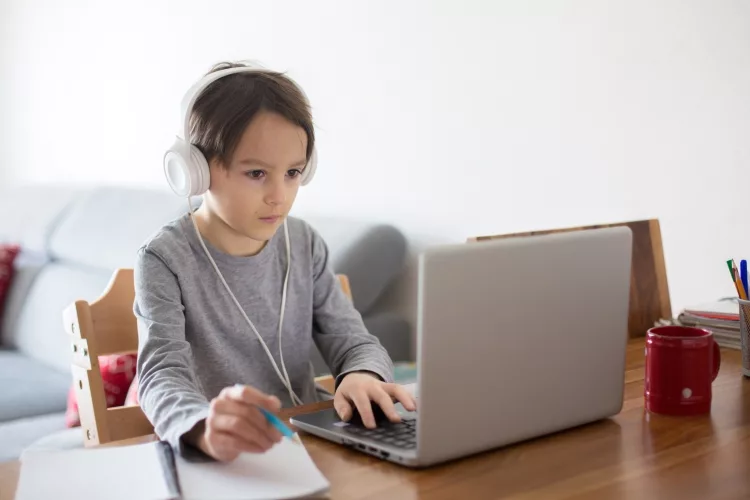 3.Dell i5378-3031GRY-PUS Inspiron
Comparison Chart For Top 10 Laptops For Homeschooling
| PRODUCT | DISPLAY | PROCESSOR | STORAGE | PRICE |
| --- | --- | --- | --- | --- |
| AcerChromebook R 13 | 13.3-inchFull HD | MediaTekMT8173C | 32GB | |
| ASUSZenBook 13 | 13.3-inchFull HD | Intel CoreI5-8265U | 512GBPCIe SSD | |
| Dell i5378-3031GRY-PUSInspiron | 13.3-inchFull HD | Intel Corei3 7100U | 1TB HDD | |
| AcerChromebook 14 | 14-inchFull HD | Intel CeleronN3160 | 32GB eMMC | |
| HPChromebook | 14.0-inchHD SVA | Intel CeleronN2840 | 16GB eMMC | |
| ASUSZenBook UX303U | 13.3-inchFull HD | Intel Corei5-6200U | 256 GB SSD | |
| Acer Spin 7 | 14-inchFull HD | Intel Corei7-7Y75 | 256GB SSD | |
| Acer Aspire 5 | 15.6-inchFull HD | AMD Ryzen 33200U | 128GB SSD | |
| MicrosoftSurface Pro 6 | 12.3-inchPixelSenseDisplay | Intel Core i7 | 1TB SSD | |
| ASUSVivoBook S | 15.6-inchFull HD | Intel i7-7500U | 128GB SSDand 1TB HDD | |
Best Laptops For Homeschooling Reviews
1. Acer Chromebook R 13 | Best Homeschool Computer
The Acer Chromebook R 13 is a good choice for students of all ages, be it middle school or high school. As a Chromebook, it is more affordable and provides flexibility on how it can be used.
This model from Acer is one of the slimmest and most lightweight laptops out there, so it is easy for younger students to handle and carry.
Since this is a Chromebook, you do not get a ton of storage space, but the 32GB eMMC and the 4GB RAM are sufficient for homeschooling since you do not expect a lot of storage files.
The main work on this will revolve around web browsing and maybe some entertainment too, and for those activities, this is a great device to have around.
Speaking of entertainment, the Chromebook has two stereo speakers built-in as well. This way sounds are louder and clearer, letting you use educational online videos with optimal interaction.
If you want to homeschool and still want the kids to interact with other students, the HD webcam can come in handy. Usually, webcams with laptops are not the best. But this is pretty good for regular video calls with its High Dynamic Range (HDR).
Battery life is great here at 12 hours. We all know no student would be using the laptop this long for education, but they can surely use it for entertainment. Since this is a Chromebook, they have access to Google Play Store and can play all their favorite mobile phone games on a larger screen.

Highlighted Features
MediaTek MT8173C processor
32GB eMMC storage and 4GB RAM
Battery life is 12 hours
Comes with two stereo speakers built-in
HD Webcam supports High Dynamic Range (HDR)
2. ASUS ZenBook 13 | Best Laptop For Homeschool
This ZenBook 13 by ASUS is more suitablefor older students, like those who go to high school because it has got more features than what younger kids would need for homeschooling.
It comes with the Core I5-8265U 8th generation processor. This is capable of handling large scale reports and work and will prove to be a great support at home by giving students the speed they want from a laptop.
Storage space is just as great with 512GB SSD and 8GB memory. The SSD increases the speed of the laptop, betters its performance. And the memory lets you download games and study simultaneously, and even have other applications running, all without slowing the laptop down.
Even with such great speeds, the laptop manages to have 15 hours of battery life. This prevents you from running to get the charger every few hours and provides more flexibility on where you can sit to study.
The sleek aluminum body gives this a professional look. Kids love that and want devices which make them feel more responsible. But other than that, the aluminum makes the laptop stronger but keeps it lightweight nonetheless.
You cannot deny that whoever uses this will use it for videos. And the full HD display plus the Harman Kardon-Certified Audio will make that experience just as fruitful.

Highlighted Features
Intel Core I5-8265U 8th generation processor
512GB PCIe SSD storage and 8GB RAM
Battery Life is 15 hours
Comes with Harman Kardon-Certified Audio
Fingerprint scanner increases security
3. Dell I5378-3031GRY-PUS Inspiron | Laptops For Homeschoolers
This Dell Inspiron is another fine find for older students who want a good laptop for homeschooling as well as one that can be used for other work.
One of the first things we love about this is the convertibility. It has a 360-degree hinge. So even if kids get impatient and use it roughly, the screen will not break. Not to mention it is fun to use and when at home, kids can use all the activity they can get.
For the processor, there is the 7th generation Core i3 7100U. This is a good processor and provides a lot more speed than what you would normally need for homeschooling. But it does not hurt to have some extra speed, since it makes browsing so much easier!
Storage space is 1TB HDD. This is an incredible amount of space. If the user loves to hoard games and tons of other files, this is a good choice. You will not have to look for external storage any time soon.
When using for entertainment, the tent mode is a good option. Plus, the full HD IPS display paired with the stereo speakers creates a good entertainment set up as well.
If you are keen on interacting with other students or simply love to video chat, you will like the HD camera that has wide viewing angles. It lets you and your family join in on group calls without cutting people out.

Highlighted Features
Intel Core i3 7100U 7th generation processor
1TB HDD storage and 4GB RAM
Battery Life is 7 hours
Comes with stereo speakers and MaxxAudio
HD Camera has wide viewing angles
4. Acer Chromebook 14 | Best Chromebook For Homeschool
Another Chromebook from Acer, this is a suitable choiceof a laptop for younger kids who undergo homeschooling. It comes with its own built-in virus protection and updates automatically.
These might not seem like issues for adults, but when it comes to kids, these small features can make big differences and save you a ton of trouble.
The Chromebook has the Intel Celeron N3160 processor, 32GB eMMC storage space, and 4GB of RAM. These are suitable for web browsing, typing assignments, and video display. Since that is all you need, it is all you get, and end up saving money in the process too.
For taking up classes online, or video chatting, you get a High Dynamic Range (HDR) HD webcam with an 88-degree wide-angle lens. And with this, the 14-inch full HD screen is like the cherry on top that creates an immersive and enjoyable educational experience.
Externally the device has an aluminum chassis. Besides creating good looks, this makes the laptop lightweight, but strong at the same time, which is highly needed for students, especially the younger ones.

Highlighted Features
Intel Celeron N3160 processor
32GB eMMC storage and 4GB RAM
Battery Life is 12 hours
HD Webcam supports High Dynamic Range (HDR)
Comes with two speakers built-in
5.HP Chromebook
The HP Chromebook is an all-rounded good laptop that is suitable for students of all ages and grades. It carries impressive specifications that allow it to perform well in every aspect.
There is the Celeron N2840 processor with 4GB memory and 16GB eMMc storage. As a Chromebook, these are great specifications and create a fast-enough laptop for schooling videos and interactive online sessions.
If you seek to take up classes online while at home, the TrueVision HD Webcam provides a clear vision while you see the other side on the 14-inch HD SVA display.
And since this is a Chromebook, you have access to all files at all times, as long as you are connected to the internet. Ones you need at hand can be stored in the 100GB provided, while everything else can be kept in cloud storage instead.
This makes the device cheaper and keeps it performing at its best for long times to come since it does not get jammed up with files.
Highlighted Features
Intel Celeron N2840 processor
16GB eMMC storage and 4GB RAM
Battery Life is 9.5 hours
Includes the HP TrueVision HD Webcam
Laptops For Homeschooling Buying Guide
Display
When you are buying a laptop for school students, one of the first things they will notice is the display size. They will look into details later since middle schoolers will not always get all the specifications.
Depending on the age, choose the right size so it does not end up becoming too large or small. 13-inch laptops are the right size for younger students. It is smaller, lightweight, and spacious enough for their usage.
Kids who are a little older, say middle to high school, can do well with 14-inch laptops.
Display resolution will not matter a lot for younger students, and hence you can go with an HD display here.
But if they are old enough for middle school or older, then a Full HD would be better. By this time kids are used to good screens, and a 720p resolution might not satisfy them enough, especially if they use it for entertainment as well.
Processor
You do not need a top-quality powerful processor here. All you need is a good processor that can provide enough power for education. The best laptop for homeschool should have a suitable processor according to age.
For example, younger students can look into the MediaTek or Intel Celeron processors. These have enough power and speed for tasks like browsing the web, writing documents, etc. And kids really do not need anything more than this.
High schoolers can look into the Intel Core i3 or i5, depending on their interests and study. These processors have more power and can be used for all sorts of tasks.
The good thing about these processors is that you do not have to replace them any time soon. In fact, students can continue using a Core i5 processor even after they get into college!
Operating System
The operating system is important to check out when buying a device for kids. You have the Chrome OS and Windows 10, which are the two finest options in this case.
The Chrome OS is a good choice for kids since it can use Android apps, and that is something younger kids are used to today. Moreover, the setup is simpler. All you have to do is log in to access all files and not spend a ton of time transferring data.
Windows 10 is great for security purposes. This OS lets you block applications, games, and other files so children do not mistakenly download something they are not supposed to.
Storage And RAM
A 4GB memory and a 32GB eMMc storage are a good combination to have for kids. Older students who need more space can opt for a 500GB HDD or 128GB SSD, and 8GB or 16GB RAM, depending on the number of files they aim to store and their budget.
High schoolers especially require a ton of storage space, since they have lots of files and games stored up. If that is the case, a 1TB HDD combined with an 8GB RAM will be more than enough for good and speedy performance.
Conclusion
Homeschooling is on the increase today with so many students studying from home and schools being shifted online has further increased this phenomenon. But with the right guidance, these students can receive a proper education.
Since laptops play such a big role in this system, we have collected here some of the best laptops for homeschooling, along with detailed reviews of why they are suitable.
From a good display to DVD drives, different parents and students will have different requirements naturally. And to meet these varying needs you can check out the models provided here since they too cover a wide specification range.