There was a time once when you needed a telephone to stay in touch, a music-system, a camera to click pictures and a camcorder to film your memories.
But today, technology has blessed us with all those functions and more in a single compact device that easily fits our palms. Every gadget out there is all about convenience, versatility, and about being as compact as possible.
The main thing we all prioritize when making any purchase is its multi-functionality, within our budget. Because why not? It saves money, space, time, and makes our lives simpler and easier.
This article is for all of you who are considering on scoring a multifunction printer because your old pal no longer cuts it. Whether it's for yourself or your office, we're about to review some of the best multifunction printer models out there to aid your buy.
Top Multifunction Printer 2021 by Editors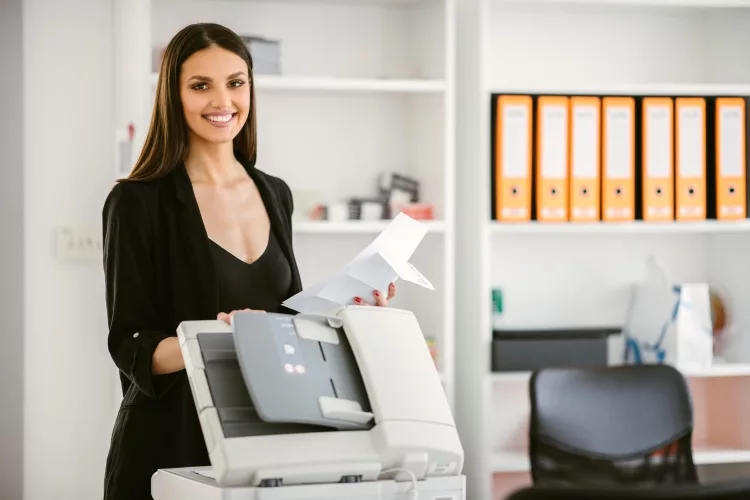 List Of Top Multifunction Printer
1. Canon 2986C002 PIXMA TS6220
Comparison Table For Top 10 Multifunction Printers
| PRODUCT | FEATURES | PRICE |
| --- | --- | --- |
| Canon 2986C002 PIXMA TS6220 | · 5 color individual ink cartridges.· Phenomenal photo quality. Can enlarge copies and restore faded images | |
| Canon TS5120 | · Document Removal Reminder to keep track of your original copy· Direct scan into phones. Organize and edit photos before printing | |
| Canon PIXMA TR4520 | · Big paper trays to support high volumes· Can also fax besides printing, scanning and copying. IFTTT support makes device and apps work together | |
| Canon PIXMA MG3620 | · Comes with Quiet Mode and Auto Scan Mode· Speedy and high quality printing and scanning· Push button and wireless app control | |
| HP ENVY 5055 | · Highly user-friendly· Supports 5 devices' simultaneous connection· Dual-band Wi-Fi for uninterrupted connection | |
| HP Envy Photo 7155 | · Supports direct print from SD Card· Wireless Direct Print without any network. View, edit and print photos directly from touchscreen | |
| HP OfficeJet Pro 8025 | · Made from recycled plastic and other materials-sustainable device· Can print up to 20 pages per minute. Create shortcuts by syncing with QuickBooks, Google Drive, etc. | |
| HP LaserJet Pro M281fdw | · ADF and auto duplexing· Ethernet and Dual-band Wi-Fi enabledPrints 22 pages per minute; both B/W and color | |
| Canon PIXMA TR8520 | · 20 sheets ADF for printing, scanning, copying and faxing· Scan documents directly to computer or email. Scanner has CIS (Contact Image Sensor) | |
| HP OfficeJet Pro 8035 | · 35 pages ADF and automatic duplexing· Voice- activated printing. Superior security to maintain control and privacy | |
Best Multifunction Printers Reviews
1. Canon 2986C002 PIXMA TS6220 Wireless All In One Photo Printer - Best Home Office Multifunction Printer
This compact model from the Canon PIXMA series is ideal for home or home-based/small office use. It can effortlessly take care of all your printing, scanning and copying needs and deliver phenomenal quality.
The photo print quality is exceptional due to 5 color individual ink cartridges. While printing, the 3 inches LCD touchscreen monitor indicates the color levels of each cartridge. Hence, you can just replace the color that is running out.
This model can support a variety of paper sizes such as A4, 4 x 6 inches, 5 x 5 inches, square, 5 x 7 inches, 8 x 10 inches, letter, and legal. It has automatic duplexing and contains two paper trays-the front tray for normal paper and the rear tray for glossy paper.
Compatible with Amazon Alexa and Bluetooth, this device can also be automated via AirPrint, Canon Mobile Printing, Google Cloud Print, Mopria, USB, and Wi-Fi. You can also make your apps work together with this product with the IFTTT (IF This Then That) support.
Copies can be enlarged and faded photos can be restored through this amazing device before printing. The Automatic on/off feature and Energy Star certification ensures conservation of energy while delivering you the best of everything.

Highlighted Features
Phenomenal photo print quality
5 individual ink cartridges ensures high quality
Wi-Fi, Bluetooth, AirPrint, Mopria, Google Cloud Printing. etc. supported
IFTTT supported to make apps work together
Automatic on/off and Energy Star certified-saves energy
Can enlarge copies and restore faded images
2. Canon TS5120 Wireless All-In-One Printer With Scanner And Copier - Best Multifunction Wireless Printer
Similar to the PIXMA TS6220, this inkjet model from Canon also comes with a compact design and dual paper trays to support various paper types. It includes Auto Duplex Printing and user-friendly 2.5 inches LCD touchscreen.
You can connect all your smart devicesto it easily via USB, Wi-Fi, Bluetooth, and AirPrint, Mopria, etc. Print from Google Cloud Print or the Cloud or scan documents directly into your smartphones using the Canon Print5 app like a breeze.
Automatic on/off feature saves energy and powers up on its own when you send something to be printed out. It also has a Document Removal Reminder that won't misplace your original documents when it's copying.
Using the My Image Garden Software, you can edit and organize your pictures before printing out photos. Running out of ink? No issue at all. Just set up Easy Replenish to receive refills at your doorstep just before you completely run out.
Enjoy both high quality color print and color scan as the device provides with up to 4800 x 1200 DPI color resolution. The scanner includes CIS (Contact Image Sensor) which enables it to scan up to 1200 x 2400 DPI. So be it color printing, color scanning, photo printing, text printing or copying- this device does it all.

Highlighted Features
User-friendly
High resolution printing and scanning
Organize and edit photos before printing
Dual paper trays for normal and glossy paper
Supports various wireless connections
Directly scans documents into phones
Document Removal Reminder to keep track of your original copy
3. Canon PIXMA TR4520 Wireless All In One Photo Printer- Best Multifunction Printer For Small Business
Capable of printing, scanning, copying and even faxing, this device is the complete package perfect for your home or small office. It comes with Automatic Document Feeder (ADF) and automatic duplexing.
You'll also find large paper trays to support high-volume printing and copying. Along with the basic USB connection, easily connect your preferred smart devices using the built-in Wi-Fi and other wireless options such as AirPrint, Mopria, etc.
Equipped with IFTTT support, it can make a wide variety of your apps, web services and devices work together to ensure a simple, fast and convenient experience. The automatic on/off option will also keep energy wastage in check.
With high-speed printing of 8.8 IPM for B/W and 4.4 IPM for color, you'll be able to enjoy high-quality detailed output of up to 4800 x 1200 DPI resolutions. With all functions in one, this device could finally replace all the old devices that have been congesting your work space and let it breathe.
Highlighted Features:
Can print, scan, copy and fax too
High-speed printing and scanning
ADF and automatic duplexing
Large paper trays to support high-volume printing/copying
Compact design saves space
Various wireless options including AirPrint, Mopria, NFC, and Google Cloud
IFTTT support to connect apps and web services to device
Simple, user-friendly control panels
4. Canon PIXMA MG3620 Wireless All-In-One Color Inkjet Printer - Best Multifunction Inkjet Printer
This probably one of the fastest models from Canon's PIXMA line. It has a speed of 9.9 IPM for B/W and 5.7 IPM for color. It delivers the high quality print we expect from Canon of up to 4800 x 1200 DPI.
Print, scan and copy from any corner of your home as it comes with strong wireless and mobile printing capacities. The scanning resolution is noticeably high as well-1200 x 2400 optical color DPI, ensuring immaculate detail and quality.
Directly print from your smartphones and other devices using AirPrint, Google Cloud Print, NFC, Mopria and Canon Print. Its wireless setup is simple and easy and consists of two separated cartridges for colored ink and black ink.
Like most Canon printers, it has automatic duplexing to print both sides of paper on its own. But this one has an Auto Scan Mode to adjust correct settings according to the document being scanned. The device also comes with a Quiet Mode for peaceful, noise-free functioning.
This model includes both push buttons and wireless app control which lets users have a versatile and simple operation of the device. With all these features combined into one gadget, this model could be the perfect new addition to your home/office.
Highlighted Features
Very high printing speed
Quiet Mode for noise-free operation
Auto Scan Mode that applies correct settings while scanning
Easy push button and wireless app control
High resolution scanning
5. HP ENVY 5055 Wireless All-In-One Photo Printer - Best Multifunction Home Printer
If the word "user-friendly" could have an identity, this particular inkjet model would be it. Taking less than 5 minutes to assemble, it comes with a monochromatic touchscreen. Easily access to all the essential functions without breaking a sweat.
It supports a versatile range of paper sizes- letter, legal, A4, 4 x 6 inches, 5 x 7 inches, 8 x 10 inches, and even No. 10 envelopes. With incredible performance, it ensures high-quality, clear and crisp print output. And delivers resolutions up to 1200 x 1200 for monochrome and 4800 x 1200 for color.
This amazing model from Canon can print, scan and copy like a pro. You can even preview photos before you are about to print them. It has automatic duplexing to save your time, money and reduce resource wastage. The device also comes with dual band Wi-Fi to secure uninterrupted connection.
The device uses affordable replaceable cartridges and you can even opt for smart order subscription. Refills will be at your door on time without your printer ever drying out.
With the capacity to connect with up to 5 devices simultaneously, it can scan documents directly from your phone camera. Also, print directly from your social media or cloud effortlessly.
Highlighted features
User-friendly and easy to set up
Dual-band Wi-Fi to ensure uninterrupted connection
Preview photos before printing
High-quality monochrome and color printing
Connectible with 5 devices simultaneously
Scan directly from phone camera
Print directly from social media/Cloud
Factors To Consider When Purchasing A Multifunction Printer
Your Requirements
This is the first step to advancing any purchase decisions. You need to consider how many people would be using it and how heavy-duty your needs are. And also whether you need all functions out of printing, scanning, copying and faxing. Whether it's for home use or office use is also a factor.
ADF And Automatic Duplexing
Ensure that it comes with Automatic Document feeder if you are highly likely to do high-volume printing/scanning/copying. And also check for automatic duplexing if you're in a profession that requires you to frequently print double-sided documents.
Inkjet Or Laser
Opt for laser printers if you mostly need to print monochrome text documents as they provide the most clear, crisp and vivid text. Inkjets are best for versatile needs as they can print almost anything on almost any material, including photos on glossy paper. Color laser printers are unnecessarily costly and uneconomical.
Multi-Tasking Abilities
Just because it's an all-in-one multifunctional printer, doesn't mean it can perform multiple tasks simultaneously. So double check if the device is capable of multi-tasking as per your needs.
Connectivity
Along with the traditional USB connection, look into the wireless connectivity options. The more devices that you can connect to it at once, the better. Also check for models that support wireless functioning via AirDrop, Google Cloud Print, NFC, iCloud, Google Drive, Dropbox, AirPrint, Mopria, etc.
Security
Multifunction printers possess a risk of breaching confidentiality by information leaks and also viruses. A prime reason for this is due to multiple users and devices accessing it at once. So just like your PC/laptop, they need protection as well from viruses.
Regarding security breach issues, consider options that provide data encryption, intrusion prevention and device detection facilities.
Ease Of Use
An exceptional gadget is of no use if you can't even operate it properly. So it is essential that you check if the device is user-friendly to receive the best out of it.
Maintenance And Operational Costs
All that glitters is not gold. Similarly, an affordable initial hardware doesn't always mean that it will balance your cost against the benefits.
Make sure to consult your provider and third parties regarding ink-refills and maintenance cost services. Don't be shy to enquire about all the benefits, services and advice your provider can support you with.
Conclusion
In a world where technology is ruling almost every corner of every home/office, things are constantly upgrading. It is no longer worth it to have separate devices for each of your needs. This is where multifunction printers strikes as the boss providing you with the ultimate all-in-one experience.
The information above was an attempt to summarize some of the best multifunction printers out there, just for you. Now with the basic knowledge of what to look for, why wait? Go ahead. It's finally time to upgrade your gear according your versatile needs.