Have you ever been looking for the perfect T-Shirt with your favorite TV show character, dialogues, music band, etc.? Wanted to gift your loved one something priceless such as a memory quilt with your favorite moments' pictures together?
These are some of the examples of fabrics that can be customized effortlessly, even by yourself right at home!
Fabric printing is no longer an impossibility these days for anyone and when it comes to the designs you can go for, the sky is the limit!
It is one of the most awesome ways of personalization as you get to show off exactly what you love or support, or makes your gifts the most special; differentiating you from the crowd.
Hence, let's head on to all you need to know about how to print on fabric at home in all the fun and exciting ways!
Types Of Fabric Printing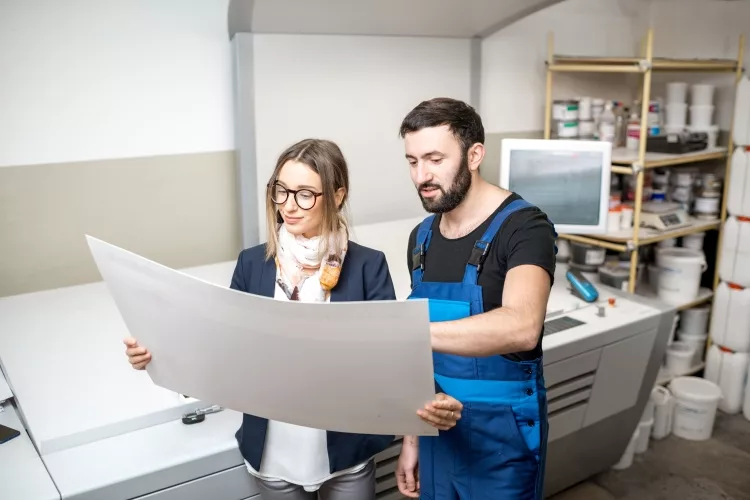 Before we move on to methods of printing on fabric, you need to know the three main categories. Whether you are printing your fabric at home or commercially, whichever method you use, falls under any of the three categories below.
1. Direct
This category of printing is basically the direct application of color, pigment, paint, or dye, etc. on your fabric.
It can be either directly applying/painting them on, or printing on them using printers.
2. Discharge
The discharge category involves the removal of colors from a colored piece of fabric in specific zones with the use of chemicals.
Once the color gets removed, you are left with a specific pattern on your fabric.
3. Resist
In this category of fabric printing, a special type of chemical or paste is applied on the fabric in your desired pattern. Then the whole fabric is colored.
The resist chemical prevents those areas from getting dyed while the rest of the fabric takes on the colors, creating a pattern with the initial color as the fabric's base dye.
Tie-dye and batik are two of the most popular methods of this category of fabric printing.
How To Print On Fabric At Home Using Printers
1. Inkjet Vs. Laser Printers
Both these printers can be used to print on fabric, but inkjet is more recommended.
This is because inkjets use liquid ink droplets to produce prints. As a result, they provide enhanced quality of images, especially when printing detailed pictures. The colors are also blended out smoother that with laser printers.
This model of the printer also can handle a more versatile range of media types, making it the convenient option for not only fabric printing, but for your other purposes too. It is also more cost-efficient as ink cartridges tend to be more affordable than toners.
Fabrics that are printable are produced a little differently to be firm enough to smoothly pass through your printer. If you are opting for pre-treated commercial fabrics for your projects for more long-lasting color, inkjets alone are capable of handling them as the laser printer heat may affect the treatment products on the fabric and damage it.
Lasers are a good option for when you are printing in bulk and they can produce stellar black prints and you're good to go if the images aren't too detailed. But since the products for post-treating the fabric printed with toners are different, you'd end up with a stiffer output.
Hence, laser printing on fabric is recommended for projects that don't involve much folding or hand-quilting, or neither at all. Examples of such projects include wall hangings, postcards of fabrics, etc.
Regardless of which printer you use, the rest of the method is the same for both printers.
2. How To Print On Fabric With Inkjet Printer
Freezer Paper
Many of you are already familiar with what freezer papers are. These are the papers you buy to cover and store your food in the freezer and possess a single waxy side.
One end of the paper is shiny with the wax layer and the other is matte. That waxy part, when heated, adheres to your fabric. Hence, you get a firm piece of fabric that can easily pass through your printer without getting wrinkled, facilitating effortless printing
How To Print On Fabric With Freezer Paper
Choose your desired piece of fabric. If it's untreated and you want to treat it, follow the manual provided by the manufacturer of the treatment products and dry it completely.
Cut out the fabric a little bigger than your freezer paper.
On the wrong side of the fabric, align and place the freezer paper properly, with the shiny side downwards.
Using a mild and dry setting of your iron, press on the paper and iron it gently all over with small strokes to ensure that it properly sticks to the fabric.
Allow the project to cool, measure and trace your desired shape or size.
Using a very sharp pair of scissors or a rotary cutting tool, carefully cut out your project. Make sure it is a size that fits your printer.
Ensure that the corners and edges are not frayed with threads sticking out as it will cause the ink to smudge. Check that the attachment is secure with the freezer paper as well.
You can use your iron again to gently press on the paper side of the project, then clean it up with a lint roller to remove any dirt, hair, threads, etc.
Now move on to the printing process and choose your desired image of the highest resolution.
Make necessary adjustments before printing such as setting the highest quality. This will provide the best quality output and also print slower, reducing the chances of smudges.
Print on the fabric side and allow it to dry entirely.
Once completely dry, peel off the freezer paper gently from the fabric. Luckily, this paper leaves no sticky residue.
With your iron at the highest temperature setting now (no steam), press on the wrong side of the fabric to enhance the setting of the ink.
Using a suitable product, treat the product following the product instructions to achieve a long-lasting color that doesn't bleed when washed.
3. How To Print On Fabric With Laser Printer
Printing on to fabrics with a laser printer is basically the same as via an inkjet printer. But do keep in mind that you cannot use pre-treated fabric.
Once the printing process is complete according to the steps discussed above, you'd need a sort of workable fixative to seal the toner into the fabric. Lightly spray it in several layers and keep in mind that your fabric will end up a little stiff due to this.
How To Print On Fabric Without Freezer Paper
When fabric printing at home using your printer, there are other options you can use instead of freezer paper which are as follows:
1. Fabric Sheets That Are Ready-Made
Though these are the costliest, they tend to yield the best results as they already come pre-treated for ink-fixing.
Since they are firmer, thicker, and completely flat, they pass through the printer perfectly smoothly and come out with super-clear and crisp prints. There is also no smudging, which is a common struggle when using freezer papers.
2. Adhesive Paper
Similar to freezer paper, these are a little thicker and easier to use and unlike freezer paper, there is no waxy side.
Hence, you don't need to iron it to get it attached to your fabric as it comes with an adhesive side. Simply peel the covering off the adhesive side, stick it on to your fabric sample and get printing. Just peel off the paper after you're done.
3. Fusible Web
This is yet another impressive alternative to freezer paper which is almost identical to it but is better depending on your project type.
First, it comes in a roll instead of separate sheets, making it a more economic choice. The working method is the same as freezer papers but since they are thicker, you get better print results with lower chances of smudging.
The unique feature of this material that it is double-sided. This means once you pull it off from the fabric after printing, the opposite side of the fabric is left with an adhesive layer.
This provides you the convenience of sticking your fabric on surfaces directly like a sticker and is an advantage you can use if it fits your project.
4. Adhesive Spray
In order to print with this method, you'd need the following tools.
Plain cardstock paper
A spray adhesive
Your fabric of choice, preferably something of cotton and light
Sharp scissors
Newspapers for protecting the workspace
Your printer
Once you have these at hand, follow the steps instructed below to complete your project.
Since the adhesive spray goes everywhere, cover up your work area with newspaper before getting started. Work outside if possible.
Place your cardstock paper on the covered surface and spay it entirely with the adhesive spray.
Iron your fabric out to remove any wrinkles
Pick the sprayed cardstock up carefully and gently place it on the wrong side of your fabric, sticky side downward.
Gently smoothen the adhesive paper over the fabric starting from the center and working to the edges, rubbing with small strokes.
Using a sharp pair of scissors, trim off the excess fabric surrounding your cardstock and get ready to print.
Print on the fabric side, let it dry and peel off the cardstock paper.
Finish off with ink treatments to make the color more long-lasting.
5. Photo Fabric
These are printable fabrics that already come attached with paper.
Though a costly method, it eliminates the hassle of prep-work and all you have to do is load them up on your printer directly. Print away like you would with normal paper and finish off as usual with iron and treatments after peeling the paper off to receive the final result.
How To Print On Fabric At Home Without Printers
1. Stencil Printing
Stenciling is another genius way to print and create flawless patterns on your fabric. There are endless ways of doing so, and you can either buy the stencils or make them on your own.
Place your fabric securely on a flat, even surface. Pin it down if it is a large piece. Make sure it is perfectly ironed and there are no wrinkles.
Place the stencils securely onto the fabric to prevent the dye from seeping through. You can use masking tape, adhesive spray, or stencils made of freezer paper, adhesive paper, etc. for best results and they are also easy to take off.
Use either a brush to color in the area inside the stencil or dab it with a sponge or spray the color.
Let the dye dry completely before taking off the stencil to prevent smudges.
When reusi`ng the stencil, ensure no wet residual dye is left on it to prevent spotting.
Once your project is over, treat it accordingly for achieving long-lasting color.
2. Block/Stamp Printing
This is one of the most straightforward ways of glamming up your fabric without requiring fancy equipment or your printer.
For block or stamp printing, the main tool is the designed wooden blocks, or any other material, that you use to stamp on the design onto your fabric after dipping it in dye. The following are the things you'll need.
Readymade or homemade stamps or blocks of your choice
Your fabric
Fiber reactive colors such as fabric dye or acrylic paint
Small bowl(s) for the paint
Sponge/paper towels
A big piece of flat cardboard or any material for tightly pinning the fabric in place
Fabric medium for when you intend to thin out the acrylic dye
Now let's move on to steps to block or stamp on your fabric perfectly like a pro!
Complete all fabric preparations such as dyeing, treating, washing, etc.
Pre-washing the fabric is highly recommended as if the finishing products remain on your sample, the dye won't stick properly.
Iron the fabric out to remove wrinkles.
For larger pieces of fabric, it is recommended to securely pin it to a big, flat board such as cardboard.
Take your paint in a bowl. Use separate bowls for different colors. If your fabric is natural, any dye is fine. But for synthetic ones, synthetic colors are better. Fabric paint is fine too.
Dip your sponge piece on the paint and dab it all over the stamp/block base to cover all the area perfectly.
Now place the block/stamp firmly on your fabric and apply some pressure.
Remove it after a few seconds swiftly without dragging or shaking it to leave a clean print on the fabric. Repeat the process until the whole fabric is printed.
For overlapping designs, allow the first layer of dye to dry up before starting on the next layer.
Use the paper towel for blotting excessive paint to prevent clumping.
Allow the fabric to dry and perform color setting procedures based on the type of dye you used.
3. Spray Printing
This method, as the name says, is pretty self-explanatory. It involves using specialized spray guns under control to stain your fabric as desired.
How To Print On Fabric With Cricut
Cricut is a digital cutting device that is capable of cutting the widest range of materials includingpaper, cardstock, vinyl, fabric, leather, etc. while some can even cut thin wood!
These devices, with the help of a small cutting blade, scoring tool, pen, or rotary cutter, are capable of cutting up your sample in endless shapes and sizes. You thus get to get the most versatile array of designed cutouts with the help of this device and its Design Space software.
Open the Design Space software on your device and go to the Upload option.
Upload your desired image that is compatible with this software.
Choose the setting called Complex for receiving the best quality of the printout.
Use the Select & Erase tool to remove the background if necessary. Make necessary adjustments and check the type of output you'll receive by clicking Continue after erasing.
JPEG files usually need background erasing, PNG files don't.
Press Upload and once the image has been uploaded, insert it on the Canvas.
Make your desired color and size choices and add in as many images as needed and fits the Canvas. Add in your designs, fonts, etc.
Click on the button labeled Make It. You'll see that the images fit on a single page in your display.
Print the design using only an inkjet printer on printable fabric.
Once printed, let the fabric dry
Place it on a cutting mat and ensure it is properly adhered to the mat by using a smooth, non-sticky roller.
From the settings, browse all the material options and select Printable Fabric.
Choose your cutting tool and let your Cricut device deliver the final result.
Peel off the paper from your cut fabric pieces
Press on the wrong side with an iron if they have curled up, and you're done!
Conclusion
Printing on fabric is a creative and fun way to decorate them and there are many DIY and commercial ways to do so.
The methods we discussed are just the tip of the iceberg and as we just saw, many of them can be easily done with just your regular printer at home!
Now that you know enough from our guide about how to print on fabric in all the different ways, you can finally let your creativity go wild all by yourself!