Are you a teenager looking for a first tablet or an upgrade to a more powerful gadget? Or a parent looking to gift a teenage kid with a new tablet? Whichever the case, you won't go wrong by reading through our review of the best tablets for teens.
At the beginning of this century, mobile phones were a preserve for distinguished professionals, big businesses, and established institutions. And the devices were pretty basic. But the technology now is not only advanced but also sweeps across all age groups. There are now tablets for toddlers, kids, tweens, and adults.
But in a market filled with several tablet models, picking the right device is a very challenging task. A small mistake leads to an entirely wrong device.
We acknowledge the needs of teenagers! Great connectivity to access social media sites, good storage for entertainment content, an eye-catching design, and great cameras. And, a ruggedized device will keep the tab from abuse from teens.
Editor's Recommendation: Top Tablets for Teens 2022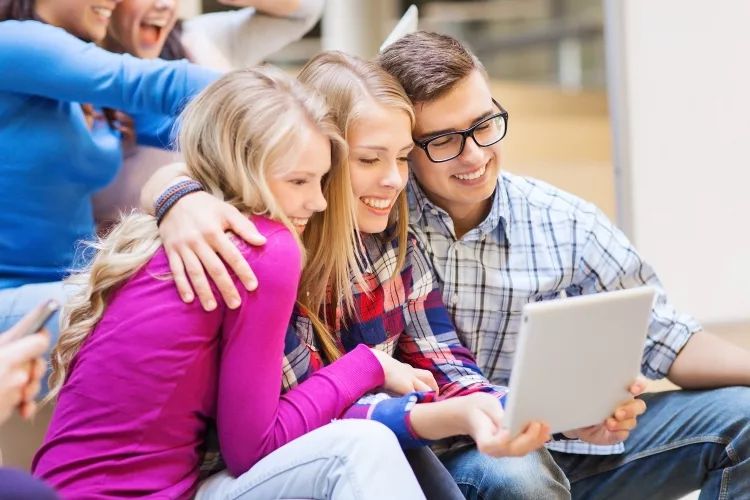 List Of Top Tablets For Teens
Comparison Chart For Top Tablets For Teens
| PRODUCT | SCREEN SIZE | OPERATING SYSTEM | INTERNAL MEMORY | PRICE |
| --- | --- | --- | --- | --- |
| VANKYOMatrixPad Z4 | 10.1 Inches. | Android 9.0Pie. | 32 GB. | |
| ASUSVivoBookL203MA | 11.6/14 Inches. | Windows 10 S. | 64 GB. | |
| JumperEZbook X3 | 13.3 Inches. | Windows 10Home. | 64 GB. | |
| Lenovo Tab 4 | 5000 | 10.1 Inches. | Android 7.1Nougat. | |
| Lenovo 100EChromebook | 11.6 Inches. | Chrome OS. | 16 GB. | |
| AcerChromebookR 11 | 11.6 Inches. | Chrome OS. | 32 GB. | |
| VICTBINGGo Tab | 10.1 Inches. | Android 8.1OS. | 16 GB/32 GB. | |
| DragonTouch K10 | 10.1 Inches. | Android 8.1Oreo OS. | 16 GB. | |
| LenovoFlex 11 | 11.6 Inches. | Windows 10. | 64 GB. | |
| ZONKO Tab | 10.1 Inches. | Android 6.0Marshmallow. | 32 GB. | |
Best Tablets For Teens Reviews
1.VANKYO MatrixPad Z4 | Best Cheap Tablet For Teenager
Tablets for tweens don't have to be too expensive. And at just about $100, VANKYO gifts teenagers with an impressive tablet in the VANKYO MatrixPad Z4. The implication of this is that any teenager can now own a tablet and a functional one for that matter.
The device takes pride in the 10.1-inch IPS display, which is the largest in VANKYO's popular MatrixPad series. Interestingly, the screen doesn't just stand out for its size. It features an incredible display resolution of up to 1280 by 800 pixels hence delivers crisp and vibrant images.
You will marvel at the camera capabilities of the gadget if photos are your thing. At 2MP, the front camera doesn't offer much to write about. However, the 8MP rear camera is lifelike images in snapshots and videos. It inspires every youth to record all the memorable moments and share them with loved ones.
The Z4 runs on a Google Android platform which is quite remarkable. However, the inclusion of the intuitive Google Assistant further makes this device exciting. This feature enables a hands-free operation whereby you can conveniently play songs, receive calls, and do much more without sticking a finger on the device.
Highlighted Features
The device allows for reading, watching, and viewing on a large display.
Dual cameras allow you to capture and share every moment.
A large 32 GB internal memory is sufficient to store more.
The dual speakers provide a great listening experience.
It runs on the stable Android 9.0 Pie Operating System.
2.ASUS VivoBook L203MA Laptop | Good Tablet For Teenager
Teenagers who want a stronger device for college and entertainment purposes will find the ASUS VivoBook L203MA Laptop a viable option. It's more of a laptop than a tablet hence comes with better performance and functionality features. But that shouldn't make you have a premonition that the device is expensive.
Firstly, the device features an incredible combination of powerful processors, a big RAM, and sufficient internal storage. It is a Windows device that runs on Windows 10 S OS and a powerful N4000 Intel Celeron Processors on a 4GB RAM. The device is, therefore, a perfect gadget for students or teenagers looking for laptops.
The flash storage of the laptop is a massive 64GB. Every teenager will find this memory sufficient to store everything that they need to store in it. You can store photos, classwork, videos, and a range of other files.
It features a full-size and perfectly ergonomic keyboard with a key travel of a convenient 1.66mm. The keyboard is pretty ergonomic and guarantees comfortable typing of class notes or anything else. Besides, the durable hinge goes flat to 180 degrees making it ideal for sharing content with a sizeable group.
Finally, since teenagers love the internet, the ASUS VivoBook L203MA Laptop gives them the required connectivity strength for fast and reliable data transmission. The dual-band Wi-Fi is not only strong but also stable and pretty reliable. This is perfect for streaming videos, downloading audio, and researching.
Highlighted Features
It guarantees a great audiovisual experience.
The optimized battery serves for up to 10 hours.
It is pretty lightweight and portable.
The durable hinge is strong and conveniently goes flat.
It is full-featured with a variety of ports.
3.Jumper EZbook X3 | Best Tablet For 13 Year Old
For teens looking for a more powerful device, the Jumper EZbook X3 has you sorted. This is another laptop model that every teenager will fall in love with. As you'd expect, it runs on a Windows platform which by default makes it a workhorse.
Interestingly, while the device only fits into this list because of its favorable pricing, even professionals will find this gadget ideal for home and work applications. It features a pretty powerful processor. Thus, the teenage tag shouldn't make you shy away from the device.
The device is perfectly reliable and ideal for all tasks, thanks to the versatile range of ports that it offers. It is full-featured and comes with 2 USB 3.0 ports, a mini HDMI port, a DC port, and a headphone jack. The device also features a Micro SD slot and a TF card slot.
The audiovisual capability of the Jumper EZbook X3 is equally topnotch. The 13.3-inch IPS screen delivers HD quality viewing at remarkable resolutions. The screen uses an eye-friendly technology that ensures that your eyes remain unhurt even after several hours of reading or watching.
But since that's not enough, it is also worth noting that the device features a high-quality stereo sound system. The combination gives you an enjoyable experience with video chats and audio.
Highlighted Features
The powerful processor enables smooth and stable operations.
A large high-resolution for a better watching experience.
The device is sleek, slim, and portable.
A slim bezel maximizes the body to screen ratio.
The pricing is moderate for a device of its caliber.
4.Lenovo Tab 4 | Best Tablet For Tweens
If you are looking for a pure tablet, the Lenovo Tab becomes one of the most suitable options. Lenovo has been in the technology industry since 1984, and that explains their reputation in manufacturing computers, phones, tablets, and other tech devices.
The company delivers on and surpasses all its promises in the Lenovo Tab 4. It features a sleek design, powerful built, incredible versatility, and the longevity to serve you religiously for a long time.
The super-slim tablet is perfectly versatile. The tab is ideal for reading, browsing, gaming, listening to audio, and video streaming. Besides, it is a device the entire family will find useful. Teens will love the room for exploration and adventure that it provides while adults will love its general performance.
Even more, the parental controls that the company includes in the Lenovo Kid's Account feature give you a chance to share the tablet with children without worrying about what they can access. You can conveniently create accounts for your kids and handpick the relevant educational and fun content for them.
Highlighted Features
It is sleek, powerful, and highly versatile.
Utilizing the Kids Account feature makes it a dedicated kid's tablet.
The 8.5 mm profile makes it one of the slimmest devices.
The battery can last for an epic 20 hours.
A high 1280 x 800 IPS screen resolution for clear viewing.
5.Lenovo 100E Chromebook
We end the review section on a high and with another Lenovo device. certainly, the Lenovo 100E Chromebook doesn't make it to this review by mistake. It brings impeccable portability, unbeatable productivity, and longevity in the ruggedized design. These are features that every teenager will find handy.
Unlike most Lenovo devices, the 100E Chromebook runs on a Chrome OS. This gives users the convenience to access apps from both Chrome Web Store and the evergreen Google Play Store. Excitingly, the OS also allows for practicality when it comes to multitasking. You can conveniently open many windows simultaneously.
The Lenovo 100E Chromebook is dedicated learning too, thanks to the array of educational apps that both students and teachers will find perfectly useful. The G-Suite for Education and the Popular Google Classroom are within the reach of your backpack. You can install other educational apps too.
The 720P front camera and the high-resolution display also make the Lenovo Chromebook an impressive learning and social tool. You can conveniently make high-quality video calls.
Finally, the device comes with the right interfaces to allow students to connect with unmatchable ease. It features two USB-C ports and a similar number of USB 3.0 ports as well as a reader for micro SD cards. Even more, this gadget features reliable Bluetooth and Wi-Fi connectivityoptions.
Highlighted Features
It is a dedicated learning tool.
You can access apps from both Google Play Store and Chrome Store.
An amazing range of interfaces enhances versatility.
A ruggedized design reliably withstands the harsh classroom environment.
It is ideal for both teachers and students.
Buying Guide For Top 5 Tablets For Teens
We will review some top tablets for teens in this article. However, we feel that it is only fair to do that after a short discussion of the factors that make a tablet fit in this category. Indeed, that helps you to make an informed purchase.
Operating Platform
Interestingly, the operating system of a tablet determines its ease of use as well as the applications and software that you can access. We can put it that the operating system of a device determines what you can do with a device and the efficiency with which you can achieve it.
Android, iOS, Chrome, and Windows are the four major operating platforms on which tabs run. While the choice often boils down to personal preference, it is vital to note that each platform comes with its advantages and disadvantages. Beyond the platform is the OS version of which you need to consider an advanced version.
Screen Size And Resolution
Tablets come in a variety of sizes and what may be appropriate for you or your teen may not be ideal for another parent or another teen. If the device is meant for watching videos, reading, or drawing, always look for big screen size. Bigger screens deliver cinematic displays of both texts and images.
However, while the clamor for big screens is acceptable, always ensure that you match the screen size with sufficient display resolutions to guarantee visibility and sharpness.
Teenagers who value portability will most certainly consider options that are averagely compact and lightweight. Most of such models provide better listening and photography.
Internal Specs
We always focus on three vital aspects of the internal specifications of a tablet. We have the processor, RAM, and internal storage. These features help to determine both the power and convenience of the device that you will opt to purchase.
The RAM and processor determine the technological capabilities of the device. They determine the stability, power, speed, and reliability of the tab. They also determine the number of applications and software that you can install into the gadget.
Again, teenagers need sufficient memories in their tablets to store everything without the need to delete older content. There are photos, audios, videos, documents, drawings, and other files that all need enough storage capacity.
Camera Resolutions
This is pretty straightforward. So, we will be equally brief with it.
How many teenagers don't like taking photos and sharing moments with friends? Nearly all teens like photos, save for a few who are camera-shy. And with the influx of photo and video-oriented social media sites, the need to choose the best tablet for teenager with a good camera is no longer debatable.
Additional Accessories
Finally, there are a few accessories that make a tab more suited for teens. The first on the list is a protective casing, which helps to extend the longevity of the tablet. Unlike adults, teens aren't as careful as adults. This makes their devices more susceptible to damage.
A stylus is equally a perfect addition to the package. Tweens who like to get creative will find Surface Pens useful in exercising their imagination.
Finally, while not many tabs come with micro SD cards, any model that includes that in the package is an incredible buy. You can always purchase a memory card separately to help boost the device's storage.
Frequently Asked Questions (FAQ)
What Is The Best Tablet To Buy For A Teenager?
Teenagers usually purchase a tablet to play games, watch movies, surf the internet, and enjoy music. The best tablet for a teenager should have a high-definition display and the latest wireless connection technology. It should also have a chipset that offers fast and reliable performance that can enhance the gaming experience of teenagers.
What Is The Best Tablet For A 12 Year Old?
A tablet for a 12-year-old doesn't need to have the finest and latest technology as kids mainly want a tablet for gaming and watching cartoons and animations. However, the best tablet for a 12-year-old kid should have a parental control system to keep the kids safe from the negativity of the internet.
Which Tablet Is Best For 8 Year Old?
The 8-year-old kids are mostly eager to play video games and watch cartoons on YouTube and other platforms. The best tablet for an 8-year-old would be anyone from the Amazon Fire tablet series. They offer parents a unique monitoring system to keep an eye on their kids' activities and ensure a fine user experience.
What Is The Best IPad For A 13 Year Old?
The kids start to discover their talents when they turn 13, and a high-end iPad will help them in that process. Using a tablet, kids can make videos, music, or even play video games professionally. For that, a superior quality chipset is necessary. The Apple iPad Mini should be the best iPad for a 13-year-old since it features the A12 Bionic chip.
Final Words
Comrades, we come to the end of this review. From our findings, we can confidently conclude that kids need powerful tablets too. These devices come in handy for gaming, drawing, reading, and streaming audio and videos.
We only considered models that can meet the above-mentioned needs but still have an array of unique features. So, these needs vary from one individual to another, we are certain that you can positively find the best tablet for teens from this review.
Buy on Walmart
Lenovo Tab M10 Plus Tablet, 10.3" FHD Android Tablet, Octa-Core Processor, 128GB Storage, - Walmart Link
New Microsoft Surface Go 2 - 10.5" Touch-Screen - Intel Pentium - 4GB Memory - 64GB - - Walmart Link
Apple iPad Mini (Wi-Fi, 256GB) - Space Gray (Latest Model) with AppleCare+ Bundle - Walmart Link
Samsung Galaxy Tab S6- 10.5" 128GB, Wifi Tablet - SM-T860NZBAXAR, Cloud Blue - Walmart Link
Wacom Intuos Wireless Graphics Drawing Tablet for Mac, PC, Chromebook & Android (medium) - Walmart Link
ASUS ZenScreen MB14AC 14" Portable USB Type-C Monitor, 1080P Full HD, IPS, Eye Care, - Walmart Link
Microsoft Surface 3 Tablet (10.8-Inch, 128 GB, Intel Atom, Windows 10) - Walmart Link
Wacom Intuos Art Medium Pen and Touch (Old Version) - Walmart Link
Android 10 Tablet Facetel Q3 Pro 10 inch Tablets: Octa-Core Processor, 3 GB RAM 32 GB - Walmart Link
SAMSUNG Galaxy TabPRO SM-T520 16 GB Tablet - 10.1" - SM-T520NZKAXAR - Walmart Link
6.Acer Chromebook R 11 - Walmart Link
Buy on eBay
Lenovo Tab M10 Plus Tablet, 10.3" FHD Android Tablet, Octa-Core Processor, 128GB Storage, - eBay Link
New Microsoft Surface Go 2 - 10.5" Touch-Screen - Intel Pentium - 4GB Memory - 64GB - - eBay Link
Apple iPad Mini (Wi-Fi, 256GB) - Space Gray (Latest Model) with AppleCare+ Bundle - eBay Link
Samsung Galaxy Tab S6- 10.5" 128GB, Wifi Tablet - SM-T860NZBAXAR, Cloud Blue - eBay Link
Wacom Intuos Wireless Graphics Drawing Tablet for Mac, PC, Chromebook & Android (medium) - eBay Link
ASUS ZenScreen MB14AC 14" Portable USB Type-C Monitor, 1080P Full HD, IPS, Eye Care, - eBay Link
Microsoft Surface 3 Tablet (10.8-Inch, 128 GB, Intel Atom, Windows 10) - eBay Link
Wacom Intuos Art Medium Pen and Touch (Old Version) - eBay Link
Android 10 Tablet Facetel Q3 Pro 10 inch Tablets: Octa-Core Processor, 3 GB RAM 32 GB - eBay Link
SAMSUNG Galaxy TabPRO SM-T520 16 GB Tablet - 10.1" - SM-T520NZKAXAR - eBay Link
6.Acer Chromebook R 11 - eBay Link