Slowly but surely, we are all going digital to continue our processes remotely. Whether for education, shopping, communication, or even business/office meetings, webinars are the ultimate solution for it all.
And thanks to such events, webcams sure are having a peak moment due to the increasing demand for webinars in almost every field. It's not always guaranteed that your laptop or phones will come with perfect cameras good enough for your purposes; especially when it's professional.
And that is when you need the best webcam for webinars to elevate your experience to the next level with the ultimate professional performance seamlessly. So let's take a peek into all that you need to know to make your buy, along with some top models' reviews that are ruling the market right now.
Editor's Recommendation: Top Webcam for Webinars 2021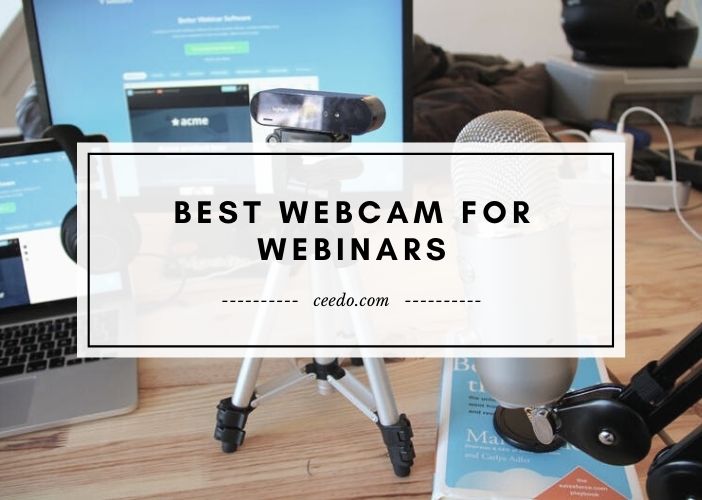 List Of Top Webcam For Webinars
5.Logitech Conference Cam BCC950
6.Logitech MeetUp and Expansion Mic
9.Logitech ConferenceCam Connect All-in-One
10.Microsoft LifeCam Studio for Business
Comparison Chart For Top 10 Webcams For Webinars
| IMAGE | Name | Angle | Resolution | Microphone | price |
| --- | --- | --- | --- | --- | --- |
| | Logitech BRIO Ultra HD | 90⁰/78⁰/65⁰ | 720P/1080P/4K | Dual Omnidirectional | |
| | Logitech C930e | 90 | Full HD 1080P | Omnidirectional dual mics & auto noise reduction | |
| | Razer Kiyo | 81.6⁰ | Full HD 1080P | Built-in | |
| | Logitech C925-e | 78⁰ | Full HD 1080P | Dual omnidirectional stereo | |
| | Logitech Conference Cam BCC950 | 78⁰ | Full HD 1080P | One Mic & Speaker with echo-cancellation & noise-reduction | |
| | Logitech MeetUp and Expansion Mic | 120⁰ | 720P/1080P/Ultra 4K | 3 microphones plus custom-tuned speaker | |
| | Meeting Owl Pro | 360⁰ | Full HD 1080P | Smart 8 mics | |
| | Huddly GO | 150⁰ | HD 720P | None | |
| | Logitech ConferenceCam Connect All-in-One | 90⁰ | Full HD 1080P | duplex Omni-directional with noise cancellation | |
| | Microsoft LifeCam Studio for Business | Wide (N/A) | Full HD 1080P | High-Fidelity Microphone | |
Best Webcam For Webinars Reviews
1.Logitech BRIO Ultra HD | best camera for webinars
With everything to become the ultimate gadget for your webinars, this model flaunts an impeccable resolution of up to 4K starting from 720P for the most breathtaking visual quality. To further enhance the quality, its Right light 3 technology automatically adjusts optimum quality even in poor lighting.
The device owns a premium quality glass lens with autofocus to ensure an accurate webinar experience. To further elevate your usage, it offers enhanced features such as 5x zoom and pan. But one of the most amazing factors it possesses is its viewing angle adjustability within three modes-90⁰/78⁰/65⁰.
And while making these adjustments, the video quality will remain HD at all times! To ensure an enhanced degree of convenience, this model features a safe and quick facial recognition without requiring to type in passwords every time on your Windows 10 devices.
It easily has it all for being your perfect gear for webinars thanks to its certifications for Cisco & Skype for Business. Besides these apps, it is compliant with other video conference apps such as WebEx, Zoom, Facebook Messenger, Blue Jeans, etc. and more!
Highlighted Features
Adjustable viewing angle and 5x zoom facility
Detachable shade for covering lens when not in use for privacy
Password-free login on Windows 10 devices
HDR and RightLight 3 Technology for optimum visual in any lighting
Omnidirectional dual microphones
2. Logitech C930e | best webcam for recording lectures
With a Full HD resolution, the C930e provides exceptional viewing quality fit for your professional webinars. It is effortless to get started with and is mountable thanks to its universal flexible clip on any devices such as laptops, PCs, monitors, etc. and more!
It offers an amazing viewing angle of 90⁰, thus ensuring that all your meeting members are captured effortlessly in the frame. And due to its autofocus and highly accurate lens, what's most vital never loses focus. The RightLight 2 Technology also ensures that you look pro in any lighting during all your meetings!
Its UVC H.264 compression facilitates the device to free up the bandwidth. Hence, even when your network is not as impressive, its performance isn't compromised. Additional features such as tilt, pan, zoom, etc. provide you with more control to enhance your webinar experience.
This webcam is compliant with Skype for Business, Cisco Jabber, Broadsoft, BlueJeans, Vidyo, LifeSize Cloud, Zoom, etc. to support all your requirements. Its Omnidirectional dual mics & auto noise reduction ensure crystal clear sounds so that you never miss a word being said to further elevate your experience.
Highlighted Features
UVC H.264 compression for freeing up network bandwidth
Lens cover for privacy
Compliant with Business and video chat apps
Dual omnidirectional mics with noise reduction for clear sounds
RightLight 2 Technology for perfect visuals in any lighting
3. Razer Kiyo | video camera for webinars
Amazingly straightforward to use, the Razer Kiyo sure is a great device to go for. With a Full HD resolution and a superb frame rate of 30 FPS, it performs magnificently to provide you the ultimate visual quality. And if you use HD 720p instead of 1080P, it performs even more spectacularly with a rate of 60 FPS.
This is easily a superior choice to go for as along with its other great specs, the device comes with a built-in ring light. This will make you look pro and perfect in your webinars without extra lighting or even in poorly lit rooms, making your stand out from your peers.
The brightness of the light is adjustable easily. The device offers a viewing field of 81.6⁰ as well for optimum capturing within its frame. Its lens focuses automatically is adjustable manually as you desire. And thanks to its built-in light, the video quality couldn't get any better due to the reduced graininess and noise.
Besides being an amazing choice for conducting your webinars in a breeze, it is a great choice for streaming, recording, and other purposes as well. With its compact design and foldable design, it is a smart option for even when you need to be frequently on the move!
Highlighted Features
Built-in adjustable ring light
Offers both autofocus and manual focus
Foldable and compact design for portability
Great viewing angle of 81.6⁰
Great performance of 60 FPS at 720P and 30 FPS at 1080P
4. Logitech C925-e | Best HD Webcam
Easily a perfect business-standard device, this model has it all to become your go-to webinar solution. It offers a Full HD resolution and is equipped with dual omnidirectional stereo speaker for crystal clear sounds. The device possesses a decent viewing angle of 78⁰ which is more than optimum to meet your needs.
While providing you with a stellar performance, it ensures you with a privacy you can count on thanks to its privacy shutter. This covers up the lens when not being used, protecting you from the prying eyes of hackers. It is effortless to mount up and use and can even be mounted on tripods independently if required.
Worried about poor lighting? There's nothing to fear. This is because its RIghtLight 2 Technology ensures optimized visuals in almost any lighting, making you look flawless at all times. The device is compatible with business apps such as Cisco Jabber, Skype for Business, BlueJeans, Zoom, Broadsoft, Vidyo, LifeSize Cloud, etc. and more!
Its H264 Compression ensures perfect performance even when your network has poorer bandwidth than usual. It is simple to use and is compliant with all your devices thanks to its easy mounting options and plug-and-play convenience.
Highlighted Features
Privacy shutter for privacy
Low-light adaptability for perfect visuals in dim lights
Compliance with a versatile range of business apps
H264 Compression facility for seamless performance
5. Logitech Conference Cam BCC950- Best Webcam For Zoom Calls
Though it looks slightly different than your usual webcams, it is no less when it comes to performance. With a Full HD resolution, it offers A-class video quality for all your meetings. And thanks to its autofocus and Carl Zeiss Optics, you are to expect nothing but the sharpest quality of visuals every single time!
The device is compatible with almost all video chat applications including Zoom, Skype for Business, etc. and is a superb choice for small meetings. Equipped with echo & noise-canceling omnidirectional speakers, it provides you the most flawlessly clear sounds to elevate your professional experience to the next level.
The device offers a 180° pan across your room and a great viewing angle of 78°. It even lets you zoom in up to 1.2x while maintaining your videos' HD quality or up to 4x in SD!
To make your life easier and ensuring that you don't have to constantly get up in between meetings to make adjustments, it comes with a remote control and base buttons too! It thus enables you to perform your tasks and make adjustments remotely such as controlling volume, zoom, tilt, pan, etc. and even answering/hanging up calls!
Highlighted Features
Remote control features for convenient controls
Autofocus and Carl Zeiss Optics for stellar video quality
Echo & noise-canceling omnidirectional speakers for flawless sounds
180° pan across your room and a great viewing angle of 78°
2x zoom while maintaining videos' HD quality & up to 4x in SD
Webcam For Webinars Buying Guide
The Basics
For the perfect visual quality, you'll need a device that provides the highest possible resolution. Which is why you must opt for the highest resolution your budget allows. HD and Full HD webcams are widespread these days, but it is advisable not to settle for less than 720P to ensure a premium experience.
Then comes the frame rate, which basically determines how well your camera performs. It is a measure of how many images your webcam captures per second. And the higher the value, the better your device performs.
Models are available starting from 15 FPS and ranging up to 120 FPS. But it is optimum to choose one with a rate of at least 30 FPS for a seamless performance.
Sound
The next crucial aspect to consider is the sound. So when making your purchase, keep an eye out for the microphone quality of your desired webcams. They all come with at least one built-in microphone, while some come with two as well.
But the microphone isn't the only thing you should look for when making your buy. This is because, for maintaining a degree of professionalism, it is essential that your webinar is not affected by background noises or disturbances.
Hence, the best webinar webcams must also come with noise-canceling or noise-reduction facilities to mask any annoying unwanted sounds. Some advanced models even come with echo-canceling features too. So, choose one according to your preferences, area of usage, and budget.
Viewing Angle
The viewing angle determines how many people in your room the device can capture. The larger the angle, the better it can capture bigger rooms and larger people. So, choose the angle capacity based on your group of people and room size.
Conclusion
Choosing the perfect gear is never an easy task, especially when it's for such an essential purpose. But with proper knowledge and research, it is possible to score the perfect device that's worth more than every penny!
And hopefully, our buying guide and reviews of some of the best webcams for webinars will make your purchase journey a whole lot easier indeed!