Detachable laptops are becoming more and more popular thanks to the versatility they provide. They are also known as convertible laptops, or 2-in-1s where you can separate or rotate the screen to form a tablet.
This extra mechanism is what usually makes them more expensive, but at the same time, it saves money that you would have to spend on a separate tablet.
The target audience for these laptops are people who are constantly on the move and require the use of a tablet and laptop together. You get versatility, you get a touch display and a complete system for all your work.
Down below you will find a list of some of the best detachable laptops available in the market today.
Certain factors you need to keep in mind include the size and weight, which can affect the way you carry the device. As well as the battery life which needs to be good enough to let you work through a day.
Editors' Picks: Top 2in1 Detachable Laptops
List Of Top Detachable Laptops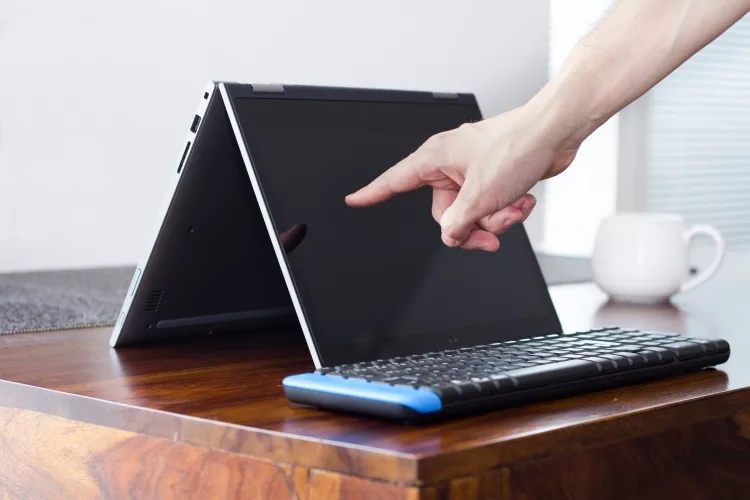 2.ASUS Transformer Mini T103HA-D4-GR
Comparison Chart For Top 10 Detachable Laptops
| PRODUCT | DISPLAY | PROCESSOR | RAM | PRICE |
| --- | --- | --- | --- | --- |
| HP Spectre x2 | 12.0-Inch(1920×1280) | Intel CoreM7-6Y75 | 8GB | |
| ASUS TransformerMini T103HA-D4-GR | 10.1-inch(1280×800) | Intel AtomQuad-Core x5-Z8350 | 4GB | |
| Acer Switch 7 | 13.5-inch(2256 x 1504) | Intel Core i7-8550U | 16GB | |
| MicrosoftSurface Go 2 | 10.5-inch(1920 x 1280) | Intel PentiumGold 4425Y | 4GB | |
| ASUS ChromebookFlip C434 | 14-inch(1920×1080) | Intel CoreM3-8100Y | 4GB | |
| LenovoChromebookDuet | 10.1-inch(1920 x 1200) | MediaTekHelio P60T | 4GB | |
| HP - Spectrex360 | 3.3-inch(1920 x 1080) | Intel Core i7-7500U | 8 GB | |
| HP SpectreTouch 15t x360 | 15.6-inch 4K | Intel Core i7-7500U | 16GB | |
| Samsung GalaxyBook Flex α | 13.3-inch(1920 x 1080) | Intel Core i7Processor10510U | 8GB | |
| ASUS TransformerBook Chi | 2.5-inch(1920 x 1080) | Intel Core M | 4GB | |
Best 2-In-1 Detachable Laptops Reviews
1.HP Spectre X2 | Best Detachable Laptop Under 500$
The HP Spectre x2 is one of the most affordable detachable laptops out there. These designs usually come at a higher cost, but you can score this well under 500 which is a great deal. It also happens to be one of the thinnest and slimmest laptops out there that makes it super easy to carry.
You get an aluminum design that helps to provide not just a sleek finish, but adds strength while keeping it lightweight. We also love that the battery lasts an entire 10 hours. If your work is outdoors or you have long commutes, a battery life like this is necessary.
The laptop also has the 4G LTE network. Even if you find that you are out of a Wi-Fi zone, this can help you browse all you want.
It also proves to be a great choice for entertainment since it comes with the Intel HD Graphics 515 with 4143 MB memory. This ensures that the display is seen at its finest, colors are bright and vibrant and details are all visible.

Highlighted Features
Processor included is the Intel Core M7-6Y75
Graphics unit is the Intel HD Graphics 515
Battery life goes up to 10 hours
8GB memory and 128GB SSD storage
Aluminum and steel body makes it durable and strong
2.ASUS Transformer Mini T103HA-D4-GR | Best Detachable 2 In 1 Laptop
The ASUS Transformer Mini is a small and compact 2 in 1 laptop that weighs a mere 1.9 pounds which makes it ideal for places like the school where you need a versatile yet lightweight device.
Although the size is small, do not underestimate its power. The battery runs for 12 whole hours. You can take this out in the morning, and still have charge left when you get back, after full usage all day long.
The pen is included with the laptop, so that when you do not feel like typing anymore, you can simply start writing or sketching anywhere you want.
It is constructed from a magnesium alloy. This makes it stronger, ensures it can take on small amounts of weight for the times you mistakenly keep books on it, and of course, gives the device a sleek and stylish finish as well.
On the back, you get a kickstand that lets you alter the angle up to 170 degrees. Now you can use the laptop in a comfortable angle and adjust it according to your needs no matter where you are working- be it the desk, or when you are relaxing on the couch.

Highlighted Features
Processor included is the Intel Atom Quad Core x5-Z8350
Graphics unit is the Intel HD Graphics
4GB memory and 128GB SSD storage
Battery provides up to 12 hours of usage
Magnesium alloy construction adds strength and sturdiness
3.Acer Switch 7 | Best Laptop Detachable Screen
The Acer Switch 7 is a good option for heavy workers who require a lot of power and speed from their devices. With the 13.5-inch screen, it gives you good space to work on that is neither too big to carry, nor too small to be a bother.
Moreover, it has impressive specifications which make it well suited to high power work. The 16GB RAM ensures that you can work on multiple applications simultaneously and will have fast speeds when doing so. Lagging is a thing of the past thanks to this memory.
Like most good laptops, you get an SSD storage, but with 512GB of storage space, you not only get high speeds, but a lot of space to store your work as well.
If you wish to receive entertainment from this device, you can do so with one of the finest displays thanks to the discrete Nvidia GeForce MX150 GPU. With these colors and details show up on the screen in a better manner that enhances the display.

Highlighted Features
Processor included is the Intel Core i7-8550U
Graphics unit is the NVIDIA GeForce MX150
16GB RAM and 512GB SSD storage
Comes with Acer TrueHarmony front-facing speakers
Battery lie goes up to 10 hours of usage
4.Microsoft Surface Go 2 | Best Laptop With Detachable Keyboard
The Microsoft Surface Go 2 is the ultimate detachable laptop for users of all ages. With the Intel Pentium processor, this is suitable for all kinds of day to day work. Be it watching videos, catching up on shows, surfing the internet, or using social media.
With the integrated GPU, you might not be able to play the latest games, but you will surely be able to enjoy a nice and bright screen that shows you beautiful color reproductions.
This laptop can be paired with the keyboard and pen from the same line that makes usage so much easier.
Children especially love the pen, since it gives them a lot of freedom to draw and sketch virtually. But don't be shy to pick it up and start working since it is made for all.
You can use the laptop for 10 hours straight. This is a great time to have if your work is outdoors or where you cannot get a hold of charging ports.

Highlighted Features
Processor included is the Intel Pentium processor
Graphics unit is the Intel HD Graphics 615
4GB Ram and 64GB SSD storage
Battery life extends up to 10 hours
5.ASUS Chromebook Flip C434 | Best Touch Screen Detachable Laptop
If you seek a detachable Chromebook, then the ASUS Chromebook Flip C434 is a good choice to check out. It comes with a 360-degree hinge that lets you rotate the entire screen to form a tablet when you need it, or do it halfway to use in studio mode.
And thanks to the ErgoLift hinge, you can place the screen at any angle you want, and it will hold strong.
But that is not all the innovate hinge does. It also tilts the keyboard at an angle when you use it in laptop mode. This makes it much easier to type and is comfortable on the hands.
Not to mention with the extra space created underneath the keyboard, audios come out clearer and louder as well.
The keyboard is backlit as well, so you can work in the dark if required. Plus, the key travel is only 1.4mm so you never have to press super hard when typing. All of these qualities make it the perfect choice of a detachable laptop for writers.
Besides these structural features, the laptop also has the Intel Core M3-8100Y Processor which is perfect for everyday usage, and even consumes lower power for a longer-lasting battery life. And the 4GB memory and 64GB storage helps to provide constant speed to the device as you keep working.

Highlighted Features
Processor included is the Intel Core M3-8100Y
Graphics unit is the Intel HD Graphics 615
4GB RAM and 64GB eMMC storage
The all-metal body gives it strength
Battery life extends up to 10 hours
Detachable Laptops Buying Guide
Display
There are two things you need to consider about the display. The size, and the resolution.
Now, the size depends on personal preference, on whether you want something small for increased portability, or medium sizes that provide more screen space. It will not make a significant difference in the performance itself though.
As for resolution, you will find that a lot of the smaller screenscome with a 1366 x 768 HD display. While this good, we suggest going for the better and opting for a Full HD 1080p instead. This resolution will simply provide a better visual experience overall, and image quality will be significantly better.
You can obviously increase it from here and go up to 4K resolutions, but these usually become a lot costlier. If you wish to avoid sky-high costs and still want superior resolution, look out for quad-HD resolutions that sport 2560 x 1440 pixels.
One thing to keep in mind is that a finer resolution will use more battery power. Which means you will have to compromise in one area or another depending on what you want.
Processor
One of the things to judge the best detachable tablet is by its processor. Often termed as the brains of a computer, this is what makes it all come together to create the perfect device.
Starting from the high-power processors, you will mostly find the Core i7 or m7. These provide better power and are suitable for users who aim for a heavy-duty laptop.
The m7 differs from the Core i7 in that it comes with a better battery life, and in exchange provide a lower speed. The difference is not much, and if you prefer longer usage than this would be a better pick. It also excludes the fan making it more portable.
Midrange detachable laptops usually sport the Core i3, Core i5, or the m3 and m5 processors. This is what you should go for if you do not have any specific aim for usage. These let you work on pretty much everything at a good speed. With the Core i5, you can even squeeze in a little gaming if you want.
Budget detachable laptops will come with Intel Celeron or Atom processors. These will let you take on all the day to day tasks, such as browsing, streaming videos, watching Netflix, using social media, answering emails, and so on.
Memory
On most budget laptops you will find the 4GB RAM. This is not necessarily bad, but we suggest spending a tad bit more to get the 8GB instead. It ensures that you can easily use the device for long times to come without having to face slowdowns or lags.
You do also get 16GB RAMs, but these come at a much higher price point and is not always required. Unless you plan on doing work that demands a lot of power, you don't need this, and will simply end up wasting money instead.
Storage
We recommend going for the Solid-State Drive (SSD) that gives you a lot of speed and performance. If you are on a budget, then you can opt for the Hard Disk Drive (HDD) which would cost a bit lower. You will also find some eMMC flash storages, which are on the cheaper end and provide decent speeds.
Conclusion
The best detachable laptops come in a wide range of prices and specifications. No one model is specifically better than another, but it is the difference in specifications that help cater to different needs.
If you want ultimate portability, then the battery life, the weight, and size is what you should prioritize. On the other hand, if you want good graphics, check the display size, the resolution and the graphics unit provided.
For a better understanding of what you need and require, match the buying guide to the comparison chart. This will help you pick one out in no time!