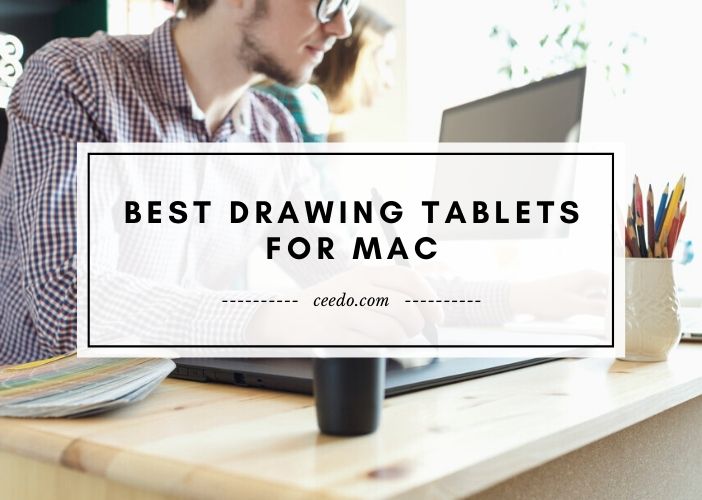 With the blessings of technology today, it is a whole lot easier for artists to dive into their drawing sprees wherever and whenever inspiration strikes. And this has been made possible all thanks to the introduction of portable drawing tablets to facilitate digital drawing.
There is no doubt that drawing tablets have made it more convenient for both amateur and pro artists. There no more hassles of carrying around endless sizes of brushes, paints, and canvases. And there is also the added advantage of erasing or undoing even that one wrong stroke which is impossible in real-life.
Now if you're a mac user, we're all aware that this particular OS is quite moody and doesn't support all devices. Hence, you need to choose from the best drawing tablets for mac as or else, you'd end up with a gadget that you cannot use.
And we are just about to disclose some key points along with some top models' reviews to aid your choice.
Comparison Chart For Top 10 Drawing Tablets For Mac
Top 5 Drawing Tablets For Mac Reviews
1.Wacom Intuos Pro
This sleek device comes with a compact active area of 6.3 x 3.9 inches for those creative souls who are struggling with available space. But don't get fooled by its small footprints as its features are nowhere near what you'd called short. It comes with multi-touch gesture compatibility for effortless navigation.
The device comes with the battery-free Wacom Pro Pen 2 which possesses a spectacular 8192 levels of pressure and ±60° tilt sensitivity. These will thus enable you to obtain the most detailed and realistic drawing experience and outputs. You can also accessorize this device with the Pro pen 3D which can be purchased. 
The device's multi-touch capability should be able to play a role in amping up your productivity. It also possesses 6 shortcut keys which you can personalize according to your convenience. The radial menu buttons along with the switches at the stylus sides will further boost your usage convenience.
You can choose to go entirely wireless via its Bluetooth connectivity which will enable you to effortlessly connect to Mac or PC. With a 5080 LPI resolution and a high reporting rate of 200 RPS, you can enjoy a super-fast lag-free and accurate drawing experience.
Highlighted Features
Can be used entirely wirelessly via Bluetooth
Capable of supporting multi-touch gestures
Compact design to save space
6 shortcuts keys which can be personalized
2.Huion Inspiroy H950P
The H950P comes with a compact-enough active area of 8.7 x 5.4 inches to allow both a comfortable usage and saving your desk space. This device is also incredibly thin and lightweight weighing only 497 grams with an 8mm thickness. Hence, you'll be able to effortlessly carry it around wherever you go.
The device possesses an amazing array of 8 shortcut keys which can be customized as you need to enhance your efficiency.  You can even activate the Press Lock key to prevent accidental touches from ruining your artwork.
It is compatible with most of the major digital art and design software including Adobe Photoshop, Corel Painter, Illustrator, Manga Studio, Zbrush, Krita, Clip Studio, Gimp, etc. As a result, you would be able to access more professional features to create more phenomenal masterpieces.
The device comes with a battery-free stylus with 8192 levels of pressure and 5080 LPI resolution to produce stunning quality drawings. A super-fast reporting rate of 233 RPS also ensures speedy and efficient performance along with a true drawing feel.
Highlighted Features
Super-sleek and lightweight for more effortless portability
8 customizable shortcut keys
Press Lock key to prevent accidental touches
Compatible with most major digital art and design software
3.Huion Inspiroy Q11K
Another model from Huion that comes with a larger active area of 11 x 6.8 inches that possesses a smooth, paper-like finish. This Ergonomic model will also allow your arms to rest comfortably on the edge when you're working for prolonged hours.
The device comes with a high-quality rechargeable stylus which can produce the most amazingly precise details whether you draw thick strokes or wispy hairlines. It has an improved grip to facilitate a more true drawing experience and possesses a high-pressure sensitivity of 8192 levels.
This model can be highly speedy and efficient as it comes with a high reporting rate of 233 RPS. Its wireless connectivity will enable you to have a tidier work station eliminating the hassle of an entangled mess of cables. This model also possesses a large capacity battery life of up to 40 hours which you can count on.
The pen goes into an auto-sleep mode to save power as soon as it's placed in the pen stand. It awakens just as easily when tapped on the drawing area with a strong-enough tap. The device also comes with 8 customizable shortcut keys to keep you most needed shortcuts at your fingertips for boosted efficiency and productivity.
Highlighted Features
Large active area with ergonomic design
Rechargeable stylus
Auto-sleep mode and auto power-on when tapped on drawing area
Enhanced stylus grip
4.XP-Pen Deco 01 V2
With a 10 x 6.25 inches working area, the XP Pen Deco is effortlessly portable with a thickness of only 8mm and 2.2 pounds in weight. The device is ideal for both left hand and right-handed users alike and comes with a high reporting rate of up to 200 RPS for speed and efficiency.
You can enjoy an enhanced and pro drawing experience as it is compatible with most major art and design software including Photoshop, Illustrator, SAI, Painter, Clip Studio, Medibang, ibis Paint X, Autodesk Sketchbook, FlipaClip, etc.  The device can support Mac, Windows and even Android OS as well.
It comes with a battery-free stylus with ±60 degrees of tilt support and 8192 levels of pressure. Thus, you can enjoy a true drawing experience with impeccably detailed drawing capacities and realistic shading. It also includes a button that you can click only once to alternate between pen-mode and eraser mode.
The device also included 8 ergonomic express keys which you can personalize your favorite shortcuts according to your convenience. With all these amazing specs combined, it could easily become your go-to device for digital drawing at any moment at any time
Highlighted Features
A stylus button which for alternating between pen-mode and eraser mode
8 ergonomic express keys to customize your favorite shortcuts
Compatible with Mac, Windows and Android OS
Ideal for left and right-handed users alike
5.UGEE M708
It comes with an amazing 10 x 6 inches working area for the most comfortable usage. This device is also a highly responsive and speedy gadget with an amazing reporting rate of 266 RPS for enhanced efficiency and realistic drawing feel. It is also conveniently portable with a sleek and lightweight device.
The device included a battery-free stylus capable of generating 5080 LPI resolution outputs. It possesses 8192 levels of pressure to enable you to produce the most phenomenally detailed drawing. This is because you would be able to draw lines of a more versatile range of thicknesses and opacities.
It also constitutes 8 customizable express keys which can be personalized with your most needed shortcuts to make your life a ton easier. It also comes with a pen holder for convenient placing of your stylus along with a pen clipper and 8 nibs. This USB interface device can support both Windows and Mac OS.
It can support most major software to boost your digital drawing whether you're an amateur or pro. Compatible software includes Illustrator, Photoshop, Fireworks, SAI, Comic Studio, Macromedia Flash, 3D MAX, Infinite Stratos, Pixologic ZBrush, Autodesk MAYA, etc.
Highlighted Features
High reporting rate of 266 RPS for a lag-free operation
Includes a pen holder and replacement nibs
USB interface device
Drawing Tablets For Mac Buying Guide
Active Area
This is one of the key factors to consider as it will determine the comfort level of your usage. But it's also more of a personal preference. Some may prefer more compact ones to save space while others may prefer larger ones for more convenience and comfort.
So make your choice accordingly. But ensure that the size of the active area doesn't get in your way of productivity and portability.
Compatibility With Related Software
To enjoy the most premium and realistic drawing experience, you should ensure that your desired model supports popular art, design, and editing software/apps such as Adobe Photoshop, Indesign, Illustrator, etc.
Not only will they open more doors to endless upgrades and facilities, but they will also facilitate in creating the most realistic drawing experience and outputs.
Stylus Type
Your device stylus could either be rechargeable or battery-free. But it would be the obvious smart choice to opt for a battery-free pen as it involved reduced hassles of regularly recharging and dying down in the middle of your artwork.
You also need to consider other factors such as its supported tilt angles, thickness of tip, ease of grip, pressure sensitivity, replacement nibs, etc. as these all play vital roles in generating the outputs you desire.
Pressure Sensitivity
It represents the pen's sensitivity to the pressure you exert. The larger the pressure the thicker the line is drawn and vice versa. So naturally, a higher pressure sensitivity would allow the stylus to produce a more versatile range of thicknesses and opacities.
This will thus enable you to produce more detailed and realistic outputs and provide you a more realistic paper-like drawing experience. So opt for high levels of pressure when choosing your device.
Reporting Rate
Simply put, it signifies how responsive the device is to your input/pen strokes and is measured in RPS. A higher reporting rate thus means that the device is faster and more efficient. For example; a 233 RPS model means that it can transmit data in 1/233rd of a second.
The report rate is thus another crucial factor to keep in mind as it plays a key role in your productivity rate and also in delivering a true drawing feel.
Hotkeys
Most drawing tablets come with the usual buttons along with a few customizable hotkeys for shortcuts. These hotkeys play a massive role in boosting your productivity and convenience. This is because, the more shortcut keys there are, the more required shortcuts you'd be able to save to make your life easier.
Hence, if you truly intend to purchase the best mac drawing tablet, ensure that it comes with a significant number of shortcut keys along with the other key specs.
With all these amazing models' reviews paired with the comprehensive buying guide, you can hopefully get yourself the best drawing tablet for mac.
The possibilities are huge from all the amazing models the market has to offer; even for Mac devices. So break a leg and happy shopping!