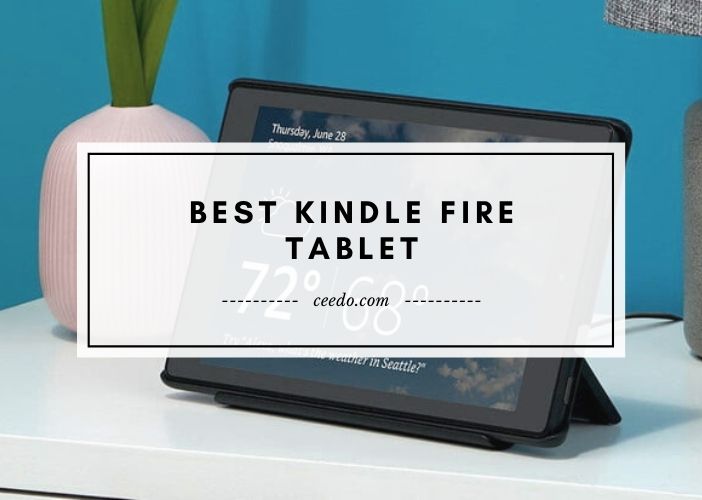 We are all very familiar with the top tech brands such as Samsung. Apple, Asus, etc. But sometimes, we just need a device for basic purposes such as surfing the web, checking emails, or watching videos. Smartphones always don't seem to cut it with their miniature screens, and laptops are too bulky to always carry around.
Then comes the issue of budget. While we are more dependent and find the popular brands more reliable, it can strip off your wallet more than actually necessary. And you also don't want to risk an unfamiliar brand just for a cheap break.
This is where Amazon's Kindle Fire Tablets come under the spotlight, offering everything for your basic tasks and more; that too within an affordable rate. And the most amazing fact is that they come from a brand we already know of and trust. And its line of products doesn't even cast out kids from enjoying it.
And today, we are about to aid you in choosing the best kindle fire tablet, whether it's for you or your little gems.
Top List Of  Kindle Fire Tablet
Comparison Chart For Top 6 Kindle Fire Tablets
Top 5 Kindle Fire Tablets Reviews
1.Fire 7
This device comes with a compact display of 7 inches and a high 1024 x 600P resolution. It possesses a great battery life of up to 7 hours to facilitate uninterrupted entertainment. Powered by Quad-core 1.3 GHz processor and even facilitates hands-free operation with Amazon Alexa via voice control.
It possesses 2MP front and rear cameras along with dual-band Wi-Fi to guarantee a dependable connectivity. The device will enable you to access millions of TV shows, songs, movies, apps, books, games, etc. from Prime Video, SHOWTIME Disney+, STARZ, and Netflix.
It is equipped with an easy-to-use USB 2.0 port besides its wireless connectivity options. The device is incredibly compact and lightweight measuring an unbelievable 10.1 ounces to facilitate increased portability. Hence, you'll be able to always carry it effortlessly anywhere.
This gadget comes with a 1GB RAM and 16GB storage capacity which should be sufficient for regular usage for ordinary day-to-day tasks/entertainment. You can also expand its memory capacity up to a massive 512GB via SD card if you require to store more and bulkier files.
2.Fire HD 10
It comes with a 10.1-inch display of full HD 1920 x 1200P resolution to produce an impeccable visual quality. The device is powered by the magnificent 2.0 GHz Octa-core processor, and possesses a phenomenal battery life of up to 12 hours. Hence you can effortlessly function throughout the day without needing a recharge.
It possesses the trademark 2MP HD cameras at the back and front and voice-control facility via Amazon Alexa which can make your life more hassle-free. A dual-band Wi-Fi will ensure a reliable and uninterrupted connectivity while you stream or download your favorite content from Netflix, SHOWTIME Prime Video, Disney+, and STARZ.
It will enable you to access thousands of audio, apps, etc. as well. Its easy-to-use FreeTime parental control will allow you to control the usage time when used by children. The device comes equipped with a USB Type-C interface for speedy recharging. It also possesses dual speakers for the most incredible audio outputs.
The Fire HD 10 has a 2GB RAM which is expected to be adequate for smooth and lag-free operation. A storage capacity of 32GB can be expanded up to 512GB to handle and save all your files conveniently and safely.
Highlighted Features
Amazing battery life of up to 12 hours
FreeTime parental control feature for controlling usage time of children
NBC News, Twitch, Picture-in-Picture view via Red Bull TV, etc. are enabled
3.Fire HD 8
The Fire HD 8, as the name suggests, comes with an 8-inch display of HD 1280 x 800P resolution. It can generate sharp and vivid visuals with lower glare levels thanks to its stunning IPS LCD touchscreen. The device is powered by a 1.3 GHz quad-core processor and also includes Amazon Alexa for an effortless hands-free usage.
It possesses 2MP rear and front cameras capable of dealing with your photography, video capturing, video calls, etc. A phenomenal battery of up to 10 hours will keep on boosting your productivity or entertainment day-long without letting you down. Dual-band Wi-Fi connectivity will ensure an uninterrupted network.
This could easily turn out to be your dream entertainment gadget as you'll get to access thousands of eBooks, movies, songs, TV shows, etc.  Smart and convenient parental control facilities will enable you to limit your children's usage times. You'll also be able to control and monitor age-appropriate content for safe usage.
It comes with a great 1.5GB RAM which can facilitate a speedy and smooth running of the device. A built-in 16GB storage space may not seem enough for some. But don't fret as it can be expanded up to 400GB via an SD card of your choice. So you can download all your favorite content without any worries at all.
Highlighted Features
Reduced levels of glare due to the IPS display
Parental controls for managing age-appropriate content and screen time
Storage memory can be expanded via SD card up to 400GB
2MP rear and front cameras
4.Fire HD 10 Kids Edition
It won't be fair now if only adults get to enjoy the finest tech facilities, right? So, with your little gems in mind, this kid-friendly model comes with a 10.1-inch display and a stunning full HD 1920 x 1200P resolution. It also comes equipped with the expected 2MP front and rear cameras we usually find in most Fire models.
Powered by a phenomenal Quad-core 2.0 GHz processor, it's as energetic as you children with a battery life of up to an incredible 12 hours. The device also provides a year's free subscription to Amazon FreeTime Unlimited. So your kids will be able to access over 20,000 books, audiobooks, movies, games, apps, TV shows, etc.
The greatest part is that all those content are specially designed to ensure suitability for children between the ages of 3-12 years old. Smart built-in parental controls will enable you to control screen times and age-appropriate content. You can also create individual profiles for each child and set educational targets for better learning.
They will be restricted from social media, making in-app purchases, and using Alexa. Thus, you'll be able to relax without worrying as the children keep learning and getting entertained safely without any inconveniences. A 2GB RAM is optimum with a 32GB storage which can be expanded up to a massive 512GB.
Highlighted Features
Enables to create 4 individual profiles
Parental controls- educational targets can be set along with other controls
Powerful Type-C USB for fast charging
Access to social media, Alexa and in-app purchase are restricted
5.Fire 7 Kids Edition
Another kids' Fire device which, with your little angels in mind, comes with a compact and manageable 7 inches display of 1024 x 600P resolution. A built-in stand and the included Kid-Proof case will make the device more convenient to use and enhance its durability.
It comes with an amazing battery life of up to 7 hours to keep up with your energetic children day-long. Powered by the Quad-core 1.3 GHz processor, this powerful gadget also comes equipped with the usual 2MP back and front cameras. Lightweight with a mass of only 16.1 ounces, it is perfect to handle for kids.
This model comes with a year's free subscription to Amazon FreeTime Unlimited as well. It will enable them to access all the content they could ever possibly want and more. It contains more than 20,000 videos, books, apps, and games- suitable for children between 3-12 years of age.
The device also comes with Spanish content which can be plus for them to get familiarized with a new language. Along with the basic parental controls, Age Filters can be set up too to limit their access to respective content. It comes with a basic 1GB RAM and 16GB ROM, which can be expanded up to 512GB if needed.
Highlighted Features
Built-in stand along with an included Kid-Proof Case
One year's free subscription to Amazon FreeTime Unlimited
Availability of Spanish content
Age Filters to enable access to content according to the kids' ages
Kindle Fire Tablet Buying Guide
Display
It's always the most ideal to get the highest resolution possible as it will provide the finest quality of visuals. The display size on the other hand is entirely dependent on your personal preference. You can either choose larger displays for more comfortable viewing and usage, or opt for compact ones for portability.
But for children, a smaller device may be more convenient for them to hold and operate. You can opt for special screen features such as reduced glare levels for eye-protection or wide viewing angles, etc. within your budget.
Storage And RAM
Consider the memory capacity of your device depending on your type of use. If you want to install a bulk of apps, movies, music, books, etc., focus more on the expandable memory. All Kindle Fire or Amazon Fire tablets come with massive expandable memory capacities.
The RAM will determine how smoothly and lag-free your device will run even while you multitask. Hence, to acquire the best tablet for Kindle Fire, opt for higher RAM capacities
Parental Controls
This is quite a significant and unique feature in almost all Fire devices, especially the kids' versions with more advanced controls. These will allow a safer gadget usage for your children, by allowing you to control what content they are interacting with and if they are age-appropriate.
They will also enable you to control how long they are using the device to ensure a healthy mental development and entertainment. Some will also prevent accidental online or in-app purchases and restrict social media access.
So, if you have children or are in an environment with children around, go for the model with the most advanced parental controls for maximum safety.
Amazon Alexa
Built-in Amazon Alexa is featured in almost all Fire tablets which will enable you to enjoy a hands-free experience via voice-control. So if you fancy a more luxurious and hassle-free operation of your device, opt for a model with Alexa. All models which were released in the year 2017 or later include this.
Battery
Tablets are not a device that you can use only at home with constant access to the power supply. They are mainly designed for portable purposes to accompany you all day long. And in order to obtain a day-long service from these wireless, portable gadgets, you would need a model with high day-long capacities.
So opt for a model with a high battery life of around 7-8 hours at least to make the most of your device all day long on a single charge.
As we saw just now, these Fire devices lack in no aspects when it comes to meeting all your basic needs as well as your children's. They also come with some unique perks which most other models don't possess at once.
We tried to summarize and showcase some of the top Fire models in order to aid you in choosing the best Kindle Fire tablet for you and your children. Along with a few buying points discussed as well, we hope now you'd be able to make a more educated choice about which Fire will get to light up your or your children's lives.