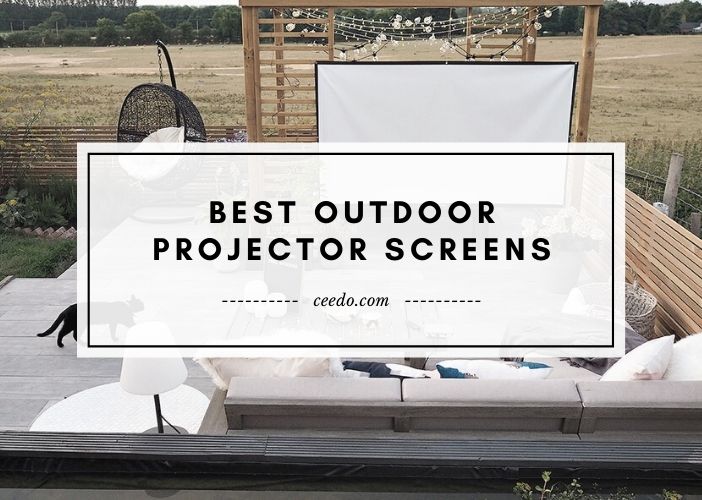 One of the most exciting activities to do during summer is to engage your friends or family in a video projection night. But that's usually not possible without a projection machine and the best outdoor projector screens.
While we have discussed top outdoor projector models elsewhere on this website, we also find it ideal that we provide you with a detailed guide on outdoor projector screens. That's because outdoor projectors won't work well without a high-quality projection surface.
These screens allow you to achieve big screen viewing wherever you want. Thus, they offer an incredible way to attain big-screen video viewing wherever you want. Interestingly, these portable products will prove essential for backyard watching with your family or at campsites with friends.
But with an array of options available, choosing the right outdoor screen is an overwhelming task. This article will help you save time. We will present you with an elaborate buying guide for outdoor projectors. Also, we will include up to 10 amazing models for your consideration.
Comparison Chart For Top 10 Outdoor Projection Screens
Best Outdoor Projector Screens Reviews
1.MDBEBBRON 120-inch Projection Screen
The MDBEBBRON 120-inch Projection Screen is a budget-friendly device that is ideal for people who won't be using their projection screens nearly every day. It is a 16:9 foldable screen whose versatility extends from home theater use to outdoor use. Besides, the device supports double-sided use.
One of its outstanding features comes with the ease of storage and portability. It is compact and lightweight. But more importantly, the device is foldable, and you can easily fold it and stuff it in your travel bag or store it safely for future use. It is exciting that the polyester fabric won't develop any creases even when folded.
Again, this product is a 120-inch screen, which implies that it features a diagonal screen size of 120 inches. That's pretty sufficient for moderate crowds. And while still on the size of this outdoor cum indoor screen, it is worth noting that it provides fantastic length-width dimensions of 104 by 58 inches.
It also ranks as one of the top projectors that are easy to keep clean. You can either clean it by hand or using a washing machine. Besides, you can easily clean the dirty areas selectively and dry in the open air. The ease of cleanliness that's associated with this product helps you to keep it white for longer.
Finally, this is a projection surface that's pretty easy to set up. It comes with nearly all the assembly accessories, which involve brackets, ropes, nails, and hooks. Even more, double-sided tapes will help you set it up on the wall quickly. The entire system is unbeatable when it comes to ease of set up.
Highlighted Features
The black border tension ensures that the screen surface remains flat.
It is foldable, hence easy to carry and store.
It is easy to clean up, dry, and use.
The polyester fabric construction makes it durable and crease-free.
It comes with all the assembly accessories.
2.Elite Screens MaxWhite Manual B Pull Down Projector Screen
On to a device that comes with all the value for the money, the Elite Screens MaxWhite Manual B Pull Down Projector Screen is arguably the best outdoor display surface on the market. It makes a perfect choice for homeowners, campsite managers, and campers.
Firstly, the device is compatible with all ultra HD and HD projectors in the market. Thus, you don't have to worry about compatibility issues, nor do you have to buy a new projection machine for the screen. The manufacturer guarantees that you will enjoy high-quality pictures from both HD and UHD projection machines.
The entire system is pretty durable, thanks to the extremely reliable construction. It features a sleek steel casing, which ensures that the screen material remains protected against scratches and tear. Moreover, steel housing comes in white or black finishes, making it possible to choose your preference.
When it comes to set up, the Manual B screen is incredibly easy to set up. You can either install it on the ceiling, a wall, or any stand. The process doesn't take long. However, the highlight of the setup system remains the reliable 2-inch auto-lock mechanism, which enables you to achieve various aspect ratios.
While all the features mentioned above make this device a perfect choice for entry-level and seasoned use, the technical features of the screen material also stand out. It takes pride in a light-reflectivity of 1.0 gain and a viewing angle of up to 180 degrees. These features guarantee impressive images.
Highlighted Features
The 2-inch auto-lock mechanism delivers multiple aspect ratios.
The screen has a diagonal size of 100-inches.
A light reflectivity of 1.0 Gain delivers sharp images.
It features a wide viewing angle of up to 180 degrees.
The screen is easy to set up and use.
3.VAMVO Outdoor & Indoor Projector Screen
The VAMVO Outdoor Indoor Projector Screen stands out as a simple screen that every lover of outdoor videos will find tempting. It has a diagonal size of 120 inches and comes with a handy carrying bag for compact transportation and storage.
The device is pretty ideal for all types of outdoor and indoor applications. Thus, you will find it suitable for home theater, educational presentations, business projects, sports functions, and backyard video nights. Campers, too, will find the device a perfect product to enjoy warm nights in the wilderness.
And still, on versatility, you will appreciate the fact that the device can deliver amazing pictures for large audiences. It features a remarkable viewing angle of up to 160 degrees. Such an impressive characteristic treats you to remarkable images from nearly all the seating positions.
And if you are worried about the modalities of setting up this screen, then you better not be worried. It comes with a stand that makes it possible to set it up anywhere. Besides, just like the screen, the tripod stand is equally lightweight, foldable, and portable. You can carry the entire set up wherever you want.
Finally, it is vital to note that the screen features an incredible aspect ratio of 16:9. Such a feature makes the screen ideal for video watching, presentations, and gaming. Therefore, this is a pretty good basic projection surface regardless of what you intend to do with it.
Highlighted Features
It takes just about five minutes to set up.
It is ideal for both outdoor and indoor use.
The upgraded design comes with a bonus set up stands.
A viewing angle of 160 degrees ensures that bigger audiences can use it.
The entire system is lightweight and portable.
4.TaoTronics Projector Screen – Best Outdoor Screen
If you are looking for a premium screen that delivers beyond your ordinary models, the TaoTronics Projector Screen has you covered. The company delivers and surpasses each of its promises with a device that you can easily use anywhere. But that shouldn't send shivers down your spine about its price.
The projection surface features a premium PVC matte construction. Interestingly, the material is one of the strongest in the projector screens industry. You can expect it to stay in a perfect working condition for a long time. Moreover, it is perfectly wrinkle-free and easy to clean.
The device comes with a stable tripod stand to help you set up the screen wherever you want. And with the construction and setup mechanism that neither requires screws of fasteners, you will find the TaoTronics Projector Screen one of the easiest screens to put up and bring down after use. All you need is a flat ground to get it stable.
The screen is ideal for both indoor and outdoor use. Therefore, it makes good projection equipment for homes, churches, schools, weddings, offices, camps, and backyard video screenings. It is a single product that delivers more than you may expect.
On to the technical features of the TaoTronics Projector Screen, it stands out as a display surface with a very high light reflectivity level of up to 1.1 Gain. Such a high value delivers high-quality images with unbeatable color fidelity, sharpness, and richness.
Highlighted Features
The sturdy tripod stand provides unrivaled support and stability.
It features a durable PVC matte construction.
You can easily adjust the height to achieve various aspect ratios.
It is pretty easy to assemble and bring down.
It features a wide viewing angle of up to 160 degrees.
5.P-JING 120-inch Projector Screen
The P-JING 120-inch Projector Screen closes our review on outdoor projector screens. It comes at under $50, making it one of the most portable options that you can come across. But despite the moderate pricing, the device takes pride in a variety of fantastic technical features.
It features a diagonal length of up to 120 inches and length-width dimensions of 104 inches by 58 inches. Isn't this sufficient for large screen viewing or gaming amongst a substantial group of people? Besides, the viewing angle of 160 degrees further enhances versatility.
The P-JING 120-inch Projector Screen front and rear projection machine is an incredible tool for nearly all types of projectors. You can use it will LCD, LED, DPL, LCoS, and laser projectors. It is also worth noting that the projection surface supports 1080-Pixel content, making it a great tool for delivering high-quality images.
Also, this screen features a durable polyester fabric construction. The material is incredibly smooth to enhance image quality. But what about wrinkles that could arise from folding during storage or transportation. Well, this display surface is wrinkle-free. However, you can effectively iron out any wrinkles that may arise.
Finally, the portable screen allows you to display any content anywhere. It is ideal for displaying photos, videos, graphics, sports activities, and games. The device guarantees incredible fun. However, you can still use it for professional applications such as conventions and conferences.
Highlighted Features
It is super easy to set up and bring down.
It is versatile and ideal for a variety of applications.
The 120-inch screen weighs a paltry 2.2 pounds.
The projection surface is smooth and wrinkle-free.
It features a wide viewing angle of up to 160 degrees.
Buying Guide For Outdoor Projector Screens
Like every other product, your budget determines the kind of device that you will choose. But, interestingly, price alone doesn't determine the functionality and quality of a projection surface. So, these features, too, will come in handy;
Light Reflection
The light reflection capabilities of a projector screen determine the quality of images that you can enjoy. Gain determines the light-reflectivity of the material used in making the screen. Notably, materials with a high gain measurement guarantee better pictures.
From experience, we suggest that you consider projector screens constructed from materials with a minimum gain measurement of 1.0. Such surfaces help to enhance the brightness and overall quality of the image. Materials with gain measurements of less than 1.0 produce images that are less rich, less sharp, and less bright.
Type Of Material
While all projector screen materials are white, they don't all come in the same type of material. Thus, they will feature different picture quality since every kind of surface features unique properties.
The type of material also determines the longevity of the projector screen. Of course, you don't want to put your money on a screen that won't last a couple of months. The best projector screens for outdoors would be made of polyester fabrics, canvas, or PVC.
Size Of Screen
While setting up a 30-foot big screen in the backyard is pretty tempting, that's not always possible. Firstly, extra-large screens come at high budgets. You also need bigger spaces for larger screens. Even more, large screens require very powerful projectors to guarantee high-quality images.
We suggest that you consider screen sizes that average between 100 to 150 inches. Most of these models are pretty okay for a variety of audience sizes. And when we talk about screen size, we refer to the diagonal measurements of the screen and not the length-width dimensions of the projection surface.
Viewing Angle
Depending on the size of your screen and audience, the viewing angle of a projection tool is the next significant consideration to make.
Look out for models with high viewing angles if you will be projecting for large crowds to avoid image distortion for those watching from the sides. A minimum viewing angle of 160 degrees should do.
There is no way you are going to enjoy a video outdoors without a proper outdoor projection screen. All you need to do is to set it up, flip on your projector, and enjoy colorful pictures with friends or family around a barbeque in the yard or at a campsite.
These products are pretty portable. Therefore, they won't add too much into the weight of your traveling gear. Even more, the best outdoor projector screens are pretty affordable.
If you are looking to start up an outdoor video display project, you can opt for any of the above options. They come in different sizes, aspect ratios, portability features, and price tags. You can choose a model that meets your needs and budget.