Have you ever found yourself in a tough spot when purchasing a tablet? Confused about what is the difference between a tablet and a Kindle?
This is actually quite a common dilemma faced by many buyers. We all know what a tablet is and does more or less. Since both the device types look like a tablet, that is where the confusion arises if you have no prior idea about what a kindle exactly is.
But now that you have bumped into the right place, you can finally bid your frustrations goodbye for good!
Bear with us till the end as we are about to guide you through all the key differences between the two gadgets, thus making your purchase decision a whole lot simpler.
Difference Between A Kindle And A Tablet
What Are They?
For starters, let's focus on how different the two devices are by definition.
When it comes to tablets; they are basically smart devices that are somewhat of a cross between a laptop and a smartphone. These devices enable you to enjoy a laptop-grade performance with the convenience and portability of a smartphone.
Kindle devices, on the other hand, are gadgets that are used for downloading and reading e-books, magazines, newspapers, etc.
Operating System
When purchasing a tablet, you'll find that each of them is run by versatile Operating Systems according to the brands. The OS options you get to choose from include numerous versions of the Android, iOS, Amazon Fire, Chrome OS, Windows OS, Linux, etc.
But all models of Kindle devices excluding the Kindle Fire tablets are run by a Linux-based OS.
Functions
A Kindle is practically a whole digital library for book lovers which allows them to download, read and carry endless magazines, books, newspapers, blogs, etc.
As you can tell, their only function is reading-related. But they provide the flexibility of carrying all your favorite reading materials in one slim, compact device.
Now don't get me wrong, tablets can be used to read as well. But unlike Kindle devices, they are not limited to one function.
You can perform a versatile range of activities too via a tablet including entertainment, capturing photos and videos, communicating virtually, surfing the web, etc.
Target Users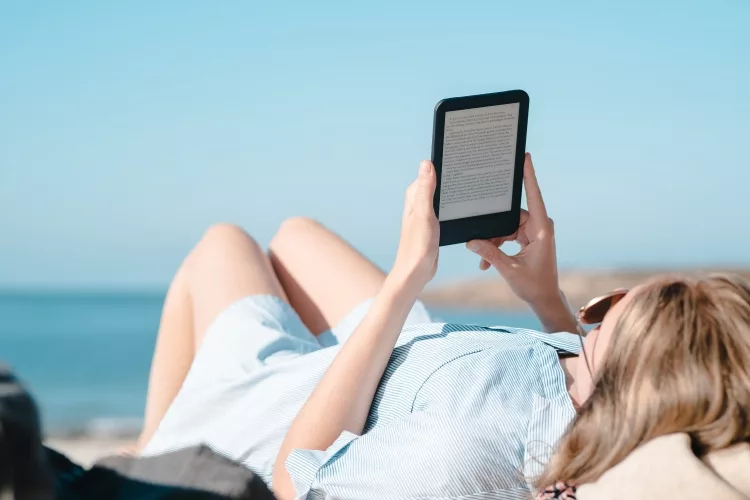 Tablets are purchased by users who need to perform more than one task as we discussed above; whether it's personal or professional. But Kindle is an ideal device for all the bookworms who are fond of reading endless content every chance they get, anywhere, anytime.
Connectivity And Size Options
All Kindle devices possess Wi-Fi connectivity. The Kindle Paperwhite and Kindle Oasis possess cellular network capacities as well. But none of them are capable of wireless connectivity with other devices.
You'd also notice that they are relatively small in size compared to tablets, ranging around 6-7 inches. Hence, they are compact and comfortable to read away on for hours.
In the case of tablets, all of them possess Wi-Fi and cellular network options. They are capable of establishing wireless connectivity with other devices as well via Bluetooth or other means, enabling easy transfer of files.
Tablets are a winner in the screen-size department too. Ranging from sizes as small as under 7 inches, you'd find tablets as big as up to a jaw-dropping 24 inches! You thus have unlimited flexibility in choosing a tablet display as small or as large your desire.
Price
Unlike Kindle devices, tablets tend to be more expensive as they are multi-function devices with advanced and powerful hardware. For just reading books, it is thus more cost-effective to settle for a Kindle device.
But for performing more than a single task, it's worth breaking the bank a little by purchasing the perfect tablet!
Storage
Since books and other reading materials don't take up much space, Kindle devices come with relatively smaller storage space than tablets. Most have around 8 GB of space, whereas the latest Paperwhite and Oasis lines possess 32 GB versions as well.
Tablets need to store various types of files of all sizes-big or small. As a result, they possess larger storage capacities and some can even have their storage expanded via an external SD card up to a massive 1 TB!
Battery
Kindle devices come with superb battery capacities, lasting days or even whole weeks upon a single full charge!
On the contrary, since tablets are multifunctional with enhanced features and perform more powerfully, they need to be charged more frequently than Kindles. In order to enjoy break-free usage, it is thus ideal to settle for models with high-capacity batteries that last day long once charged fully.
Tablet As A Kindle
The sole purpose of a kindle is to facilitate downloading, reading, and carrying digital reading content. Hence, via the Kindle app, you can effortlessly perform the same functions on a tablet, killing two birds with one stone.
Kindle As A Tablet?
Even though a tablet can double as a reading gadget like a Kindle, the vice versa is not possible, meaning that you cannot use a Kindle as a tablet.
This is because it does not have any of the features that tablets possess, making them somewhat of a single-functional device.
Tablet Vs Kindle- Which One Is Better?
These two devices are not the same, thus making it difficult to come up with a definite answer.
But one thing is clear that the issue is reliant entirely on your requirements. Both have their pros and cons as summarized below so choose one that best matches your needs.
Tablets
Pros:
Versatile functions including entertainment, web surfing, virtual communication, web surfing, etc.
Numerous brands and operating systems to choose from
Color displays
Have Wi-Fi, cellular, and wireless connectivity
Flexible screen-size options
Can double as a Kindle
More storage
Can be used in dark areas too
Cons:
More expensive
Not ideal for long durations of reading due to screen glare
Lower battery life
Causes distractions while reading due to notifications
Can be relatively heavier
Kindle
Pros:
More affordable
Lightweight, compact, and comfortable to read on for hours
Incredible battery longevity
No notifications to distract during reading
Integrated dictionary
Anti-glare screens for eye-comfort
Access to cheap books, new releases, and more
Cons:
Cannot perform any other functions
Cannot be used in the dark unless backlit
Gray-scale screen which means no other colors
No versatility or flexibility when it comes to the brand or OS
No wireless connectivity for file transfers with other devices
Conclusion
So there we have it! All you'd ever need to know in order to differentiate between a tablet and a Kindle.
As you just witnessed, they are vastly different, each with its unique advantages, and there are no definite winners.
Hence, all you have to do is choose the perfect one that best serves your purposes within a budget and enjoy!