Projectors continue to evolve. But more importantly, projectors now play a fundamental role in how homeowners, businesses, institutions, and organizations carry out professional and entertainment activities. The best DLP projectors, in particular, are now more reliable, versatile, and productive.
The DLP projector technology works differently from LCDs and LCoS technologies. Interestingly, DLP models use a special DLP chip to create seamless images by minimizing the gaps between pixels. The technology involves more than a million mirrors.
These precious devices are pretty versatile and will meet your needs to transform your room into a full-fledged display or help make business and learning presentations more exciting.
But since there are many models in the market today, choosing the right model for your needs is pretty tiresome and confusing. It is a process that could take hours or days. We save you from that hectic process with this elaborate review of DLP projectors.
But first, find out what we have in the buyer's guide as that will help make the process easier for you.
Editors' Picks for Top Dlp Projectors 2022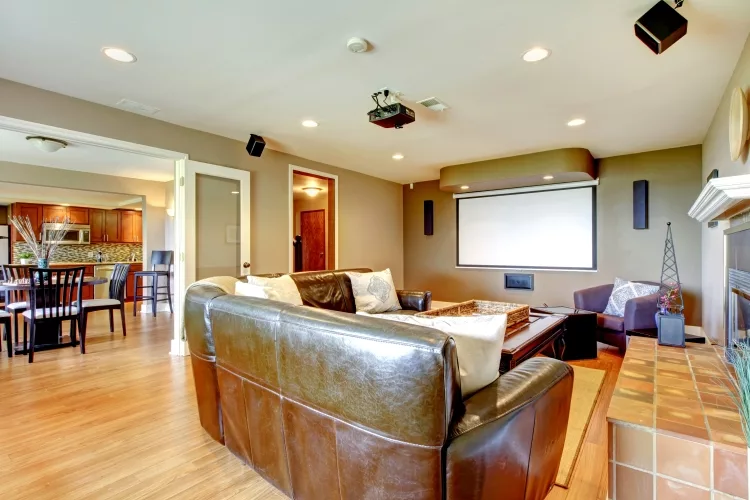 List Of Top DLP Projectors
DLP Projectors Comparison Chart
| PRODUCT | DISPLAY SIZE | CONTRAST RATION | NATIVE RESOLUTION | PRICE |
| --- | --- | --- | --- | --- |
| VANKYOLEISURE 3 | 33 to 170 Inches. | 2000:1 | 800 x 480 Pixels. | |
| Anker NebulaCapsule Max | 40 to 100 Inches. | 600:1 | 1280 x 720 Pixels. | |
| APEMANNM4 Mini DLP | 30 to 100 Inches. | 1000:1. | 800 x 480 Pixels. | |
| Anker NebulaCapsule | 40 to 100 Inches. | 600:1 | 854 x 480 Pixels. | |
| VAQMVO S1Ultra Mini | 15 to 130 Inches. | 2000:1 | 800 x 480 Pixels. | |
| AKASO Projector | Up to 120 Inches. | 2000:1 | 800 x 480 Pixels. | |
| VANKYO Burger101 Pico | 30 to 100 Inches. | 1000:1 | 854 x 480 Pixels. | |
| ViewSonic 3600Lumens | 30 to 300 Inches. | 22000:1 | 800 x 600 Pixels. | |
| ViewSonic M1+ | Up to 100 Inches. | 120000:1 | 800 x 480 Pixels. | |
| Optoma HD146X | Up to 120 Inches. | 25000:1 | 1920 x 1080 Pixels. | |
Best DLP Projectors Reviews
1.VANKYO LEISURE 3
The VANKYO Leisure 3 Mini projector is the type of projection tool that will meet and surpass your entertainment and professional needs. It is fairly priced. But more interestingly, the Leisure 3 packs all the right qualities to deliver impressive images in fairly dark and very dark environmental conditions.
The versatility of this gadget is one of its strongest features. It features an HDMI input, USB port, Micro SD slot, a VGA port, and an AV input/output. These interfaces allow you to freely stream media content from DVDs, TV sticks, tablets, laptops, smartphones, video game consoles, and Chromecast.
It is exciting to note that the device features all the necessary accessories to make your life easier and more convenient. Firstly, it features a combination of three cables which include HDMI, standard AV, and VGA cables. These cables help you to establish a connection between your media sources and the projection machine.
Secondly, the compact and pretty portable Leisure 3 projector comes with a handy carrying bag. This carrying case not only makes traveling with the device easy but also ensures that the device remains reliably protected from scratches and accidental falls.
The last in the list of accessories that the device comes with is the remote control. Don't you think that it's more convenient to control the device without always having to stick a finger on it?
Highlighted Features
It is perfectly lightweight, compact, and portable.
A reasonable contrast ratio of up to 2000:1 delivers detailed images.
The ±15˚ keystone corrections allow for alignment.
The carrying bag makes transporting the projector safely.
2.Anker Nebula Capsule Max
While the Anker Nebula Capsule Max is a relatively new addition to the projector market, the company isn't new to the game. it has an interesting range of products that are reliable, versatile, and productive. The Capsule Max is no exception.
A look at this device will get you mistaking it for a portable Bluetooth speaker and not a projector. It is nearly cylindrical and features compact dimensions of 150 x 80 mm. The plastic and aluminum design is pretty attractive and presentable. Besides, it features a finishing that is neat and nearly flawless.
The device is perfectly easy to understand, set up, and use. the front has a camera and a lens for easy positioning while a range of ports at the back, namely the USB and HDMI inputs. Of course, you'll also find the power button at the back and a tripod attachment screw at the bottom for easy attachment.
The Nebula Capsule Max doesn't provide the largest screens. However, it is still incomparable to bulky TV sets. The DLP projection machine features a convenient throw distance of between 1.15 m to 3.08 m and an equally interesting throw distance of between 40 to 100 inches. That makes it a good projector for small and medium rooms.
The device runs on an Android 8.1 Oreo operating system. But while it doesn't come with a pre-installed Google Play Store, it features a Nebula Store which gives you direct access to Amazon Prime Video and Netflix. Thus, the fact that it doesn't feature Google Play Store isn't a notable downside.

Highlighted Features
It is ideal for small and medium spaces.
The Nebula store provides reliable access to Netflix.
The device runs on the popular Android 8.1 Oreo OS.
The brightness level goes up to 200 ANSI Lumens.
It is protective and friendly to the eyes.
3.APEMAN NM4 DLP
DLP projectors are popular for their incredibly portable built. But if portability is something that you take seriously, consider investing in the APEMAN NM4 Mini DLP Portable Projector.
It features ultra-compact dimensions of 3.86 x 3.86 x 0.85 inches and an equally lightweight built of a paltry 0.44 pounds. It weighs nearly the same as a smartphone and will easily fit in your pocket for easy portability. It is an ideal gadget for anyone looking for a compact and easy to carry.
The projector features a brightness level of about 100 ANSI Lumens which isn't a bad intensity. We recommend that to use the device in fairly dark and moderately dark rooms. Moreover, a throw distance of between 1.5 meters and 2.5 meters should deliver amazing images in small and medium spaces.
The APEMAN NM4 combines a noiseless operation with an inbuilt high-quality sound system to deliver an impressive listening experience alongside a widescreen display. The device features a noiseless fan that guarantees no noise hence it allows you to pay maximum attention to what's on your screen.
Finally, positioning projectors is often one of the biggest challenges. It even becomes trickier when you cannot find a decent platform on which to mount the gadget. But you no longer need to worry. The APEMAN NM4 comes with a fairly compact tripod stand that will help you position and mount the device wherever you need.
Highlighted Features
It features a native resolution of 800 x 480P.
The 100-ANSI lumen rating is ideal for relatively dark rooms.
It features a long lamp life of up to 45,000 hours.
The dual speakers provide an exciting listening experience.
It is compatible with nearly all media content devices.
4.Anker Nebula Capsule
Anker has a special way of crafting sleek-looking projectors. Thus, the Anker Nebula Capsule projector is no different. The device resembles a soda can in size and shape. This guy is eye-catching, cute, and will fit into your pocket perfectly.
But does longevity, performance, and productivity come along with the sleek design? Let's find out.
Firstly, the DLP projector brings together an interestingly high native resolution and sufficient brightness level to deliver a great viewing experience. You will agree with us that a brightness level of 100 ANSI Lumens and a pixel resolution of 854 x 480 is pretty perfect for home theaters. Moreover, it features an aspect ratio of 16:9.
But away from the resolutions, ratios, and lumens, more illustrious features lie on the platform on which the manufacture builds the device. It runs on an Android 7.1.2 platform which is more powerful and reliable than the common Android 6.0 versions. Besides, it features a 5GB internal e=memory to help you store apps.
All the above features don't make any sense without versatile connectivity options. And you just can't fault the device on that one too. It features a range of connectivity options which ensures that you can play media from nearly every device.
It features HDMI and USB ports. But more importantly, Bluetooth, screen mirroring, and Wi-Fi modes are also compatible.

Highlighted Features
It is sleek and compact enough to fit in your pocket.
An 8W speaker delivers an incredible listening experience.
It allows connection to all media content devices.
The 100-lumen brightness is ideal for fairly dark rooms.
It has a convenient video playtime of 4 hours.
5.VAQMVO S1 Ultra Mini
The VAMVO Ultra Mini Portable Projector is one of the most portable projector models in the market today. But while portability comes with a range of compromises, this device doesn't cut too much on the functional features of an entertainment projector. It still packs some exciting features.
Despite the ultra-compact and ultra-portable build, the VAMVO S1 features all the right ports and jacks to deliver all-round entertainment. There's an HDMI, SD card, and USB ports. The device also has an audio jack to provide an imaginable listening experience.
But more importantly, the device features a reliable multi-screen feature that allows you to directly project what's in the screens of your mobile devices. Interestingly, this feature is compatible with iOS and Android phones and tablets.
The device takes pride in a moderate native resolution of 800 x 480 pixels. Such a native pixel count reliably supports 1920 x 1080P displays which ensure that you enjoy vibrant images of between 15 inches to 130 inches in size. Isn't this a product worth investing in?
Finally, the S1 projector is pretty easy to use. It features touch keys that are highly responsive and easy for navigating from one function to the other. Moreover, the device uses a rechargeable battery that can last for up to 2 hours on a single charge.

Highlighted Features
It is compatible with many devices including smartphones.
It uses a rechargeable battery that can last for up to 2 hours.
The device supports 1080P HD displays.
The images are high in contrast and are perfectly uniform.
It has highly responsive touch keys.
DLP Projectors Buying Guide
We take a few minutes of your time to take you through some of the factors to consider when shopping for a DLP projector. Well, look out for the following;
Brightness
Like with every other projector technology, the brightness of a projector becomes the first and arguably the most important consideration to make when shopping for a DLP projector.
The brightness of a projector is loosely defined as the amount of light intensity that the device impacts the images. It is often measured in Lumens or ANSI Lumens. To choose a projector based on the light intensity that you may need, you must put in mind the lighting conditions of the environment in which you will use the device.
Brighter rooms will need projectors with very high brightness levels to overcome the effects of ambient light. Models with 1000-lumen or 50 ANSI Lumen brightness are pretty good for most applications. Besides, if you intend to project from far distances, you may consider options with higher lumens.
Contrast Ratio
The contrast ratio of a projector is the difference in clarity between the blackest parts and the whitest parts of an image. A contrast ratio of 3000:1 means that the darkest parts are three thousand times darker than the brightest sections.
The choice for a projector based on the contrast ratio will depend on your desired applications and the lighting conditions of the environment. For example, you need a high contrast ratio to produce perfect blacks in home video sessions.
Finally, it is essential to consider DLP models with minimum contrast ratios of 1000:1. These models guarantee better image quality in nearly all environmental conditions.
Native Resolution
The native resolution of a projector signifies the number of pixels in the projected image. A high pixel density delivers more detailed images while the reverse is correct. Interestingly, the resolution of the projector will depend on the input content quality and the intended use of the device.
And since the world is already accustomed to high-quality displays from phones, TVs, and computers, among others, we implore you to consider projectors with a minimum resolution of 800 x 480 pixels.
Additional Features
Top DLP projectors feature three additional features that help to enhance the quality and alignment of an image. The factors include the following;
Optical Zoom- When your room setup can't allow you to install your projection machine at the right distance, the optical zoom feature gives you the flexibility to position the device and play around with the image to meet the right size.
Keystone Correction- There are cases whereby the image fails to align itself perpendicularly. You can use the keystone feature to straighten the image and eliminate trapezoidal distortions. Consider projectors with a minimum keystone correction of ±15.
Lens Shift- The lens shift of a DLP projection tool also helps to align the images perfectly. It helps to correct sloping projections when it is impossible to position the device directly in front of the screen.
Final Words
That's it, ladies and gentlemen. We have included some of the most interesting options for your consideration. However, as we always do, we advise new buyers to consider reading through the buyer's guide before making a pick.
It is only that way that you stand a chance of choosing the best DLP projector from an informed point of view. These gadgets are pretty versatile and ideal for a limitless range of applications.
On the final note, make sure your projector is compatible with tablets, flash drives, computers, phones, and streaming boxes.
Buy on Walmart
Anker Nebula Capsule, Smart Wi-Fi Mini Projector, Black, 100 ANSI Lumen Portable - Walmart Link
Epson Home Cinema 3800 4K PRO-UHD 3-Chip Projector with HDR - Walmart Link
Epson Home Cinema 3200 4K PRO-UHD 3-Chip Projector with HDR (Renewed) - Walmart Link
Epson Home Cinema 4010 4K PRO-UHD (1) 3-Chip Projector with HDR - Walmart Link
Epson EpiqVision Mini EF12 Smart Streaming Laser Projector, HDR, Android TV, Portable, - Walmart Link
NEBULA Anker Solar FHD 1080p Projector, 4K Supported, Dolby Digital Plus, Android TV, - Walmart Link
Anker Nebula Solar Portable 1080p Projector, Full HD Smart Projector, 4K Supported, - Walmart Link
1.VANKYO LEISURE 3 Mini - Walmart Link
2.Anker Nebula Capsule Max - Walmart Link
3.APEMAN NM4 Mini DLP - Walmart Link
5.VAQMVO S1 Ultra Mini - Walmart Link
7.VANKYO Burger 101 Pico - Walmart Link
Buy on eBay
Anker Nebula Capsule, Smart Wi-Fi Mini Projector, Black, 100 ANSI Lumen Portable - eBay Link
Epson Home Cinema 3800 4K PRO-UHD 3-Chip Projector with HDR - eBay Link
Epson Home Cinema 3200 4K PRO-UHD 3-Chip Projector with HDR (Renewed) - eBay Link
Epson Home Cinema 4010 4K PRO-UHD (1) 3-Chip Projector with HDR - eBay Link
Epson EpiqVision Mini EF12 Smart Streaming Laser Projector, HDR, Android TV, Portable, - eBay Link
NEBULA Anker Solar FHD 1080p Projector, 4K Supported, Dolby Digital Plus, Android TV, - eBay Link
Anker Nebula Solar Portable 1080p Projector, Full HD Smart Projector, 4K Supported, - eBay Link
1.VANKYO LEISURE 3 Mini - eBay Link
2.Anker Nebula Capsule Max - eBay Link
3.APEMAN NM4 Mini DLP - eBay Link
5.VAQMVO S1 Ultra Mini - eBay Link
7.VANKYO Burger 101 Pico - eBay Link