Shopping for the right product is about the right brands. You don't want to throw your money on a device from a brand known for unreliability and under-performance. And when it comes to image projection tools, the best Epson projectors stand out among models from tens of other brands.
Epson claims that it is the largest projector manufacturer in the world. That could be debatable. However, Epson takes pride in more than 125 models in the company's US website. That sounds interesting, doesn't it?
So, the above fact proves that the company is one of the most notable projector brands in the market. Its models score highly on contrast, color brightness, versatility, and overall picture quality.
But settling on Epson as a brand is just but the beginning of your shopping process. With so many Epson options available, choosing the right device will prove a bit confusing. You don't have to worry.
We will address everything that you need to know about Epson models. But more importantly, we will include some amazing models among which you can choose from. Let's go!
Editors' Picks: Top Epson Projectors
List Of Top Epson Projectors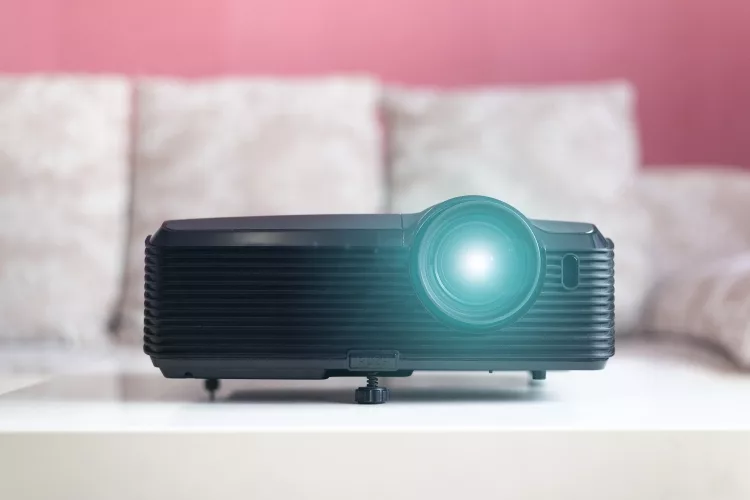 3.Epson Home 2045 3D Miracast Projector
Comparison Chart For Top 10 Epson Projectors
| PRODUCT | BRIGHTNESS LEVEL | LAMP LIFE | NATIVE RESOLUTION | PRICE |
| --- | --- | --- | --- | --- |
| Epson EX5260 | 3,600 Lumens. | 10,000 Hours. | 1024 x 768 Pixels. | |
| Epson EX3260 | 3,300 Lumens. | 10,000 Hours. | 800 x 600 Pixels. | |
| Epson Home2045 3DMiracast | 4,200 Lumens. | 7,500 Hours. | 1920 x 1080 Pixels. | |
| Epson HC1450 | 2,200 Lumens. | 10,000 Hours. | 1920 x 1080 Pixels. | |
| EpsonHome 5030UB | 2,400 Lumens. | 5,000 Hours. | 1920 x 1080 Pixels. | |
| Epson VS250 | 3,200 Lumens. | 6,000 Hours. | 800 x 600 Pixels. | |
| EpsonHome 2150 | 2,500 Lumens. | 7,500 Hours. | 1920 x 1080 Pixels. | |
| EpsonHome 1060 | 3,100 Lumens. | 6,000 Hours. | 1920 x 1080 Pixels. | |
| EpsonHome 4010 | 2,400 Lumens. | 5,000 Hours. | 1920 x 1080 Pixels. | |
| Epson VS350 | 3,300 Lumens. | 1100 | 1024 x 768 Pixels. | |
Top 5 Best Epson Projectors Reviews
1.Epson EX5260
Versatility and ease of use are some of the general characteristics that you should look out for in an ideal projector. Indeed, you want a projection tool that you can throw anything at effortlessly and still get the finest results. The Epson EX5260 is a fantastic fit for such a description.
It is fast and easy to set up and use, thanks to the presence of responsive controls and adjustments. Besides, the USB and HDMI features make it flexible for use with a range of media content devices.
It also features a strong Wi-Fi connectivity option, which enables a seamless connection with smartphones. So, the wired and wireless connectivity options that this gadget comes with make it compatible with Mac, Windows, Android, and iOS devices.
The primary reason why there is a massive migration from LCD TVs to projectors is that everyone wants to keep things compact and still enjoy widescreen viewing. Epson EX5260 perfectly meets these two needs. It is immensely compact and portable. Yet, it guarantees a large screen size of up to 300 inches.
But the device isn't just about portability and an enormous screen. Instead, the wireless projector delivers bright and clear images, thanks to the balanced combination of brightness levels and native resolution. It features a brightness level of 3600 levels and an XGA resolution of 1024 x 768 pixels.

Highlighted Features
It is ideal for making presentations.
It delivers clear images with a lot of color accuracy.
The 1024 x 768P resolution delivers text-heavy presentations.
Allows for both wired and wireless connectivity options.
It is easy to set up and use.
2.Epson EX3260
Finding a true data projector at under $500 is one of the most difficult tasks. However, in the Epson EX3260, you are assured of a reliable projector that meets and surpasses all the data projection needs of any office or business. It is a perfect replacement for the Epson EX3240 which the company has now discontinued.
It brings together versatility in the range of ports, accurate color projections, incredible portability features, and impressive data and video image quality. These features make this device a true companion for professionals who want to deliver amazing presentations. Homeowners will also find it incredible.
The EX3260 is a dedicated XVGA data projector with a native resolution of 800 x 600P and a 4:3 aspect ratio. While most modern models now come with higher native resolutions, this device strikes an incredible balance between price and high-quality data projection.
Epson manufactures the EX3260 on the reputable 3LCD platform. It packs it with a 3,300-lumen brightness level. Of course, we cannot say that is one of the brightest for data projectors. However, it is bright enough to deliver visible in small to medium-sized rooms.
The projector machine is pretty sleek and features dimensions of 3.6 x 11.9 x 9.8 inches. The moderately lightweight build, together with tits 5.5-pound weight makes it a device that you can bring anywhere. Besides, it comes with a handy carrying case to protect it wherever you go.

Highlighted Features
It is perfect for schools, offices, and businesses on a budget.
The carrying case protects the device during movement.
The 3,300-lumen brightness is ideal for most lighting conditions.
It can project both data and videos.
The 4:3 aspect ratio brings out presentations more accurately.
3.Epson Home 2045 3D Miracast Projector
The first two Epson models that we reviewed were more data or presentations oriented projectors. but if you are looking for a 3D home theater projector, the Epson Home 2045 3D Miracast Projector is an incredible choice. It is a 3D projector that delivers smooth and crisp images deficient of rainbow effect.
Ideally, home theater projectors are about quality and widescreen watching. And true to this requirement, you cannot fault the images that this device projects. The 2,200 white and black brightness levels, together with a dynamic ratio of up to 35,000:1 deliver unimaginable detail and accuracy.
Besides, at reasonable throw distances, this Epson projector delivers enormous images of up to 300 inches. Is there a better way to enjoy your favorite videos than on a large screen? however, it is important to note that the device is not just about videos. It can as well deliver an amazing gaming experience.
The Epson Home 2045 3D features versatile compatibility options. The two HDMI ports make it compatible with Blu-ray disc players, PCs, and gaming consoles. Moreover, the Intel WiDi and Miracast features allow you to stream content from Windows laptops, smartphones, and tablets wirelessly.
Highlighted Features
The inbuilt speakers provide an interesting listening experience.
It features versatile wireless and wired connectivity options.
A high native resolution delivers crisp images.
Based on innovative and reliable 3LCD technology.
It delivers high-quality images without traces of the rainbow effect.
4.Epson HC1450
New projector shoppers get it very wrong when they go shopping for a home theater projection tool. They are often too preoccupied with how they can darken their living rooms or entertainment spaces to enjoy vivid pictures from the comfort of their homes.
In the process, they forget that projectors are portable devices that you will possibly use in a variety of environments. And controlling natural light intensity in certain environments is impossible.
Fortunately, the Epson HC1450 is an all-round device that you can use in nearly all lighting conditions. The high brightness level of 4,200 gives it the quality to reliably throw images in any spaces, including those with considerable ambient light. That's not a characteristic that you take for granted.
The HC1450 is an updated version of the popular Epson HC1440. It features a range of adjustments that make incredible functional impacts. The design is sleek and features a spot for efficient overhead attachment. Thus, there is a reliable and effortless way to attach the device to the ceiling.
If you are a home theater aficionado, the interesting combination of low noise and incredible sound system will appeal to you. It features side grates that not only help to cool down the system but also allows the device to run on extremely low noise. Such a feature allows you to pay attention to what's on the screens.
Highlighted Features
The inbuilt speakers enhance portability and convenience.
The advanced cooling system doesn't produce a lot of noise.
A high brightness level makes it ideal for all lighting conditions.
It features a range of ports that enables versatile connection.
The device is suitable for videos and gaming.
5.Epson Home 5030UB
We end the review section of this article with another interesting Epson brand projector. Epson Home 5030UB is another typical low-budget home theater projector that excellent images in dark environments and also performs remarkably in setups with remarkable ambient light.
The LCD projector features a brightness level of 2,400 lumens and a high resolution of up to 1920 x 1080 pixels. Such a combination is a reliable guarantee that the device will deliver amazing images with ample shadow detail, flawless color accuracy, and class-leading picture quality.
The device features a range of controls on the top section of the machine. While their positioning makes them easy to access, they equally stand out as highly responsive. The lens focus and lens zoom dials enable a variety of smooth lens mechanisms.
But the entire operation of the device doesn't mean that you will always have to stick a finger on the device. It comes with a powerful remote control that features a fancy menu. You can conveniently use the remote control to make a variety of essential adjustments.
Epson makes a remarkable improvement in the contrast ratio of this device. it features an unbeatable contrast ratio of 600,000:1. As you would expect from such a significant ratio, the projector brings out every detail in your images. The blacks will be darker while the whites will be explicitly white.
Highlighted Features
The projector is moderately priced.
It features a high contrast ratio of up to 600,000:1.
Features a lamp life of up to 5,000 hours in normal mode.
The 1080P native resolution delivers accurate colors.
Features a manual focus and zoom adjustment.
Buying Guide For Epson Projectors
Since Epson has several projector models, the following factors should help you get a product that meets all your needs.
Aspect Ratio
Just like standard TV sets, projectors, too, have an aspect ratio. But first, what is the definition of aspect ratio?
The aspect ratio of a device is the rectangular format or shape that a device takes. The two common aspect ratios are 4:3 commonly exhibited by ordinary TVs and 16:9 which is popular in HDTV.
A 4:3 aspect ratio means that the image has 4 units in its width and 3 units on the height. So, it's closer to a square hence more proportional pictures. Many modern projectors come with aspect ratios of 16:9. While images appear wider than they should, most devices scale the images appropriately to look fantastic.
Resolution
The next on our list of considerations when shopping for an Epson projector is the resolution of the device. By definition, the resolution of a projector is the concentration of pixels that make up an image.
It is often indicated by two numbers, and as you'd expect, a high combination of numbers projects images that are detailed and devoid of visible pixel structures. Of course, this feature could come at an extra price.
The most common resolutions include 1280 x 720P, 1280 x 800P, 1920 x 1080P, and 800 X 480P. However, top Epson projector models have resolutions of up to 4K. These are options that are not only rare but also come at higher price tags. Any of the above structures are okay for entertainment purposes.
Brightness Level
Generally, the brightness of a projection tool determines what you see on the screen. This is often determined by the light intensity emanating from the device as well as the screen's reflective properties.
The brightness level of a projector is measured in terms of lumens. While there is a general hype about considering devices with very high lumens or ANSI lumens, that may sometimes be unnecessary. A brightness rating of 1000 lumens is pretty sufficient for a range of entertainment applications.
But consider models with over 2000 lumens for models that you intend to use for high detailed presentations involving graphics. Again, the lighting conditions may be a factor to consider. Bright rooms will need projection tools with high brightness levels to produce visible images.
Lamp Life
You don't want to invest in a projection machine that has a high maintenance cost. Again, no one wants to invest in a projector that won't serve them for several years. Anyway, who wants to be in the market often shopping for a similar gadget?
Like every other projector, the lamp life of an Epson projector determines its longevity. The higher the lamp hours, the more durable the projector is. So, consider Epson projectors with a minimum lamp life of 2,000 hours. Such options will serve you for years even with daily use.
Final Words
Epson is a reputable brand, that's undebatable. It stands out as one of the most reliable manufacturers of home, business, and office equipment, and that includes projectors.
Interestingly, the versatile range of Epson projectors come in handy for a variety of applications. These devices are ideal for learning institutions, homes, and high-end businesses.
Note that the best Epson projector models strike a perfect balance between brightness, contrast ratio, and native resolution. Moreover, these projectors are pretty ideal for entertainment and professional functions. You can either use them for presentations, gaming, and displaying videos.
Buy on Walmart
3.Epson Home 2045 3D Miracast Projector - Walmart Link
Buy on eBay
3.Epson Home 2045 3D Miracast Projector - eBay Link